Women's 4 X 1,500: Expect A World Record From Kenya And A Silver From The US Women
by LetsRun.com
May 23, 2014
Of the four mid-distance teams the U.S. is sending to the IAAF World Relays in the Bahamas, the women's 4×1500 team is the weakest. Luckily for them, the women's 4×1500 field is also weak. In fact, there are only five teams entered in this race – Kenya, the U.S., Ethiopia, Australia and Romania. With Russia, Canada, Morocco and Great Britain neglecting to enter teams and Ethiopia entering a bunch of youngsters, a less-than-full-strength American team should probably be favored for silver behind another strong team from Kenya.
Once again, the Kenyans are very good.
Not only do the Kenyans have the top two runners in the field by PB (Faith Kipyegon 3:56.98 and Hellen Obiri 3:58.58), their team also is in the best form of anyone in 2014 (Editor's note: The bottom of this article has detailed stats on all of the teams' runners).
World 5k silver medalist Mercy Cherono, 3:56 woman Faith Kipyegon and world indoors 3k silver medalist Hellen Obiri all ran 8:23 or better for 3k at the Diamond League opener in Doha on May 9. That's very fast. Obiri (8:20) and Cherono (8:21) are now 1-2 all-time for clean 3k runners outdoors, with Kipyegon also in the clean top-10. Add in 4:02 woman Irene Jelagat, who ran 8:28 in Doha and was 4th in the 3k at world indoors and that's an incredible four legs.
You can see the full list of US options at the bottom of this article but the US is made up of a slew of women who have run in the 4:07-8 range this year. As a result, we don't see any way Kenya loses. They should run away from everyone mid-race but even if it came down to the anchor, we'd like Obiri or Kipyegon in a kick over any of the U.S. runners, even sub-2:00 performer Kate Grace. The only one with a chance against them is Brenda Martinez, but we're assuming she's only doing the 4×800 and not the 4×1500.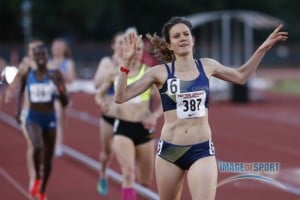 The team that the U.S. is sending is not at full strength. 2011 world champion Jenny Simpson isn't competing nor are Nike Oregon Project teammates Trenier Moser and Mary Cain. A US squad at full strength might be able to run with Kenya, but we'll never know.
Article continues below player.
The US should still get silver, bronze at worst, though gold will take a blow-up from the Kenyans. Assuming Martinez only does the 4 x 800,  the US team will consist of three women who have been running PRs early in 2014. Heather Kampf ran a 4:07.15 PB at Drake after making the final at world indoors. Kate Grace also PR'd by running 4:07.35 at Payton Jordan; and Katie Mackey ran a near 20-second 5k PB (15:04) at the same meet.
Then there's Morgan Uceny. She hasn't been the same since falls in the 2011 WC and 2012 Olympic finals. She holds a 4:00 PB but didn't run faster than 4:08 in nine races last season. She did win the B.A.A. road mile last month, but was just 10th at the Diamond League meet in Shanghai last week in 4:10.93.
The question for the U.S. is will their collective experience pay off against Ethiopia's team of teenagers as Ethiopia looks like the next best team.
Ethiopia and Australia
Ethiopia's best runner is better than the U.S.'s best runner because they have world indoor silver medalist Axumawit Embaye (4:05 PB). 19-year old Senbere Teferi (4:04 PB) just ran 4:08.49 for third behind Simpson and Emma Coburn in a 1500 in Tokyo, so she's in decent shape too. 17-year-old Dawit Seyaum won silver at World Youths last year but has never broken 4:09. The other two members of the team haven't raced at all this year. Because of its youth (average age: 18), Ethiopia could surprise – positively or negatively.
Australia has largely the same team as it does for the 4×800, namely worlds seventh-placer Zoe Buckman and three more so-so runners. They're behind Ethiopia on average top four PB (4:06.34 to 4:08.65), but they are more experienced. They'll take the bronze if anyone screws up ahead of them.
World/American records
Kenya actually just set the world record of 17:05.72 (4:16.43 per leg) at the Kenyan trials, and three of the women (Jelagat, Cherono and Ann Mwangi) were on that team. There's no way that the record doesn't go much, much lower when you consider the following:
-this team will have Obiri and/or Kipyegon, both of whom have run under 3:59 (the other three Kenyans have PBs at 4:02 or slower).
-this race won't be at altitude.
-no one will be doubling back from an earlier race that day (as they were when that record was set).
-there is a $50,000 bonus for a world record.
Even if the Kenyans average a pedestrian 4:10 a leg, they'll still break it by 25 seconds. This is not a strong record at all. If they want to maximize their future earnings, they'll only break it by a little this time so that they can break it again next year and get another $50,000 bonus.
The U.S. record is 17:08.34 (4:17.08 per leg) and that should also fall pretty easily since the Americans have a top four PB average of 4:03.19.
It's a joke that there are only five countries entered in this race
A very mediocre Romania squad is going to walk away with $10,000 assuming they finish the race and pass their drug tests. We hope that the IAAF splits the remaining $18,000 that would have gone to sixth, seventh and eighth among the teams that actually did show up.
The country that really should be kicking itself is the Bahamas. Since there are no entry standards in the 4×800 or 4×1500, all they'd have to do is round up four locals from outside the stadium, have them run some laps and walk away with an easy $8,000 for sixth place. Is it too late to sign up?
It's a shame more countries aren't taking this meet seriously
Once you divide it four ways, the prize money isn't as good as the Diamond League. There's also a $50,000 bonus for world records. The only mid-distance world record that's unattainable is the Soviet Union's 4×800 mark of 7:50.17 from 1984. If you get four good runners and go for the world record, you're really racing for $25,000 per person ($50,000 for the win + $50,000 WR bonus / 4 runners). That's a very nice haul and even if you get second it's still a $7,500 payday per person and a free trip to the Bahamas.
What's especially irritating is that Kenya – the biggest global player in the middle distances – sent very strong squads, and the U.S. teams, while they could be better, are still pretty solid. Those are the two biggest dominoes that have to fall – why can't the other countries like Canada, Great Britain and Russia fall in line?
A pet peeve of ours at LetsRun is when countries such as Canada and Great Britain only enter athletes who they think can place highly at international meets. Often the standards to make their teams are tougher than the IAAF's entry standards, which leaves a lot of very-good-but-not-great runners home during major championships. If every country picked its team that way, you wouldn't have a sport as only three people can medal in each event.
Furthermore, by sending your maximum amount of athletes, you're giving younger runners a chance to gain experience and stay excited about the sport. If you're a good-but-not-medal-caliber runner, are you more likely to quit the sport if you go to the big global championships or if you're watching on your couch even though you have the IAAF standard? The answer is obvious.
Women's 4×1500
Team Kenya
DOB
PB
2014 SB
Comments
Mercy CHERONO
07.05.1991
4:02.31
4:08.57
5k silver at worlds in '13; 2nd at Doha DL 3k in 8:21 (#2 clean all-time outdoors)
Irene JELAGAT
10.12.1988
4:02.59
4:12.27 (alt)
4th at world indoors 3k; 7th at Doha DL 3k in 8:28
Faith Chepngetich KIPYEGON
10.01.1994
3:56.98
3:56.98 (2013)
20-year-old was 5th at worlds last year in 1500; 3rd at Doha DL in 8:23; 2-time world junior XC champ
Ann Karindi MWANGI
08.12.1988
4:06.58
4:15.35 (alt)
No results in '12 or '13 but took third at Kenyan trials. Makes sense as the alternate
Hellen Onsando OBIRI
13.12.1989
3:58.58
4:04.88
2nd at world indoors 3k. 8:20 3k at Doha DL (#1 clean all-time outdoors) and easy win at Drake 1500.
 Top 4 PB average = 4:00.12
Team USA
DOB
PB
2014 SB
Comments
Kate GRACE
24.10.1988
4:07.35
4:07.35
1:59 800 runner won section 2 of 800 at Oxy and PR'd to win section 1 of 1500 at Payton Jordan
Heather KAMPF
19.01.1987
4:07.15
4:07.15
Made first US team at world indoors but fell in the final and was later DQ'd for a lane violation
Katie MACKEY
12.11.1987
4:04.60
4:07.19
Smashed 5k PB to run 15:04 at Payton Jordan; 4th at Oxy 1500
Brenda MARTINEZ
08.09.1987
4:00.94
4:06.96
13 worlds bronze medalists will likely run 4×800 here. Ran 1:59.91 to win Oxy 800.
Morgan UCENY
10.03.1985
4:00.06
4:08.68
2-time U.S. 1500 champ was just 10th at Shanghai DL last week in 4:10.93
Sara VAUGHN
16.03.1986
4:08.34
4:10.05
13th in section 1 of Oxy 1500. Makes sense as an alternate.
 Top 4 PB average = 4:03.19
Team Ethiopia
DOB
PB
2014 SB
Comments
Axumawit EMBAYE
18.10.1994
4:05.16
4:07.12
Silver medalist in 1500 at world indoors. 19 years old.
Gudeto FEYNE
28.06.1992
4:06.66
4:07.67 (2013)
No results since June 2013. At 21, easily the oldest member of the team.
Tigist GASHAW
25.12.1996
4:10.37
4:10.37 (2013)
World Youth champ at 1500. No results in '14. 17 years old.
Dawit SEYAUM
27.07.1996
4:09.00
4:09.08
World Youth silver in 1500. 17 years old.
Senbere TEFERI
30.05.1995
4:04.55
4:08.49
World Junior bronze in '12. 3rd behind Simpson + Coburn in Tokyo on May 11. 18 years old.
 Top 4 PB average = 4:06.34
Team Australia
DOB
PB
2014 SB
Comments
Bridey DELANEY
16.07.1989
4:10.32
4:10.35
4:12 at Oxy. 5th at World Juniors in '08.
Brittany MCGOWAN
24.4.1991
4:15.07
4:15.07
4th at Oxy 800 in 2:01.70. Better as an 800 runner so maybe an alternate here?
Heid GREGSON
09.08.1989
4:11.66
4:11.66
Former Iona runner was 6th in heat 2 of Oxy 1500 in 4:13
Kelly HETHERINGTON
10.03.1989
4:10.55
4:13.75
Went out in heats at '13 WC in the 800. Hasn't raced since April 6.
Melissa DUNCAN
30.01.1990
4:08.92
4:08.92
4th in Tokyo and 9th at Oxy in 1500
Zoe BUCKMAN
21.12.1988
4:04.82
4:07.56
7th at WC in '13. Australian outdoor 1500 champ in April, but just 7th in heat 2 of 800 at Oxy.
 Top 4 PB average = 4:08.65
Team Romania
DOB
PB
2014 SB
Comments
Claudia BOBOCEA
11.06.1992
4:15.84
4:16.22
Anca Maria BUNEA
04.08.1994
4:26.77
4:26.77
Florina PIERDEVARA
29.03.1990
4:15.36
4:16.89
Lenuta Ptronela SIMIUC
27.09.1994
4:18.37
4:25.90
 Top 4 PB average = 4:21.59
More: *Streaming / TV Info (6:15 pm ET) *Schedule / Results *Entries