Television and Streaming Info For 2014 Nike Pre Classic – Eugene iAAF Diamond League
by LetsRun.com
May 29, 2014
The 2014 Nike Pre Classic will be broadcast live from Eugene, Oregon, Friday & Saturday, May 30-31 via USATF.tv (Friday) and NBC Sports Network & NBC (Saturday) in the US. The free Friday night Internet broadcast is free world-wide. It begins at 10:15 PM ET/7:15 PM PT. After the event, videos will be made available for on-demand viewing on USATV.tv.
The Saturday action will be broadcast in the United States on NBC Sports Network and NBC's national, over the air network. The coverage will begin at 3:30 PM ET/12:30 PM PT on NBC Sports Network. At 4:30 PM ET/1:30 PM PT coverage will move to NBC.
Article continues below player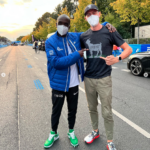 Kipchoge loves the 1:59:40 Shirt Get Yours Today
What a legend!
Friday Live Schedule: Live Stream on USATF.TV
7:15 PM Webcast Begins on USATF.TV
7:30 PM Women 800m USATF High Performance, Section I
7:40 PM Men 800m International
7:50 PM Women 800m USATF High Performance, Section II
9:17 PM Men 10,000 m
*All times are Pacific, Add 3 hours for Eastern
Saturday LIVE links:
3-4:30pm EDT (NBC Sports Network, authenticated stream- users will be prompted to put in their cable provider information)
Live Stream: http://nbcsnstream2.nbcsports.com
4:30-6pm EDT (NBC, unauthenticated stream- users can access the stream without having to put in their provider info)
Live Stream: http://livestream.nbcsports.com
UK Visitors.
For those of you in the UK or with UK proxy addresses, the meet will be broadcast live online on and on the BBC Red Button on Saturday night at 21:00 British time.