Pre Classic Men's 10,000: Galen Rupp Seeks to Lower His American Record against Quality Field
Rupp Faces World Championships Bronze Medalist Paul Tanui and Four Other Sub-27:00 Guys; Former NCAA Stars Sam Chelanga, Leonard Korir and Girma Mecheso also in Field
By LetsRun.com
May 28, 2014
After debating with coach Alberto Salazar about whether air conditions would be more favorable during Friday night's 10,000 or Saturday afternoon's 5,000, the Nike Oregon Project's Galen Rupp announced on Tuesday that he will be racing the longer distance at the 2014 Prefontaine Classic. While it would have been great to see Rupp battle fellow Americans Bernard Lagat, Ben True, Hassan Mead and Chris Derrick in the 5k, the meet organizers have to be happy that Rupp chose to run on Friday instead.  There are only four track races on Friday; if Rupp had chosen the 5k, fans wouldn't have had a reason to stick around and watch a bunch of guys they've likely never heard of run 25 laps. Instead, they get to watch former Duck great Rupp in an American record attempt.
Article continues below player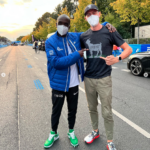 Kipchoge loves the 1:59:40 Shirt Get Yours Today
What a legend!
The American record: Is it Doable? Only 3 Men Have Run Under 26:48 Since 2006
According to the press release from the meet organizers, Rupp "has asked for a fast pace" so it's likely that he and Salazar think the can challenge Rupp's American record of 26:48.00 from 2011.
The biggest question about 10,000m record attempts is always pacing. Last year, Kenenisa Bekele wanted to run 26:50, but the pacing was too slow and he only ended up running 27:12 for the win. The previous two years were faster (winner ran 27:01 in 2012 and 26:46 in 2011), but sub-26:48 is still a very hard time to run, even with a field the quality of the one at Pre. Only three men (Bekele, Mo Farah and Lucas Rotich) have run under 26:48.00 in the past seven years.
Galen Rupp's coach Alberto Salazar leaves no stone unturned for his athletes to perform well, and has Nike's financial backing, so he'll likely have a very good pacer for Galen, but Galen will need perfect pacing and good weather to better his American record.
One thing Rupp and the rest of the field have going for them is the start time of the race. Last year, it started at 7:50 p.m. Pacific Time and there was noticeable wind during the race. That wind had totally dissipated by 9 p.m. We advocated for them to move the start time back this year since it's generally less windy later at night. Apparently the meet organizers agreed with us since the race will start at 9:17 p.m. Pacific Time.
Who can challenge Rupp?
While the crowd will certainly be rooting for Rupp, he's by no means a lock for victory here. Rupp had a strong indoor season, breaking American records at 2 miles (8:07) and 5k (13:01) and finishing 4th in the 3k at world indoors in Poland.
However, he was upset in his outdoor opener by Aussie Collis Birmingham, who was just 10th in the 3k at world indoors and whom Rupp lapped at last year's world championship 10k final. Rupp ran 13:19 at Oxy, which isn't awful at an outdoor opener, but a bit surprising for Rupp considering he ran 13:01 in his indoor opener.
There are several guys capable of taking down Rupp, and they're led by 2013 world championships 10k bronze medalist Paul Tanui of Kenya, who beat Rupp in Moscow last year. Tanui enters this race a little like Rupp — he also got second in 13:19 at his outdoor opener in Japan a few weeks ago, as he was upset by little-known Kenyan James Mwangi Macharia. He's not as fresh as Rupp though, as he followed the 13:19 with a 27:16 10k on the track two weeks ago. Tanui likely was required to run the 10,000 m in Japan by his corporate team, otherwise it seems odd he would attempt two high-level 10,000m on the track two weeks apart.
We think there are four other men who could beat Rupp here: Kenyans Kenneth Kipkemoi, Bedan Karoki and Leonard Komon and 20-year-old Ethiopian Yigrem Demelash. We've listed their credentials in the table below. The most interesting of them is road specialist Komon, who generally only runs one track race per year. If you count road PBs, Komon is actually the fastest man in the field since he ran a world road record of 26:44 in the Netherlands in 2010. Komon ran 26:55 at Pre in 2011 and though he got spanked by Stephen Sambu at the Healthy Kidney 10k in New York three weeks ago, he did run 59:14 at the Berlin Half Marathon in March. If Komon can more like the 26:44/59:14 guy he is, he'll contend for the win here. However, he is a better road race than track runner.
| | | | | |
| --- | --- | --- | --- | --- |
| Men's 10,000 | | | | |
| Name | DATE OF BIRTH | COUNTRY | PB | Comment |
| Galen Rupp | 08.05.1986 | USA | 26:48.00 | 12 Olympic silver medalist set ARs at the 2-mile (8:07) and 5k (13:01) indoors. Upset at Oxy 5k by Collis Birmingham. |
| Paul Tanui | 22.12.1990 | KEN | 26:50.63 | WC bronze medalist ran 27:15 two weeks ago in Japan. |
| Emmanuel Bett | 30.03.1983 | KEN | 26:51.16 | Only result in '14 is a 67:41 half marathon from March |
| Kenneth Kipkemoi | 02.08.1984 | KEN | 26:52.65 | 7th in WC last year; 10th at World Half Marathon Champs in March (60:28) |
| Leonard Komon | 10.01.1988 | KEN | 26:55.29 | 10k road WR holder at 26:44; 2nd at NY Healthy Kidney 10k on May 10, ran 59:14 half in Berlin in March. |
| Yigrem Demelash | 26.01.1994 | ETH | 26:57.56 | Reigning World Junior champ at 10k makes 2014 debut here |
| Bedan Karoki | 21.08.1990 | KEN | 27:05.50 | 6th at WC, 5th at OG; won World's Best 10k in Puerto Rico in Feb.; ran 60:02 half marathon in Japan two weeks ago. |
| Samuel Chelanga | 23.02.1985 | KEN | 27:08.39 | NCAA record holder now training with Ben True in Hanover, NH; ran 13:04 indoors |
| Birhan Nebebew | 14.08.1994 | ETH | 27:14.34 | 19-year-old won road 10k at Drake Relays in April |
| Teklemariam Medhin | 24.06.1989 | ERI | 27:16.69 | 3rd at World Cross last year, 7th at '12 OG; 61:47 half in March is only '14 result |
| Leonard Korir | 10.12.1986 | KEN | 27:29.40 | 2-time NCAA champ at Iona ran 13:24 at Payton Jordan; 7th at B.A.A. 5k last month |
| Timothy Toroitich | 10.10.1991 | UGA | 27:31.07 | 5th at World Cross last year; only 18th at Shanghai DL 5k in 13:36 |
| Bouabdellah Tahri | 20.12.1978 | FRA | 27:31.46 | 35-year-old has only ever finished one track 10k; 13:12 at Shanghai DL; bronze at '09 worlds in steeple |
| Goitom Kifle | 03.12.1993 | ERI | 27:32.00 | 20-year-old was 7th at World Cross last year, 17th at WC 10k; 63:37 at Drake Relays half marathon in April |
| Aaron Braun | 28.05.1987 | USA | 27:41.54 | 6th at Oxy 5k in 13:33; 7th at LA Marathon in March (2:19) |
| Girma Mecheso | 16.01.1988 | ETH | 27:52.38 | Former OK State star ran 47:22 10-miler at Cherry Blossom last month; only 16th at B.A.A. 5k (14:28) |
| El Hassan El Abbassi | 13.04.1984 | MAR | 28:12.40 | 61:09 half marathoner has won two road 10ks in Morocco in '14 |
| Wilson Kiprono Too | 01.01.1991 | KEN | 27:39 (road) | Set road PB to win Laredo 10k in Spain in March |
| Ben St. Lawrence | 07.11.1981 | AUS | 27:24.95 | Aussie 10k record holder was 2nd at Australian champs at 5k in April |
| Mike Kigen | 15.01.1986 | KEN | 27:03.49 | 7th at Paris Marathon in April (2:10) |
| Dawit Wolde | 19.05.1991 | ETH | 28:20 (road) | 2nd at Enschede Marathon in the Netherlands in April (2:10) |
Predictions: Galen's focus may have been this 10,000m for a while and that might explain why he got outkicked by Collis Birmingham in the 5000m at Occidental College as he wasn't race sharp, but we don't see a guy who lost to Collis running 26:48 a few weeks later. This is a very strange field as it doesn't have any 5000m "A" list runners.
Women's 800: Maggie Vessey vs Mary Cain vs Chanelle Price
The other Friday night highlight is the women's 800m featuring junior phenom Mary Cain, 2014 World Indoor Champion Chanelle Price, and Maggie Vessey.
We break down that race here. Last year at Pre Cain went sub 2:00 for the only time in her life.
USATF High Performance, Section II 
Chanelle Price NIKE USA
Maggie Vessey unattached USA
Angelika Cichocka POLAND
Melissa Bishop Nike Canada CANADA
Geena Lara unattached USA
Jessica Smith NIKE CANADA
Mary Cain Nike Oregon Project USA
Heather Kampf ASICS/Team USA MN USA
Christina Rodgers Spirit of Oregon USA
Jemma Simpson GREAT BRITAIN
Shannon Leinart (pacer) OTC USA 
There also is a "B" men's 800m on Friday night. (The men's 800m on Saturday is mouth watering with world champion David Rudisha racing World #1 Mo Aman vs Olympic silver medallist Nijel Amos.)
In the field are:
Job Kinyor (1:43.76)
Michael Rimmer (1:43.89)
Tyler Mulder (1:44.34)
Erik Sowinski (1:44.58)
Charles Jock (1:44.67)
Elijah Greer (1:45.04)
Michael Rutt (1:45.08)
Sowinski looks to turn his 800 season around. He started off super fast at Mt. Sac and has been running mediocre since.
Friday Program
18:45 Preview Program
19:00 Women Discus Throw
19:03 Women Long Jump West Outer Runway
19:30 Women 800m USATF High Performance, Section I *
19:40 Men 800m International *
19:50 Women 800m USATF High Performance, Section II *
20:10 Men Shot Put West Ring
21:17 Men 10,000 m *
The Friday night events will be streamed live on the internet.
Editor's note: The PreClassic has been advertising on LetsRun.com this week. They had no say on this article and it is not part of any advertising package.