Top 4 from 2014 Worlds led by gold medalist Milcah Chemos will compete at 2014 Prefontaine Classic
Emma Coburn, Bridget Franek and Jamie Cheever will run for USA
Press Release
March 24, 2014
Eugene, Oregon – Kenya's Milcah Chemos will bring her gold-medal smile and steeplechase talent back to the Prefontaine Classic in what is shaping up as a Kenya vs. Ethiopia battle.
Article continues below player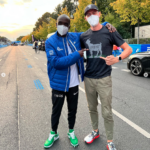 Kipchoge loves the 1:59:40 Shirt Get Yours Today
Shirts are $10 off if he breaks the world record and you order today.
A clean sweep of last year's medalists from the World Championships is prepared to duel again at the landmark 40th Pre Classic set for May 30-31 at historic Hayward Field.
Milcah Chemos is history's fourth fastest ever at 9:07.14 and she is the only runner to win the women's steeple at the Pre Classic, doing it twice.  Her most recent Pre Classic victory (at 9:13.69 in 2012) led a parade of the five fastest ever on American soil.  Her success is especially notable in the IAAF Diamond League, having won the Diamond Trophy in all four years of its existence.
There will be plenty of firepower as the field includes World Championships silver medalist Lidya Chepkurui of Kenya and bronze medalist Sofia Assefa of Ethiopia.  Assefa is also the bronze medalist from the London Olympics.
More of the world's best who hail from East Africa add to a loaded field in Ethiopia's Hiwot Ayalew, who finished just out of the medals in 4th at Moscow.  Ayalew also claimed a silver medal at last year's World Cross Country Championships.  It doesn't stop there as the field includes London Olympic silver medalist Habiba Ghribi of Tunisia and Kenyans Purity Kirui and Fancy Cherotich.  Kirui is a former World Junior champion.
The U.S. will be represented by Olympians Emma Coburn and Bridget Franek, both finalists in London, as well as Jamie Cheever, the second-fastest American last year after Coburn. Coburn was a finalist at the Moscow World Championships, and Franek is American record holder at the shorter 2000-meter steeplechase.
A pair of Europeans with Olympic experience enhance the field in Eilish McColgan of Great Britain and Gesa-Felicitas Krause of Germany.  McColgan is the daughter of Liz McColgan, silver medalist at the 1988 Olympics in the 10,000 meters.
Women's 3000m Steeplechase
Personal Best
Milcah Chemos (Kenya)
9:07.14
 
Habiba Ghribi (Tunisia)
9:08.37
 
Sofia Assefa (Ethiopia)
9:09.00
 
Hiwot Ayalew (Ethiopia)
9:09.61
 
Lidya Chepkurui (Kenya)
9:12.55
 
Purity Kirui (Kenya)
9:19.42
 
Gesa-Felicitas Krause (Germany)
9:23.52
 
Emma Coburn (USA)
9:23.54
 
Fancy Cherotich (Kenya)
9:28.04
 
Jamie Cheever (USA)
09:29.13
 
Bridget Franek (USA)
09:29.53
 
Eilish McColgan (Great Britain)
9:35.82
 
            Fans can follow the event lineups as all announced fields are posted at PreClassic.com.  The direct link to current start/entry lists is HERE and will include updates to all announced fields.
Tickets for the 40th annual edition of the Prefontaine Classic, to be held May 30-31 at Hayward Field in Eugene, Ore., are available now from GoDucks.com and from 1-800-WEBFOOT.
The Prefontaine Classic is the longest-running outdoor invitational track & field meet in America and is part of the elite IAAF Diamond League of meets held worldwide annually.  Last year's Pre Classic was scored highest in the world by All-Athletics.com, the official data partner of the Diamond League.  Sponsored by NIKE continuously since 1984, the Prefontaine Classic will be shown live to an international audience and by NBC Sports from 1:30 till 3:00 p.m. PT on Saturday, May 31.
Steve Prefontaine is a legend in the sport of track & field and is the most inspirational distance runner in American history.  Many call him the greatest ever.  He set a national high school 2-mile record (8:41.5) while at Marshfield High School in Coos Bay, Oregon, that is still the fastest ever in a National Federation-sanctioned race.  While competing for the University of Oregon, he won NCAA cross country championships (3) and outdoor track 3-Mile/5000-meter championships (4), and he never lost a collegiate race at any distance.  As a collegiate junior, he made the 1972 U.S. Olympic Team and nearly won an Olympic medal, finishing 4th in the 5K at the 1972 Munich Olympics, at age 22.  After finishing college in 1973 and preparing for a return to the Olympics in 1976, he continued to improve, setting many American records.  His life ended tragically on May 30, 1975, the result of an auto accident, at age 24.  The meet in his honor began that year and has been held every year since.
Read more: PreClassic.com – The official Prefontaine Classic website – News – Steeplechase in High Gear for Pre Classic http://www.runnerspace.com/eprofile.php?event_id=120&do=news&news_id=235178#ixzz2wwS77oyz