For the record, David Rudisha has not had surgery
Rudisha was on crutches to give his bone bruise best chance to heal
by LetsRun.com
July 9, 2013
If you are one of those people who is constantly on facebook or twitter (thankfully we are not but have a lot of visitors who are and they often email us if something relevant happens), you may have seen this photo which showed up on the facebook page of Lordvick Okech, a Kenyan who says he's friends with Rudisha: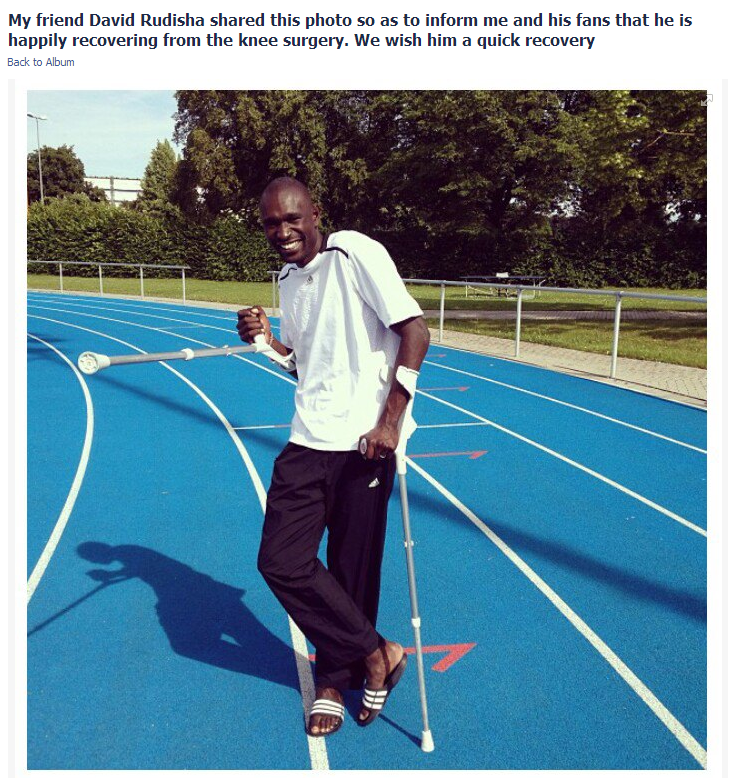 Article continues below player.
Actually, you might have seen the photo on our messageboard after flotrack tweeted it out .
Clearly, seeing Rudisha on crutches and the caption claiming he had surgery didn't bode well for Rudisha's Moscow chances.
| | |
| --- | --- |
| Overall | |
| Comfort | |
| Cushioning | |
| Durability | |
| Appearance | |
| Value | |
However, we decided some old fashioned journalism, not speculation was in order as it had never been reported that Rudisha had surgery. In fact, it had been reported Rudisha didn't need surgery.
We reached out to Rudisha's long-time agent James Templeton and asked him if Rudisha had had surgery and if he was therefore out for Moscow.
Templeton emailed us the following response:
"No he didn't have surgery. He has a bone bruise on the underside of his right knee; he was on crutches for a period to give it the best possible chance to heal. He's been in Tuebingen this last month having treatment."
So there you have it. No word yet on whether Rudisha will be ready for Moscow but good news in the sense that his injury hasn't required surgery.
We wish Rudisha a speedy recovery.
More: MB: Rudisha out?!?