Jessica Judd Breaks 2:00.00 – 18-Year Old British Phenom Wins 2013 Sainsbury's Grand Prix in 1:59.85
by LetsRun.com June 30, 2013 One of the biggest stories in 2013 in US mid-d circles has been the great success teenage phenoms Mary Cain and Ajee' Wilson have had so far as both have already made the US world championship team for Moscow. Well the Brits have their own teenage phenom in 18-year old […]
Join Our Supporters Club To Keep Reading
Sign up today to get a free 12-week training program and t-shirt.
by LetsRun.com
June 30, 2013
One of the biggest stories in 2013 in US mid-d circles has been the great success teenage phenoms Mary Cain and Ajee' Wilson have had so far as both have already made the US world championship team for Moscow.
Well the Brits have their own teenage phenom in 18-year old Jessica Judd and she was on full display at the 2013 Sainsbury's Grand Prix today in Birmingham, England. Judd, who finished just .05 behind Wilson last year at World Juniors in earning silver in the 800, earned the biggest victory of her career this afternoon and more importantly broke 2:00.00 for the first time in the process as she ran 1:59.85 – just .10 off or Charlotte Browning's 1:59.75 British junior record from 2002.
Article continues below player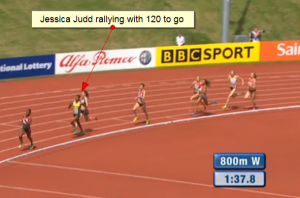 Judd came from behind to win here as Marilyn Okoro got out fast as she so often does. Okoro had the lead at 600 (1:28.53) but Judd dug deep and ran her down in the homestretch. Okoro ended up second in 2:00.76.
"I'm just so happy. I've been saying, 'I need to do it (break 2:00). I need to do it,' and then it suddenly occurred to me, I actually have to go and do it," said Judd on the BBC Two telecast. "I worked really hard for that."
Judd also was pleased to have big-time home crowd support. "It makes me every emotional actually, as last year I don't think too many people knew who i was to be honest."
Quick takes, photos from the race and results appear below.
Quick Take (QT) #1: Judd has been progressing very nicely the last few years:
2010 2:05.58 at age 15
2011 2:02.70 at age 16
2012 2:00.96 at age 17
2013 1:59.85 at age 18
In comparing Judd to Mary Cain and Ajee' Wilson,we'd say Judd is probably more like Cain than Wilson as Judd is more of a distance runner (4:09 1500 pb, 9:00 3000) whereas Wilson is a pure 800 runner.
We've started a messageboard thread related to her Judd where you can give your thoughts on her: MB: 18-year old Brit Jessica Judd 1:59.85!!! Brits tell us about her
QT #2: Judd certainly looks like the real deal when you watch her run and we expect her to get even better, but it does need to be pointed out that Charlotte Browning never ran faster than her 1:59.75 British junior record.
QT #3: We had Judd in 59 low at 400 and 1:29 low at 600. Her endurance background certainly paid off in the final 200 as she ran strongly and barely slowed. Contrast that to Okoro or Ethiopian national record holder Fantu Magiso who ended up third in 2:01.12. The three of them were all pretty close to each other with 100 to go.
RANK
ATHLETE
NATION
RESULT

1

GBR

1:59.85

PB

2

GBR

2:00.76

3

ETH

2:01.12

4

NED

2:01.87

SB

5

AUS

2:02.13

6

RUS

2:02.33

7

USA

2:03.02

8

GBR

2:04.52

POL

DNF

IRL

DNF
400m: Crowe, Laura (IRL) 57.62
600m: Okoro, Marilyn (GBR) 1:28.54