by LetsRun.com
June 5, 2013
Eugene, Oregon – In the first track final at the 2013 NCAA Outdoor Track and Field Championships at Hayward Field, Iowa State's Betsy Saina came through as the heavy favorite and won the 10,000 title in 33:08.25 as her former Iowa State teammate, Aliphine Tuliamuk-Bolton (now of Wichita State) was second in 33:14.12.
Saina, who has a stellar 31:15.97 pb, pulled away from Tuliamuk-Bolton on the first turn on the final lap and cruised to victory thanks to a final lap of 70.57.
"I trusted my kick," Saina said according to Iowa State (our interview with her is embedded on the left). "The plan was to extend as little energy as possible because I still have to run the 5,000 meters. I was never nervous during the race. I hope I can go out with a smile on Friday."
Top American honors went to Boise State sophomore Emma Bates who used her strong kick to easily distance herself from a five woman pack on the final lap. Her final quarter of 66.02 was by far the fastest of the night.
Article continues below player
The Race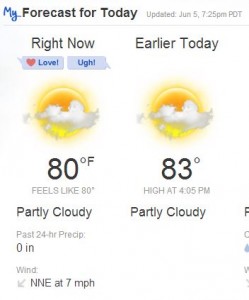 The race began under warm 80 degree conditions and no woman wanted to lead as a result. The opening splits were incredibly slow (Lap by lap splits for all runners here). The first lap was 87. The second 92.
After a pedestrian opening first 3,200 of 11:06.22, Saina and Tuliamuk-Bolton were already first and second but they soon decided they'd had enough of the jog fest and ratcheted up the pace. On the ninth lap, Saina put down a 75.33 400 which broke the race wide open.
The Kenyan pair instantly gapped the field . They'd work together a bit until the finish trading the lead, although Saina did most of the work, leading for all but four of the laps.
Behind the two Kenyans, Washington's Megan Goethals soon found herself in no-woman's land as she tried to go with the faster pace but couldn't latch on. While she couldn't catch up to the two Kenyans, Goethals did pull away from everyone else.
By 6k, Goethals had more than 11 seconds on the five woman chase pack that comprised of all of the rest of the eventual scorers – Bates, Boston University's Katie Matthews, Arizona's Jennifer Bergman, Cornell's Katie Kellner,  and UTEP's Risper Kamaiyo. Suddenly though, Goethals large lead over fourth started to evaporate. A little over four laps later, Goethals was caught and we're sure many watching expected her to be spit out the back.
But no, Goethals found a second life and ran with the chase pack until the final lap when she outkicked all of them but one to grab fourth. The chase pack of six stayed intact until the 22nd lap when Kimaiyo faltered. Those that remained – the eventual third through seven finishers – stayed together until the final lap
Quick Take (QT) #1: We didn't expect Saina to have any trouble in this race and she didn't. She dominated as a 31:15 runner should.
QT (#2): We were very impressed how Goethals found a second life after getting swallowed up by the chase pack.
QT #3: We caught up with Bates who scored for the first time at NCAAs in a big way – with a third place finish (interview on left). The 15:50 5k runner told us she is very confident in her kick and thus, was just waiting until the end to make her move for third. Bates considers the 5k to be her main event so it will be interesting to see what she does there. The 5k  is much more loaded as it includes many of the top 10 runners (for example, all of the top four finishers from this race) plus Abbey D'Agostino, Emily Sisson, Jordan Hasay, and others.
QT #4: Not a good night for Butler's Katie Clark who was last. Clark came in seeded 8th in the 10k (33:36) and third in the 5k (15:43).
QT #5: Interviews with Tuiliamuk-Bolton and Kellner appear below and then you'll see the results. Click on 'heat data' to see lap by lap splits.
| Place | Athlete | Affiliation | Time | | Wind | Heat (Pl) | Result (split) |
| --- | --- | --- | --- | --- | --- | --- | --- |
| 1 | Betsy Saina | IAST | 33:08.85 | | +1.9 | 1 (1) | Heat data |
| 2 | Aliphine Tuliamuk-Bolton | WICH | 33:14.12 | | +1.9 | 1 (2) | Heat data |
| 3 | Emma Bates | BOIS | 33:37.13 | | +1.9 | 1 (3) | Heat data |
| 4 | Megan Goethals | WASH | 33:40.85 | | +1.9 | 1 (4) | Heat data |
| 5 | Katie Matthews | BOSU | 33:43.26 | | +1.9 | 1 (5) | Heat data |
| 6 | Jennifer Bergman | ARIZ | 33:45.03 | | +1.9 | 1 (6) | Heat data |
| 7 | Katie Kellner | CORN | 33:45.31 | | +1.9 | 1 (7) | Heat data |
| 8 | Risper Kimaiyo | UTEP | 34:03.35 | | +1.9 | 1 (8) | Heat data |
| 9 | Allison Lasnicki | UCON | 34:11.99 | | +1.9 | 1 (9) | Heat data |
| 10 | Elaina Balouris | WAM | 34:13.53 | | +1.9 | 1 (10) | Heat data |
| 11 | Joanna Thompson | NCST | 34:14.30 | | +1.9 | 1 (11) | Heat data |
| 12 | Rhiannon Johns | UAB | 34:15.62 | | +1.9 | 1 (12) | Heat data |
| 13 | Caitlin Comfort | WISC | 34:35.42 | | +1.9 | 1 (13) | Heat data |
| 14 | Dani Stack | IAST | 34:38.10 | | +1.9 | 1 (14) | Heat data |
| 15 | Rochelle Kanuho | NAU | 34:46.04 | | +1.9 | 1 (15) | Heat data |
| 16 | Meaghan Nelson | IAST | 34:46.70 | | +1.9 | 1 (16) | Heat data |
| 17 | Kayla Lampe | SCAR | 34:54.35 | | +1.9 | 1 (17) | Heat data |
| 18 | Chelsea Oswald | UKY | 35:06.02 | | +1.9 | 1 (18) | Heat data |
| 19 | Kayleigh Tyerman | FSU | 35:06.71 | | +1.9 | 1 (19) | Heat data |
| 20 | Semehar Tesfaye | ARK | 35:06.75 | | +1.9 | 1 (20) | Heat data |
| 21 | Corey Conner | UME | 35:10.07 | | +1.9 | 1 (21) | Heat data |
| 22 | Katie Clark | BUTL | 35:31.07 | | +1.9 | 1 (22) | Heat data |
| | Jana Soethout | SF | DNF | | | 1 | Heat data |
| | Florence Ngetich | UFL | DNF | | | 1 | Heat data |
---
Advertisement
The 1:59:40 GOAT shirts are here