Ryan Hall To Lead Elite Field At 2013 Bay To Breakers
Press Release
May 13, 2013
SAN FRANCISCO – (May 13, 2013) The 102nd Bay to Breakers presented by craigslist 12k running race will take place on Sunday, May 19, with an elite field filled with top domestic athletes in search of the first U.S. athlete winner in 20 years. This year, Olympian Ryan Hall, a two-time Olympic marathoner will compete in this legendary race for the first time. Hall holds the U.S. half-marathon record of 59:43, and the American 20k record of 57:54, and is well positioned for victory entering this race. This will be Hall's first race since the 2012 Olympic Marathon in London and he brings with him the fastest marathon time ever run by an American, 2:04:58 set at Boston in 2011.
Set to go head-to-head with Hall is an impressive collection of top elite males including:
Article continues below player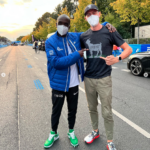 Kipchoge loves the 1:59:40 Shirt Get Yours Today
What a legend!
· Tesfaye Alemayehu, originally from Ethiopia but now resides and trains in Antioch, California. Alemayehu is a consistent top five performer at major road races, including three Bay to Breakers top five finishes.
· Tolossa Gedefa Fufi from Ethiopia, a young promising runner following in the footsteps of great Ethiopians at Bay to Breakers, will be participating for the first time after finishing fourth at the African Championships over 5000m in 2012.
· Olympian Bolota Asmerom resides in Oakland, California, and has placed within the top ten at Bay to Breakers twice. Bolota also holds the fastest 5000m personal best in the field, 13:15.16
· Giliat Ghebray, a former Cal Berkeley Golden Bear residing in Union City, California and the reigning Pacific Association road 5k champion, will reunite with Hall at the Bay to Breakers to renew an old college rivalry: Cal vs. Stanford.
· Edward Mbuni of Kenya will make his U.S. road racing debut at Bay to Breakers. A seasoned marathoner, Mbuni has run a sharp 2:13:58 marathon and is the 2012 International Orange Marathon Champion.
· Rounding out the men's elite field: Steve Sundell (USA), Frank Corrigan (USA) and James "The Beast" Nielsen (USA) and first-time Bay to Breakers racers Cheyne Inman (USA) Ivan Medina (USA) and Marco Anzures (USA).
An impressive female elite field is also set to create excitement at the finish, with 2012 Bay to Breakers runner-up Diane Nukuri-Johnson aiming to improve to the top spot on the podium. She has had a great spring with a second place finish at the NYC Half Marathon and eighth place in the Boston Marathon, both personal bests. Challenging Nukuri-Johnson for the 2013 title is the top American from 2012, Michelle Frey. Frey was the fourth overall finisher in 2012 after shaving two minutes off her 2011 time.
Despite Frey and Nukuri-Johnson's return, this year's race might belong to local talent Chelsea Reilly. A former Cal Berkeley Golden Bear, Reilly has won two U.S. national titles within the past year and continues to be a top contender at every distance she races. She will be competing in Bay to Breakers for the first time.
The following top females will round out the elite female field:
· Bay to Breakers first timer Adrienne Herzog from the Netherlands. Herzog has won two bronze medals in cross country at the European Championships and is a five time national champion for the Netherlands. She also has the fastest mile personal best in the field.
· Natasha LaBeaud, from San Diego, California, has set five new personal bests this year in five different events which includes an eighth place finish at the highly competitive Carlsbad 5000.
· Catha Mullen of Woodside will step down to the 12k distance after finishing second in the Nashville Country Music Half Marathon earlier this year.
· Caroline Gregory, a local triathlete, will test her running legs over the challenging course.
"We are thrilled to have such an impressive field of top American athletes this year. Ryan Hall is an amazing athlete and we are excited to have him race Bay to Breakers for the first time. Equally as exciting is the women's field who may give us our first American winner in 20 years," said Bay to Breakers presented by craigslist Race Director Angela Fang. "The last American male to win was in 1986 and the last American female to win was in 1993. Both of these marks may be reset this year considering the quality of the domestic field assembled."
The race kicks off on Sunday, May 19, at 7:00 a.m., at the intersection of Howard and Main Street. After no more than 34 minutes the fates of these elite runners will be decided and the 102nd winner of Bay to Breakers presented by craigslist will be crowned and a prize purse of $25,000 will be awarded.
Registration is open online until midnight on Wednesday, May 15, at www.baytobreakers.com. Registration will also be available onsite at the Volkswagen Greater Body Expo presented by Big 5 located at the San Francisco Design Center on Friday from 11:00 a.m. – 7:00 p.m. and Saturday from 9:00 a.m. – 6:00 p.m. Since 1912, this legendary race has taken thousands of participants including elite athletes, centipede teams of 13, celebrities, costumed racers, marathon runners, weekend warriors and more from the edge of the bay, to the shore of the Pacific Ocean, via several San Francisco neighborhoods. The 2013 Bay to Breakers presented by craigslist official sponsors include: craigslist, Crunchies Food Company, Dos Equis, SnuggBuds, LinkedIn, Volkswagen, Big 5 Sporting Goods, C20 Pure Coconut Water, Bear Naked, and the Hyatt Regency Hotel San Francisco, For more information, visit www.baytobreakers.com or call 877-234-8425.