Nicholas Kemboi And Caroline Rotich Win Volkswagen Prague Marathon
Press Release
May 12, 2013
He was the last of the elite runners to register but the first past the finish line! Originally from Kenya, Nicholas Kemboi emerged as the overall winner at the Volkswagen Prague Marathon with a time of 2:08:51, scooping up Qatar's first ever victory in the race's 19 year history. When it came to the women, the win went to the U.S. based Kenyan star Caroline Rotich in 2:27:00. The powerful rays of the sun made for a slightly hotter than ideal temperature with a slight breeze also not offering a helping hand to those set on smashing record times. The race saw a record number of nine and a half thousand runners take part.
Rather a large group of thirteen runners stuck together at the front for twenty kilometers, before starting to break up. The favorite and holder of the fastest personal best, Albert Matebor was absent from the pack with subsequent winner, Kemboi breaking free from the group much later.
Article continues below player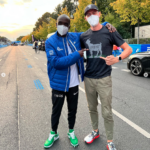 Kipchoge loves the 1:59:40 Shirt Get Yours Today
What a legend!
"I started to believe I was going to win eight kilometers before reaching the finish line. I was on my own with my rivals behind me. But it wasn't until I passed the finish line that I truly believed it," Kemboi revealed who ran only his second ever marathon today here in Prague. "I used to be a track runner (note from editor: he ran the 10,000 m in Brussels in 26:30 the fourth fastest time on record) but I'm now becoming a marathon runner and I am pleased."
How did he find the weather? "It was pleasant, at times a bit colder than I would have liked. I hit crisis point at thirty kilometers, I made a wrong move with my foot on the cobblestones causing me to strain my left foot. But I managed to recover my pace and finish the race. I couldn't find any fault in the race organization –it was perfect and I'll be delighted to return here."
The Kenyan, who swapped his citizenship to become a Qatari, has however kept his name. "I didn't feel part of the team back in Kenya which is why I decided on the change. I feel part of the national team in Qatar. But I held on to my name mainly because I had already achieved quite a bit with that identity", he explained.
The number two spot went to Girmay Birhanu from Ethiopia who also finished second two months ago in Rome. "You're right that it's not exactly common to finish second twice in marathons only two months apart, and it was pretty tough, but I managed it," he commented, clearly pleased with the result.
As late as the Thursday before the race it still wasn't clear whether Patrick Terer, who ended up finishing third, would be able to take part as he waited at the Embassy in Nairobi to be issued a visa. It was almost a miracle that he got it in time as two weeks before it hadn't worked out as he was on his way to Hannover with a visa from the French Embassy and he was turned back in Amsterdam. "Thank you once again for inviting me. If you invite me again, I promise I'll win the race," he said, laughing.
In the Czech Championships, 23 year old Jiří Homoláč from Brno surfaced as winner with a time of 2:21:37. "My goal was to smash my personal record with a time under 2:18 but it didn't work out. Every little detail shows when you run a marathon," he said, knowingly. "The heat didn't bother me though the wind was strong along the embankment, and as I was running alone, I could really feel it. At least I managed to pick up a better tan running the longer course," he joked. He wasn't able to beat his time of 2:21:06 from his debut performance last year due to experiencing cramps along the course.
Just as was the case last year, second place went to Petr Pechek with the 41-year old veteran and doctor from Týn na Vltavou, Mulugeta Serbessa, originally from Ethiopia, following in third place.
This time around the typically slow starting, Caroline Rotich ran at lightning pace right from the beginning. "I felt great all the way through the race. I didn't want to leave the leading group for the first half. My coach advised me to run each race differently, that it was important to be unique. Which is why I changed tactics." She explained.
By the thirty kilometer split she already had a thirty second lead. "I had no idea about that. I was mainly focusing on my time, and I managed to stretch the gap even further by the finish and it worked."
The Silver medallist from the 2009 World Championships in the Half Marathon, Philes Ongori from Kenya finished in second place running her second ever marathon today. "Yes, it was tough. It surprised me that my body wasn't reacting. I had to push myself a lot to make it work, but Caroline was already far ahead."
Another one of the favourite,s Ehitu Kiros from Ethiopia finished third. "I'm not happy with my time, the weather really wasn't ideal for the marathon either. It was better for the half marathon here a month ago (note from editor: cold at around 6 degrees Celsius). Race record holder Lydia Cheromei coming back after some minor injuries finished in sixth place.
The best female Czech runner, Petra Pastorová, led by pacemaker Robert Krupička managed to defend the Championship title with a time of 2:36:43. She improved her personal best by three minutes, but she was still a ways off the time required to qualify for the World Championships in Moscow this August (2:33:30). "I didn't make the qualifying time but I am still pleased to have broken my own record", she said. She will now be focusing more on hill runs and track races.
Radka Churaňová, who has already picked up three Czech marathon titles, finished in second place followed by Šárka Macháčková who improved her best time by almost four and a half minutes.
"I'm pleased to see that both the women entrusted to me for training have improved their personal records. It was really warm. If the conditions had been better, Petra would have beat the qualifying time, she was so close to reaching it," said Alena Peterková who trains the Gold and Bronze Czech women and previously held the Czech marathon record.
It was also possible to spot a number of interesting personalities along the course including professional world boxing champions, the Hungarian, István Kovács and Polish hero Dariusz Michalczewski as well as the Vice President of Lenovo Mr. Wei Jenglei from China, and the President of the New York Road Runners and Race Director of the ING New York City Marathon, Mary Wittenberg, who ran her first full marathon in nineteen years. Meanwhile the Volkswagen Family Mini Marathon had the pleasure of welcoming the Olympic skier, Kateřina Neumannová.
In a very fitting finish, the Junior Marathon winning relay team was from the Zatopek Grammar school in Ostrava
There was no shortage of big names among the spectators either as the Chairman of the IAAF Road Running Commission, David Bedford, and the former General Secretary of the IAAF, Pierre Weiss were both there offering their encouragement to runners.
The full results can be found on www.runczech.com.