2013 Shanghai Diamond League Track and Field Meeting: Schedule, Live Results and Streaming Information
By LetsRun.com
May 15, 2013
Below you will see a table which includes the schedule/results for the second IAAF Diamond League meet of the year in Shanghai which takes place on Saturday.
Below the table, we've pasted the entries for the entire meet if you want to see them all at once.
Article continues below player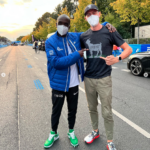 Kipchoge loves the 1:59:40 Shirt Get Yours Today
What a legend!
All times below are in the local Shanghai time (CST), which is exactly 12 hours ahead of US Eastern Time. UK visitors, Shanghai 7 hours ahead of you.
The international broadcast of the meet will take place between 8 am and 10 am ET on Saturday morning.
In the US, the meet can be watched for free if you have access to Universal Sports. US fans please note, in 2013, you will not be allowed to purchase the Diamond League series. You must subscribe to Universal Sports. If you are unable to receive the network, they are advising you to "contact your TV provider and tell them you want Universal Sports in your channel line up. Call 1-800-55-GET-US, or follow this link to fill out an online form: CLICK HERE. You may already have done this in the past, but please be assured that your voices are being heard and does continue to make a difference."
In the UK, the meet is going to be broadcast on the BBC Red Button channel. It also will be live online at this link. 
In South Africa (and Sub-Sahara in general), the broadcast rights holder is Super Sport which will broadcast it live. For taped times, see here.
Triple Jump
| ATHLETE | DATE OF BIRTH | NATION | PB | SB |
| --- | --- | --- | --- | --- |
| | 06.02.1983 | BRA | 14.57 | 14.19 |
| | 06.01.1988 | RUS | 14.14 | |
| | 12.02.1984 | COL | 14.99 | 14.22 |
| | 25.09.1989 | UKR | 14.71 | 14.30 |
| | 06.02.1990 | CHN | 14.35 | 13.57 |
| | 21.04.1986 | GRE | 14.55 | |
| | 04.06.1983 | UKR | 14.99 | |
| | 03.06.1981 | SVK | 14.51 | 14.01 |
| | 03.11.1988 | JAM | 14.53 | 14.00 |
| | 27.06.1986 | CHN | 14.90 | 13.57 |
Shot Put
| ATHLETE | DATE OF BIRTH | NATION | PB | SB |
| --- | --- | --- | --- | --- |
| | 03.10.1979 | TRI | 19.42 | 17.75 |
| | 12.10.1985 | USA | 19.86 | 19.20 |
| | 25.01.1990 | BLR | 17.70 | 16.98 |
| | 24.01.1989 | CHN | 20.35 | 19.97 |
| | 24.02.1978 | ROU | 19.08 | 18.43 |
| | 06.06.1988 | CHN | 19.24 | 18.48 |
| | 15.01.1989 | HUN | 18.48 | 18.18 |
| | 28.10.1989 | USA | 18.04 | 18.04 |
| | 24.12.1985 | GER | 19.31 | |
| | 28.10.1989 | RUS | 19.72 | |
| | 17.02.1986 | GER | 18.87 | |
Discus
| ATHLETE | DATE OF BIRTH | NATION | PB | SB |
| --- | --- | --- | --- | --- |
| | 15.02.1984 | NED | 67.30 | 64.38 |
| | 18.10.1978 | ESP | 67.91 | 63.12 |
| | 05.07.1983 | IND | 66.28 | 65.82 |
| | 06.05.1979 | EST | 73.38 | |
| | 07.06.1983 | POL | 69.83 | |
| | 19.04.1984 | CRO | 66.53 | 62.03 |
| | 08.04.1978 | ESP | 69.50 | |
| | 09.07.1981 | NED | 67.77 | 65.91 |
| | 29.04.1987 | POL | 66.93 | 64.36 |
| | 01.03.1988 | CHN | 58.37 | 58.00 |
Pole Vault
| ATHLETE | DATE OF BIRTH | NATION | PB | SB |
| --- | --- | --- | --- | --- |
| | 08.07.1993 | SWE | 4.58 | 4.37 |
| | 12.03.1980 | USA | 4.62 | 4.43 |
| | 03.06.1982 | RUS | 5.06 | |
| | 20.02.1983 | USA | 4.60 | 4.53 |
| | 21.08.1985 | RUS | 4.65 | |
| | 06.07.1989 | CHN | 4.45 | |
| | 05.03.1983 | UKR | 4.52 | |
| | 15.11.1989 | RUS | 4.60 | |
| | 21.06.1987 | USA | 4.60 | 4.53 |
| | 17.03.1986 | GER | 4.82 | |
| | 23.05.1987 | USA | 4.50 | 4.40 |
High Jump
| ATHLETE | DATE OF BIRTH | NATION | PB | SB |
| --- | --- | --- | --- | --- |
| | 02.09.1984 | CZE | 2.36 | |
| | 14.06.1983 | BAH | 2.32 | 2.25 |
| | 24.06.1991 | QAT | 2.39 | 2.30 |
| | 30.08.1989 | UKR | 2.33 | 2.33 |
| | 03.10.1987 | GBR | 2.37 | 2.24 |
| | 25.03.1983 | FRA | 2.32 | 2.26 |
| | 30.09.1986 | CAN | 2.31 | 2.31 |
| | 08.09.1990 | RUS | 2.31 | 2.24 |
| | 13.08.1984 | RUS | 2.36 | 2.27 |
| | 08.02.1990 | CHN | 2.25 | 2.21 |
| | 01.07.1984 | BAH | 2.35 | 2.25 |
| | 04.06.1991 | CHN | 2.31 | |
400m Hurdles
| ATHLETE | DATE OF BIRTH | NATION | PB | SB |
| --- | --- | --- | --- | --- |
| | 10.03.1983 | USA | 52.47 | 55.34 |
| | 19.12.1986 | CZE | 53.29 | 54.41 |
| | 26.07.1986 | ROU | 53.95 | |
| | 07.02.1990 | USA | 54.94 | 54.94 |
| | 27.10.1987 | NGR | 54.40 | 55.73 |
| | 28.01.1987 | CUB | 54.89 | |
| | 06.05.1987 | JAM | 52.79 | |
| | 05.02.1983 | USA | 53.28 | 55.04 |
| | 13.04.1991 | CHN | 56.65 | 59.88 |
1500m
| ATHLETE | DATE OF BIRTH | NATION | PB | SB |
| --- | --- | --- | --- | --- |
| | 06.08.1988 | KEN | 3:31.00 | 3:31.90 |
| | 25.09.1987 | KEN | 3:32.08 | 3:32.85 |
| | 21.01.1987 | KEN | 3:29.47 | |
| | 25.04.1994 | ETH | 3:34.55 | |
| | 11.10.1988 | ETH | 3:31.45 | 3:34.49 |
| | 20.02.1988 | CZE | 3:38.10 | |
| | 25.03.1987 | MAR | 3:31.47 | 3:35.85 |
| | 20.08.1989 | KEN | 3:29.27 | 3:34.57 |
| | 30.06.1989 | KEN | 3:28.88 | 3:31.13 |
| | 27.11.1984 | KEN | 3:29.02 | 3:33.05 |
| | 20.07.1990 | KEN | 3:33.31 | 3:40.66 |
| | 14.11.1989 | NZL | 3:36.53 | |
| | 21.04.1987 | KEN | 3:32.55 | |
| | 01.01.1987 | KEN | 3:43.43 | |
| | 25.06.1993 | CHN | 3:42.05 | 3:49.99 |
| | 26.05.1991 | MAR | 3:34.52 | |
| | 25.04.1983 | NZL | 3:30.35 | 3:34.68 |
| | 12.03.1989 | CHN | 3:41.56 | 3:49.93 |
100m
| ATHLETE | DATE OF BIRTH | NATION | PB | SB |
| --- | --- | --- | --- | --- |
| | 25.11.1980 | JAM | 11.04 | 11.37 |
| | 11.02.1983 | JAM | 11.05 | 11.29 |
| | 27.12.1986 | JAM | 10.70 | 11.47 |
| | 25.09.1988 | JAM | 11.11 | |
| | 24.11.1979 | USA | 10.64 | 10.95 |
| | 09.10.1988 | NGR | 10.92 | |
| | 27.09.1989 | USA | 11.07 | |
| | 11.10.1991 | CHN | 11.36 | 11.72 |
| | 06.06.1987 | GAB | 11.03 | 11.24 |
Long Jump
| ATHLETE | DATE OF BIRTH | NATION | PB | SB |
| --- | --- | --- | --- | --- |
| | 03.06.1991 | USA | 8.29 | 7.74 |
| | 20.07.1983 | GHA | 8.43 | 7.77 |
| | 03.10.1985 | GBR | 8.11 | 7.55 |
| | 01.09.1989 | CHN | 8.25 | |
| | 11.03.1987 | ZIM | 8.40 | 7.50 |
| | 07.12.1990 | RUS | 8.29 | |
| | 06.03.1985 | RSA | 8.50 | 8.11 |
| | 01.10.1977 | USA | 8.74 | |
| | 17.11.1986 | GBR | 8.35 | 8.10 |
| | 23.01.1983 | PAN | 8.73 | 7.99 |
| | 21.03.1987 | CHN | 8.21 | |
| | 15.09.1981 | GBR | 8.35 | |
| | 25.03.1988 | AUS | 8.54 | 8.01 |
Javelin
| ATHLETE | DATE OF BIRTH | NATION | PB | SB |
| --- | --- | --- | --- | --- |
| | 10.03.1982 | CHN | 81.38 | 74.93 |
| | 15.03.1982 | NZL | 86.31 | 81.07 |
| | 23.07.1987 | FIN | 85.70 | |
| | 23.01.1987 | RSA | 86.80 | 81.97 |
| | 19.12.1982 | FIN | 91.53 | 86.40 |
| | 29.10.1991 | RUS | 85.63 | 85.63 |
| | 01.04.1982 | NOR | 91.59 | 81.51 |
| | 27.02.1983 | CZE | 88.34 | 85.09 |
| | 22.04.1993 | TRI | 84.58 | 84.39 |
| | 04.01.1989 | KEN | 81.81 | 76.43 |
| | 24.07.1985 | CHN | 81.74 | 80.77 |
400m
| ATHLETE | DATE OF BIRTH | NATION | PB | SB |
| --- | --- | --- | --- | --- |
| | 29.10.1987 | CHN | 46.46 | 48.11 |
| | 22.02.1988 | BEL | 44.43 | |
| | 25.11.1988 | TRI | 44.52 | |
| | 01.09.1992 | GRN | 43.94 | 44.72 |
| | 21.02.1991 | CZE | 44.91 | |
| | 27.06.1986 | USA | 43.75 | |
| | 12.11.1993 | DOM | 44.45 | 44.74 |
| | 20.03.1982 | GBR | 45.08 | |
| | 01.02.1993 | CHN | 46.59 | 46.77 |
3000m Steeplechase
| ATHLETE | DATE OF BIRTH | NATION | PB | SB |
| --- | --- | --- | --- | --- |
| | 11.02.1992 | UGA | 8:14.48 | |
| | 14.12.1992 | KEN | 8:03.43 | 8:15.26 |
| | 20.04.1987 | KEN | 8:10.63 | |
| | 30.06.1986 | CAN | 8:19.33 | 8:23.43 |
| | 04.03.1989 | UGA | 8:03.81 | |
| | 31.07.1985 | KEN | 7:53.64 | |
| | 08.12.1994 | KEN | 8:03.49 | |
| | 22.01.1994 | KEN | 8:11.27 | |
| | 10.11.1981 | KEN | 7:54.31 | |
| | 15.08.1983 | KEN | 8:15.80 | 8:24.90 |
| | 27.01.1987 | CHN | 8:27.14 | 9:00.45 |
| | 02.10.1988 | KEN | 8:01.67 | 8:19.31 |
| | 01.01.1985 | KEN | 8:05.88 | 8:19.63 |
| | 16.02.1985 | MAR | 8:07.02 | 8:41.00 |
| | 22.07.1986 | CAN | 8:28.46 | 8:31.39 |
| | 02.04.1992 | KEN | 8:07.71 | |
800m
| ATHLETE | DATE OF BIRTH | NATION | PB | SB |
| --- | --- | --- | --- | --- |
| | 25.12.1987 | MAR | 1:59.54 | 2:02.67 |
| | 17.12.1987 | BLR | 1:59.30 | |
| | 20.12.1990 | KEN | 1:59.37 | 2:04.6h |
| | 15.03.1988 | POL | 2:00.20 | |
| | 05.12.1989 | KEN | 1:54.01 | |
| | 13.12.1983 | KEN | 1:56.04 | |
| | 08.12.1992 | KEN | 1:59.68 | |
| | 26.04.1989 | IND | 1:59.17 | |
| | 08.12.1988 | RUS | 1:58.55 | |
| | 05.05.1993 | BDI | 1:56.59 | |
| | 17.01.1995 | CHN | 2:01.34 | |
| | 09.07.1988 | CHN | 2:01.46 | |
200m
| ATHLETE | DATE OF BIRTH | NATION | PB | SB |
| --- | --- | --- | --- | --- |
| | 12.05.1982 | JAM | 20.06 | 21.04 |
| | 10.02.1982 | USA | 20.00 | 20.44 |
| | 03.07.1984 | NED | 19.85 | |
| | 04.12.1977 | USA | 20.03 | |
| | 24.12.1984 | USA | 19.65 | 20.32 |
| | 31.10.1989 | JAM | 19.84 | 20.14 |
| | 17.08.1993 | CHN | 20.54 | 20.71 |
| | 21.03.1991 | JAM | 19.86 | |
| | 13.03.1987 | CHN | 20.64 | |
5000m
| ATHLETE | DATE OF BIRTH | NATION | PB | SB |
| --- | --- | --- | --- | --- |
| | 26.06.1988 | UGA | | |
| | 16.01.1994 | ETH | 15:32.95 | |
| | 23.01.1986 | ETH | 14:31.20 | |
| | 04.02.1992 | KEN | 16:02.0h | |
| | 07.05.1991 | KEN | 14:35.13 | |
| | 02.01.1974 | GBR | 15:06.75 | |
| | 19.11.1983 | ETH | 14:12.88 | |
| | 08.02.1991 | ETH | 14:37.56 | |
| | 09.02.1994 | ETH | 14:53.06 | |
| | 15.01.1995 | ETH | 15:46.89 | |
| | 05.05.1992 | ETH | 14:58.23 | |
| | 09.05.1995 | ETH | 15:34.73 | 15:34.73 |
| | 28.03.1984 | KEN | 14:31.91 | |
| | 22.12.1983 | KEN | 14:34.86 | |
| | 05.03.1992 | KEN | 14:57.68 | |
| | 04.04.1993 | KEN | 15:17.75 | |
| | 09.04.1978 | KEN | 15:08.28 | |
| | 01.03.1992 | CHN | 15:38.15 | 16:25.65 |
| | 31.12.1992 | ETH | 14:48.43 | 15:37.69 |
110m Hurdles
| ATHLETE | DATE OF BIRTH | NATION | PB | SB |
| --- | --- | --- | --- | --- |
| | 16.02.1987 | RSA | 13.24 | |
| | 24.07.1985 | USA | 12.80 | 13.37 |
| | 24.04.1982 | USA | 12.89 | 13.36 |
| | 27.11.1985 | USA | 13.08 | 13.50 |
| | 04.04.1986 | USA | 12.98 | 13.47 |
| | 06.01.1984 | CHN | 13.19 | 13.75 |
| | 10.10.1990 | RUS | 13.09 | |
| | 19.12.1980 | USA | 13.02 | 13.41 |
| | 11.07.1990 | CHN | 13.34 | 13.44 |