USATF's Club Cross Country Championships set for Saturday in Lexington
Courtesy of USATF
December 7, 2012
For the second time in the meet's history, the 2012 USA Track & Field National Club Cross Country Championships will be held in Lexington, Ken., on Saturday. Competition will begin at 9:30 a.m. with a community 6 km race and include individual and club championships both for open and masters men and women at the Masterson Station Park. The championships were also held in Lexington in 2009.
More than 100 teams and 1,200 competitors are expected to be in attendance with bragging rights as the top individual and club cross country teams on the line.
A field that includes Molly Pritz, Heather Kamp, Patrick Rizzo and Alan Webb will help to make up the elite men's and women's races.
Pritz claimed top honors in the San Francisco Half Marathon earlier this year and placed as the top American finisher at the 2011 New York City Marathon in her career debut at that distance. She also won the USA 25 km Championships in 2011.
Kampf won the USA 1 Mile Road Championships earlier this year in Minneapolis in a time of 4:36.9. She also placed seventh in the 800m at the U.S. Olympic Team Trials and placed  sixth in the event at the 2011 Pan American Games.
Rizzo finished 13th earlier this year in the U.S. Olympic Team Trials Marathon in a personal best time of 2:13:42 and last raced the Chicago Marathon in October where he finished 21st. He also placed eighth in the marathon for Team USA at the 2011 Pan American Games.
The American record holder in the mile on the track, Webb placed 28th at the USA 10 Mile Championships in October.
With the names Nicole Bowler, Mary Goldkamp, Tia Kool, Sarah Madebach, Juliane Masciana, Allison Mendez, Mariko Neveu and Natalie Picchetti all listed to compete, Adidas/TeamRogue Team A will look to defend their team title in the women's open division while the men's division will have a new champion without McMillan Elite listed to compete.
The men's and women's open races will also feature new champions without Jonathan Grey and Brie Felnagle among the names of competitors listed.
For results and coverage continue to check www.usatf.org.
Article continues below player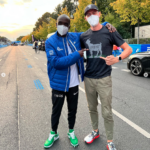 Kipchoge loves the 1:59:40 Shirt Get Yours Today
What a legend!