20% Off at Eastbay
by: LetsRun.com
December 11, 2012
Update: Ends Today Tuesday 12/11.
Be sure to check back frequently on LetsRun.com as we've been updating you with the latest running shoe deals.
Article continues below player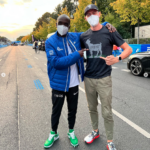 Kipchoge loves the 1:59:40 Shirt Get Yours Today
What a legend!
Our partner Eastbay is offering 20% off orders $99+ and that offer ends tonight December 11th Certain products are restricted from this offer due to manufacturer restrictions and are noted on the Eastbay site.
To take advantage of this offer just click on the banner below. You should see code LKS12E55 in the box at checkout which you need to use.
More Offers
1) Free Shipping + 60 Day Return Policy +20% off for VIPs ($1.99 first year) from Road Runner Sports