By Travis Rae, Communications and Sports Information Intern
November 17, 2012
Photo Courtesy of CJ Images

Individual Results | Team Results

VANCOUVER, Wash. – British Columbia becomes the 16th program in NAIA history to win a National Championship and College of Idaho's Hillary Holt becomes the first Coyote's first national titlist at the 2012 NAIA Women's Cross Country National Championships held Saturday at the Fort Vancouver National Historic Site
The Thunderbirds recorded 98 team points and had four of its five runners finish in the top 20. They were paced by Maria Bernard and Jackie Regan, who took fifth and sixth place, respectively. Bernard crossed the 5K finish line in 17:42 and Regan was eight seconds behind her. Sarah Reimer 18:25 mark earned her a 17-placae finish, followed by Amelie De Fenoyl in 18th (18:27). Rhiannon Evans finished 52nd with a time of 19:12.
"We have been working around to get the team together to win," British Columbia head cross country coach Marek Jedrzejek. "Finally we did it, the girls ran fantastic."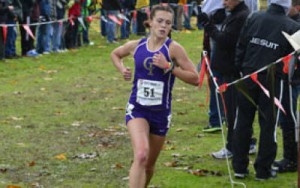 The Thunderbirds become the 16th program in NAIA history to win a national championship. British Columbia now joins 10 other programs that have won, one national championship.
With 112 points, with the first individual titlist in school history, College of Idaho took second-place. Along with Holt, Sarah Johnson, Sora Klopfenstein earned All-American honors. Johnson finished seventh (18:12), while Klopfenstein finished eighth (18:13).
Olivet Nazarene was third with 133 points and two All-Americans, while defending champion Cal State San Marcos was fourth with 149 points and two honorees. Carroll (Mont.) rounds out the top five with 225 points and a pair of All-Americans.
Holt finished her junior year at College of Idaho on top and became the first Coyote to win an individual women's championship with a 5K clocking of 17:00.
"I am really, really happy and I had a great day," Holt said. "The gun went off and the race started and I felt really good and I took off and took the lead. I had the best race of the season and my team had an awesome race today too."
Eight teams were represented among the top-10 placewinners, with College of Idaho placing a trio of runners in the top 10.
It was the fourth-consecutive year that the NAIA Women's Cross Country National Championships were held at the Fort Vancouver National Historic Site. It was hosted by the Cascade Collegiate Conference and Concordia University-Portland (Ore.).
Individual Results | Team Results