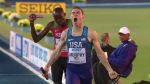 David Rudisha, are you training hard? Clayton Murphy is in supreme form right now.

Nassau, Bahamas
April 22, 2017 to April 23, 2017
Outside Letsrun
The team of Chanelle Price, Chrishuna Williams, Laura Roesler and Charlene Lipsey got a comfortable 3+ second win over Belarus, although their 8:16 winning time wouldn't have been fast enough to even podium at the last two World Relays.
The videos are great as they include Christine Arron's unofficial 9.66 relay from 1998 and a clip of Lillian Board who tragically died of cancer at age 22 in 1970.
Did you know Coe actually anchored GB's 4x400 squad a couple of times at the championship level?
None of the guys on the 4 x 100 team that won Olympic silver last year are on the team as the oldest member is just 20.
They'll probably both be in the 4 x 400. We'd love to see Caster on the 4 x 800.
On The Boards
Navigate
Analysis
Event Recaps
Event Previews
In The Past