2012 Weltklasse Zürich Track & Field Meet Preview: King David Returns To Action As Galen Rupp Goes For The American Record
By LetsRun.com
August 29, 2012
Half of the 2012 Samsung Diamond League (DL) series will come to an end on Thursday as the first of two fantastic Diamond League finals takes place at the sold-out Weltklasse Zürich track and field meet.
Zürich - which has been referred to as the 'Olympics in a day' - is annually one of the highlights of the track and field calendar. This year seems to be no different as 15 recently crowned Olympic champions and 17 current world leaders will compete, including track and field's two biggest stars from London - Usain Bolt and David Rudisha.
Mid-d and distance wise, the action is going to be fantastic on the men's side as in addition to David Rudisha's first and only post-Olympic competition, there also is a totally stacked men's 5,000 that features 13 guys who have run 13:00 or faster this year including Galen Rupp who will battling head to head with Bernard Lagat as Rupp goes for Lagat's American record. On the women's side, the 1,500 and steeplechase DL series will be decided.
$40,000 goes to the Diamond League winner in each event and points are dobuled in Zürich - 8 for 1st, 4 for 2nd and 2 for 3rd. The first tie-breaker is number of DL wins on the year. The second tie-breaker is the results in Zürich.
We preview the four mid-d and distance races for you below. For a preview of the othe events, see the IAAF preview.
Men's 800: David Rudisha Races For The First & Only Time Since The Olympics

David Rudisha's Face Said It All
World record holder David Rudisha will compete for the first and only time since momentarily stealing the spotlight from Usain Bolt at the 2012 Olympics with his mesmerizing 1:40.91 world record - the track and field performance of the Games. Rudisha faces a very quality field as the #3 (Timothy Kitum), #4 (Duane Solomon), #6 (Mo Aman) and #8 (Andrew Osagie) performers from London are all here as is Kenya's Leonard Kosencha, who had he run in London would have been a medal favorite.
Kosencha, who just turned 18 on August 21st, has finished first or second in every 800 he's run this year except at the Kenyan Trials where he was sick and was only sixth in his heat. He was the winner in Shanghai and Rome and the runner-up in Monaco just before the Olympics - where he beat Solomon. If anyone beats Rudisha, and we don't think anyone will, we think it would be him or Aman.
The other guys in the field are 2012 Olympians Anthony Chemut of Kenya (went out in semis) and Michael Rimmer of Great Britain (out in first round). Rudisha's rabbit Sammy Tangui has his own lane as well.
Will Rudisha go for a new WR? We doubt it as he told the IAAF at the press conference, "This being my last race of the season, I just want to give my best."
Quick Thought (QT) #1: Rudisha's performance in London showed that Tangui isn't needed. He barely can get the field through 400. For a bonafide world record attempt, he really needs to get someone like American Matt Scherer who has a 1:46.11 pb.
QT #2: Some of you may be asking, 'Where is American Nick Symmonds. Couldn't me make up the equivalent of his $11,100 tattoo by running some DL meets after the Games?'
Symmonds is currently enjoying vacation, having recently run an American record in the beer mile and pulled in a big salmon. The reality is it's hard for people even of Symmonds' ability to make significant money in Europe. One agent told us it's possible Symmonds might get a time bonus or place bonus but he doubted he'd be able to get an appearance fee and thus would likely have to try to win the prize money which goes as follows:
1st - $10,000. 2nd - $6,000. 3rd - $4,000. 4th - $3,000. 5th - $2,500. 6th - $2,000. 7th - $1,500. 8th - $1,000.
That being said, you are only in the shape of your life once. We'd think you'd want one big race after the Olympics when the pressure was off to see what you could do.
Actually, speaking of money, if Rudisha is ever going to try to break 1:40.00, he's going to need a rabbit of someone of like Symmonds' or Solomon's caliber as they might be able to make it 700. Maybe he could pick up $10,000 that way.
QT #3: If Rudisha does lose to Aman, Aman will win the Diamond League title and $40,000 as the points here are doubled - 8 for first, 4 for second and 2 for third
Lane
Athlete
Nation
PB
SB

Diamond Points

Diamond Ranking

1

KEN

1:43.96

1:43.96

2

KEN

1:43.40

1:43.40

4

3

3

GBR

1:43.89

1:44.86

3

GBR

1:43.77

1:43.77

2

4

4

ETH

1:43.20

1:43.20

6

2

5

USA

1:42.82

1:42.82

6

KEN

1:42.53

1:42.53

2

4

7

KEN

1:40.91

1:40.91

8

1

8

KEN

1:49.39
Men's 5000: A Totally Stacked Field Decides The Diamond League Title as Galen Rupp and Bernard Lagat Go For The American Record
The London Olympics showed us who is the best distance runner on the planet (at least in championship races) as Mo Farah won double gold in the 5,000 and 10,000. In Zurich, we'll find out who is second best as nearly everyone else in the world not named Mo Farah is here - with the exception of Kenenisa Bekele and Eliud Kipchoge.
16 guys in 2012 have run 13:00 or faster and 13 of them (minus the three named above) are in Zurich. Included in that list are the distance silver medallists from London - Galen Rupp (10,000) of the US and Dejen Gebremeskel (5000) of Ethiopia - as well as the bronze medallists in Tariku Bekele of Ethiopia (10,000) and Thomas Longosiwa of Kenya (5,000). American Bernard Lagat, who was fourth in London but some thought would have medalled had he not been bumped, is here as well.
A lot more than pride will be on the line as this race also will decide the Diamond League Title. The winner of this race will almost certainly pick up the $40,000 prize as the top three in the DL series on the year are only separated by one point.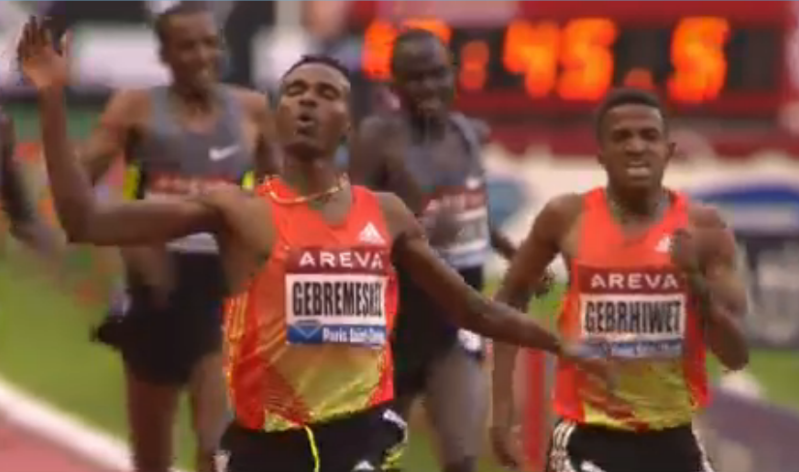 Gebremeskel Winning In Paris
Additionally, this race might be about more than just pride for Galen Rupp and Bernard Lagat as Rupp is hoping to get Lagat's AR of 12:53.60 and Lagat wants to defend it. Lagat said on his AR, "I want to protect this record as much as possible by actually winning (the race). This is going to be one of the most important and fun races to run in."

Will one of them become the first American to dip under 12:50? It's certainly possible as in the last DL 5000 before the Olympics in Paris, six guys broke 12:50.
In that race, Gebremeskel got the win in 12:46.81. He also won in Oslo.
Quick Thought (QT) #1: Gebremeskel has shown himself to be better than everyone in the world at 5000 this year but Farah and we expect him to get the win here. Gebremeskel might even be the best 5000 guy in the planet - even in a tactical race but much more likely in a rabbited one like this - but we'll never know as Farah isn't here and Gebremeskel ran a tactically horrific Olympic final. Gebremeskel's last 400 was just as good as Farah's in London - he just started too far back.
It's a shame that the fans won't see them clash here in an honest race. As a result, the best we can do for now is have them clash on the messageboard:
MB: Farah versus Gebremeskel in a time trial 5000; who wins and how fast?
QT #2: We think Rupp, who dropped out of the Lausanne 1,500 on August 23rd, will either get the AR or drop out here (or be a DNS). Our prediction is that Lagat is still the AR holder after this race.
More: MB: Stacked Zurich DL 5k!!
QT #3: Here are the 16 fastest guys on the year at 5000. 13 of them are in the race.
1 12:46.81 Dejen Gebremeskel ETH Saint-Denis 6-Jul
2 12:47.53 Hagos Gebrhiwet ETH Saint-Denis 6-Jul
3 12:48.64 Isiah Koech KEN Saint-Denis 6-Jul
4 12:48.77 Yenew Alamirew ETH Saint-Denis 6-Jul
5 12:49.04 Thomas Longosiwa KEN Saint-Denis 6-Jul
6 12:49.50 John Kipkoech KEN Saint-Denis 6-Jul
7 12:54.13 Tariku Bekele ETH Saint-Denis 6-Jul
8 12:55.34 Eliud Kipchoge KEN Saint-Denis 6-Jul
9 12:55.79 Kenenisa Bekele ETH Saint-Denis 6-Jul
10 12:55.99 Edwin Soi KEN Saint-Denis 6-Jul
11 12:56.98 Mohamed Farah GBR Eugene OR 2-Jun
12 12:58.90 Galen Rupp USA Eugene OR 2-Jun
13 12:59.21 Moses Masai KEN Saint-Denis 6-Jul
14 12:59.28 Vincent Chepkok KEN Rabat 27-May
15 12:59.77 Imane Merga ETH Oslo 7-Jun
16 13:00.68 Moses Kipsiro UGA Oslo 7-Jun
QT #4: The third US Olympian at 5000 - Lopez Lomong - is also in the field and will get his first real test in an honest 5000. If his coach Jerry Schumacher is willing to let him run this, why wouldn't he let Evan Jager run it as well?
Update: We received an email from a LRC visitor who saw our blurb about Jager and writes:
I talked to Evan Jager at the small meet in Belgium where German Fernandez, Elliot Heath and Andrew Bumbalough also ran the 1500 (I ran the 1500 as well) -- he said that he and his coach had decided to call it a season. In this video taken at the meet http://vimeo.com/48216099 he explains that his calf felt tight after a workout, so since it had been such a successful season, he decided to end it there. They are staying in Delft (the Netherlands), right across the border from Antwerp.
Order
Athlete
Nation
PB
SB

Diamond Points

Diamond Ranking

1-1

USA

13:11.63

13:11.63

1-2

ETH

13:08.13

13:08.13

1-3

KEN

12:53.46

13:06.23

1-4

ETH

12:47.53

12:47.53

8

2

1-5

AUS

13:09.57

13:09.57

2

4

1-6

ETH

13:03.30

13:03.30

1-7

UGA

12:50.72

13:00.68

1

7

1-8

ETH

12:53.58

12:59.77

1

7

1-9

KEN

12:50.55

12:59.21

1-10

KEN

12:52.40

12:55.99

1-11

ETH

12:48.77

12:48.77

1-12

KEN

12:49.50

12:49.50

2

4

2-1

GER

13:13.43

13:13.43

2-2

KEN

12:48.64

12:48.64

7

3

2-3

USA

12:53.60

13:15.45

2-4

ETH

12:52.45

12:54.13

2-5

KEN

12:49.04

12:49.04

2

4

2-6

USA

12:58.90

12:58.90

1

7

2-7

ETH

12:46.81

12:46.81

8

1

2-8

KEN

12:51.45

12:59.28

2-9

KEN

2-10

KEN
Women's 1500: A Resurgent Maryam Jamal Goes For The DL Title
In the last two 1500s that she has run, Maryam Jamal has finished two spots ahead of 2012 world leader Ababa Aregawi (we are discounting any drug cheat times as Aregawi is technically #2 on the 2012 list). In the Olympics, Jamal got the bronze as Aregawi was fifth. In Stockholm, Jamal came from way back to get the win over the final 200 as Aregawi was third. If Jamal wins and is two spots ahead of Aregawi on Thursday, then her late season resurgence will mean she is the 2012 Diamond League winner as she'll have 16 points to Aregawi's 15.
Expect those two and maybe Bahrain's Mimi Belete who was second in Stockholm, to battle for the win. Kenya's Viola Kibiwott, who was 6th in the Olympic 5000, drops down to the 1,500 here after having run 3:59 in Paris.
Three Americans are in the field including Olympians Jenny Simpson and Shannon Rowbury. Rowbury ran a 4:03.15 seasonal best in Stockholm.
QT #1: The 2011 world champion Simpson seemed to think at the Olymipcs that she was in good shape but just struggling mentally. She then got fifth in Stockholm which was encouraging before finishing dead last in the 3000 in 9:08 in Lausanne in an 8:40 race. Her struggles at 3000 make us think she's just not as fit as she think she is.
QT #2: The battle between Aregawi and Jamal should be interesting. If we were coaching Aregawi, we'd tell her to focus on Jamal and just make sure she finishes within one spot of her.
Order
Athlete
Nation
PB
SB

Diamond Points

Diamond Ranking

1-1

GER

4:05.71

4:05.71

1-2

USA

4:06.96

4:06.96

1-3

GBR

4:01.89

4:04.05

1-4

KEN

4:02.31

4:07.11

1-5

CAN

4:05.08

4:05.08

1-6

KEN

4:03.82

4:03.82

1-7

GBR

4:02.99

4:02.99

1-8

SVK

4:02.99

4:02.99

1-9

BRN

4:00.25

4:01.72

2

3

1-10

KEN

3:59.25

3:59.25

1

5

1-11

USA

4:00.33

4:03.15

1-12

ETH

3:56.54

3:56.54

13

1

1-13

USA

3:59.90

4:04.71

2

3

1-14

BRN

3:56.18

4:01.19

8

2

1-15

KEN

4:04.26

4:04.26

1-16

CAN

4:05.02

4:19.49
Women's Steeple: Can Chemos Hold Onto Her Diamond League Lead?
The Olympic silver medallist Habiba Ghribi and bronze medallist Sofia Assefa will battle Diamond League leader Milcah Chemos here for the DL title. Chemos and Assefa both went with the fast pace in Stockholm and ended up dropping out which is may end up costing them the DL title.
A third place showing here will give Chemos the title, because even if Ghribi wins, then they'll tie for the points lead and the first tie-breaker is total number of DL wins and Chemos has won three events to Ghribi's one.
Order
Athlete
Nation
PB
SB

Diamond Points

Diamond Ranking

1-1

UGA

9:15.04

9:30.95

1-2

ROU

9:25.70

9:25.70

4

4

1-3

KEN

1-4

KEN

9:16.94

9:25.21

1-5

KEN

9:14.98

9:14.98

1-6

GER

9:23.52

9:23.52

1-7

GER

9:18.54

9:21.78

1-8

ETH

9:14.07

9:14.07

1

6

1-9

ETH

9:09.61

9:09.61

2

5

1-10

KEN

9:07.14

9:07.14

12

1

1-11

ETH

9:09.00

9:09.00

7

2

1-12

TUN

9:08.37

9:08.37

6

3

1-13

UKR

9:31.16

9:31.16
More: IAAF's Full Meet Preview.
---
Comments, questions, suggestions, story you'd like to submit? Email us