The Week That Was In Running: September 10-16, 2012
To read the last Week That Was, click here.
By LetsRun.com
September 19, 2012
Based on the amount of emails we get, we know that our Week That Was feature is one of the most popular aspects of LetsRun.com. Well, we used the "We're too busy as we're getting ready for/covering the Olympic excuse" for far too long.
Thus we bring our weekly feature for the first time since LetsRun.com Founders Day - albeit in abbreviated form just to get us in the habit of doing it each week. Instead of really recapping last week's action, we instead take a look at a few big broad themes that struck us about the Olympics.
1) It was surprising that the US men outperformed the US women in all of the mid-d and distance events at the Olympics, and the US men were the ones who won the two medals.
Heading into 2012, most pundits would have thought the US women stood a better chance of bringing home some mid-d or distance hardware than the men. As a side point, this makes sense to us, because much of the world, partcularly in Africa, is still a very sexist place. Thus there are fewer women competing, although this advantage for the US women is somewhat mitigated by the larger effect doping has on women's performance than men's performance.
Think about it for a minute. Last year in the 800, Alysia Montano was 4th in Daegu whereas Nick Symmonds was 5th. In the 1,500, Barringer had won gold and Uceny was world ranked #1 and Rowbury had won a medal in the past. Admittedly, the US women had virtually zero shot of a medal in the steeple, 5k or 10k, but their Olympic marathon team included a Boston runner-up and a New York runner-up.
Yet when it was all said and done, the US men finished higher in every single mid-d/distance event, as shown by the following chart where we show you the finish of the US men and women in Daegu as compared to London. Note: For the marathon, we didn't think the finish in Daegu was really significant, so we just listed the 3 marathoners that made the team and what they did in 2011.
Event
2011 WC - Women's Finish
2011 WC - Men's Finish
Edge Heading Into London

Better Olympic Performance

800
Montano 4th
Symmonds 5th
Women
Men: 4th/5th. Women 5th
1,500
Barringer 1st, Uceny finalist
Centro 3rd
Women
Men: 2nd/4th. Women 6th/DNF.
Steeple
Coburn finalis.
No finalists
Women
Men: 6th/8th. Women 9th/14th
5k
Fleshman 9th/Hastings 14th
Lagat 2nd/Rupp 9th
Men
Men: 4th/7th/10th. Women 11th/14th
10k
Flanagan 7th/Rhines 9th/Goucher 13th
Rupp 7th/
Teg 10th/Bauhs 14th
Men (Flanagan in marathon)
Men: 2nd/13th/19th. Women 11/12/13
Marathon
Flanagan (2nd in NY), Davila (2nd in Boston), Goucher
Hall (3rd Boston), Meb (37 yrs), Abdi (35 yrs)
Women
Men - 4th. Women 10th/11th
2) It was surprising how many gold medallists were asked doping-related questions.
Many seem to think that the doping era of track and field is a thing of the past, just as the steroid era in baseball was the hallmark of the late 1990s/early 2000s.
A lot of progress certainly has been made on the doping front, as it finally seems that those in charge want to expose, rather than cover up, the doping of the champions, but that doesn't mean that the drug era in track and field is a thing of the past.
One thing that was striking about London 2012 was how many gold medallists were asked doping-related questions in London or just after. The following people were all asked doping-related questions directly or indirectly. We're ignoring the field eventers.

Usain Bolt (men's 100/200) - The world's fastest man is asked whether he's clean just about everywhere he goes and realizes it comes with the territory.
Carmelita Jeter (women's 4 x 100) - She anchored the US to the world record in the 4 x 100, hangs out with a convicted doper banned from the sport, but she didn't like it when LRC's Wejo asked her about Mark Block.
Asli Çakir Alptekin (women's 1,500 winner) - As someone who served a two year ban in the past and had a big improvement this year, it's not surprising she was asked about her past.
Mo Farah (men's 5,000/10,000 winner) - Britain's hero was asked about the various medications he takes and whether he is on thyroid medication. We'll have more of this later, but some of this originated from the Dutch press, presumably after the grumbling of Kenenisa Bekele's agent Jos Hermens agent who said in essence "science won over sport."
Taoufik Makhloufi (men's 1,500 winner) - The unheralded Algerian won gold and insiders in the sport were suspicious. Since then, Makhloufi has been asked to explain his improvement and he has talked about switching coaches and putting everything into his running.
There are two ways view this development. One positive and one negative.
The Negative View
The negative view is to think, "Track and field is still very, very dirty. It's upsetting so many champions may be cheating."
But in our minds, that's not the right attitude to take. In our view, the doping era of track and field should never be a thing of the past. People's antennas always need to be up and people always need to be on the lookout. Answering doping questions comes with being at the top of the sport.
The Positive View
The positive view to take is: "Finally, the journalists and fans are being honest with themselves and watching the races with their eyes open and then following up with the appropriate questions. Just because a question is asked doesn't mean they are dirty."
A crime-ridden neighborhood doesn't become safe overnight. It only becomes safe when everyone around really pays attention, looks around, stays vigilant and helps out.
3. Sometimes it's hard to remember that the Olympic athletes are human beings just like you and us and the proper work/life (running/life) balance is just as key to them as it to us.
The Olympics only come around every four years and when they do, many athletes literally go all-in in their pursuit for a medal. But sometimes, after it's over, they take a step back and think maybe they went too far and wanted it too much.
Take French sprinter Christopher Lemaitre for example. He clearly thought he was too focused, as he had this to say to the French news agency AFP after the end of his season:
"I am a little disappointed with my season because I did not get a medal at the Games and that was my aim. The positives were the French title and European title. But taken all in all there are more disappointments than positives. I was too focused on the Games, I was too fixated on my daily life. I got worked up about nothing and I am too much of a perfectionist. For example, if I slept an hour less one night, I would say 'Damn, I've slept an hour less.' I would have liked to have raced a bit more this season, more races, more challenges. Running against fast people helps me run faster."
Would a more relaxed Usain Bolt type attitude have helped him medal? Who knows?
Lematire wasn't the only one talking about finding the correct running/life balance. US 10,000 Olympian Lisa Uhl decided after the Olympics that she would leave Jerry Schumacher's group in Portland to return to her native Iowa where she'd rejoin her college coach Corey Ihmels. Uhl explained the rationale behind her move to David Monti of Race Results Weekly:
"Jerry, Shalane and the group have been nothing but supportive and great to me in my time in Portland. I'm very thankful for the time that I've had there. I think it just hasn't been the right fit for me. It's really hard to explain."

"I feel like I gave up being close to my family and a lot of other things involved in my life that weren't revolving around running. I think taking balance out of my life has been difficult for me. I think I need to get back to a situation where I have more balance in my life outside of running and I think that will help me perform better athletically. I just really struggled trying to find happiness both personally and athletically out here. That has nothing to do with the group or the coaching; it's just not the right fit for me."
2008 Olympic silver medallist Nick Willis also hit on the proper running/life balance after the Olympics when he explained to TVNZ why he wants to remain a 1,500-meter runner and not move up to the 5,000:
"I thought about it (moving up to the 5k) earlier this year, but I'm still improving in the 1,500 and to be competitive in the 5k, you really need to base yourself at altitude.
"That's not really something I want to do for my family and my own personal life. And I'm still improving in the 15, just not today."
Later in the same TVNZ piece, Willis said that he thought that one of the reasons many runners in the past PRed in their 20s is because financially it didn't make much sense for them to continue to compete in their 30s. Receiving the proper payment for one's job is a key component of anyone's work/life balance:
"I feel that age often is given like a number. My opinion, is that people often end their careers because of financial reasons as opposed to actual age.
"They're starting a family and it's time to get a real job - those of us who can make a living off the sport tend to go on longer. Your body doesn't usually start regressing until 35 or 36."
****
3 Quotes Of The Week (That Weren't Quote Of The Day)
****
#1: Trauma surgeon Roger Nagy, talking in a Philip Hersh Chicago Tribune article about former sub-4 high schooler Lukas Verzbicas, who was involved in a horrific bike crash on July 31st.
"I never thought he was going to walk. Early on, we were even talking about a wheelchair or at least walking with bracing or crutches. The unbelievable heart this kid has is the reason he has exceeded all those thoughts."
****
#2: Verbicas, who is doing more than walking already, talking/emailing about his recovery in the same Hersh article.
"I had a choice of being depressed or saying this could have been a lot worse. I could have broken my spinal cord. Here I was, still alive and moving, and they said they could fix me ..."

"I'll definitely be competing again by the end of 2013, at the latest ... By the rate of recovery, I'm actually planning to compete at a world-class level sooner than end of '13 - more like by next summer."
****
#3: A Gold Medallist Talking About How Long Olympic Glory Lasts
"Congratulations. You're a world champion for one year, but you're an Olympic champion for life."
- Quote attributed to 1948 Olympic rowing gold medallist Richard Burnell of Great Britain, which we read in a Daily Telegraph article. Burnell's life was recently recorded in the BBC drama Bert and Dickie.
****
What About The Sport?
It's easy to complain about the lack of popularity about running but hard to do something about it.
So we wanted to give out a big Thumbs Up to the coaches and administrators at Duke for starting last weekend's cross-country meet in the football stadium just 15 minutes before kickoff. A very good idea. One that has us feeling greedy - how about finishing it in the football stadium at halftime next year?
More: Duke Goes 1-4 On NC Central
****
Recommended Reads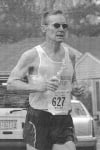 *Philip Hersh On Verbicas: Triathlete envisions stunning recovery
LRC Meet The Man Who Changed American Politics Started The Paul Ryan Marathon Controversy
****
Other News Of Note From The Last Week
LRC US Records For 24-Hour Run Fall Go run sub-8:21 miles for 24 hours straight. Very impressive. The women's record is 9:37.3 per mile.
Using A Computer Before Bed Can Disrupt Sleep Update: A LRC visitor has written in, saying, "I'm a big fan of this software program and think it's helped me sleep better. It automatically darkens the screen in the evenings." http://stereopsis.com/flux/
****
Quotes Of The Day From The Week & Last Week's Homepages:
Note: To see a particular day's homepage, click on the hyperlink of the date on the left. The quote's hyperlink will take you to that particular article - not that day's homepage.
Monday 9/17: "I'm very happy with today. This gives me a lot of confidence and hopefully I can have a good run in Chicago. I want to be able to run 2:06 in Chicago."

- American star Dathan Ritzenhein after his 1:00:56 3rd-place finish at the Rock N Roll Philly Half Marathon. Believe it or not, Ritz's 1:00:56 only converts to a 2:09:33 in the LRC JK conversion chart.
---
Sunday 9/16: "I never thought he was going to walk. Early on, we were even talking about a wheelchair or at least walking with bracing or crutches. The unbelievable heart this kid has is the reason he has exceeded all those thoughts."
- Trauma surgeon Roger Nagy, talking about Lukas Verzbicas and his recovery from his bike crash which left him hospitalized and undergoing multiple surgeries. The surgeon wasn't sure if he'd walk, but Verzbicas says, "I'll definitely be competing again by the end of 2013, at the latest. By the rate of recovery, I'm actually planning to compete at a world-class level sooner than end of '13 — more like by next summer."
---
Saturday 9/15: "You gotta give me another shot."
- Rob Myers, on the ground just after running a 4:00.3 mile to barely miss going sub-4 for his 10th consecutive year. (4:49 into video) *MB: Rob Myers Just Misses Attempt At 4:00 for 10th Straight Year - Nate Brannen Paced *Post-Race Interview
---
Friday 9/14: "Whether it is a good thing I do not know. I think it may possibly be."
"That Oscar did not win [an Olympic medal] was fine in a way because had he won I think then there would have been discussions 'did he have an advantage'."
- The daughter of the man who began the Paralympic movement, Eva Loeffler, talking about Oscar Pistorius running in the Olympics. She has said she's against the Paralympics merging with the Olympics.
---
Thursday 9/13: "I want to be as good as I can be, for as long as possible. I'm always going to run. And if I'm going to run, I might as well race and try to be up near the top."
- 1984 US Olympic marathoner John Tuttle, talking about how has continued to train as a masters runner almost as hard as he did when he was in college. He is 53 now, but still has US master records at 8k (23:25) and 5k (14:19).
---
Wednesday 9/12: "I feel good. My workouts have been great. The course is fast, so maybe I can (go under 60:00). I will give a hard effort."
- Dathan Ritzenhein talking about his plans for this Sunday's Rock 'n' Roll Philadelphia Half Marathon. The 13.1 distance seems to be the best distance for Ritz and Ritz has said all year he's in great shape, but hasn't had a great race yet. Will he do it?
---
Tuesday 9/11: "I am very disappointed to not be able to run this year's ING New York City Marathon. I was hoping that after some time off and treatment after the Games, the string of nagging injuries I've been dealing with this year would be behind me. After trying to run through, I came to the realization when keeping the big picture in mind, that I needed to take a longer break to let things heal and not rush the training. As much as I would love to still race after taking the break, my integrity will not let me show up to the line if I'm not fit."
- America's fastest marathoner, Ryan Hall, after pulling out of New York.