The Week That Was In Running: January 16-22, 2012
By LetsRun.com
January 24, 2012
In this week's weekly recap, we tell you how Galen Rupp's Olympic medal chances went down even if no one else noticed it and how Athletics Kenya made a mistake in narrowing it's marathon team down to six. Plus Bring Back The Mile launches, Jimmy Grabow gets some props, Josh McDougal is sighted, and the marathon gets to everyone over the final 3.2.
****
Wilson Kiprop Returns Impressively & Galen Rupp's Olympic 10,000 Medal Chances Take A Dip
When Boston and New York course record holder Geoffrey Mutai - the man whom we consider to be the best distance runner on the planet - loses a race, we pay attention. Well, last week, Mutai was outkicked by 2010 World Half Marathon champ Wilson Kiprop at the Nike International Discovery Kenya Cross-Country meeting in Eldoret.
And Kiprop's win isn't a good sign for Galen Rupp fans.
We've been saying for a while now that the fact that we are even discussing the possibility that Galen Rupp - someone not of East African descent - might medal in a global 10,000 is remarkable. However, we've also pointed out that his chances are bolstered by the fact that many of the top talents have abandoned the track for the more lucrative marathon/road (of course, on the flip side, the lucrative nature of professional running draws way more people to the sport than in the 1980s). But last summer, we pointed out that while some of the guys are running on the road from the very beginning, a few of the very best talents seem to be dropping down to track races in global championship years. Kiprop is a great example of this. He started off 2010 on the roads to put some money on the table as he ran a half marathon and then a 2:09 marathon debut in May. Then he focused on the track where he won the Kenyan an African titles at 10,000 before winning the World Half title.
Last year in 2011, Kiprop was hoping to contend for a medal at the World Champs in the 10,000 but missed the meet with a knee injury. Kiprop's loss was Rupp's gain, as the only Kenyan that Rupp beat in Daegu was Kiprop's replacement - Paul Tanui.
Well, Kiprop's knee injury certainly seems more than healed given his impressive win last week. And let there be no doubt about it - in 2012, he's focused on the Oympics, as Kiprop told The Daily Nation after the race his goals for 2012:
"I am now only eyeing the Olympics. I missed the World Championships over a knee injury and I am back to fight for a place in the Olympics 10,000m final."
More: World Half Marathon Champ Wilson Kiprop Wins Over Deep Field In Discovery Kenya XC Meet Geoffrey Mutai and 3rd all-time half marathoner Matthew Kisorio were a close 2-3, while Asbel Kiprop ran with the lead group before fading to 8th place. Joyce Jepkurui won the women's race over Priscah Jeptoo. After this, Wilson Kiprop says he's looking to make Kenya's Olympic 10k team. *World XC Silver Medallist Paul Tanui Wins Spain XC Meet He won over World XC Jr. Champ Geoffrey Kipsang and 2008 World XC silver medallist Leonard Komon. Ethiopia's Wude Ayalew Yimer won the women's race.
More XC News: Kenyan Armed Forces Champs: 35-Year-Old Mark Kiptoo & World Marathon Bronze Medalist Sharon Cherop Win Kenyan Armed Forces XC Champs With no World XC this year, it will be interesting to see how many Kenyans run the Kenyan XC Championships. Former World XC Champ Joseph Ebuya faded here to 24th.
****
2012 Virgin London Marathon Men's Field Announced & We're Reminded How Galen Rupp Or Ryan Hall Might Medal At The 2012 London Olympics
Last week, the most competitive marathon on the planet - the Virgin London Marathon - released it's 2012 men's field. We think the Virgin London people deserve props for two things:
1) For amassing a truly spectacular field yet again - it includes 10 men with PRs under 2:05:30 (see the box on the left).
2) For releasing the field in Iten, Kenya, as shown by our Photo Of The Week: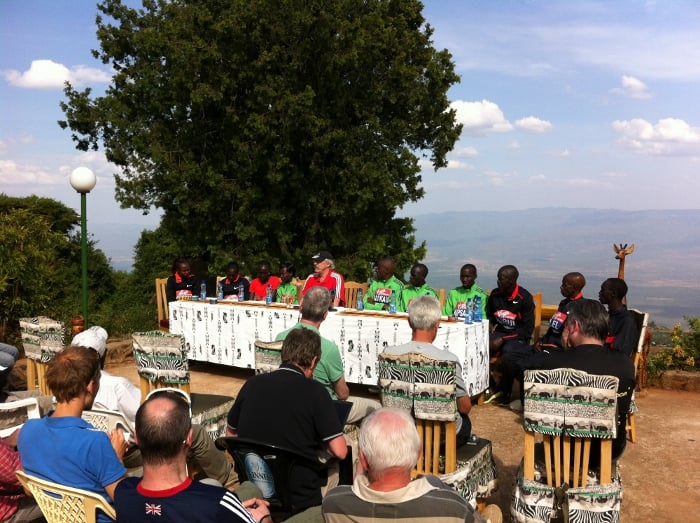 But seeing how stacked the Virgin London list is made us optimistic for an American miracle medal at the London games in a men's long distance, as the London list of entrants made us think to ourselves, "My god. That race is impossible to win. The Olympics are practically a cakewalk compared to that."
Seeing the depth particularly from Kenya on the Virgin London entry list should remind everyone that only three Kenyan men will be allowed to toe the line at the Olympics. That's a very important stat to remember, as in 2011, eleven Kenyan guys ran under 2:06:00.
More: Emmanuel Mutai To Try To Defend London Title Against World Record Holder Patrick Makau & Slew Of Other Top African Talent *Race Takes Place Exactly 16 Weeks Before Olympics
****
Athletics Kenya Makes A Mistake By Narrowing Its Marathon Squad Down To Six Men & Six Women
Speaking of the London Olympic marathon, last week, Athletics Kenya named a provisional squad of six men and six women to their Olympic marathon squad. The provisional teams are as follows:
Provisional Kenya Men's Olympic Marathon Team
Boston and New York record holder Geoffrey Mutai (2:03:02a/2:05:05)
WR holder Patrick Makau (2:03:38)
2011 Frankfurt winner Wilson Kipsang (2:03:42)
2011 London winner Emmanuel Mutai (2:04:40)
Double world champ Abel Kirui (2:05:04)
2011 Chicago winner and course record holder Moses Mosop (2:03:06a/2:05:37)

Provisional Kenya Women's Olympic Marathon Team
2011 World champion and 2010 NY winner Edna Kiplagat (2:20:46)
2011 London winner and world half record holder Mary Keitany (2:19:19)
2011 Paris champ Priscah Jeptoo (2:22:55)
2011 Daegu bronze medallist Sharon Cherop (2:22:43)
2011 Berlin winner Florence Kiplagat (2:19:44)
2011 Prague winner Lydia Cheromei (2:22:34)
In our minds, this decision accomplished zero.
Athletics Kenya should have either just done nothing or named the actual squad last week. Narrowing it down to six men and women could just make Athletics Kenya look potentially stupid.
If a Kenyan not on the list goes out and runs 2:03:30 this spring or wins London, is Athletics Kenya really not going to consider them for the Games? Of course they will.
And don't think that's not a possibility. One man not on the list is 5-time world marathon majors champion Martin Lel. Lel is a stud who did amazingly well in his first marathon since the 2008 Olympics last year when he was the runner-up in London. Lel is running Dubai this weekend and then London in April. Imagine if he wins both. Will they really consider him for the Olympics? We bet they would. The same thing goes for Wilson Chebet. The guy won both of his marathons last year by running under 2:05. How could they not consider him if he does something even more special this spring?
Along those lines, we decided to come up with a list of the 10 fastest male marathoners (just based on 2011 times) not on Athletics Kenya's list. We list them according to their 2011 seasonal bests.
2:05:16 Levi Omari - 23-year-old won Barcelona last year and was the Frankfurt runner-up.
2:05:25 Albert Matebor - 31-year-old was 3rd in Frankfurt.
2:05:27 Wilson Chebet - 26 year-old won Rotterdam and Amsterdam last year - both in under 2:06:00.
2:05:33 Vincent Kipruto - 24-year-old was Rotterdam and world championship runner-up last year.
2:05:45 Martin Lel - 33-year-old 5-time major champ was runner-up in London last year in his 1st amrathon back since 2008 Olympics due to injury
2:05:48 Jafred Kipchumba - 28-year-old won Eindhoven in October.
2:06:05 Laban Korir - runner-up in Amsterdam last year in his debut.
2:06:07 Eric Ndiema - alleged 19-year-old (we've heard he's really older than that) ran 2:06:07 in Amsterdam to set new world junior record.
2:06:07 Philip Kimutai - 7th in Boston, 4th in Frankfurt.
2:06:15 Wesley Korir - former Louisville runner was runner-up in Chicago.
(Note: 4 other Kenyans also ran under 2:06:30 in 2011)
More: AK's Decision To Hold Off Naming Full Olympic Marathon Squad Gets Mixed Reactions
****
Bring Back The Mile Launches
A few weeks ago, we ripped into the American college distance coaches for not being smart enough to support the proposal of sprint coach extraordinaire Pat Henry that the NCAA run the mile at the outdoor championships. Well, "The Mile" was back in the news last week yet again.
Apparently, the desire to have the mile rule the land in the US is so common sense that the idea can't be stopped, as the "Bring Back The Mile" campaign was launched by LRC friend David Monico and Ryan Lamppa. The mission of the campaign is as follows:
The mission is to return the Mile to prominence on the American sports and cultural landscape by elevating and celebrating the Mile to create a national movement.

Bring

Back

the

Mile

as

the

premier event in

the

sport. Increase interest in and media coverage of

the

Mile

for both those who love

the

distance as well as

the

general public.
Bring

Back

the

Mile

to celebrate

the

storied distance and to recognize

the

people who made and make

the

Mile

great and to promote

the

next generation of U.S. milers.
Bring

Back

the

Mile

to create a national movement for

the

Mile

as

America's Distance

and to replace

the

1,600m at High School State Track & Field Meets across

the

country.

The last point above is the biggie. Why the heck do we run the 1,600m anyway? It's not doing the sport any favors.

Some of those lending their support of the campaign include:

Paul Banta
Basil Honikman
Meb Keflezighi
Rich Kenah / Global Athletics
Marty Liquori
Terrence Mahon
Bob Larsen
Tim Murphy
Walt Murphy
Larry Rawson / National Scholastic Sports Foundation (NSSF)
Toni Reavis
Jim Ryun
Francie Larrieu Smith
Carrie Tollefson
Ruth Wysocki
Dick Patrick
Ray Flynn
LetsRun.com

Along those lines, the BBM people released a nice video in support of their cause. It wasn't the only good mile video to come out last week, however.

New Balance unveiled its own unrelated mile campaign last week. The shoe company launched The British Miler campaign last week, which is going to follow seven British athletes, including former NCAA stars Lee Emanuel and Tom Lancashire, as they look to gain an Olympic 1,500 spot to re-light the once bright British mile flame. We were a little behind on this as we got an e-vite to the British Miler launch. We thought it was a launch of a new shoe in Britain.

You can check out both videos below.

| | |
| --- | --- |
| Bring Back The Mile | The British Miler |


More: *Bring Back The Mile Officially Launches For years, we (and many in the sport) have wondered why the mile isn't the #1 distance event in the land and why it's not run instead of the 1,500 or 1,600. Finally, someone has decided to do something about it.
*Bringing Buzz Back To The Mile *Discuss *Like On Facebook

****
We Talk One Last Time About The 2012 US Olympic Marathon Trials

Others To Consider For 2016

The 2012 US Olympic Trials Marathon came at a great time for distance fans and LetsRun.com, as normally January is by far the least interesting month of the year (and our lowest trafficked month). For us, it's been the gift that keeps on giving, as we think of more things to say about it week after week.

Last week, we took a look at the 2012 Trials and gave you our 5 picks for the 2016 US Olympic marathon team. On the men's side, we also gave you some "others to consider."

Well, a bunch of readers wrote in with some great advice on some people we overlooked. We'll share excerpts from some of those emails.

Paul Carmany, the Assistant Athletics Communications Director at Liberty, wrote in remind us not to forget 2009 and 2010 NCAA XC champ Sam Chelanga, for as Carmany said correctly:

I liked your analysis of the most likely members of the 2016 U.S. Olympic men's marathon team, but one other name who could be in the mix by then is Sam Chelanga. He should have U.S. citizenship by then, and if so, he should be able to mix it up with the likes of Rupp, Hall, Ritz, etc.

Keep up the good work! I visit the site every day.

Attention, college track and field coaches - we hope you were sitting down when you read the excerpt above as we are sure it was shocking to read. We know the concept of a communications person at a school attending a track meet, let alone visting LetsRun.com every day, is hard for you to believe, but apparently there are SIDs who are passionate about track and field.

We were stunned as well and couldn't pass up the opportunity to ask Carmany what 2008 NCAA champ and former Liberty runner Josh McDougal was up to. Carmany replied that McDougal has succcessfully transitioned into coaching and married life:

Josh is coaching the Liberty men's and women's distance runners full-time this season for the first time. He took over when Derek Scott left after last season. He seems to be enjoying it and is doing well. He coached the men's XC team to a Big South championship in something of an upset over preseason favorite High Point. Tonight, he coached Jennifer Klugh to a women's 3K school record of 9:44. He's also married now.

Another email came from Team USA Minnesota runner Matt Gabrielson of 13:30/28:44/2:13 fame. Gabrielson, who was a DNF at the Trials himself, wrote in telling us not to forget a 2:11 debutant marathoner:

Your list for the 2016 Trials should include Ed Moran. 2:11 debut at NYC this past November. I bet when you read this it will be one of those "oh ya" moments. Hopefully he's still at it by then.

The 30-year-old Moran didn't run the 2012 Trials, as after making his marathon debut in impressive fashion in New York, he got married and promised his wife he wouldn't run during the honeymoon.

All of the emails about "Others to consider" got us to have the courage to add two people we contemplated adding to our original list:

1. Abdi Abdirahman - Yes. Abdi's getting up there in age, but he'll still be under 40 when the 2016 Trials roll around, as he just turned 35 on January 1. And plus, if you believe Abdi was really born on Jan. 1, then you don't know how DOBs in Africa really work.
2. Meb Keflezighi - Yes. Meb will be 40 when the 2016 Trials get here. But if he is motivated, we think he could make it again. Andres Espinosa has the 40 + world record at 2:08:46, so it can be done.

The Marathon Gets To Everyone

In working our piece on Dathan Ritzenhein last week, we realized that Ritz had a better final 3.2 miles than Olympic team members Abdi Abdirahman and Ryan Hall. We also realized that 10th placer Jimmy Grabow had the best 3.2 miles of anyone in the race at 16:13. He was on 2:12:21 pace at mile 23 and ended up at 2:12:39.

Everyone in the field was slowing down over the final 3.2 miles except for Ricky Flynn. It was just a matter of how much. The slowing down at the end didn't change most people's places too much. In fact, the top 9 places didn't change at all over the final 3 miles. That being said, there were a number of guys who came pretty close to having a great race but came up 3.2 miles short.

We decided to take a look at everyone in the top 31 and see what pace they were on at mile 23 and where they ended up. Enjoy:

| | | | | |
| --- | --- | --- | --- | --- |
| Finish Place | First Name | Last Name | Pace @ 23 miles | Finish Time |
| 1 | Meb | Keflezighi | 2:08:34 | 2:09:08 |
| 2 | Ryan | Hall | 2:08:34 | 2:09:30 |
| 3 | Abdi | Abdirahman | 2:08:35 | 2:09:47 |
| 4 | Dathan | Ritzenhein | 2:09:12 | 2:09:55 |
| 5 | Brett | Gotcher | 2:10:52 | 2:11:06 |
| 6 | Andrew | Carlson | 2:10:52 | 2:11:24 |
| 7 | Fernando | Cabada | 2:11:20 | 2:11:53 |
| 8 | Nick | Arciniaga | 2:11:20 | 2:11:56 |
| 9 | James | Carney | 2:11:22 | 2:12:23 |
| 18 | Jason | Lehmkuhle | 2:12:11 | 2:14:35 |
| 16 | Sean | Quigley | 2:12:18 | 2:14:12 |
| 10 | Jimmy | Grabow | 2:12:21 | 2:12:29 |
| 11 | Ryan | Vail | 2:12:31 | 2:12:43 |
| 22 | Patrick | Smyth | 2:12:56 | 2:15:00 |
| 23 | Ryan | Bak | 2:13:06 | 2:15:12 |
| 15 | Ian | Burrell | 2:13:11 | 2:14:04 |
| 14 | Josh | Cox | 2:13:19 | 2:13:50 |
| 19 | Max | King | 2:13:21 | 2:14:36 |
| 13 | Patrick | Rizzo | 2:13:38 | 2:13:42 |
| 12 | Ricky | Flynn | 2:13:42 | 2:13:41 |
| 17 | Mike | Morgan | 2:13:49 | 2:14:22 |
| 20 | Michael | Reneau | 2:13:49 | 2:14:37 |
| 26 | Craig | Leon | 2:14:10 | 2:15:42 |
| 21 | Drew | Polley | 2:14:33 | 2:14:58 |
| 24 | Daniel | Tapia | 2:14:42 | 2:15:28 |
| 25 | Sergio | Reyes | 2:14:43 | 2:15:41 |
| 30 | Mikhail | Sayenko | 2:14:43 | 2:16:40 |
| 31 | Zachary | Hine | 2:15:12 | 2:16:40 |
| 29 | Jesse | Cherry | 2:15:41 | 2:16:31 |
| 28 | Michael | Chavez | 2:15:45 | 2:16:13 |
| 27 | Keith | Bechtol | 2:15:49 | 2:16:02 |

More Trials: LRC Ritz Reflects On The Trials, His Years With Alberto, And Looks To The Future
*LRC Men's Marathon Trials Analysis And Reaction
*LRC Analysis Of The Women's Olympic Trials Marathon

****
5 Quotes Of The Week (That Weren't Quotes Of The Day)

#1 - Australian Long Jump Silver Medallist Mitchell Watt Talking About How He Was Surprised Dwight Phillips Beat Him In Daegu

"I must admit, Dwight surprised the hell out of me in Daegu. I competed against him, I think, twice in the lead-up, and he looked terrible at both competitions. So he definitely knows how to do it."

- Watt's quote comes from a great New York Times piece that talks about how Watt almost didn't have a track and field career at all, as he had quit the sport for five years.

****
#2 Team USA Minnesota Coach Dennis Baker Explaining That His Three Athletes Went Into The Olympic Trials Aiming To Make The Team, Not Run A Certain Time, And Had To Run Most Of The Race Outside Their Comfort Zone

"No great performance is without risk ..."

More: "American marathoning has really improved"

****
#3 Team USA Minnesota Coach Dennis Baker Explaining How He Used The Training Of The 1st Man Under 2:15 (Buddy Edelen) And 1st Man Under 2:05 (Paul Tergat) To Train His Guys Ready For The 2012 Trials

"They both set world records about 40 years apart, but their training was really pretty similar. Tergat rested more so he was able to train faster, but otherwise there wasn't much difference in what they did."

More: "American marathoning has really improved"

****
#4 Paula Radcliffe On How Big Races Aren't Necessarily Won By Whoever Is The Fastest

"I set myself some specific goals, but the key one is just getting myself into as good a shape as possible for one day this year: the Olympic marathon. You can wish as hard as you like but all that really matters is the shape you're in on the day of the race. I've always felt these really big races aren't necessarily won by whoever is the fastest. They're won by the athlete who is the smartest and in the best shape on the day."

- Women's marathon world record holder Paula Radcliffe talking in profile from The Guardian on her from last Monday where she talks very confidently about 2012. Radcliffe thinks she can get in 2:17-2:18 shape and hopes that's enough to give her Olympic glory.

****
#5 Kenenisa Bekele Says He's Still Injured

"My injury is quite serious and I would not be able to bring back the performance of old for the time being. I'm only receiving a combination of treatment and training at the moment. It will take weeks before I return to ordinary training, and some two to three months before I return to competition."

The article comes a Reuters article that came out after Bekele and 34 other top Ethiopians were suspended by the Ethiopian federation for not reporting to national team training. Now there are two different ways to think about this quote.

1) Bekele could be exaggerating his current state of affairs as an excuse after the suspension.
2) Bekele might have suffered a setback after coming back from nearly 2 years out to run the world-leading 10,000 late in 2011.

****
Video Of The Week

We're not sure how we came across the video for our video of the week. Either someone emailed it to us or we came across it on the message board.

But it should make you laugh. It's definitely not an inspirational race video. Rather, it's a comedic video that was made by the people behind the "Don't Be That Guy" YouTube channel. This one's title describes itself perfectly: "Don't Be That Awkward Runner"

****
Other News Of Note From The Last Week

Martin Fagan Gets 2-Year Doping Ban Since he immediately admitted guilt, they set the ban from his test date in December rather than his court date in January.

Bradley Is Reinstating Men's Outdoor Track 20 Years After Cutting It *PJ Star

Texas A&M Men, LSU Women Win Dual (Results)

New Balance Meet In NYC *NB Pro Results *NB Men's Mile Video
*Andy Baddeley Wins New Balance Elite Mile In 3:57, Edward Cheserek Runs 4:02 Cheserek's time was the second-fastest indoor mile by a student enrolled at a US high school.
*Strymar Livingston And Najee Glass Both Break 27-Year-Old High School 500m Record

Japanese Ekiden News
*Recap Of Inter-Prefectural Ekiden: Team Hyogo FTW Interesting concept where the team consists of runners from all age groups: Jr. high, high school, and either college or pros. *IAAF Article
*Japan Girls HS Team Almost Runs Down The Pros In Kitakyushu Invitational Women's Ekiden Came close to an upset, as Ritsumeikan Uji HS was only 18 seconds behind pro team Tenmaya.

Ethiopians Banned:
*LRC Kenenisa Bekele, Tirunesh Dibaba, And 33 Other Ethiopians Banned By Federation The Ethiopian Federation has raised its iron fist and banned 35 of its top athletes, including top stars Kenenisa Bekele and Tirunesh Dibaba for not following orders and reporting for national team training as they get ready for London 2012. It will be interesting to see how this plays out, but ultimately we think the athletes are stronger than the Federation. *List Of 35 Banned Athletes
Update: Ethiopian Athletics President Says Bekele Will Be Allowed To Compete At Olympic If He Shows Up For Training
*"Let me run for another country," Says Bekele After Federation Bans Ethiopians From London 2012 The article includes a lot of quotes from superagent Jos Hermens, who said the following about Haile G: "Haile is not on the banned list, but he is a very wise man ... Maybe he has gone along to one or two sessions and shaken a few hands."
*Bekele Offers Excuse For Not Reporting To Camp - "I'm injured."

****
Recommended Reads

*LRC Ritz Reflects On The Trials, His Years With Alberto, And Looks To The Future
*LRC Jenny Simpson Talks About Winning Worlds And Looks Ahead To 2012
*Some Updates From Paula Radcliffe
*AK's Decision To Hold Off Naming Full Olympic Marathon Squad Gets Mixed Reactions
*Former GA State Champ Jarry Wallace Is Pumped For Paralympics After Having His Leg Amputated After A Bad Case Of Compartment Syndrome
*Meet Jack Johnson - The Former Equipment Manager At Minnesota Lived A Simple But Beloved Life

****
Quotes Of The Day From The Week:

Note: To see a particular day's homepage, click on the hyperlink of the date on the left. The quote's hyperlink will take you to that particular article - not that day's homepage.

Monday 1/23: Mo Farah: "I am doing everything I can - in the gym, with the mileage - to cover every angle ... You have to be talented, but it is also all about graft and hard work. I'm really tired at night and sometimes when I wake up I don't feel like running. But I know I have to. I know I have to rack up the miles."
and

Bernard Lagat: "It's so funny. I go to bed late. I'm an 'after midnight' kind of guy and the following day, I'm up making breakfast for my son, I take him to school, and come back and just relax. I get caught up doing things in the house. I always train once a day. ... I have no problem waking up. All I need is just seven hours. A lot of guys go to bed at what, 10:00? I don't know, if I go to bed at 10:00, I wake probably at 5:00 in the morning. I don't find anything hard. Well, sometimes I feel like I need to stretch more. ... And I take Sundays off."

- Mo Farah and Bernard Lagat talking about their training. Even though these two will both be top contenders in the Olympic 5k, their approaches are very different. Nothing illustrates this point better than what they take as their "rest day." For Lagat, that means a day off, while for Farah, Sunday is a rest day between 17 and 20 miles.

---

Sunday 1/22: "Everybody says (it's a matter of) how much do you want it, but I think it's how much do you love it. And I love to train and I love to race. I think anybody is out there who has those problems if you love to train and love to race, you'll find a way to get back out there."

- Dathan Ritzenhein in a lengthy piece on LRC after we sat down with him last weekend after his disappointing 4th place finish at the Olympic Trials Marathon in Houston.

---

Saturday 1/21 and Friday 1/20::

- Video announcing that the Bring Back The Mile movement has officially launched. BBM's mission is to get the mile restored as the pre-eminent event in American track and field. College coaches who opposed the mile last month - are you listening?
Like the video? Here is a longer one extolling the beauty of the mile. *Discuss *Like On Facebook

---

Thursday 1/19: "The truth is we have a wonderful chemistry. We motivate each other. When he sees me doing something wrong, he says, 'Blakey, you should try this.' I call him and say, 'Usain, make sure you do your work.'"

- 100m World Champ Yohan Blake, talking about his and Usain Bolt's chemistry as training partners. He says Bolt is motivated to work harder because he is afraid of Blake. Blake also says he can get the WR in the 200m.

---

Wednesday 1/18: "I am kenyan."

- Kenyan Peter Omae Ayieni's laughing response when asked about qualifying for the Olympic Games after winning the Arizona Marathon last weekend in 2:24:47. Ayieni is a decent runner, having recently won the Seatle and Las Vegas marathons as well as running 2:21 for 2nd place in a marathon the previous weekend. His PB is at least a 2:17 (maybe better), but the idea of him qualifying for Kenya's Olympic team is indeed, laughable. We doubt that he was too disappointed when he wasn't named to Kenya's provisional Olympic marathon squad yesterday.

---

Tuesday 1/17: "We could learn a thing or two from USA Track and Field who held their marathon trials on Saturday. The hype and build-up of their trials was something to behold even with their much lower qualifying standards than we have."

- Kenya's Martin Keino arguing for a Kenyan Olympic Trials to select their marathon team. He's at least partially right as the build-up for the trials absolutely dominated the running world news for the last few weeks and we expect if the Kenyans decided to hold and OT marathon it would do at least the same.