LRC Weeks In Review Catch-Up: 2011 Worlds, Makau's World Record, And A Look Ahead To London 2012
By LetsRun.com
October 7, 2011
With track and field overload the last 6 weeks, our super popular Weeks in Review went by the wayside as we were super busy travelling to Daegu and back and got way behind on our normal work. We bring it back this week and try to bring some insight to the key action from the World Champs and the new world record in the men's marathon.
****
5 World Championships-Related Things That No One Would Believe Prior To Worlds
1) Usain Bolt would run 19.40 in Daegu, a world leader in the 100 meters after Daegu, and finish the year undefeated in both the 100m (in races he actually ran) and 200m but end up being viewed by many as the underdog for London 2012.
How is that possible, you ask? Well, Yohan Blake is the simple answer.
2) In her final two European races of 2011, Jenny Simpson would run 4:06.13 for 10th in Rieti and 4:03.68 for 13th in Brussels to conclude a season when she never ran faster than 4:03.54 and yet Simpson is the talk of the middle-distance world some six weeks later.
How is that possible, you ask? Easy, by winning the world title at 1,500. The 5th Avenue Road Mile title certainly didn't hurt either, as it helped prove to some that the world title wasn't a fluke - as if that was somehow possible to achieve in the year 2011.
3) Morgan Uceny would finish 10th at Worlds but be viewed as the world #1 when the season ended.
How is that possible, you ask? Well, when you get tripped in the final, you can't get blamed for not medalling. Then, in your lone 1,500 after World's, when you run the world's #1 time to destroy a field that included 10 of the top 11 for 2011 - including the world champion - and you win the Diamond League title in the process with your third DL victory of the year, it's pretty easy to see why you are considered to be the world #1.
4) David Rudisha would win his first world title in dominating fashion - by a ridiculous .50 - and yet head into the off-season with some wondering if he's vulnerable in 2012.
How is that possible, you ask? Well when you lose your final race of the season to 17-year-old Mohamed Aman. Aman made waves both at Worlds by making the final and then after Worlds by setting a new world youth record of 1:43.37 and then beating Rudisha.
Oh yeah, and don't forget the name Leonard Konsecha. Who the heck is that, you ask? That's the then 16-year-old Kenyan (now 17 if you believe his official birthday, which is listed as 8-21-94) who destroyed Aman by .60 (more than what Rudisha won Worlds by) in early July to win the World Youth title by running 1:44.08. We have no idea why Konsecha didn't try to run the European circuit after that showing, as we thought he might be a medal threat.
Konsecha did show up in competition for the first time since Worlds in early September when he got 2nd in the World Youth Commonwealth Games.
5) Galen Rupp would finish 7th at Worlds in the 10,000 and yet be the talk of the US men's distance world six weeks later.
How is that possible, you ask? Well when you "pull a Ritz." In 2009, Dathan Ritzenhein, who like Rupp is coached by Alberto Salazar, finished 7th at Worlds in the 10,000 and then made shock waves by running an American record of 12:56.27 in the 5,000 some 11 days later. In 2011, Rupp finished 7th in the 10,000 and 12 days after his last competition at Worlds ran an American record of 26:48.00 in the 10,000.
Speaking or Ritz, it's amazing how he's fallen off the map so quickly. We aren't the only ones to think this thought, as shown by this message board thread: Remember Dathan Ritzenhein?
****
Putting Patrick Makau's 2:03:38 World Record In Perspective/(JK Predicted It Several Years Ago)
We want to make three main points about Patrick Makau's stellar 2:03:38 marathon world record in Berlin.
1) "Remember when 61:44 and 61:54 (Makau's two splits in Berlin) would have ranked you in the top 5 in the US? Now they're half marathon splits."
In the days after Rupp's brilliant 26:48.00 run, a popular thread popped up on the message board that was entitled Remember when 13:26.6 and 13:23.4 would have ranked you in the top 5 in the US? Now they're 10k splits. We thought was a very clever and insightful thread title even though the splits mentioned in the thread add up to 26:50, not 26:48. In reality, Rupp's splits were more like 13:26 and 13:21, meaning he's almost running the Olympic A standard for 5,000 during the 2nd half. It's just very, very impressive. Anyway, when Patrick Makau ran 2:03:38 to set the new marathon world record, we remembered the Rupp-related thread and thought to ourselves, "Remember when 61:44 and 61:54 (Makau's two splits in Berlin) would have ranked you in the top 5 in the US? Now they'rer half marathon splits."
And that thought resulted us in doing a little research. In reality, those times would always rank you in the top 5 in the US. Never in US history from what we can tell (and from looking at alltime-athletics.org, tilastopaja.org, and trackandfieldnews.com) have 5 Americans run 62:00 in the half marathon in a given year. In fact, the 61:44 half marathon that Makau ran in the first half of Berlin would make him the 8th-fastest American-born half marathoner in history (12th fastest American in history), just behind LetsRun.com friend George Malley - aka "malmo."
The 14 Americans who have broken 62:00 for a half-marathon
59:43 Ryan Hall
60:00 Dathan Ritzenhein
60:11a Todd Williams
60:29a Abdi Abdirahman*
60:30 Galen Rupp
60:39 Mohamed Trafeh*
60:55 Mark Curp
61:17 Khalid Khannouchi*
61:25 Meb Keflezighi*
61:30 Keith Brantley
61:43 George Malley (malmo of message board fame)
61:52 Bobby Curtis
61:54 Antonio Vega
61:55 Josh Rohatinsky
2) 30-years ago in 1981, Herb Lindsay broke the world record for the HALF marathon with a 61:47 and now Makau has basically put together two "Herb Lindsays" for the complete marathon!!! It's hard to believe that the new marathon World Record is actually TWO MINUTES faster than Khalid Khannouchi's WR run at London a mere 9 years ago. Wow. Another way to think of it is that it's 4:42.9 per mile for 26.2 miles!!! (Thanks to LRC super-visitor David Graham for these stats).
3) Given the fact that some guys ran a wind-aided 2:03:02 and 2:03:06 in Boston earlier this year, many may have not been totally shocked by Patrick Makau's 2:03:38 in Berlin. But one person who definitely wasn't shocked was LetsRun.com coaching guru John Kellogg - aka JK.
If you aren't familiar with JK, he was the only person on the planet who basically predicted that world's best time could fall before this year's Boston Marathon this spring. When Makau ran 2:03:38 in Berlin, we reached out to JK, who interrupted his busy schedule to get back to us with a few brief comments. JK responded by saying, "The 2:03:38 doesn't really shock me at all. The marathon world record is now almost perfectly in line with the 5,000 and 10,000 world records according to my conversion chart and that makes sense, as most of the runners are now in the marathon as that's where the money is. It's about time the marathon record was that fast, actually."
According to JK's chart, the 2:03:38 converts to 26:20 for 10,000 and 12:38.2 when the current track world records are 26:17.53 and 12:37.35. The track WRs equate to 2:03:27 for the marathon.
****
Stat Of The Last 2 + Months: What Are The Odds That A Gold Medallist In Daegu Repeats In London Or Medals At All?
We loved the following stat that we saw in the Wall Street Journal that took a look at whether or not success at the World Championships automatically means success in the next year's Olympics. The stat is pretty startling in our minds. Jenny Simpson fans - hold on to your seats. History tell us that a gold medallist at Worlds has a slightly less than 50% of simply earning a medal of any color in the next years's Olympics and only roughly a 1/4 chance of repeating as champion.
From The Wall Street Journal: Since 1982, the percentage of individual gold medal winners at the World Championships of swimming and track and field who won medals in the same event at an Olympics that was within two years - plus the percentage who won gold in both.
Sport
% Won Medals
% Won Gold Medals
Swimming
61.40%
39.20%
Track
49.60%
26.00%

Note: Doesn't count athletes whose countries boycotted the Olympics.
****
86th And 88th at NCAAs = A 2:07 Marathon?
Yes that's right, a guy who ran for three years in the NCAA, twice finished 86th and 88th at NCAAs in cross-country, once finished 33rd, and never broke 14:00 or 29:00 and never was an All-American ran a 2:07 marathon last week.
One thing that amazes us is how much better many African runners often get after college. An American can run modest times say - 13:30/2:14 and do okay financially. An African runner needs to run a lot faster to stay in the sport. There have been countless examples of African runner after African runner just exploding after college and often we've wondered, "Do they just do it because they have to? If they run mediocre, they won't make a good living." In this light, it needs to be remembered that Bernard Lagat - one of the greatest 1,500-meter runners in history - never won an NCAA 1,500 title (of course, neither did Nick Willis, although both won indoor mile titles).'
Last week, you had another example of this when it was revealed that the pacemaker for the 2nd group in Berlin was none other than former Iona Gael Stephen Chemlany. Chemlany paced the 2nd group and then went on to finish 2nd in 2:07:55.
Chemlany's claim to fame in college? PRs of 14:03 and 29:18, zero all American awards, two finishes in the 80s at NCAA cross with a career best finish of 33rd in 2005.
More: *Chemlany Shines In Berlin Marathon *Chemlany Bio Page From Iona
****
US Olympic Hopefuls, Be Thankful You Don't Live In Kenya
We're sure there are a lot of US Olympic hopefuls in the who are going into the winter base building phase thinking, "Man it sucks in some ways that I'm American because it's going to be very hard to make the Olympic team next year. If only I was ******* (Insert name of minor country here), where if I hit the "A" standard, I'd be golden."
Indeed, they are right, as it's going to be very tough in nearly all of the events. Some examples:
In the women's 1,500, one of the following people will not be on the Olympic team:
1) 2011 world #1 Morgan Uceny
2) 2009 bronze medallist Shannon Rowbury
3) 2011 world champion Jennifer Barringer
4) Two-time sub-4 performer (both in 2009 and 2010) Christin Wurth-Thomas
5) Sub-4 performer Anna Pierce (2009)
Assuming everyone is on their game, the men's 1,500 isn't going to be any easier to make:
1) Alan Webb 3:30.54 PR
2) Andrew Wheating 3:30.90 PR
3) Lopez Lomong 3:32.30 PR
4) Leo Manzano 3:32.37 PR
5) Matt Centrowitz World Championships bronze medallist
But guys and girls, we have no sympathy for you. Since Athletics Kenya named all world champions to the Olympic team, that means Abel Kirui is a definite in the marathon. Many think world record holder Patrick Makau belongs as well, but insiders have denied reports that he too is on the team. But imagine that he ends up on it, then you have to pick the third spot between the following people, which include 6 sub-2:05 marathoners and 13 sub-2:06 guys. Truly ridiculous (again thanks to LRC super-fan David Graham* for these stats):
From the following list, only ONE can be chosen by Athletics Kenya (if Makau and Kirui are on the team).

1. Geoffrey Mutai - 2:03:02, Boston winner 2011, 2nd 2010 Rotterdam (2:04:55) & 2nd 2010 Berlin (2:05:10), 2009 Eindhoven winner (2:07:01)

2. Moses Mosop - 2:03:06, 2011 Boston runner-up

3. Duncan Kibet - 2:04:27, 2009 Rotterdam course record holder (former Kenyan national record), 2008 Milan Marathon champion

4. James Kwambai - 2:04:27, 2009 Rotterdam 2nd place, 2008 Berlin 2nd place, 2009 Rotterdam 1/2 marathon 3rd place in 59:09

5. Emmanuel Mutai - 2:04:40, 2011 London winner and new course record holder, 2009 World Champs Silver Medalist, 2nd 2010 London, 2nd 2010 New York

6. Wilson Kipsang Kiprotich - 2:04:57, Frankfurt 2010 winner, 2011 Lake Biwa winner (2:06:13), 2009 Ras al Khaimah 1/2 marathon 2nd place 58:59

7. Vincent Kipruto - 2:05:13, 2010 Rotterdam 3rd place, 2:05:33 2011 Rotterdam 2nd place, 2011 World Champs Silver Medalist, 2009 Paris winner (2:05:47)

8. Martin Lel - 2:05:24, 2008 London winner, 2008 Olympics 5th, 2003/2007 New York winner, 2005/2007/2008 London champ, 2011 London 2nd 2:05:45

9. Wilson Chebet - 2:05:27, 2011 Rotterdam winner, 2nd 2010 Amsterdam (2:06:12, 2nd fastest debut ever), 59:15 2010 Rotterdam 1/2 marathon

10. Eliud Kiptanui - 2:05:39, 2010 Prague winner, 2011 World Champs 6th place

11. Wilson Kipsang - 2:05:49, 2008 Rotterdam winner, 2003 Amsterdam winner 2:06:37

12. Evans Rutto 2:05:50, 2003 Chicago, 2003/2004 Chicago winner, 2004 London winner

13. Robert Kiprono Cheruiyot - 2:05:52, 2010 Boston winner, 2008 Frankfurt winner, 2009 Frankfurt 2nd (2:06:23)

*Note, Graham's list actually kept going and included 20 sub-2:07 guys and 30 sub-2:08s and Graham called it only a "partial list."
****
Quotes Of The Day From The Last 6+ Weeks:
Thursday 10/6: "Somebody could write a dissertation about all the things we've been doing wrong ... but it's like we've looked around at all the great African runners and just conceded, 'This is who we are. We're not going to win on this stage.'"
- Greg Meyer, last American born man to win the Chicago Marathon. American Ryan Hall has a shot to prove Meyer wrong on Sunday. LRC men's preview here.
---
Wednesday 10/5: "And the way the powers have structured the whole apparatus - with every athlete an independent contractor, and represented as such clawing for Olympic selection – you need the IAAF and USATF more than they need you. And they know it! You're just an individual. They own the game. They can fill your lane in an instant."
---
Tuesday 10/4: "At 27 I am beginning to understand that my career must one day come to an end. I believe in the campground rule, 'Leave it better than you found it,' and I don't want to leave the sport I love to the next generation in its current state. I understand that there is much tradition and history in track and field and that its purity needs to be maintained. However, if these rules are not altered and brought into the 21st century, we may not have a sport to protect for much longer. There is a cancerous tumor in the sport of track and field and its name is over-regulation."
- Nick Symmonds in an open letter about how he feels the IAAF and USATF are "crippling our sport" with things such as strict advertising regulations and the new women's marathon record rules.
---
Monday 10/3: "(Sammy Wanjiru's death was) heartbreaking for me. I truly liked him. He did everything we asked. He had the heart of a lion, a champion. If you look back on what he did in such a short time, arguably you could say he was the greatest marathoner we've ever seen.
---
Sunday 10/2: "It is a weird distance but I'm starting to feel more comfortable on the road. The marathon is still scary; the track is much easier to predict ..."
"[Athens Olympic marathon bronze medallist] Deena Kastor once told me that even if you're in the best shape of your life, every time you're on the start line, it still feels like your first marathon."
- Former Providence college standout Kim Smith talking to the New Zealand press about her preparations for the 2012 ING New York City marathon. Smith said she may still go out hard like she did in Boston in New York. Smith will return to New Zealand and skip the Providence winter after New York.
---
Saturday 10/1: "I have two Olympic golds in the 10,000m. But imagine winning gold in the marathon, it's something very important. Plus, it's London. If I stopped running tomorrow without achieving this thing, it would be like I was missing something."
"When I switched from 10,000 to the marathon, I was planning two achievements - the world record and the Olympic gold. I achieved one and I'm begging God for the other. If I achieve that, my career is full."
- Haile Gebrselassie, talking about London 2012, in an article when he urges the British media not to put too much pressure on Mo Farah, as look at what happened to Paula Radcliffe in 2004 and 2008.
---
Friday 9/30: "In 2007 when I dropped out from London marathon it looked like the end of my career. Six months later I broke the world record."
- Haile Gebrselassie, talking about how even after the disappointing dropout at Berlin, he still thinks he could win in London 2012 and even feels he's still capable of breaking the World Record. He discloses that he was aiming for 2:03:30 at Berlin, but says that "Maybe I was a bit too ambitious that day."
---
Thursday 9/29: "This is a big man thing, not a boy thing."
- An indirect quote from Asafa Powell, apparently directed towards Yohan Blake after the 100m at the Jamaican World Champs trials where Asafa won. Blake's coach, Glen Mills, thinks that provided extra motivation for Blake ahead of WC's.
---
Wednesday 9/28: "I would have never thought that someone who I 'met' on a message board and only in person a couple of times could have such a profound impact ... not just in the news of his death, but rather in the positive influence he gave me. His character was remarkable. He was incredibly giving of his time, effort, and expertise to the extent that anyone who would ask him a favor would think twice because he would do anything to help a person out ... He was also an incredibly humble person, and this humility drove him to be intensely private ... he did not want any notoriety or public credit. He also commanded respect. Hadd probably met / corresponded / coached 30-40 people who knew his real name, yet no one ever 'outed' him ... I think that says something."
- Message board poster JEH on the death of "Hadd" (John Walsh), who contributed so much to the training talk on LetsRun.com forums over the years. Walsh, the Malta Marathon founder, died at the age of 56 while out for a run. Our thoughts are with his wife and all he touched. Pay your respects here.
---
Tuesday 9/27: "Today I got up, had a shower and my muscles felt stiff so I shall not run today."
- Patrick Makau talking about taking a day off after his 2:03:38 World Reocrd in Berlin (excellent recap by the New York Times, which had a reporter in Berlin and featured the race on Page 1 of its sports section).
---
Monday 9/26: "This (World record) is very special for the Kenyans, especially beating the Ethiopians. Everyone in Kenya will be happy for me. My manager is getting a lot of calls from Kenya, and I hear there were lots of people watching TV in bars, and breaking bottles when they saw the World record."
- Patrick Makau talking about his country's reaction to his 2:03:38 marathon World Record yesterday in Berlin.
---
Sunday 9/25: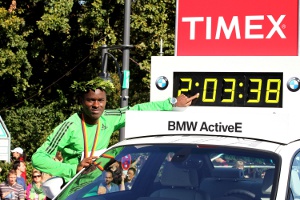 ---
Saturday 9/24: "The marathon medal is the most important medal in Ethiopia. It is due to the history and Abebe Bikila winning in 1960. People ask in Ethiopia, did you win a marathon medal? I might say, 'No, just a 10km'. And they say, 'argh, only a 10km?' The marathon medal is definitely the most special."
- Haile Gebrselassie talking about his desire to end his career with an Olympic gold medal in London next year. Even though he has two Olympic golds in the 10k, it still bothers himi that marathon gold is still missing. His journey towards London beings tomorrow as he needs to run a time fast enough to secure him a spot on Ethiopia's team for 2012.
---
Friday 9/23: "I still haven't seen any of the papers, any of the headlines, or read any of the articles. I'm excited to indulge and enjoy all of that."
- Jenny Barringer Simpson talking in an Associated Press profile on her prior to this weekend's 5th Avenue Mile. In the article, Simpson said she wouldn't let herself enjoy her Worlds win until she returned to the US. We hope she reads the letsrun.com archives from Sept. 1 or Sept. 2, as we hate to admit it but the last time we checked we were basically the only ones that cared.
---
Thursday 9/22: "I wouldn't mind if someone would have broken that record because it's gratifying to see the sport move forward. But to have it taken away? That feels like a little bit of a cheap shot. To have it stripped from you, when no drugs were involved, when no scandal was involved, is just hard to believe."
- Deena Kastor on having the American record in the marathon go in the IAAF's eyes from Kastor's 2:19:36, not to her 2:21:16 or Joan Benoit's 2:21:21, but rather to Joan Benoit's 2:24:52. The IAAF in all its stupidity has said women's world records set in mixed races should no longer count. They'll count in the LetsRun.com record books. Nice read from New York Times.
---
Wednesday 9/21: "Towards the end, with about 600 meters to go, I saw what the time was and at that point, I was able to figure out I was going to do something special."
- Galen Rupp talking in a USATF teleconference Tuesday about his 26:48.00 American Record that got coverage not
---
Tuesday 9/20: "Besides your parents, there are few people who make an impact in your life. He was one of those people."
- Matt Peterson talking about Jeff Drenth, an Athletics West team member who represented the USA, who died of heart related causes at the age of 24, 25 years ago. The article talks about how Drenth's legacy is not forgotten at Central Michigan (Jeff's brother Walt is the Michigan State coach).
---
Monday 9/19: "In a cross country race, there are no timeouts. You adjust as you go. That's what we're doing (with life) right now. We're not stopping, we're just going and following our cross country philosophy. You finish the race.
---
Sunday 9/18: "Today we knew, and we've been speaking to our sports psychologist about this, we knew that it was a massive race for Galen. It's been two years, and he's improved a lot, but hasn't quite got that big result that says he is one of the best in the world, one of the top five, six, seven ... you know, a time that shows that."
- Alberto Salazar, talking after Galen Rupp's 26:48.00 American record run. The quote comes from a fantastic article with lots of great quotes from Salazar and Rupp.
---
Saturday 9/17: Photo Of The Day: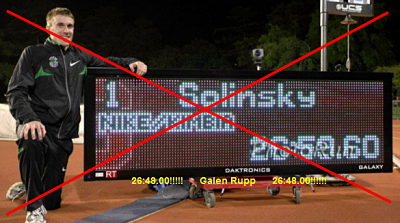 ---
Friday 9/16: "There was even one time when I thought I would never return. After about a year, I had been training for a month and then the injury came back. I was very sad. However, I talked to my wife and my physio and they encouraged me a lot ..."
---
Thursday 9/15: "I feel great, honoured and humbled by her showing. I knew she could run well in 10,000m but feared she would not perform in 5,000m because of fatigue."
- Vivian Cheruiyot's husband, Sammy Kirui Kiplagat, talking about her double gold at a victory celebration in Kenya where Cheruiyot was treated like royalty.
---
Wednesday 9/14: "The Diamond League, which is reaching the end of its second year of existence, was meant to promote more head-to-head clashes between the biggest stars yet the sport continues to shoot itself in the foot by allowing athletes to avoid each other so flagrantly ...
A 100m clash between Bolt and Blake in Brussels would have been a fitting climax to the season. Instead, the 48,000 paying customers have been outrageously short-changed."
- Simon Hart writing in the Daily Telegraph on Usain Bolt and Yohan Blake being in different events (100 and 200) at this Friday's Diamond League finale in Brussels (otherwise it's an excellent meet). With a little more planning, we'd encourage the fans to turn their backs on the men's 200m. As the sport is constructed now, the athletes get their appearance fees, the agents get their cut, yet long-term the sport suffers.
---
Tuesday 9/13: ""I was slowing down long before the finish and wasn't tired at all. I could have gone back to the start and done it all over again."
- Usain Bolt on his World Record winning performancec from the 2008 Olympics, quoted from his autobiography in this article about Bolt as a sports icon. The author simply asks "What's not to like about Usain Bolt?"
---
Monday 9/12: "I was a little lazy at the start here. I could have run 9.7 easy."
- Yohan Blake, on this 9.82 second 100m victory (tying his new PR from Zurich) in Berlin over Worlds bronze medallist Kim Collins.
---
Sunday 9/11: "All the hype has been around Usain Bolt's disqualification because he is one of the biggest names in sport but it was probably the easiest decision I've ever had to make. ... The hard thing from my perspective was coping with the media melee because the track was invaded by ill-disciplined photographers who wanted the picture of him before the other guys had to run the World 100m final."
- Chief starter Alan Bell, talking about DQing Usain Bolt from the 100m final at the World Championships in Daegu. Apparently he didn't read our article on Yohan Blake's flinch. Also interesting to note our quote of the day from June 16th, where Ato Boldon predicted something like this happening.
---
Saturday 9/10: "The best thing about Jenny Simpson's surprising victory in the 1,500 meters last week at the World Track & Field Championships was her honest and delightful look of astonishment at crossing the finish line first.
- Chicago Tribune writer Phil Hersh writing about Jenny Barringer Simpson's shock victory at Worlds. Simpson will be looking to lower her 1,500 PR in Rieti on Saturday. Hersh says the good news is she is the world champion, the bad news is the 1,500 champ has only gone on to to win the Olympics one time.
---
Friday 9/9: "There were people writing in, thanking me that the race took place and saying that they ran in tears the whole time, how they ran over to the cops and firemen along the course thanking them and giving them high fives. It was important because it got the world talking; the world saw that New York could come back. I'm convinced that it was the right thing to do and what had to be done."
- Former President and CEO of New York Road Runners, Allan Steinfeld, talking about the decision to still hold the 2001 NYC Marathon less than two months after the terrorist attacks of 9/11. Interview with current CEO Mary Wittenberg here.
---
Thursday 9/8:"Training-wise, I ran 140 miles a week all the time - sometimes more. Back then it was kind of a prerequisite if you wanted to be good you had to run a lot of miles. And it's not just how many miles you run, it's how you run them, and I ran a lot of them hard. I probably wasn't sharpening very well. I wasn't good at adding in the track work and the sharpening work. That was probably my shortcoming. I really believed in the high-mileage and hard mileage. But after our era, you started hearing coaches and athletes talking about running 80 miles a week. And my thought about that was that just wasn't maximizing the machine. I think at some point, maybe people were trying to finesse things away from high mileage, but now you're hearing more people talk about being on high-mileage programs again."
- Mark Nenow, the man who set the American record in the 10,000 of 27:20 in 1986 - the 25-lap record, 25 years ago (we meant to put this up on Sept. 5 but forgot that was the actual anniversary) - talking in a great Running Times piece on him.
---
Wednesday 9/7: ""Hopefully this is just one peak on what will continue to be a long journey. I was walking down the street in Rome this afternoon holding hands with my husband and I kind of laughed to myself. He asked me what I was thinking and I said 'this is so exciting.' He shot me a curious look and asked, 'what's exciting,' and I replied, 'the rest of my life.'"
- Jenny Simpson, in a blog about her experiences in the 18 months leading up to becoming the 1,500m World Champion.
---
Tuesday 9/6: "Can a man be faulted for wanting a revolving bed? For being so cheeky that he starts to learn Spanish to better woo members of the opposite sex, instead of just staring at them? For unashamedly loving to party and, most important of all in his case, knowingly under-utilizing a world-beating talent unique in the history of sport?
- Associated Press columnist, John Leicester,writing a column entitled "Is Usain Bolt trying hard enough?"
---
Monday 9/5: "This year, I had a great season for me winning silver. In 2009, I was a little kid. I was not thinking when I was running. It was just 'BOOM.' For me this year I had such a good experience. As an athlete you need to accept if you lose or you win. Silver is good for me. If you saw my races three months ago, I was not in good shape ... so for me it was a great achievement. I just need to give it back to Nelson Mandela."
- Silver medallist Caster Semenya happy with 2nd in Daegu, speaking to the media for the first time all week.
Yahoo Image Photos Of Semenya In Action In Daegu
---
Sunday 9/4: BOOM

---
Saturday 9/3: If You Haven't Seen the 1500m Final and Don't Know the Results...
---
Friday 9/2: JENNY GETS GOLD

---
Thursday 9/1:JENNY GETS..... GOLD!!!
---
Wednesday 8/31: "You spend all year dreaming of a medal. You don't dream of fifth place.

(The USA) hasn't had a medal since '97 and with a nation with the talent we have it just makes me sick we're not getting medals."
- American Nick Symmonds after finishing in 5th place in the men's 800m final won by David Rudisha.
---
Tuesday 8/30: "I told him (Dayron Robles), 'You are disqualified.'
Robles was surprised, "Really?"
'"Yes it was on tv'"
- Liu Xiang recounting how he told Dayron Robles that Robles was DQd from gold more than an hour after the 110m hurdle final
---
Monday 8/29: VIDEO PROOF THAT YOHAN BLAKE FLINCHES,
THEN USAIN BOLT FALSE STARTS, SHOULD BOLT HAVE BEEN DQd??
(Watch Blake's left leg flinch, then Bolt react)

---
Saturday 8/28: "I'm humbled, I'm grateful. It's a huge break for me. I'm excited and really happy ... This medal speaks for itself. I'd like to tell a lot of young girls in Kenya they can still go to school, they can still get a degree, they can achieve that part of their life and still be successful in athletics."
- The Oregon Track Club's Sally Kipyego talking to LetsRun.com after earning the silver medal at the 2011 World Championships in the women's 10,000 on a day where the Kenyan women were utterly brilliant, as they went 1-2-3 in the marathon and 1-2-3-4 in the 10,000.
---
Friday & Saturday 8/26/27: "I've trained hard, I'm ready. That is the only formula."
- 800-meter world record holder David Rudisha responding to a question as to whether or not he changed his training for the 2011 World Championships, which begin on Friday night.
At the end of day 1, which occurs on Saturday morning in the US, there will be a potentially epic women's 10,000 final.
---
Thursday 8/25: The 2004 Olympic champion, who last year made his return to competition after serving a four-year doping ban, said Wednesday he got frostbite about two weeks ago after going into a cryogenic chamber with wet socks. He didn't lose any toes and will still run in Daegu, but his wounds are not completely healed.
- excerpt from an Associated Press article on US sprinter Justin Gatlin, who has officially joined the moronic sports injury hall of fame.
---
Wednesday 8/24: "I honestly believe I haven't lost any fitness."
- Kara Goucher talking to the Duluth News Tribune about her fitness, which she claims hasn't gone done even though she didn't run for at least 12 days due to a stress reaction in her femur.
---
Tuesday 8/23: "Bekele this time will not be a threat to us, that one I am sure about because he has not been active for over three months ... When you fail to run for even three months you can hardly match the best."
- Kenyan World Championships coach Peter Mathu talking very, very big as the Kenyans departed for Daegu.
****
Last 6 + Weeks' Homepages
To see any homepage on LetsRun.com, just change the URL to match the corresponding date:
So August 1 would be https://www.letsrun.com/2011/homepage0801.php
So August 15 would be https://www.letsrun.com/2011/homepage0815.php