The Week That Was In Running: August 2-8, 2010: Tyson Gay Over Usain Bolt, Chris Solinsky 12:55 And The 34-Year-Old Mark Kiptoo
By LetsRun.com
August 10, 2010
To read last week's LRC Week That Was, click Here.
To read any 2010 LRC Week That Was, click Here.
This week's weekly recap may be a bit shorter than normal as we were in a bit of hurry to get it done so we could head out the door for vacation. Rojo is on a plane to a vacation.
Usain Bolt Wins/Tyson Gay Loses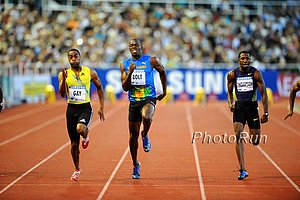 Usain Bolt proved last week that he is unbeatable. A loss by Bolt is a rare thing however. Since he started running the 100 in 2007 (when he only raced it once), Bolt has run 21 meets at 100 meters. He has crossed the finish line first 19 times, so he has a win rate in finals of 90.5%. Contrary to the Jamaican press, this was not Bolt's first loss at 100m. It was his second.
Where did Bolt's other loss come? Also in Stockholm in 2008. Yes, Usain Bolt has lost at 100m twice as a pro and both losses were in his two races in Stockholm.
The man who beat Bolt is pretty good himself. Looking at his results since 2007, Tyson Gay has raced 23 finals at 100 meters and crossed the finish line first 18 times, giving him a win rate of 78.3%. Of Gay's 5 losses, one he was injured and didn't finish, two were World Record runs by Bolt, one was to Asafa Powell and one was a BS end of the season loss to Wallace Spearmon, who really isn't a 100m runner. Tyson Gay is pretty incredible. Having said that, Bolt's performance was his worst European performance at 100m ever. Gay realizes that and is preparing to beat Bolt at 100%.
Now that Bolt's unbeaten streak at 100 is over at 15 finals in a row, he still can fall back on his 200-meter win streak, which stands at 13 finals in a row. As for Gay, he's now won six straight 100-meter finals.
In case you don't actually read what we type, let us provide you our Stat of the Week in concise form:
90.5% - Usain Bolt's win rate at 100 meters since 2007
78.3% - Tyson Gay's win rate at 100 meters since 2007
A former big name in sprinting in 2004 (he was the Olympic champ), Justin Gatlin did return to action last week. But we don't feel like talking about the drug cheat. If you want to know why people take drugs, it's because they work and Gatlin's 10.24 proves it.
More: *Tyson Gay Crushes Usain Bolt *Gatlin Runs 10.24 To Win First Comeback Race It's supposedly equivalent to 10.21 without a headwind. Gatlin wanted to believe he could run 10.00 but he's probably a 10.10 guy right now at best. *Discussion Of Gatlin's Comeback
Phil Knight - The Man You Want To Come To Your Birthday Party
In January, a new state of the art academic center at the University of Oregon opened up that was funded by Phil Knight. Well, last week, it came out how much the center cost. It cost a staggering $41.7 million - or roughly $1,100 per square foot according to an article in The Oregonian. For those of you that aren't familiar with construction, let us put that figure in perspective for you. The Oregonian states that it cost "roughly twice what the most expensive condominiums were selling for at the height of Portland's real-estate boom."
Now from the looks of the building, it's incredibly nice, but for that price it seems as if the building should be able to do the athletes' homework for them. But then again, since Oregon is one of the lowest rated academic state universities in the country, maybe that's not necessary. Oregon fans, sorry for the pot shot, but we are tired about people writing in on the message board to say how good of a school Oregon is academically. It's ranked 57 out of 64 by US News. Yes, you can get a good education anywhere, but Oregon's selling point is not its academic reputation.
(Note: A reader has written us to say that the list of 64 schools is the top 64 public universities in the country and for us to not be so critical. He said, "There are over 600 4 year degree public schools in the US. That puts Oregon in the top 10%. I think your comment is similar to saying that a kid who got close to last in NCAA Regionals sucks. Which is obviously not true, qualifying for Regionals at all means you are pretty dang good. Just like making US News top 64 list means the school is pretty good." We see his point. Having said that there were 21 other public universities at the NCAA XC Champs last year on the men's side and Oregon ranks ahead of only 5 of them according to US News and World Report with a quick glance: Ok State, NAU, New Mexico, Arizona State, and Arkansas. 32 different states have at least one public university better than Oregon. In terms of flagship public universities it's in the bottom half. The selling point of Oregon is its track program not its academic reputation. Having said that, we think school rankings are highly overrated. Can you get a good education at Oregon? Of course).
Now the building has some detractors as some affiliated with Oregon are calling the building a "travesty" as they feel that the money could have been better spent on the education related things for the university as a whole. But we have to disagree with them. We loved this quote from Oregon spokesman Phil Weiler, who told The Oregonian:
Our Quote of The Week (That wasn't quote of the day):
"The building was a gift. When someone buys you a birthday present, you don't ask them how much they spent for it."
We 100% agree with Mr. Weiler and we certainly aren't going to criticize Phil Knight. Phil Knight is incredibly generous to Oregon but he's also incredibly generous to the sport of track and field and one could argue that without Knight, global professional track and field would be in a whole lot of trouble, as Nike invests millions on track and field each year just like Knight blows/donates millions to Oregon each year.
More: University Of Oregon Reveals Phil Knight-Funded Academic Center For Athletes Cost $41.7 Million
Random Fact Of The Week
Real quick, tell us what you think the South African men's 5,000-meter record is.
Going once.
Going twice.
Sold to the man who said 13:14.
More: Juan van Deventer Came Up Short In Bid To Get South African 5,000 Record
A Few Comments About The Stockholm 5,000


Since we're talking about the 5,000, it was great to see Chris Solinsky lower his PR to 12:55.53 and it might have been even greater to see Galen Rupp in the hunt heading into the final 1,200 before having a potential sub-13:00 derailed by a fall. However, we'll leave big talk of American men's 5,000-meter running until later in the summer when hopefully Solinsky gets the AR or Rupp breaks 13:00. It's a sign of progress that an American runs 12:55 and we don't spend the whole article talking about it. Ed Moran ran 13:20 in the same race, a time people would have been talking about 5 years ago and it definitely isn't getting mentioned.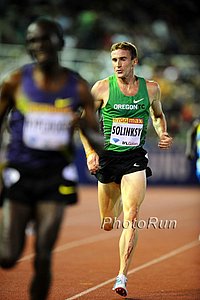 Not enough has been said about the man who won the 5,000 in Stockholm, Mark Kiptoo. Kiptoo is a fascinating story - a Kenyan military guy who only took up running at the age of 29. We met Kiptoo as the World Cross-Country Championships in Amman in 2009 and the dude is a class act. Great to see him PR and get the big win at the age of 34.
Kiptoo won the first race of his life at age 30.
Last year, after winning the Crescent City 10k, he said, "I will not let my age be a hindrance. When I decided to run competitively, I took the advice of a friend, who is an international athlete: Train hard, train hard, train hard - and never, ever give up."
More: Kiptoo Wins At 34 *LRC Stockholm Distance Recap: Chris Solinsky Runs 12:55.53 As Galen Rupp Drops Out, Nancy Langat Wins Again, Chaos In Men's 800m
If It Drove You Nuts That Alan Webb Was Inconsistent, This Will Make You Feel Better
Alan Webb fans often complained that Webb was a bit inconsistent, as his great years were often followed by mediocre years, as shown by the following stats.
2001 - 3:53 in HS
2003 - Only ran a 3:58 mile
2007 - #1 time in world at mile & 1,500 and #2 at 800
2008 - fails to make the Olympics
Well, hopefully, those same people aren't fans of Christin Wurth Thomas, as she goes from hot to cold from week to week.
Wurth Thomas' Last 3 1,500s:
4:03.44 - 8th place showing in Lausanne
3:59.59 - 2nd place showing in Paris
4:04.56 - 11th place showing in Stockholm
'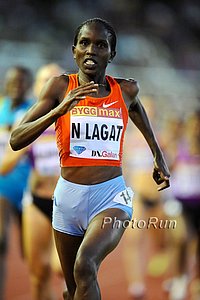 In that 1,500 in Stockholm last week, 2008 Olympic champ Nancy Langat proved she's the best in the world as she got the win over the stacked field and the world leader in Russia's Anna Alminova, who was 2nd. But amazingly, Langat - who has won all but one of her races this year - didn't break 4:00. This shows us that times are so overrated. Meet directors and television commentators are obsessed with times when in reality they should first and foremost be obsessed with winning as is the case with Langat.
And props to Morgan Uceny. The least pedigreed of the Americans in Stockholm finished as the first American (we're obviously biased, as she went to Cornell).
Recommended Reads
*LRC Stockholm Distance Recap: Chris Solinsky Runs 12:55.53 As Galen Rupp Drops Out, Nancy Langat Wins Again, Chaos In Men's 800m
*LRC Tyson Gay Crushes Usain Bolt
*Solinsky Post-Race: "I've Just Got To Finish."
*On Comeback Trail, Olympic TJ Champ Christian Olsson Remembers Edwards' Record Jump
*NY Times: Half Of ACL Surgeries May Be Unnecessary
*Sports Illustrated: From Heaven To Hell And Back Amazingly, Justin Gatlin seems to be fine financially, as he's still driving a Maserati.
Quotes Of The Day From Last Week
Monday: "Dear Fans, I got beat today by an athlete who was in better form and shape than I was. It was one of those days ..."
- Usain Bolt on his Facebook page.

"I wish to thank all my fans - I want to thank them more than ever."
- Drug cheat Justin Gatlin, trying to act like Usain Bolt after he won comeback race #2 yesterday.
Sunday: "I have always said I am not unbeatable. I can be beaten. This is not one of those seasons when I am fully working hard. This is my easy season. If you don't beat me this year then it's not going to happen. Next year I will take care of business."
- Usain Bolt, after proving he is human and losing a race for the first time in two years in Stockholm on Friday.
Saturday: "Deep down inside I know he wasn't 100%. I'm still looking for the day he's 100% and Asafa is on the line."
- Tyson Gay, clearly the top 100m man in the world in Stockholm on Friday.

Friday: "You can't let Tyson beat you."
- Usain Bolt on what everyone is Jamaica has been telling him on his showdown with Tyson Gay Friday in Stockholm. Asafa Powell is out with injury.
Thursday: "I have been running very well and I was hoping that I would be in the race with a solid chance to win. But with the way I've been feeling it would be difficult to finish the race."
- Asafa Powell announcing that he is pulling out of Friday's showdown with Usain Bolt and Tyson Gay in Stockholm.

Wednesday: "If you just can know you left it out there, and know you did everything you could, you will be satisfied. You will be able to go back to your hotel or your house and take a shower and have a meal and feel good about what you did. But that also comes with planning and execution of a good, solid race plan. Part of feeling satisfied is having a good plan, executing that plan and knowing, 'I did everything I could.' "
- Alan Culpepper giving some good advice in an article where he talks about his most satisfying race (2004 Olympics) and how he is moving to San Diego to work for the Competitor Group. Competitor owns the Rock N Roll franchise, home of the $110 $145 half marathon.

Tuesday: "I think it's one of my duties to raise the image of the sport. The image is very important for the longer future. It is more than only winning and losing - I think a lot of people see a different team, a different sport than a few years ago. I am proud of that."
- Charles van Commenee on the heels of an excellent British showing at the European Championships. Van Commenee talks about reshaping the attitudes, goals and public perception of British T&F athletes, justifies his "tough love" stance and admonishes that there is still a lot of ground to cover before the recent success at Euros translates into a desirable medal tally at the 2012 London Games.
Last Week's Homepages
*Mon (Aug. 9) *Sun (Aug. 8) *Sat (Aug. 7) *Fri (Aug. 6) *Thur (Aug. 5) *Wed (Aug. 4) *Tue (Aug. 3)