2010 Boston Marathon Men's Bios
By LetsRun.com
April 13, 2010
Below you will find bios about the top male entrants for the 2010 Boston Marathon, as well as their bib numbers. We hope you print it out and have it with you as you watch on television or in person on Monday.
We've also produced the 2010 LetsRun.com Preview of the Boston Marathon, which includes our picks for who is going to win.
For more elite info, see the Boston marathon website.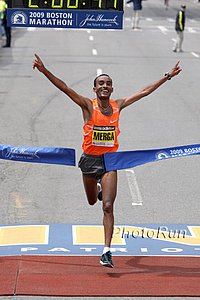 Deriba Merga ETH (Bib # 1) - Reigning John Hancock Financial Boston Marathon Champion Rides String Of DNFs
Merga won Houston and Boston last year and ran an incredible RAK Half Marathon, tying the world 15km world record of 41:29 en route to a 3rd-place finish in the United Arab Emirates' top half marathon. After his early year success, Merga DNFed at the World Championships Marathon. He has DNFed twice in 2010 half marathons, with no other results.
Merga's last positive performance came on November 1st of 2009, where he ran 59:54 to win the Airtel New Delhi Half Marathon, where he set his H-M PR of 59:15 in 2008.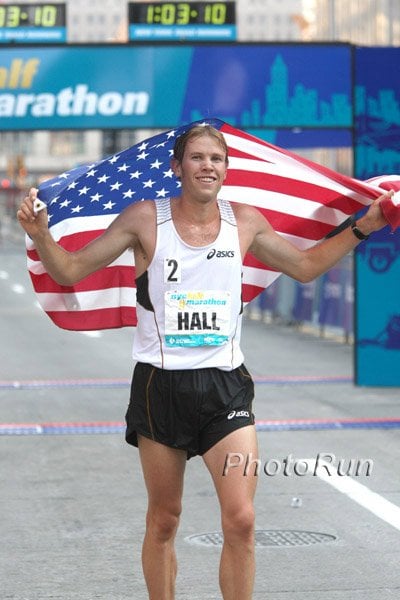 Ryan Hall USA (Bib # 3) - American Record-Holder, Half Marathon - 3rd Place In 2009 Boston Marathon
Hall finished 3rd in Boston last year and 4th in New York. He has had a quiet buildup this year, running only a 64-minute half marathon in Tempe, AZ that he said was basically a training run to help him get in shape.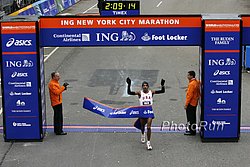 Meb Keflezighi USA (Bib # 18) - Reigning ING NYC Marathon Champion - 2:09 Personal Best
Meb finished 3rd in Boston in 2006 before a string of disappointing marathon performance. His return to health in 2009 was profound as he ran a PR half marathon 61:00 in October before his shocking win in the ING New York City Marathon in another PR 2:09. Meb has not performed in 2010, pulling out of March's NYC Half. In 2006 Meb finished almost 3 minutes behind Robert Mwafrika Cheruiyot and 90 seconds behind Ben Maiyo in Boston, both of whom have pulled out of the 2010 race.
Robert Kiprono Cheruiyot KEN (Bib # 6) - 2:06:23 PR And 5th Last Year In Boston As 20-Year-Old
Robert Kipkoech "Mwafrika" Cheruiyot - the four time Boston champion - pulled out of the marathon but Kiprono is here and is likely to be one of the top Kenyan contenders. Listed as 21 years old, Kiprono Cheruiyot already has a marathon win in Frankfurt in 2008 in 2:07, a runner-up in Frankfurt in 2009 in 2:06:23, and a 5th-place finish in Boston last year.
His latest performance was an unremarkable 8th-place 63:16 in the Paris Half Marathon this March, but the guy is a true marathoner who rarely races at other distances. He's always produced when he's toed the starting line at a marathon, as he's run three marathons in his short career and the worst of them was his 5th-place showing in Boston last year.
Gilbert Yegon KEN (Bib # 5) - Ran 2:06:18 In Marathon Debut Win In October
Read Yegon's quote after he won October's Amsterdam Marathon in his debut:
"I could have been even faster in this race," he said. "In the last stretch to the Olympic Stadium I was hindered by cramps in my legs. It was painful and I think that had I not had this problem I could have gone under 2:06:00.'' It could clearly been seen that the African was in pain over the last part of the race in the Amsterdam Olympic Stadium. (quote from this IAAF article by Wim van Hemert)
We'll see in Boston if Yegon, who made a big move between 35 and 40k in Amsterdam to break Haile Gebrselassie's course record, is going to be a major player on the marathon scene in Boston this year.

The 29-year-old's story is an interesting one, as until 2006, there were no results listed for him. In 2006, he ran a half marathon in 63 minutes in Kenya. In 2007, there are no results for Yegon, who also is known as Gilbert Koech. In 2008, he ran the Standard Chartered Half Marathon again in Kenya, this time in 62 minutes. He ventured out of Kenya for the first time last year and his European results really weren't promising until his stunning 2:06:18 debut in Amsterdam. Prior to that, he'd finished 12th, 10th and 14th in half marathons in Europe, although he did run 61:26 in the fastest one.
Can he replicate that same type of magic? Perhaps. This year, he ran 58:56 for 20k some six weeks prior to Boston. A 58:56 for 20k equates to about 62:20 for the half marathon, which is very similar to the 62:00-flat he ran 5 weeks prior to Amsterdam last year.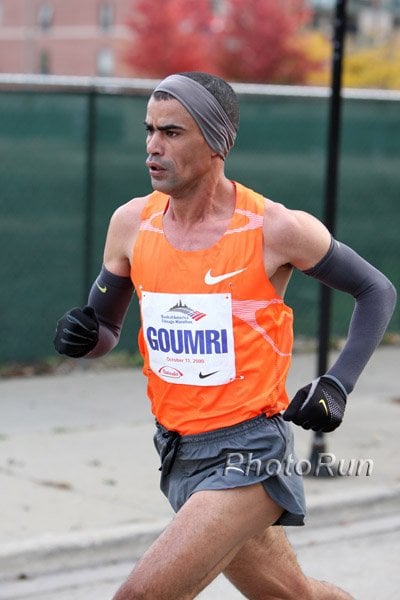 Abderrahim Goumri MAR (Bib # 4) - 2:05:30 PB - 2010 Marks First Time In Boston For London, New York And Chicago Podium Finisher
Goumri is one of the finest and most consistent marathoners in the world, with runner-up finishes in ING New York ('07 and '08), Bank of America Chicago ('09) and FLORA London ('07). Goumri is unlikely to win but likely to finish quite high, as his track record in big-money races is incredible. Since becoming a marathoner in 2007, the former 12:50 5ker has raced 6 world marathon majors and finished second in four of them, third in one and sixth in the other, although that should be contrasted to his subpar showing at the World Champs (DNFs in 2007 and 2009) and Olympics (20th in 2008). His 2:05:30 3rd-place showing from London in 2008 is the Moroccan national record. He has run no prep races prior to Boston, but that is par for the course last year, as he only raced three times last year - all marathons.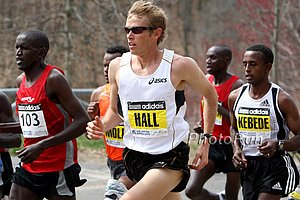 Tekeste Kebede ETH (Bib # 12) - 4th In Boston In '09, 2nd In Fukuoka In '09 In 2:07
Tekeste Kebede's career took a sharp turn for the better in 2009 at age 28. Having never broken 2:11:48 in nine previous marathons, Kebede (pictured, right) returned to Boston (where he DNFed in 2007) to get 4th behind Ryan Hall and finally break 2:10. The tiny man's year would get much better in 2009 when he went to Fukuoka and ran 2:07:52 to grab 2nd place behind countryman Tsegaye Kebede. Tekeste has not raced in 2010.
Elijah Keitany KEN (Bib # 9) - Ran 2:06:41 In 2nd Marathon Last October
Elijah Keitany went from 2:25 in his first marathon in 2006, to a DNF in 2008, to a 2:06:41 2nd-place finish in Amsterdam in October of 2009. Is he a 2:25 or 2:06 guy? We'll find out. Keitany would be a huge surprise if he finished in the top-3 in Boston this year. He's run a 62:49 prep half marathon this year.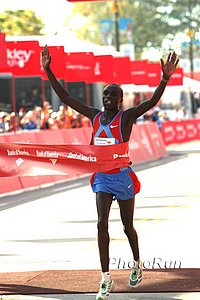 Evans Cheruiyot KEN (Bib # Not Listed - Withdrawn From Race) - 2008 Chicago Marathon Champion Was 8th In '09 Boston Marathon
Cheruiyot is a Bank of America Chicago Marathon champion from the incredibly hot year in 2008, when he ran 2:06. But these big-time credentials don't make him a big-time favorite in Boston. He was only 8th in Boston and 5th in Fukuoka last year. His latest half marathon was only a 64:05 16th place finish in The Hague in March. But before that, he ran 61:45 in a Nairobi half marathon, run - obviously - at altitude.
*Video interview with Cheruiyot a month ago.
*** Update: Evans Cheruiyot has withdrawn as of Tuesday. ***
Chala Dechase ETH (Bib # 8) - Finished 2nd To Haile In Dubai Earlier This Year
Running only his 2nd career marathon, Dechase lowered his personal best to 2:06:33 in Dubai in January. In 2008 Dechase finished second in the ING Amsterdam Marathon in 2:08:31.
Dechase put up a good fight against world marathon record holder Haile Gebrselassie, leading late in the race before Haile kicked away to victory in the final kilometers.
Gashaw Asfaw ETH (Bib # 14) - Not A Huge Name, But Very Solid Boston Success
Asfaw, a veteran marathoner of 23 marathons, has impressive 6th- and 4th-place finishes at the BAA Boston Marathon. Last year, he was 6th and in 2008 he was 4th. But the 31-year-old seems to us more interested in cashing a check than winning a major, as last year he ran 4 marathons. He was 4th in Dubai (2:10:59), 6th in Boston (2:10:44), 3rd in Toronto (2:09:23) and the winner in Chicago (2:10:10).
Dmytro Baranovsky UKR (Bib # 28) - 2:07 Ukranian National record holder, 3rd in '09 Fukuoka in 2:08
Baranovsky seems to always excel as Fukuoka and struggle every where else. The former Fukuoka champ has run Fukuoka three times and run 2:08:29, 2:07:15 (NR) and 2:08:19 there - all under 2:09. In his 8 other marathons, he's never broken 2:10.
David Mandago KEN (Bib # 10) - 2:06:53 PR From 2009 6th-Place Finish In Paris

The 31-year-old is also known as David Kipkorir and was the runner-up in Chicago in 2008. Before running 2:06 last year in Paris for 6th, he ran 60:43 at the RAK half. This year he only ran 62:33 at the RAK Half.
Samuel Mugo KEN (Bib # 16) - 2009 Beijing Marathon Champion
Mugo made a name for himself by winning the 2009 Beijing Marathon in 2:08:20.
John Komen KEN (Bib # 15) - 2:08 Personal Best From 2008 Reims Marathon
Komen was 7th in the Paris Half Marathon this year in 63 minutes.
Stephen Kiogora KEN (Bib # 17) - 4 Previous Boston Performances: 3rd, 4th, 9th And DNF
We'd be stunned to see Kiogora win in Boston. Although he's been a runner-up in New York and third in Boston in the past, he's not a guy you would think would win a major. Cash yes, win no. He's run 11 marathons and gone under 2:10 only twice with a 2:08:24 PR. Kiogora was 9th last year in Boston in 2:13:00. He has not run any major races since.
Antonio Vega USA (Bib # 26) - Running His First Marathon Post-Breakthrough, 2nd Marathon Of Career
Team USA Minnesota's Antonio Vega is the USA Half Marathon Champion of 2010 after winning in Houston in 61:54. He is running his 2nd marathon. He was 8th in the 2009 Medtronic Twin Cities Marathon in 2:15.
Josh Rohatinsky USA (Bib # 24) - Looking For Breakthrough In 3rd Marathon
Rohatinsky, a former NCAA Cross-Country champion, ran 2:15 and 2:14 in his first marathons in 2007 and 2008 at the Olympic Trials (9th) and ING NYC Marathon (7th). But he enters Boston on a high as he knocked 50 seconds off his half marathon PR in New York on March 21st to place 6th in 61:55.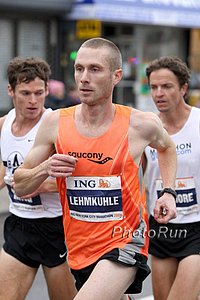 Jason Lehmkuhle USA (Bib # 21) - Only Previous Boston Finish Was 90th Place 2:38
Lehmkuhle, of Team USA Minnesota, has seen his best results in the ING New York City Marathon, where he has two top-10 finishes and was 5th in the 2008 Olympic Trials Marathon run mostly in Central Park. His success in Boston has not been as glamorous, but results in 2010 show that he's ready to run near his personal best from the Trials in 2007. Lehmkuhle ran 63 minutes in a February half marathon in Alabama and finished 4th in the Gate River Run 15km US Championships in a race where Vega was third.
Four 2:10 or slower foreigners: Alejandro Suarez (2:13, MEX), Cutbert Nyasango (2:13, ZIM), Moses Kigen (2:10 KEN), Abdellah Falil (2:12, MAR).
---
Runner's World &
Running Times



Combined Only $22
a Year
Save $87

---

Running & Track and Field Posters
---


More Nice Offers: Nike Lunar Glide Savings Super popular shoe from Nike featuring Flywire and Lunar Foam

*Nike Air Max Moto Sale $69.99 for this shoe from our partner.
---