Listen Now - LetsRun.com Training Talk Webcast
1st Episode Featured Guest: Coach John Kellogg
We think our first attempt at a live training show went well and we'll bring back a new show and new guest in January of 2010. Click the link above or the icon below and press Play to listen to Episode 1 of LetsRun.com Training Talk with Cornell coach Robert Johnson and coaching expert John Kellogg.

LRC Training Talk - Is Your Training Repeatable?
In 2010 we at LetsRun.com hope to make a huge push to talking more about training. To get things started, Cornell mid-distance and distance coach and LRC co-founder Robert Johnson wrote an article titled "Is Your Training Repeatable?" Rojo will follow up his article with a Thursday audio webcast where he'll talk training and answer email and call-in questions.
LRC The Week That Was Once again, we recap the action for you from across the globe, whether it's the high school nationals in Oregon of the Fukuoka Marathon in Japan. Along the way, we introduce you to a ten miler where 90 people broke 50 flat and give you the cure to stress fractures. And since we feel greatness comes in pairs, we talk about Usain Bolt & Tyson Gay, Alan Webb & Galen Rupp, Chris Derrick & Craig Virgin, Al Sharpton & Jesse Jackson, plus Marion Jones, Gina Procaccio, Jenny Barringer and others.
Wednesday's Best
1. Gavyn Nero Heads To Baylor From Trinidad And Tobago - As A Middle Distance Runner
Nero ran 3:47 at the CARIFTA Games and since Georgetown's spots were filled, he headed to Baylor.

2. Rarity: An Interesting Sports Autobiography - Andre Agassi's "Open"
When this book came out, all the talk was about Agassi admitting he did crystal meth with his assistant named Slim during a dark part of his career. But Agassi, who does a 4-minute video interview at the link, and his co-author/ghostwriter J.R. Moehringer produced a legitimate, honest book that says a lot about what kind of insanity goes into creating the world's "best" athletes.

3. Recommended Read: Nobby Hashizume Writes About The History Of Fukuoka Marathon

4. Albuquerque HS XC Runner Gave Bone Marrow To His Ill Brother 12 Days Before NXN
With their 3rd man weakened after sharing bone marrow with his leukemia-stricken brother, Albuquerque finished 5th at NXN.
Good Read: Brief Chat With Julia Lucas Lucas talks about moving to Mammoth and not enjoying it, moving to Portland and loving it, getting fed up with being obsessed with running and she does it all in less than 15,000 words!
The Day In Track and Field Isn't Complete Without ... Drug Cheats in the News!
Drama: IOC Refuses To Give Marion Jones' Sydney Gold Medal To Greek Cheat Katerina Thanou In a comedic Olympic scenario, the IOC is trying to reallocate Marion Jones' medals to the rightful winners, but is having a tough time because those next in line were probably just as doped as Marion. A female Russian long jumper and Bahamian 200m runner (we're trying hard not to make a cynical remark here) will get two of the other drug-tainted medals.
Victor Conte Talks With Track Journalist Duncan Mackay About Marion Jones Refusing To Come Clean Fellow Ex-Prisoner Victor Conte On Marion Jones: "Marion knowingly used drugs and I'm sure she knows it was a mistake. But, I believe Marion is continuing to make a mistake by not coming forward with the entire truth. Her message to kids called the 'Take a Break' programme advises them to think before they lie or cheat. I would like to see Marion follow her own advise and tell the entire truth about her past use of drugs."
Dwain Chambers On His Comeback Year This guy was willing to tell the whole truth, take a ton of heat for it, and now he's back. He got 6th in the WC 100m final, by a long shot the fastest 100m race ever run.
Fukuoka Marathon - Tsegaye Kebede Negative Splits; Smashes Japanese Soil Record 2:05:18 - Will HE Be The Next WR Holder?
2009 Fukuoka Marathon Results
Tiny Tsegaye Kebede showed he knows the best way to run marathon records, hammering home a 29:14 from 30k-40k to lock up a 2nd-straight Fukuoka win and course record 2:05:18. Kebede's only 22 and his marathon PR is only 8 seconds away from Sammy Wanjiru's.

LetsRun.com Message Board Fukuoka Thread

Ethiopians Roll To Course Record, 1, 2, 4 Finish At Fukuoka
Tekeste Kebede finished 2nd in 2:07:52, while Ukranian Dmytro Baranovskyy became the first European under 2:09 in 2009 to get third.

LRC Boards: Fukuoka All-Time Top 20

JRN: Video Highlights and Recap of Kebede's Japan All-Comers Record
2010 Virgin London Marathon Announces Stellar Elite Fields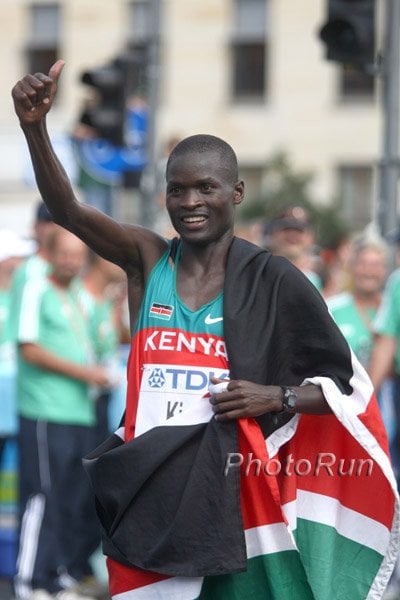 Reigning London and World Marathon Major champions Sammy Wanjiru and Irina Mikitenko will defend their titles in what looks to be again the world's toughest marathon fields. Two top challengers on the women's side are '09 Bank of America Chicago winner Liliya Shobukhova of Russia and '09 world champ Bai Xue of China along with a ton of either aging or rising stars. On the men's side, it's a stacked deck with world champ Abel Kirui (left), half Marathon sensation Zersenay Tadese, Kenyan record holder Duncan Kibet and once-unbeatable Martin Lel. Top Americans at this point are Deena Kastor, returning to the course where she set her 2:19 American record in 2006, and Abdi Abdirahman.
Yesterday's Quote Of The Day:
"Previously, I was training in a group with a coach but I am now self-coached," Tekeste Kebede, 28, said. "I think it gave me an opportunity to think about the right training for me and that I think is the reason why I was able to improve the personal best by a huge margin." - 2nd-place Tekeste Kebede after an Ethiopian romp in Fukuoka.
NXN Results Boys: 1. Craig Lutz, 2. Elias Gedyon, 3. Joe Rosa
Girls: 1. Catherine Flood, 2. Kathleen Stevens, 3. Rebecca Mehra
Nike Commercial Between Races Features Alan Webb In A Galen Rupp-Made Speed Cape Dathan Ritzenhein, Paula Radcliffe, Bernard Lagat, Abdi, Alan Webb were all at the race and on the broadcast.

New Super Class? 3 Junior Boys Go 1-3 In Blanket Finish In Portland (top 5 boys all juniors, top 3 all 15:09 course record)

Girls: NY's Manlius Wins 4th In A Row In Rout

*Watch The Races
Jamaica - The New Capitol Of The Sprinting World
Ludacris Flown To Usain Bolt's 9.58 Party In Jamaica

Michael Johnson - Let's See Jamaica Vs. USA Sprint Clash The idea of a duel meet where the top American and Jamaican sprinters match up has been thrown around for the past year or so.

Doug Logan On US-Jamaica Duel - "We're Close."
A little more money and a title sponsor. We're thinking a cruise line would be perfect.
International Running Scene
Dublin To Host European XC Championships - Ireland Has Had Rainiest Monthin Decades
As usual, the hotly contested European XC Championships will be a mud fest.

35 Grand Goes To The Winner In Singapore - 5 Sub-2:10 Kenyans In The Field
Foot Locker Championships Are Saturday
Regional Photos of Favorites: *West *South *Midwest *Northeast
Recommended Read: Feature On 2004 Foot Locker Champ Ken Cormier
Arizona's Ken Cormier became the surprise 2004 FL Finals champ before going to Arkansas and becoming an XC All-American. But somewhere things didn't feel right and Cormier went home and decided to enlist in the Marines. After serving the US in Afghanistan, Cormier is back and talked to Dye Stat ESPN RISE writer Dave Devine who wrote a great piece about the guy who went from 73rd in his FL region to the National Champion.
Sunday: European Cross Country Championships
New Result From Australia - Zatopek:10 - Australia Track 10,000m Champs
Collis Birmingham Takes Narrow Win at the Zatopek:10, Aussie 10,000m Champs 5 women finished between 32:19 and 32:29. Last year's Zatopek champ and NCAA star David McNeill suffered from a side stitch and faded during the last 2k as Birmingham ran 28:04 ftw.
Shalane Flanagan Will Run Half Marathon In Houston
After earning an Olympic Bronze and snagging every American record she can on the track, Shalane Flanagan has said she is looking for a new challenge. The first step comes January at the Houston Half.
*Brief Chat With Shalane Enlightens Us To Her Plans
LRC Must Read: The Power Of Positivity - Wesley Korir Feature In Louisville's Courier Journal
Korir's story is absolutely incredible. He finished 3rd in the Chicago Marathon in 2008 and then did the impossible by winning L.A. in 2:08, taking home $160,000 in the process. This story is about his life in Louisville working as a handyman fixing toilets and sinks and things and even has a picture of the new house he bought.
Top 4 Kenyans In St. Jude Memphis Marathon DQ'd But Still Paid After They Accidentally Chop 200m Off The Course
The prize money is pretty big in Memphis (5000, 3000, 2000) so the race ended up paying out 10 grand extra to make up for 200m mistake caused by misplaced traffic cones.
Victor Conte Tells It Like It Is, Says Women Getting Marion Jones' Medals Were Likely To Have Been On Drugs
"Back in 2000, there was no independent anti-doping federation in place for several of the countries which have female athletes that will now receive medal upgrades... Back then, it was very easy to circumvent the drug testing procedures." We're not saying every sprinter in 2000 was on drugs but WADA and the IOC did not have strong policies in place that affected every country back in 2000.

MORE: When We Cheat, Nobody Wins: International Olympic Committee Makes Gutsy Decision And Refuses To Award Gold Medal In 2000 Sydney Games 100m
This is the first time in Olympic history a gold medal will not be awarded in an event as the tainted top-2 Marion Jones and Katerina Thanou and their greedy coaches, doctors and managers have attempted to make a mockery of sport in their careers.
Doctors Marvel at Liu Xiang's Comeback From Achilles Injury
Liu Xiang walked off the Olympic track in 2008 but has found his way back to top form in just over a year.
Marathoner Of The Year? Definitely Not By Name Recognition
Tsegaye Kebede Averaged 2:06 For Three Marathons Over 8 Months In 2009
Kebede - who ran 2:05:20 in London, 2:08 in Berlin and 2:05:18 in Fukuoka - has us thinking he might break the world record sooner than Sammy Wanjiru.
Don't Give Marion Jones' Medal To Another Drug Cheat
*Greek Sprinter Thanou May File Lawsuit Against IOC Over Marion Jones' Sydney Gold Medal
The IOC doesn't have hard evidence against Thanou but obviously there is something about her and her banned coach's approach to the Greek Olympic skipped test scandal that makes them refuse to give her the 2000 Sydney medal.

*Chris Galakoutis Argues That There Is No Evidence Against Thanou
LRC Boards: 6'6", 250lb Thrower Kicks XC Runners' @sses In Beer Mile Winning the end of the season beer mile, especially when you're a thrower, kind of offers legend status.
Who are we, TMZ? Usain Bolt Party Photos

Jamaicans Plan To Allow Betting On Track and Field
For History Buffs
1960 Olympic Decathlon Battle Between CK Yang And Rafer Johnson Is Brought Back To Life We thought this was a good read.
European Races From The Weekend
Americans Run Fast On Cold, Windy Day In Sacramento
Josh Cox set a marathon PR at age 34, running 2:13:51 at the California International Marathon 9 years after running 2:13:55 in Chicago.

VEGAS Marathon/Half: Bekana Daba Wins Half In 61:40, Kenyans Win M/W Marathon - Top American Stephen Haas In 2:18
*Daba won Tyson indoor 5k over Galen Rupp in 13:17 back in February.
*LRC Vegas Photos

Singapore: Hot Weather Marathon Specialist Luke Kibet Runs 2:11 CR In 87 Degree Heat Kibet, the 2007 Osaka World Champion marathoner, is scary good in the heat and humidity.
Big Loss For Track And Field
LetsRun.com Track Writer Dick Patrick Let Go By USA Today After 23+ Years
Patrick wrote to us Thursday with the disappointing news. For a sample of his writing, earlier this year Patrick broke the news (Steve Nearman broke the news) wrote a nice piece on American mile record holder Alan Webb leaving long-time coach Scott Raczko to join Alberto Salazar's group in Oregon.