New York, New York!!! Read LetsRun.com's Men's Race Preview To Make Sense Of The Insanely Talented Field ... And Win $100 Of Rojo's Money
Recommended Read: LetsRun.com Previews A Marathon Field To Remember In New York You're not going to see a field like this again for a long time, so enjoy the press, the previews and the excitement this weekend. Pick the men's or women's winner with the most accurate time and win $50 from us. Find everything you need to know in our expert men's and women's previews.

LRC Previews The Women's Marathon In New York Compared to the men's preview, the women's preview is short, sweet and to the point. The reason? Because Paula's going to win; it's only about the time.
Martin Lel Withdraws From New York Marathon The pre-race favorite pulls out with injury and every runner's job just got considerably easier.
Awesome Pre-Race Press Continues And You Of Course Find It All Here
*Profile Of Meb Keflezighi From Dick Patrick Meb is on a mission to honor his dear fallen friend Ryan Shay. We think Meb has at least a 40% shot at being the top American in New York.
*Pre Race Transcript Of Jaouad Gharib, Salina Kosgei And Yuri Kano "We are going to try out best" - Salina Kosgei on how to beat Paula Radcliffe.
*Interview With Marathon Debutante Jorge Torres Torres is a 10,000m US Olympian and has been an absolute stud since high school. His coach Steve Jones says "he's ready." We're hoping for yet another exciting US marathon performer.
*Great Profile Of Yuri Kano And Challenges Japanese Athletes Face In an international sporty mood? You'll love this article.
*NY Times On Pushing Through Pain In The Marathon - Kara Goucher Interview Goucher isn't even running the race, has never won a marathon, and she's still getting press.
ING NYC Marathon Elites
Kenyan Profile Of Barely-Noticed New York Marathon Entrant James Kwambai Kwambai has run 2:04:27 and 2:05:36 and he lost both races. He also finished as runner-up in Boston. The fastest man in the field might only be the fourth or fifth favorite in New York.

According To NYRR, Women's Elite Field Basically Down To 3 Late cancellations leave Paula Radcliffe, Salina Kosgei and Yuri Kano as the top 3. Luckily for New York any race with Paula is an attention grabber.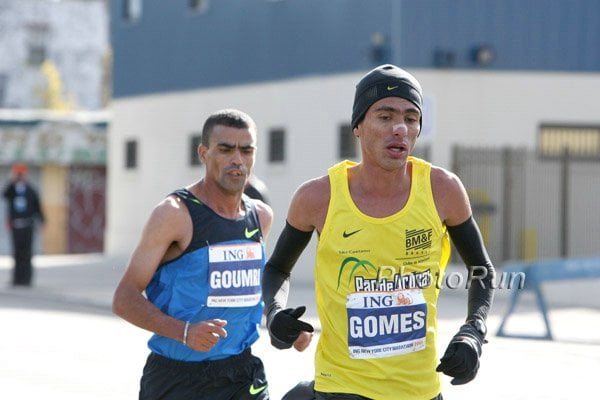 2-Time NYC Champ Marilson Gomes Dos Santos' Press Conference Transcript It's rare to hear this much from Brazil's Marilson Gomes Dos Santos. He sounds confident after his surprising come-from-behind win over Abderrahim Goumri last year. Watch 2008 hi-lites here. LRC 2008 Photos
New York City Marathon Getting Great Press
Recommended Read: Story Of Boys Who Ran NYC Marathon As 8- And 9-Year-Olds Back In The '70s These guys grew up running with their dads who got swept up in the jogging boom. They were running at ages of 3, 4, 5, 6 and ran under 3:30 in the marathon before they were in 3rd grade.
*Thread On NYTimes Article On Kids Running

NYTimes: Humans Are Meant To Run Long Distances

Article On the Guys Who Ran (And The Guy Who Won) The First New York Marathon
*Brief Chat With Gary Muhrcke, First NYC Marathon Winner

Celebs: Ed Norton Putting His Fame To Good Use By Running NYC Marathon To Benefit Kenyan Tribe Trying To Preserve Environment
*Sal Masekela - Apparently He's Famous On E! - Is Scared Sh*tless To Run Marathon
Good Reads:
1. Pat Butcher On The Increasing Onslaught Of Marathoning Kenyans And The 2-Hour Barrier 10 of the top 20 all-time marathon marks have been set this year ... and there are no signs of slowing from Kenya.
2. Brilliant! Sports Scientists Find And Publish Data That Shows Marathon Events Save Lives, Part II Worth a read so you can convince your CNN-watching friends that running is in fact much safer than lying around on a couch or driving a car. Part I is below.

LRC Thread: Guenther Weidlinger Now Holds Every Austrian Record From 1,500m To Marathon, Including Steeple
*Frankfurt Marathon Recap
LRC Marathon Photo Sequence Of The Year Tom Bedford, son of Britain's running legend Dave Bedford, had a bet with his old man who said he couldn't break 2:25 in the marathon. Well, Tom won the bet this past weekend in the Dublin Marathon, and celebrated heartily, doing a cartwheel as he cross the finishing mat. A LetsRun.com reader in Ireland was on the scene, camera in hand, to record the occasion and he sent us the photos. Tom raised 5,000 pounds for charity.
*Dublin Marathon Recap

South African Doctor In New Report: "Chuene, ASA Were Reckless, Short-Sighted And Grossly Irresponsible" In Handling Semenya Aussie journo Mike Hurst is again all over the story as a newly released document from a team doctor scathingly accuses Chuene of scandalous behavior.
Trevor Graham Breaks 5 Years Of Silence & Tells NY Times He Never Did Anything Wrong Since Marion Jones got out of prison and lied immediately on Oprah, we guess we shouldn't be surprised that Graham ended his home confinement and lied to the NY Times. Graham: "I didn't do anything wrong."
Recommended Read: Sudden Death During Exercise Part 1: The Media, Risk And Running Ross Tucker at Science Of Sport writes a GREAT piece on the mainstream media's coverage of the sudden deaths of 3 runners at the Detroit Marathon this weekend.
Mo Farah Runs 46:25 To Win Thrilling Bupa Great South Run By 1 Second Farah fell 25 meters back in the first two miles but stormed back to victory over Kenya's Stephen Mokoka as Ines Monteiro (52:32) destroyed the women's field. *3 Minutes Of Video Highlights *IAAF Recap Of Men's & Women's Races
*Farah Eyes Transition To Marathon For 2016
*Record 21,000 Run Great South Run
Sean "Quickly" Wins Mayor's Cup XC Meet By 1 Second Matt Withrow was 9th. Message board thread here.
*LRC Photos From Franklin Park Mayor's Cup
LetsRun.com's NCAA Conference Previews - The Only Non-PC Previews Around
Ever get tired of reading university press releases? So do we. We tell you the real story and who's going to win ... so you can blast us when we're wrong.
LRC Previews The Big East CC Champs Syracuse is finally ready to win the men's team title under head coach and former running stud Chris Fox (how about putting 8 guys under 24:12 at their last meet?). Looking for the most elite women's XC conference? Try the Big East with 4 teams in the top 10. By far the wackiest conference in the country, the Big East is holding the country's most massive league meet in Kenosha, Wisconsin.

LRC Previews The Heps With Mike Maag and Ben True graduated, a new individual champion will be crowned in the most passionate league in the NCAA. We're rooting for Rojo's boys, but (as always) it will be a tight, nervous day at Van Cortlandt Park. Columbia might win the men's title they barely missed last year.

LRC Previews The ACC Championships Employee #1's favorite NCAA coach Jason Vigilante is ready to claim another ACC conference XC title at UVA with a stellar team led by Emil Heineking, who ran 23:16 two weeks ago. Susan Kuijken and FSU have the women's title all but won already.
Unreal!! High School XC Team Has Conference Title Stripped Because 1 Runner Had Improper Stitching On His Compression Shorts
NCAA Cross-Country Madness
LRC Latest LetsRun.com Cross Country Polls Are In ... Stanford Men The New #1 Stanford and Washington lead in the LetsRun voting. But will the Cardinal men even win their own conference?

LRC PAC-10 Cross-Country Preview USC hosts the most elite conference battle in the country as powerhouses Stanford and Oregon battle on the men's side and Washington looks to roll again on the women's. Can Jordan Hasay win it as a freshman? For the men, which super-soph will lead their team to victory, Luke Puskedra or Chris Derrick?

LRC Big XII Cross-Country Preview Oklahoma State and 2008 individual champion German Fernandez head to Missouri hoping to hold off Mark Wetmore's pack-running Colorado Buffaloes. On the women's side, Jenny Barringer has never finished better, or worse, than 2nd place at the Big XIIs; think 2009 might be her year to earn her first conference crown?

LRC Big Ten Preview The Big Ten in cross-country is sort of like the Big Ten in football ... some pretty good teams but lacking top notch firepower. Will the mysterious Wisconsin men get their 11th consecutive title and will Angela Bizzarri roll over the host Nittany Lions and Bridget Franek?

*NCAA XC Championsips Will Be Shown Live On Versus TV The last two years have been great with Josh McDougal vs. Galen Rupp vs. Sam Chelanga.
Interview With Jason Hartmann After His 2:12 Win In Twin Cities Hartmann was struggling with the business side of running and almost quit. He credits friends like Dathan Ritzenhein for keeping him going. Great story.
LRC: Photos From The Venice Marathon Looks like a beautiful marathon.
LetsJump.com: Li Yanxi Sets New Asian Triple Jump Record 17.69m That's well over 58 feet.
LetsThrow.com: Charles van Commenee Disappointed In Throws Coach Bob Weir - Fires Him Adam Nelson's former coach is a big name. His deal with Great Britain made some waves, but apparently it wasn't working and the UK head axed him.
*Olympic Gold Medalist Mark Lewis-Francis Loses GBR Lottery Funding
*Top Entrants Start Lining Up For European Cross Champs In Dublin Expect a showdown between Mo Farah and European XC master Sergey Lebid.
Fasil Bizuneh And Coach Scott Simmons Talk Training Via Twitter
USATF Announces Chiba Ekiden Team
Sad News
Cordner Nelson Founder Of Track and Field News Dies At Age 91 We never met the man, but he will be missed and appreciate his contributions to the sport.
*Message Board Thread
Ryan Hall Running To Help Others - Inspired By Africans Hall sees a higher purpose than running simply to win. He wants to help others in need, and he and wife Sara are willing to donate huge chunks of their earnings to the cause. He has an amazing sense of generosity.
Two Recommended Profiles
1) 25 Years Later, Steve Jones Still Has British Marathon Record A lot has changed in the last quarter century, as the man who drank 11 pints of hard cider the night before setting the world half marathon record is now a teetotaller, but his British record still stands.
2) The Telegraph Goes To Jamaica To Get Close To Usain Bolt & Declares "Good Guys Like Usain Do Finish First" A great read as it talks about Usain's love of KFC, going out at 2 am and returning at 5 am and much more.
Two More Interesting Articles From London's The Telegraph
1) Caster Semenya Is The Latest Female Athlete Suspected Of Being Biological Male
2) What Makes Usain Bolt So Fast
ING NYC Is Sunday
*70-Year-Old Gary Muhrcke - The First Winner Of The New York City Marathon - Is Hoping To Run 3:30 This Year
*Paula Radcliffe Talks About NY 2009 & London 2012
*Interview With 37-Year-Old Lawyer Hendrick Ramaala
*Greg Mason An Inspiring Runner After Surviving Testicular Cancer
Interesting Read: Austrian Woman Ski Champ Who Later Realized She Was A He Talks About Semenya
Liu Xiang Wins 110h At Chinese National Games In 13.34 In Front Of 60,000
*IAAF Recap Of CNG Action From Semifinal Day
*Big News Crackdown: China Bans 21-Year-Old 100m Champion Sprinter FOR LIFE After First Failed Drug Test