World Athletics Final From Thessaloniki, Greece *Start List/Results *Watch Live Sunday 11:15am Eastern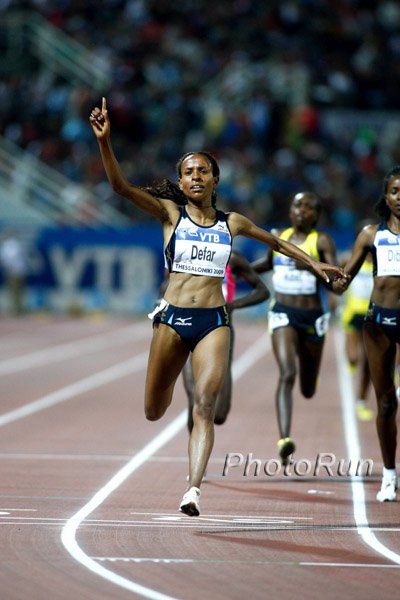 LRC Day 1 Recap Bekele Over Lagat Kenenisa Bekele and Bernard Lagat came down to the wire again, this time in the 3,000m. Most of the favorites won, except in the women's 1,500m, where Kenya, Great Britain and America surprised pre-race favorites Gelete Burka and Maryam Jamal.
LRC: Beautiful Day 1 Photos From Thessaloniki
IAAF Day 1 Recap Describes Atmosphere In Thessaloniki They let the kids all come down close to the track to get autographs and high fives.
LRC Boards: Bekele's last 100m at WAF -- 11.6 !!
Bob Ramsak Recaps Day 1
Bolt Steals Gay's Thunder Without Even Competing
American Distance Runners Entered In The World Athletics Final
IAAF Releases Pre-Race Quotes From Worlds
World Athletics Final Distance Preview
WAthletics Final Jumps Preview *Throws *Hurdles
Liu Xiang To Return Next Week In Shanghai
Hannah England Shows British Selectors What They Were Missing By Nabbing 2nd Place In Thessaloniki
Brief Chat With Colleen DeReuck Former South African citizen Colleen DeReuck just won a US championship over 20k at the age of 45.
*Forest Braden Named Distance Coach At UCLA
*Johnny Gray Coaching Distance At UCLA Both former runners seem to be good hires for the program looking to rebuild.
Usain Bolt Pulls Out Of Asian Meets Citing Fatigue He's going to miss out on at least $750,000 in appearance fees alone as Daegu had reportedly offered him a half a million and Shanghai was surely paying at least his minimum of a quarter million. Your last chance to see him compete this year will be in Greece this weekend in the 200m.

Good Article On Fantastic British Miler Lisa Dobriskey Where She Discusses Semenya, Drug Cheats, And Her Path To London 2012
W Pole Vault: One Great Retires While Another Keeps Chugging
*Brett Gotcher's First USA Title Means A Ton To Him And His Coach Greg McMillan
*Dr. Ross Tucker Returns And Offers Intelligent Analysis Of Caster Semanya Situation *London's Telegraph Describes Caster Semenya By The Numbers
*ESPN Hoping To Purchase Olympic TV Rights And Have Much More Live Coverage Once ESPN bought the rights to the MLS and Champions League they started treating soccer like a real sport. Perhaps they will do the same with track.
LRC The Week That Was - Week 36 - For the 2nd-straight week, an American broke 13:00-flat in the 5k (isn't it fun to write that?), for the first time in a long time someone almost broke 1:42.00, and Anna Willard staked her claim to the #1 US ranking at 800 meters. Plus, the Golden League concluded with great runs by Bekele, Richards and Bolt, while the Caster Semenya story got crazier and crazier.
Kenyan News
*Brother Colm O'Connell Says David Rudisha Can Break Kipketer's 800m Record And he should know considering he's coached so many of their great runners at St. Patrick's.
*Kenyan Press Blasts Some Kenyan Runners For Not Talking To The Kenyan Press With the exception of Kiprop after his disasters generally the problem is hardly anyone bothers to interview them. By and large were willing to talk to LetsRun.com! Janeth Jepkosgei here, Asbel Kiprop here, and of course a hilarious Ezekiel Kemboi here. (In our week that was we surmised why David Rudisha went out in the semis at Worlds. Then we found out Wejo talked to him here)
*Kenyans Concerned With Athletes Defecting (Smuggled?) To Qatar And Bahrain
LRC Recap: Bolt Does It Again In Brussels
Track & Field First? Bolt Reportedly Receiving US $500,000 To Race In Daegu, South Korea We understand paying a top marathoner a half a mil to run twice a year, but this is rarified air for a 10-second race. Daegu is hosting the 2011 World Championships (we can't get over what a bad idea that is), so the more excitement he brings, the better.
LRC Ritz Speaks USATF held a teleconference with Dathan Ritzenhein Tuesday afternoon and we quickly give you the highlights. We tell you what Ritz had to say about new coach Alberto Salazar and what event Ritz will focus on for 2012. Plus we tell you what Ritz's next race will be. Is an American 10k record run a possibility?
Ian O'Riordan Column: "Berlin restored a lot of people's faith and interest in the sport ..." But will it all go to waste?
LRC: Dathan Ritzenhein Breaks Bob Kennedy's American 5,000m Record In Zürich Amazed? So are we.
Peter Kamais Runs 27:09 To Win Tilburg 10k In The Netherlands!
London: *Cheruiyot Over Masai - Paula's Record Stands In Hyde Park 5k

US: *Elite New Haven 20k Entrants New Haven is on Monday, Labor Day. The men's field seems to be deep and even, the women's field is led by returning champion Jill Swope (Steffens) and Magdalena Boulet. *3 Team USA Minnesota Runners Head To New Haven *Elva Dryer Interview *2008 New Haven Results
LetsRun.com Being Ripped Off In The British Tabloids
4 Quotes From Runners, Coaches, Executives And Scientists From Around The World