New Book Born To Run That Bill Rodgers Calls "Nonstop Fun To Read" Is Out Today There is a book signing Tuesday night in NY and Thursday in Boston. It was written by LRC fan Chris McDougal. *MB Thread On Book Here
Oregon News
*Agent Ray Flynn, Part Of The World Record Irish 4 x Mile From 1985, Wishes The Ducks Luck
*Galen Rupp Focused On Not Only The 4 x Mile But Also Another Team NCAA Title
*Eugene's Register Guard On Matt Centro's Welcome At Practice And The Upcoming 4 x Mile
Remarkable Stories From This Weekend's Marathons In Pittsburgh and Cincinnati
*Cop Jumps In Moving Vehicle To Stop It From Plowing Over Marathon Runners
*Man Taken To The Hospital Near The End Of His Marathon Drives Back And Finishes
Top Performers Getting Notice
*USATF Follows Rojo In Naming Chris Derrick Their Athlete Of The Week Derrick was Rojo's collegiate athlete of the week while Tim Nelson was his performer of the meet with his 10k World "A" Standard Performance.
*LaShawn Merritt Is USA Today's Olympic Athlete Of The Week
LetsRun.com's The Week That Was In between being disappointed with the likes of Rashid Ramzi and the Big East Conference and ADs in general that don't give a crap about track, we survey the week that was in running and give praise for a guy that was third in a B heat of a 5k and even more praise to a guy that no one seems to be talking about. We also pause to remember a departed legend, wonder if Usain Bolt's partying is finally catching up to him, look back at Ritz and Meb at London and wonder if marathoning in the US this decade is truly better than last decade.
Great Northwest Athletic Conference Outdoor Track And Field Championships Cancelled Due To Swine Flu Case On Campus One athlete who wrote to us claimed the meet will not be rescheduled. These are the same teams affected by the regional cross-country meet last fall that had to be restarted after taking a wrong turn (the race with Scotty Bauhs).
More Results From A Busy Weekend
*18-Year-Old Norweigan Woman Karoline Bjerkeli Grøvdal Runs 31:29 Senstrumslopet (Center Race) 10k In Oslo The Google translation should amuse you. Course Records Here.
*2 Kenyans Go Sub-27 For 10k In Japan Josphat Muchiri Ndambiri and Martin Irungu Mathathi became the first to break the barrier in 2009.
*Moses Macharia (28:13) And Lucy Njeri (33:20) Win Toronto's Sporting Life 10k
*Recap Of Ethiopian National Track Championships, Day 5 Big upset in the men's 1,500m.
*Darvis Patton Takes Advantage Of Bolt's Injury To Get Double Win In Jamaica
Rio 2016 Olympic Committee Accuses Madrid 2016 Of Sending A Journalist Spy To IOC Evaluation
The NY Times Looks At How Many Colleges Are Cutting Sports Due To Recession While Other Schools Are Flush With Cash Interesting to learn that MIT cut 7 sports, while UW cut its swimming teams and Cincinatti its scholarships in track/cross-country. Meanwhile, SEC schools are so loaded with sports $$ that Arkansas is giving $1 million to the University to help it out.
Top Weekend Action
NCAA Conference Action
Big East: Notre Dame Men Win Big East By 1/2 Point Over Lousiville! It was the 100th Big East crown for the Irish overall as the Cardinal women got the win. *Complete Men's Results *Complete Women's Results
*Army M & Bucknell W Win Patriot League
Rivalries
*UCLA - USC: USC Sweeps Mens & Women's Dual For 1st Time Ever The UCLA women almost never lose to USC (2nd time in 17 years) but they did this year. Click here to see a ton of highlight videos (guys and girls in tears at USC about the win). Click here to see video replay of meet.
*Washington-WSU Dual: Talk About Close: Washington Husky Women 86.66 - Wash. St. 86.33 The Washington Husky St. Cougar Men Meanwhile Won Easily
Lilac Bloomsday Run Results:
Lineth Chepkurui And John Yuda Win Yuda is the first non-Kenyan men's winner in 15 years (he's from next door in Tanzania).
Ethiopian Champs Day 3 & 4 Recap Women's steeple was the highlight.
Guadeloupe: *Results
LaShawn Merritt Runs 44.50 World Leader In Guadeloupe, Phillips And Demus Get World Leaders
Texas Invite: *Results
Tyson Gay Runs 45.57 400, Alonso Edward Runs 9.97 100 And Lopez Lomong Gets Beaten In 800 (1:48.42)
Jamaica International: *Results
Kerron Stewart Runs 10.92 World Leading 100, Sanya Richards Beaten In 400
Düsseldorf Marathon: Rabbit Wins In 2:10:46
*Sabrina Mockenhaupt Gets "A" Standard With 31:25
Broad St. Run: Kenyans Jane Murage (53:31) And Linus Maiyo (47:21) Win In Rain In Philly 2nd straight title for Murage. *Chip Timing Malfunction At Back Of Pack
3 Highly Recommended Reads
*Outstanding Read: Lopez Lomong Gets His Brothers And Brings Them To The US This article is a once-in-a-lifetime read.
*Great Article Remembering Payton Jordan
*Recommended Read: Michael Johnson Answers Readers Questions From BBC It only took a couple of questions before a LetsRun.com thread was mentioned: *LRC Thread: Bolt vs. Bekele Over 600m (MJ says Bolt would take it easy, we disagree) Also Read: Michael Johnson On Dwain Chambers' Talk Of Beating Bolt
Mary Wittenberg Courting Radcilffe, Wanjiru And Others For Another Stellar NYC Marathon *Photos
Track's Main Man Usain Bolt In The News
*Usain Bolt Has Stitches Removed
*Interesting Read On Bolt's Earning Power Some are criticizing Bolt for not capitalizing enough on his fame.
*Former Sprint Greats Predict Bolt's 2009 Season And Rivals
Upcoming Races Taking Shape
*Fam And Rowbury Headline USATF 1-Mile Road Championships Thursday In Minnesota
*Amazing Lineup To Race Healthy Kidney 10k In NYC On May 16th Great field including Tadesse Tola (ETH), Patrick Makau (KEN), "Fam" (USA), Martin Fagan (IRL), Marilson Gomes Dos Santos (BRA) and Adrien Blincoe (NZL).
*Great Early Season Distance Match-ups To Be Held At adidas Track Classic
*Full Field Announced For May 30th Freihofer's Run For Women
*Morocco Lines Up Jelimo And Others For May 23rd Meet
Good Read Joe Battaglia On The Toll The Economy Is Taking On Track Athletes USA's Darvis Patton got dropped by adidas not long after the Olympics despite making the Olympic 100m final.
Kenyan News
*Catherine Ndereba Concerned She May Not Be Able To Run Worlds After Injury In London
*Asbel Kiprop Will Get Paid By Kenya If He's Moved Up His gold makes the 2008 Olympics even more amazing for the Kenyans.
Pacific Track Lends Hand To Schools Whose Conference Meet Was Cancelled Due To Swine Flu This was a great gesture though only a few affected schools ended up being able to go to the meet.
IOC Has Only Lost About 8% Of Its Funds In Market Downturn
Solomon Haile Headed To Arkansas!
IAAF World Champs/Golden League Announces New USA Television Deal Inked With NBC/Universal Sports This will be good for track fans and the sport as long as NBC remains committed to showing the World Champs on NBC like they are doing this year. Our sport's biggest events need maximum exposure (broadcast television) and they do not get that on cable. For hard core track fans, this is great news if you are in a Universal Sports area as you'll be able to see a lot more events on television.
Japan-Based Mekubo Mogusu Recovering Physically And Emotionally From Car Wreck In Kenya That Left His Coach In A Coma Flashback: Mogusu ran 3 sub-1 hour half marathons in 2007.
A Number Of Beijing Medallists Highlight Field Events In Doha This Weekend
Steve Cram On Rashid Ramzi And Why Almost Everyone Had Their Suspicions
Aussie Record-Holder Collis Birmingham Writes About His Training Stint In California The Australian group spent a big chunk of time training and racing in the western United States with some good results.
Bupa Great Edinburgh Run
She's Back! Deena Kastor Returns To Form As She Gets Win In her first big race since last year's Olympic injury, Kastor dominated as she took command on the first big hill just 3km in the race as she crushed 3-time champ Jelena Prokopcuka as well as former world 10km champ Sally Barsosio, who was 3rd. Next Up: Bay To Breakers On May 17th.
*Micah Kogo Wins In Course Record 28:13
Pre-Race:
*Deena Kastor's Excited To See Return From Broken Foot Continue In Scotland Interesting - she says emphatically she wants to run in London 2012 at age 39.
Interesting Read: Race Shows Contrasting Worlds Between Richness Of West & Poverty Of Kenya An interesting look into what life in Kenya is truly like.
Payton Jordan Cardinal Invite *Results *Photos
1 Day After The Fact - Lots Of Interesting Articles
*Despite Miscounting Laps, Chris Derrick Steals Spotlight From Centrowitzes With American Jr. Record Lauren tied the Stanford school record with her 4:10 PR as brother Matt ran 3:36. *MBoard Thread On Derrick Miscounting Laps
*Centrowiz, Just 19, Is Now 6th-Fastest Collegian Ever (but only 3rd on Oregon all-time list)
*Another Long Recap Of Stanford Meet
*Ok. State's Dave Smith Pleased With Stanford
It All Depends On Whether Glass Is Half Full Or Empty
*Jordan Hasay Gets Smoked In Stanford, Finishes Next-To-Last
*Hasay Runs Her 2nd-Fastest 1,500 Ever & 4th-Fastest Prep Time Ever
Chris Derrick 13:29.98 American Junior Record!!!, Matt Centrowitz Jr. 3:36.92 Over Lee Emanuel, Jenny Barringer 15:07.64 Wire-To-Wire Collegiate Record, Tim Nelson 27:36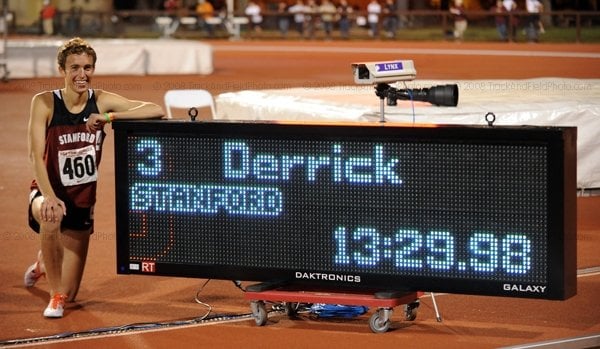 This meet didn't disappoint. Third place of heat 2 of the 5k may have been the highlight as Chris Derrick defeated fellow frosh German Fernandez to get Galen Rupp's American Junior Record in the 5k. Jenny Barringer has been so good in 2009 that she set a collegiate record while running slower than she did indoors. She was actually disappointed with her collegiate record. The premier pre-meet event, the men's 5k, didn't quite live up to its hype as a slow second mile killed any chances of a World Championships "A" qualifier, as Alistair Cragg outkicked Matt Tegenkamp to win in 13:22. Videos from top races from Runnerspace on the right of the home page and more from Flotrack.
*San Francisco Chronicle Recap