The Week That Was April 27 - May 3, 2009
May 4, 2009

By LetsRun.com
To read last week's LRC Week That Was, click Here.
To read any 2009 LRC Week That Was, click Here.
In between being disappointed with the likes of Rashid Ramzi and the Big East conference and ADs in general that don't give a crap about track, we survey the week that was in running and give praise for a guy that was third of a B heat of a 5k and even more praise to a guy that no one seems to be talking about. We also pause to remember a departed legend, wonder if Usain Bolt's partying is finally catching up to him, look back at Ritz and Meb at London and wonder if marathoning in the US this decade truly is better than last decade.

Rashid Ramzi - The Olympic Champ - The Drug Cheat (guess we should say suspected drug cheat)
Let's start with the biggest news of the week. Olympic 1,500 gold medallist Rashid Ramzi's A sample from Beijing tested positive for the blood booster CERA. Aassuming his B comes back positive, he'll be stripped of us his gold medal and banned for two years. Why you wouldn't be banned for life for injecting yourself with a blood booster at the Olympic Games is beyond us. There clearly is no way one can innocently ingest CERA and there is no bigger crime in track and field than making a mockery of one of the premier events - the men's 1,500.
Can't say that the positive test surprised us or the LetsRun.com community (including Nick Willis' father) in the least, as over 60% of you voted in our poll that you thought Ramzi was the cheat. Our suspicions have now been confirmed.
We've thought for a long, long time that Ramzi was a cheat. The double 800/1,500 win at the 2005 world champs just didn't seem right to us. Too easy for a guy who was a complete unknown a year before. No one really does that in this day and age of competitive balance - unless they are a some unreal prodigy. When we looked at his history and saw that he'd gone from being a 3:39 guy to a 3:30 guy in 2004 and that he was originally from Morocco, we knew right then and there he almost certainly had to be dirty. Call us racists, xenophobic or whatever, but we knew. Watching the 2008 Games on TV was painful as we so desperately wanted someone besides the obvious cheat Ramzi to win.
The guy hadn't raced an 800 or 1,500 all summer and then he shows up at the Olympics. Are you serious? That's more obvious the sign of a doper than Regina Jacobs doing the opposite in 2004 - racing a lot and then pulling out of the Games when the EPO test was announced.
So it's great that it looks like he'll very shortly be gone for at least two years. But that will never make up for us not being able to have the thrill of seeing the 19-year-old sensation Asbel Kiprop cross the line finish first. Past Olympic champs like Coe and El Guerrouj were 5'9. The 6'2" Kiprop, like Usain Bolt, just looks (and runs) different. The first time we ever saw the guy run, we were like, "Wow. He's a prodigy." Beijing will forever be remembered as the unveiling of the sprint prodigy - Usain Bolt. Too bad a drug cheat prevented the public at large from seeing the unveiling of Asbel Kiprop. Ramzi also prevented Kiprop from getting on the medal stand in 2007 as an 18-year-old.
Ramzi's bust means that Kiwi Nick Willis will be moving up to silver. That's great news for Nick, who hasn't really had any other positive news of late. After a very good indoor campaign, he came down with a hip problem and it was revealed last week in a nice Runnersworld interview that he had surgery on April 10th. He won't start running at all until late May and will try to run the World Championships in the 800 on very little training.

More: *It WAS Ramzi! Bahrain's Gold Medalist Rashid Ramzi Busted For CERA EPO After Olympic Retest Thread Here The LetsRun voters had this one with no problem as our poll shows that >60% of you apparently were never fooled by Ramzi's performances. See the 2008 Olympic 1,500m final results here. See our photo album from the Olympic 1,500m final here. *Nick Willis' Father Not Surprised By Ramzi's Positive Test *All 6 CERA Cheats' Names Published *Kenya's 6th Olympic Gold Is Coming Soon *Phil Hersh Says It's A Good Thing They Caught Ramzi And A Good Thing It Wasn't Bolt Read the comments below his article to see how people react. *Jason Stewart Says He And Nick Willis Had Their Suspicions About Ramzi ... as did pretty much everyone else who follows running. *Seb Coe On Recent Frauds And London's 2016 Preparations Worth a read. *Seb Coe Really Upset At Ramzi Positive Result *As A-Rod Gets Set To Return To Yankees' Roster, Book Claims He's Been Juicing Since High School Makes us glad our sport actually tests, bans and punishes its stars who are exposed as cheats. *A Brief Chat with Nick Willis
---
And To Think Americans Thought Men's Distance Running Was Bad In The 1990s - At Least We Aren't As Bad As Germany Is Currently
Did anyone else see the note in the IAAF recap of the Dusseldorf marathon where it said that André Pollmächer's 3rd-place 2:13:09 was the fastest clocking by a German in the new millennium? Yes, that's right - no German had run faster since the year 2000, when Michael Fietz ran 2:11:25 in 28 at Rotterdam.
That type of ineptitude reminded us of the 1990s, in which Americans really struggled in the marathon. We decided take a trip back down memory lane to see just how bad American marathoning was in the 1990s. It also is a good excuse for us to introduce to you our Website Of The Week - The Association of Road Race Statisticians Annual Marathon Rankings page. The association's entire web page is really quite fascinating, but their marathon work is spectacular. The Annual Marathon Rankings Project, led and co-ordinated by Andy Milroy, has now documented the last 70 years of marathoning and has produced the top performances for each year for the years 1940 to 2009 and the lists are normally 200 deep. Thanks to their list and Track & Field News US rankings, we were able to see if our memory of a sub-par 1990s really was accurate. How did the last decade in marathoning compare to this decade in the US?
The chart below speaks for itself.
Sub-2:13:08 US Performances In Marathons (1991-2000)
Sub-2:13:08 US Performances In Marathons (2001-present)

1991- 3 (Martin-2:12:06, Kempainen-2:12:12, Reifsnyder-2:12:39)
1992- 3 (Spence-2:12:43, Eyestone-2:12:51, Kempainen-2:12:54)
1993- 4 (Lawson-2:10:27, Kempainen-2:11:03, Janicki-2:11:39, Brantly-2:12:49)
1994- 5 (Kempainen-2:08:47a, Eyestone-2:11:51, Pilkington-2:12:13, Plasencia-2:12:51, Brantly-2:13:00a)
1995- 1 (Kempainen-2:11:59)
1996- 3 (Lawson-2:10:04, Kempainen-2:12:45, Coogan-2:13:05)
1997- 3 (Lawson-2:09:35, Williams-2:11:17, Mahon-2:13:02)
1998- 2 (Brantly-2:12:31, DeHaven-2:13:02)
1999- 1 (Morris-2:09:32)
2000- 2 (Morris-2:12:00, Mack-2:12:42)

Total 1991- 2000 - 27 Times (2.7 per year)

2001- 1 (DeHaven-2:11:40)
2002- 3 (Khannouchi-2:05:38, Culpepper-2:09:41, Browne-2:11:35)
2003: 1 (Hearld-2:12:51)
2004:8 (Khannouchi-2:08:44, Keflezighi-2:09:53, Hussein-2:09:55, Keflezighi-2:11:29, Culpepper-2:11:42, Keflezighi-2:11:47, Browne-2:12:02, Briney-2:12:35)
2005: 2 (Keflezighi-2:09:56, Abdirahman-2:11:24)
2006: 9 (Khannouchi-2:07:04, Abdirahman-2:08:56, Keflezighi-2:09:56, Sell-2:10:47, Sell-2:10:55, Culpepper-2:11:02, Cabada-2:12:27, Gilmore-2:12:45, Hussein-2:12:53)
2007: 6 (Hall-208:24, Hall-2:09:02, Ritzenhein-2:11:07, Sell-2:11:40, Khannouchi-2:12:34, Lehmkuhle-2:12:54)
2008: 3 (Hall-2:06:17, Ritzenhein-2:11:59, Hall-2:12:33)
2009: 3 (Keflezighi-2:09:21, Hall-2:09:40, Ritzenhein-2:10:00)

Total 2001 - May 1, 2009 (36) (4.32 per year so far, as it's been 8.33 years basically).
So clearly the years 2001 to 2009 have been better than the dismal 1990s, which also reflects similar improvement that one sees in the 5k and 10k. Of course, a pessimist might point out that America might not be a whole lot better at producing marathon talent than we were in the 1990s.
We've just gotten better by virtue of naturalizing African-born runners, as 14 of the performances in this decade were done by people born outside of the US (we don't think any of those in the 1990s were done by non-American-born athletes).
If one knocked out the 14 performances, America would have 22 sub-2:13:08s in the first 8.33 years of the decade, which comes out to 2.68 per year - nearly identical to the 2.7 per year produced in the 1990s.
We prefer to be optimists!!!
The Road Race Statisticians have also produced another cool list which they are rightfully proud of. It's called the Yearly Marathons Project. Led and co-ordinated by Ken Young, it has now produced well-developed draft lists for EVERY known marathon held during the years 1940-2009.
One Last Look At Ritz And Meb At London - Were They Really On Track To Run Sub-2:08 at 30km? (Short Answer: No)
Speaking of American marathoners, we figured we'd take a look back at London and analyze Dathan Ritzenhein's and Meb's performances at London a bit more. There was a nice follow-up article in the Eugene Register Guard on Ritz, which we just realized was written by David Monti. Anyway, the article stated that Ritz & Meb were running in the 2nd group, which was shooting for a target time at 2:07:30. The group reached halfway ahead of schedule in 1:03:33. The article then states that "Ritzenhein was able to hold that pace through 20 miles, and was still on target to come in well under 2:08."
We decided to check if this statement was totally accurate, as we didn't think that anyone from the 2nd group had run under 2:08 as we'd read a nice article on Japanese runner Atsushi Sato which said that Eritrea's Yonas Kifle "took off in the hunt for stragglers" from the 2nd pack and Kifle finished in 2:08:28. Indeed, a little research revealed that Kifle was the top finisher from the 2nd pack and we found it odd that everyone supposedly died so much if he only ran 2:08.
The facts back up our suspicion. Dathan Ritzenhein and Meb and the 2nd pack hit the 30km split in 1:30:51, which is indeed sub-2:08 pace as it is 2:07:46 pace. However, that doesn't mean they wee on track to run sub-2:08:00 at that point. Those guys had run their first 10k in a blistering 29:39 (2:05:06 pace) before settling down and running the 2nd and 3rd 10ks very evenly in 30:34 and 30:37 for each 10km. 30:37 pace for 10k is 2:09:11 pace for the marathon.
One has to assume that if they did amazingly well and didn't fade at all that they'd AT BEST maintain the pace they had slowed down to FOR THE LAST 20KM. You certainly wouldn't expect them to run at a faster pace for the last 12.2 km than they had the previous 20km.

Assuming they don't fade AT ALL and maintain 30:37 per 10km pace to the finish, the 2nd group would have run the final 12.2 km in 37:20, giving them a finishing time of 2:08:11. Kifle, who supposedly "took off," came close to that as he finished in 2:08:28 to Sato's 2:09:16, Meb's 2:09:21, Limo's 2:09:47 and Ritz's 2:10:00. In reality, Kifle just faded the least.
Ritz did die at the end as he lost 1:49 over the final 12.2 km - or 14.38 seconds per mile. But by no means was it a truly horrific blowup and by no means was he on track to run 2:07 at 30km.

On pace, yes. On track, no chance. Can he do it down the road? It's certainly possible.
---
Payton Jordan - The Man
There was a lot of interesting US action last week, led by the Payton Jordan Invite at Stanford. Before we talk about the great meet, let us pause for a moment to reflect on a great man - Payton Jordan.

We never met Mr. Jordan, but it's clear to us that he was a special person who possessed a special moral fiber. To him, winning isn't the only goal. An accomplishment was worthless if one had to sacrifice their integrity to achieve it. That simple lesson seems to have been forgotten by so many today in all sorts of professions, whether they be finance, mortgages or coaching (not just track, but all sports - look at the graduation rates of NCAA basketball and football teams).
We urge you to read a great article that the San Jose Mercury News did on Payton Jordan the man who passed away in February at age 91.
The Mercury News extensively writes about what Jim Ward, a 440-yards runner for Jordan in the 1960s had to say about him:

"Coach was the first person in my life I had met that had a moral and ethical balance. He taught me to focus and be confident."

Ward ran in an era when it was not illegal to use steroids. Jordan, though, would have none of it.
"I finished seventh at the NCAA meet and everyone ahead of me was using steroids," Ward said. "I had friends at USC and UCLA. Their coach would give steroids out by the handful. But, Jordan was afraid of all the long-term health aspects of steroids. I know three or four runners from UCLA who are dead now because they used steroids. Coach Jordan helped me stay drug-free."
Jordan ran a tight ship at Stanford but wasn't demonstrative in the way he instilled discipline.
"Payton was very calm and gentile in enforcing rules," Ward said. "He didn't allow us to lie or fudge. And he didn't have a racial bone in his body."

A few days before he knew he was going to die, Jordan penned a letter, which will be read by one of his daughters tonight at the Faculty Club. We offer it to you as our Thought Of The Week. The world would be a way better place if everyone lived according to the following mantra:

"Listen to your heart and express your love. Share life fully with those you hold close to your heart. Be content with what God has in store."
---
Payton Jordan - The Meet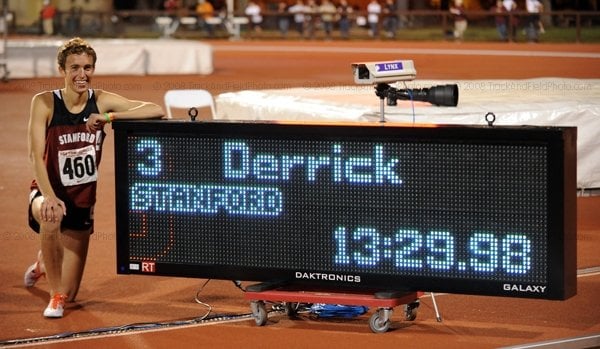 The meet was full of a lot of noteworthy performances which had the LRC community very excited. However, the meet made us think that track will probably never be a truly really popular sport in this country (at least distance running) any time soon. Why do we say that? Well first of all, track is full of meets. There is too much track as there is never any break.

From a fan's perspective, it makes little sense that there was a humongous meet just a few miles away last week at Cal that the NYRR put on (in our minds, the NYRR should be in charge but they should just rent the Stanford stadium) or that some teams had their conference meet last week, some this week and some in two weeks.
Also how do you explain to the casual sports fan that the story of the meet for us was some guy getting third in the B heat of the 5k? The answer ... You don't.
For some reason, the meet was broadcast live on Stanford's site thanks to cbssports.com (bizarrely enough, the meet was also on flotrack and now we're linking to post-race video on runnerspace). We watched it on CBS as the video was insanely clear and we found it fascinating to listen to the announcer, who clearly knew next to nothing about track and field. It gave us a great insight into what the average person thinks of track.
When Chris Derrick got the American junior record, the flotrack guys were going crazy and acting as though Derrick had won the Olympic Games (as any true Ameican distance fan was bound to be doing). Meanwhile, the cbssports.com announcer was totally calm. If anything, he seemed surprised that there was hoopla over a guy getting third in the B heat. Pretty odd. We wish we could find an archive of that production as it was really fascinating to listen to.
But Derrick's run was great. The guy was overshadowed in XC by Oregon's Luke Puskedra, who got the best of Derrick at PAC 10s and NCAAs and in indoors, and at World XC by German Fernandez. But if you want to know who the Freshman of the Year is distance-wise so far overall - one need to look no farther than Chris Derrick. What a year! And it's amazing how consistently good he's been for all 3 seasons.
7th at NCAAs in XC, 4th in the 5k indoors, 5th in the 3k, before getting 15th at World Cross and now running 13:29. OUR NCAA PERFORMER OF THE WEEK NO DOUBT. A HUGE, HUGE THUMBS UP.
Other things of note from Stanford:
Not too often that you set a collegiate record but leave dissatisfied, but that certainly was the case for Jenny Barringer, who ran 15:07.64. Considering she ran a 15:01.70 on an oversized indoor track, we guess it's not surprising that she's upset she didn't break 15:00.
Props to Arkansas Shawn Forrest for breaking Josphat Boit's school record of 28:07.27 in the 10k. Any time you break a school record at Arkansas, you have to be doing something special, but Forrest absolutely obliterated the record as he ran 27:52.10 - just missing the WChamp "A" standard.
Positive news: Jordan Hasay ran her 2nd-fastest 1,500 ever (4:16.80), which also was the 4th-fastest prep time ever. Bad news: The pressure for her to be a huge star at Oregon may be tough to handle as she is a long way from world class, given her next-to-last-place finish in the 1,500. *Jordan Hasay Gets Smoked In Stanford, Finishes Next-To-Last *Hasay Runs Her 2nd-Fastest 1,500 Ever & 4th-Fastest Prep Time Ever
Props to the Centrowitz family. First, big sis Lauren Centrowitz ties the Stanford school record by running 4:10.42 for 6th in the top heat of the 1,500. Then she was totally overshadowed by her younger brother Matthew Centrowitz, who became the 6th-fastest collegian ever at 1,500 by running 3:36.92. Two weeks ago, Centrowitz was 2nd to his teammate the Shadrack Kiptoo Biwott by .01 at a dual meet with UCLA (maybe they weren't competing against each other?) and now he runs 3:36.92 and beats the indoor NCAA champ Lee Emmanuel in the process? Unreal. Admittedly, the redshirt freshman did run 3:57.92 indoors and admittedly his dad, Matt Sr., whom LRC has learned will be coaching Lauren next year, was a total badass back in the day.
Saving the best for last, we think it's a shame that Tim Nelson isn't getting more fanfare. As a result, we're naming him our PERFORMER OF THE WEEK. Tim was the only guy all night who won his race and got the WChamp "A" mark, as he convincingly won the Kim McDonald 10,000 meters with a 27:36.99. 2nd place was 27:50.

Talk about a big PR. Nelson shaved 27.47 seconds of his 28:04.46 previous personal best. During the winter, it was kind of surprising to see this 28:04 guy finishing 2nd to Meb at the US XC by less than a second and then 2nd to Fam at the US 15km by 1 second. Two heartbreaking losses. Now we know how he was able to run such great races with the big boys - because he's a stud himself.

That being said, is it alright to say that we still wish he'd chosen to run World XC as well as get ready for Stanford?

If the IAAF wants to know why so many people don't show up at World XC, one reason is because their "A" standards are so stiff that a ton of Americans who don't have it (like Nelson) can't afford blowing their one good opportunity by going over there.
More: *Results *Photos *IAAF Recap *Despite Miscounting Laps, Chris Derrick Steals Spotlight From Centrowitzes With American Jr. Record *MBoard Thread On Derrick Miscounting Laps *Centrowitz, Just 19, Is Now 6th-Fastest Collegian Ever (but only 3rd on Oregon all-time list)
---
Conference Action/Traditional Rivlaries
Lots of conference meets and a few traditional rivalries took place last week as well. We feel like conference meets and scored rivalries like USC-UCLA are the few meets college administrators ought to try to get fans to attend, as other meets are honestly no different than attending a practice.
But track is certainly going to struggle if the meets aren't presented in a spectator-friendly format. At the Big East meet, when we heard that the Notre Dame men beat Louisville by 1/2 point, we thought to ourselves, "Wow that sounds exciting. Let's read how it unfolded." Small problem. Neither the Notre Dame nor Louisville web sites had a blow-by-blow recap of the meet. Neither did the Big East site.
And, shockingly, apparently neither did the fans and possibly the athletes themselves. Check out the following excerpts from messageboard poster "categorically":


"I was there as a competitor for a school that was not in the hunt. Unfortunately it was raining for the entire day on Sunday. You didn't see teams sitting together and watching the meet as you normally would. Most everyone was huddled in a side building trying to stay dry or get dry. As someone said louisville scored more than 100 points on Saturday so it was not a neck and neck race. The triple jump was scored after the 4x400.... I think the exciting team race was tempered by the weather and the fact that no one saw it coming. I overheard some UND guys say that they thought the team was finishing 2nd just after the 5k, where UL scored big points with the win. When I asked my coach who won the meet afterwards he told me UL did so not a lot of people knew what was happening with the team score at the end of the meet...I forgot to mention that the awards and team trophies were announced indoors after the meet ended. I don't know if they even announced the final team standings in the stadium."
Coaches and administrators need to try to play up the team competition, at least at the conference meets. Is that too much to ask? No, it isn't. It's embarrassing that in order to find out what happened, we had to resort to posting on the message board: "How did the Big East meet play out?"
And we think it should be a rule that if the meet hasn't already been mathematically decided, the 4 x 400 is the last event contested, period.
Actually, when we came across the following email, we realized that maybe it is too much to ask. Apparently the GNAC Conference championship was cancelled due to the swine flu scare and the kicker is they aren't going to reschedule it. Clearly if the ADs don't care at all about track, why should the fans?
A big Thumbs Down to them not rescheduling it. Thanks to a site visitor for sending the following email. We love his last line, "THE ATHLETES DESERVE BETTER."
On Thursday, April 30, the directors of the Great Northwest Athletic Conference (GNAC) cancelled this years Track and Field Championship Meet due to a probable case of H1N1 (swine flu) by an individual on campus of the host school, Western Oregon University. That is understandable and probably wise, however the real kicker is that they do not plan to reschedule the meet. I think that this is the worst idea ever. I don't think its necessary to really explain why as most of us could understand the appaling nature of it. I have many good friends who instead of finishing their career with possible conference titles or improving national marks are instead left without that opportunity. And can you imagine this happening after the disaster of D2 Western Regionals? I competed for three years before I retired due to injuries, this would have been my senior year, I can't imagine how I'd feel after the f*** up at regional then to have my track championship cancelled. The athletes deserve better."

Notre Dame Men Win Big East By 1/2 A Point Over Lousiville! It was the 100th Big East crown for the Irish overall as the Cardinal women got the win. *Complete Men's Results *Complete Women's Results *Army M & Bucknell W Win Patriot League *America East Conference Outdoor Championship *Atlantic 10 Conference Outdoor Championships *Horizon League *MAAC Outdoor Championships *MEAC Outdoor Championships *Northeast Conference Outdoor Championships *SWAC Championships More Meets at: US Track & Field And Cross-Country Coaches Association.
Rivalries: UCLA - USC: USC Sweeps Mens & Women's Dual For 1st Time Ever The UCLA women almost never lose to USC (2nd time in 17 years) but they did this year. Click here to see a ton of highlight videos (guys and girls in tears at USC about the win). Click here to see video replay of meet. Washington-WSU Dual: Talk About Close: Washington Husky Women 86.66 - Wash. St. 86.33 The Washington Husky St. Cougar Men Meanwhile Won Easily
---
Pro News
In Sprint News, Usain Bolt's partying ways may finally be catching up to him as he was lucky not to be killed or seriously injured in a horrific car accident that caused him to pull out of at least one meet. Meanwhile, the man who has run faster than anyone in history for 100 meters, Tyson Gay (everyone seems to forget he ran a wind-aided 9.68) is coming along nicely even if few are noticing, as he ran a big PR of 45.57 (previous PR was the only other time we've seen him run it, which was last week in 46.34).
In other sprint news, Olympic champ LaShawn Merritt opened his 400m season in fine form as he had the best outdoor opener of his career with a stellar 44.50. A 44.50 is very fast. It would have gotten the silver in the Olympics last year and would have been top 5 at the 2007 Worlds. Last year, we saw Michael Johnson lose his 200m world record. Could 2009 be the year he loses his 400m world record as well?
Speaking of MJ, he had a great Q&A with readers on the BBC site this week. It only took a couple of questions before a LetsRun.com thread was mentioned: *LRC Thread: Bolt vs. Bekele Over 600m MJ says Bolt would take it easy, we disagree.
And lastly, on Sunday, it was great to see Deena Kastor back with a vengeance after her broken foot at the Olympics as she dominated the Bupa Great Edinburgh Run.
More: Bolt Involved In Car Wreck, Injuries Minor *Photos Of The Car And His Million Dollar Feet *Bolt Had To Have Thorns Removed From Feet *Police Sgt. Claims Bolt Was Speeding On Slick Roads
Update: Bolt Doing Fine after Car Wreck Update from his agent Ricky Simms.Texas Invite: *Results *Tyson Gay Runs 45.57 400, Alonso Edward Runs 9.97 100 And Lopez Lomong Gets Beaten In 800 (1:48.42) Guadeloupe: *Results *LaShawn Merritt Runs 44.50 World Leader In Guadeloupe, Phillips And Demus Get World Leaders
She's Back! Deena Kastor Returns To Form As She Gets Win In her first big race since last year's Olympic injury, Kastor dominated as she took command on the first big hill just 3km in the race as she crushed 3-time champ Jelena Prokopcuka as well as former world 10km champ Sally Barsosio, who was 3rd. Next Up: Bay To Breakers On May 17th.
*Micah Kogo Wins In Course Record 28:13
Pre-Race: *Deena Kastor's Excited To See Return From Broken Foot Continue In Scotland
---
7 Recommended Reads From Last Week (One for each day):
1) Remembering Payton Jordan
2) Lopez Lomong Gets His Brothers And Brings Them To The US This article is a once-in-a-lifetime read.
3) Pat Butcher On Sad State Of GBR Men's Distance Running Lots of bashing of Britain's men's marathoners this week.
4) Michael Johnson Answers Readers Questions From BBC It only took a couple of questions before a LetsRun.com thread was mentioned: *LRC Thread: Bolt vs. Bekele Over 600m MJ says Bolt would take it easy, we disagree.
5) NY Times Article On Louisiana's Bradley Sylve, Who Trains Without A Track
6) Wanjiru's Mother Dropped To Her Knees In Prayer When His Lead Dwindled To 1 Second in London
7) Race Shows Contrasting Worlds Between Richness Of West & Poverty Of Kenya An interesting look into what life in Kenya is truly like.
---
Remember The Last Week With The Quote of the Day - Day By Day:
Monday: "Yeah, I am disappointed. I have expectations and I was hoping for something better ... I'm used to running PRs."
- Jenny Barringer, after setting the outdoor collegiate record in the women's 5k at Stanford.

Sunday: "The main thing was to be beat German (Fernandez) because I knew that he would be in good shape to do it. It doesn't matter if he hasn't run a race in a year. He is going to be fit. I figured coming down to the last 800 that the record would come down to which ever of us was ahead at that time"
- Chris Derrick, the new American junior record holder at 5k, after he ran 13:29.98 to defeat German Fernandez and smash Galen Rupp's (13:37.91) record.

Saturday: "I finished seventh at the NCAA meet and everyone ahead of me was using steroids. I had friends at USC and UCLA. Their coach would give steroids out by the handful. But, [Payton] Jordan was afraid of all the long-term health aspects of steroids. I know three or four runners from UCLA who are dead now because they used steroids. Coach Jordan helped me stay drug-free."
- 440y Runner Jim Ward on his former Stanford coach Payton Jordan, who passed away this year at the age of 91. More from Ward: "Coach was the first person in my life I had met that had a moral and ethical balance. He taught me to focus and be confident."

Friday: "When I think of these athletes who win by cheating, they get a lot of kudos and probably a lot of sponsorship and accolade that comes with it, and you can't ever take that back. So the cheats do momentarily prosper in this system. All we can say is that we believe Nick is a genuine champion and we are mighty proud of his bronze - and now his silver."
- New Zealand Olympic Committee secretary general Barry Maister.

Thursday: "If Ramzi is confirmed as being a drug cheat, I have to say it wouldn't surprise me. Normally the great champions try to conserve energy in heats so you come down the home straight and you see where you are and slow down. This guy sprinted for 300m, won his heat by 20m and just outside the Olympic record. I remember turning to my oldest son (Steve) and saying `goodness gracious, that's a weird way to run a heat'. You have to give guys the benefit of the doubt but that was unusual at an Olympics."
- Richard Willis, father of Nick Willis, talking about Rashid Ramzi's positive test. In the article, Richard gives a shout out to the LRC site visitors for predicting Ramzi as the likely cheat.

Wednesday: "Will The Boston Women's Race Put To End Once & For All The Notion That A Track-Bred Runner Has A Kicker's Advantage At The End Of A Marathon?"
- a question we try to answer in our "The Week That Was."

Tuesday: "It was a big breakthrough, and so much of it is mental. If you consider yourself to be a really top athlete, then you go and do the training required with no questions asked."
- Tokyo-based Mara Yamauchi of Great Britain after her 2nd-place London Marathon breakthrough.

---
Runner's World &
Running Times



Combined Only $22
a Year
Save $87

---

Running & Track and Field Posters
---
---