Big Savings::
*15% off


Orders of $60 and Up
Enter Code 140387 at checkout
*Eastbay Coupon
*Fotlocker Coupon
If You're Thinking of Going to Beijing Do it With the Experts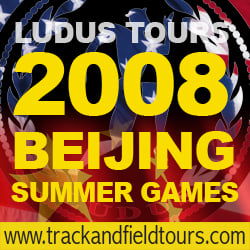 Mention LetsRun and Save $100

Book Review: Running Within
Want to improve your mental outlook on running? Then Running Within is the book for you. Read our review of this excellent book.
Recommended Reads
Looking for a good running book ? Read our mini-reviews and suggestions
We interview one of our own:
LetsRun.com's Rojo talks about coaching at Cornell
Update: Violence Right in Center of Running World
Violence in Iten; Lornah Kiplagat's High Altitude Center Evacuated; World Marathon Champ Luke Kibet Suffers Head Wound
Lornah Kiplagat's high altitude training center was forced to feed a mob and World Marathon Champ Luke Kibet suffered a head injury after being hit by a stone (the main article above mentions a machete attack that apparently is a bit of an exaggeration). Hard to believe the serene place portrayed by Wejo here and here is now the place where human beings are burning other human beings trapped in a church (the church that was burned was just 5 miles outside of Eldoret, the main training city in Kenya, and where Kip Keino's Training Center is). Iten is the small town where St. Patrick's High School, Kimbia Athletics, and Renato Canova train.
More: Savages Threw Baby Back Into Burning Churhc Outside of Eldoret
*Luke Kibet Hit in Head by Stone in Kenyan Election Violence
Horrible:Kenyan Violence Escalates Kenya has historically been one of the more stable African nations as its 40-odd tribes have generaly gotten along fairly well. But after a possibly rigged election, the tribes are going after each other. The NY Times is reporting that the violence is at its worst in the Rift Valley (where the runners mostly train). The Rift Valley is where the most disturbing violent incident occured as a mob of mostly Kalenjin (almost all of the famous runners are Kalenjin) barricaded and then torched a church with approximately 200 Kikuyu in it, resulting in 50 people being burned alive, just outside of the training mecca of Eldoret.
*Thursday Could Prove To Be Critical As A Banned 'Million Man' Peaceful March Apparently Will Take Place In Nairobi
*1988 Olympian Lucas Sang Is One of 316 Known To Have Been Killed So Far He ran on the 4 x 400 in Seoul but also ran the 800 and was a well known European rabbit. His death was reported by his business partner and former world champ and Boston marathon winner Moses Tanui.
*Kenyan Article On Sang's Death Reveals He Was A Neighbor of Noah Ngeny Sang was well respected in Kenya and had called 2000 Boston marathon champ Elijah Lagat to congratulate him on winning a parliamentary seat on Sunday - one day before he was murdered..
Earlier: Savage Tribal Killings As Kenya Erupts in Violence Following Elections Kibaki says he was reelected but international authorities have not giving their blessing to the results. Meanwhile, things seem to be getting worse every day in Kenya in terms of violence. Election chief now says, "I do not know whether (Mwai) Kibaki won the election"
Justin Gatlin By 2-1 Ruling Gets His Doping Suspension Reduced to 4 Years, Other Arbitrator Wanted Less Gatlin says he was "robbed" and we have some sympathy for him getting 4 years while others get less, but Gatlin still has not confessed to the doping. If he admitted to doping, we'd have a lot more sympathy.
Documents:
*Justin Gatlin's 53 Page Arbitration Ruling
*22 Page Dissent in Justin Gatlin's Arbitration Hearing
More: Justin Gatlin Says He Was Robbed
*Jason Gardener Does Not Think Justin Gatlin Will Compete in 2012