Gudaf Tsegay (29:29.73) & Berihu Aregawi (26:50.66) Win 2023 Ethiopian 10,000 Trials
By
Robert Johnson
by LetsRun.com
June 24, 2023
Yesterday the Ethiopian 10,000 Trials were held at an athletic meeting in Nerda, Spain.
Article continues below player.
In the women's race, Gudaf Tsegay, the 5000 world champ who also won global 1500 silver last year, went out hard (14:40) and convincingly won in 29:29.73, the fourth fastest women's 10,000 time ever recorded. Ejgayehu Taye, the 6th placer in the 10,000 last year in Eugene who has already run 14:13 for 5000 this year, was second in 29:57.45. 22-year-old Lemle Haile, the 2022 world indoor 3000 champ, was third in 29:59.15 as this was just the seocnd race in history with three women under 30:00. 21-year-old Mizan Alem, who earlier this year had won the Night of the 10,000 Pbs in 29:59.03, was fourth in 30:01.35.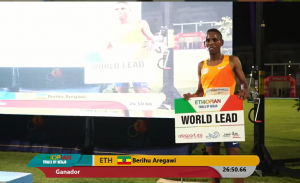 In the men's race, Berihu Aregawi, the World cross country silver medallist who was only 14th in the Florence Diamond League 5000 (13:04.52) three weeks ago, held off Olympic champ Selemon Barega for the win, 26:50.66 to 26:51.87. The top two broke free over the second half of the race. On the last lap Barega was sitting on Aregawi and pulled up on his shoulder with 100 to go but Aregawi pulled away for the win. The third-place finisher was a big surprise. 17-year-old Tismaw Dillu, who was only 15th at world junior xc this year, was third in 27:08.85, the second fastest 10,000 time ever run by an U18 athlete according to World Athletics. 21-year-old Tadese Worku, the 2021 world junior 3000 champ who was second at the Trials last year in 26:45, was fourth in 27:11.26.
The meet was live-streamed on youtube. We've embedded the streams for you below the results. First up is the men's stream which is cued the final lap. The women's steam is cued to the start.
Men's Results
1 Berihu Aregawi ETH 28 Feb 01 26:50.66 WL SB «
2 Selemon Barega ETH 20 Jan 00 26:51.87 SB «
3 Yismaw Dilu ETH 1 Jan 06 27:08.85 PB »
4 Tadese Worku ETH 20 Jan 02 27:11.26 SB «
5 Gemechu Dida ETH 12 Sep 99 27:23.96 PB »
6 Boki Diribi ETH 28 Feb 04 27:30.46 PB »
7 Hailemariyam Amare ETH 22 Feb 97 27:32.47 PB »
8 Dawit Wolde ETH 19 May 91 27:48.66 PB »
9 Chimdesa Debele ETH 13 Sep 03 27:55.30 SB «
10 Werkinah Tedese ETH 13 Dec 00 28:39.63 PB »
Getachew Masersha ETH 00 DNF « »
Yasin Haji ETH 22 Jan 96 DNF « »
Merhawi Mebrahtu ERI 21 Sep 03 DNF « »
Filmon Kibrom ERI 30 Dec 02 DNF « »
Beshada Beru ETH 1 Jan 03 DNF « »
Abdulrezak Suleiman ERI 30 Nov 03 DNF «
Women's Results
1 Gudaf Tsegay ETH 23 Jun 97 29:29.73 WL PB »
2 Ejgayehu Taye ETH 10 Feb 00 29:57.45 PB »
3 Lemlem Hailu ETH 25 May 01 29:59.15 PB »
4 Mizan Alem ETH 22 Jan 02 30:01.35 « »
5 Girmawit Gebrzihair ETH 21 Nov 01 30:23.69 PB »
6 Bosena Mulate ETH 21 Nov 01 30:39.60 SB «
7 Fotyen Tesfay ETH 17 Feb 98 30:49.48 PB »
8 Senayet Getachew ETH 1 Oct 05 30:59.39 PB »
9 Zeineba Yimer ETH 17 Jun 98 31:18.96 SB «
Tsige Gebreselama ETH 30 Sep 00 DNF « »
Mekides Alemshet ETH 2 Jan 00 DNF « »
Birke Haylom ETH 6 Jan 06 DNF « »
Men's Final Lap
Women's Race
Gudaf Tsegay and Berihu Aregawi run WL times at Ethiopian 10,000m Trials pic.twitter.com/kVrBf4USY6

— Aman (@angasurunning) June 23, 2023