2022 World Athletics Championships Betting Guide and Odds
By LetsRun.com
July 15, 2022
The World Athletics Championships start today and with sports betting taking off in the US, we're here to offer you a betting guide. And just a reminder to everyone, sports betting can be fun, but expect to lose money.
Everyone should take a minute and play fantasy track and field in our $200,022 Coros LetsRun.com Prediction Contest.Casual fans can play and win some great Coros prizes.
Article continues below player
It looks like a lot of the US-based sports books are not offering lines on the World Athletics Championships (some states with legal US sports books may not allow betting on track & field due to state laws), but DraftKings most definitely is.
For everyone else and our international readers, there are offshore sports books like Bovada that accept accounts from throughout the world and you can fund your account with various methods like Bitcoin.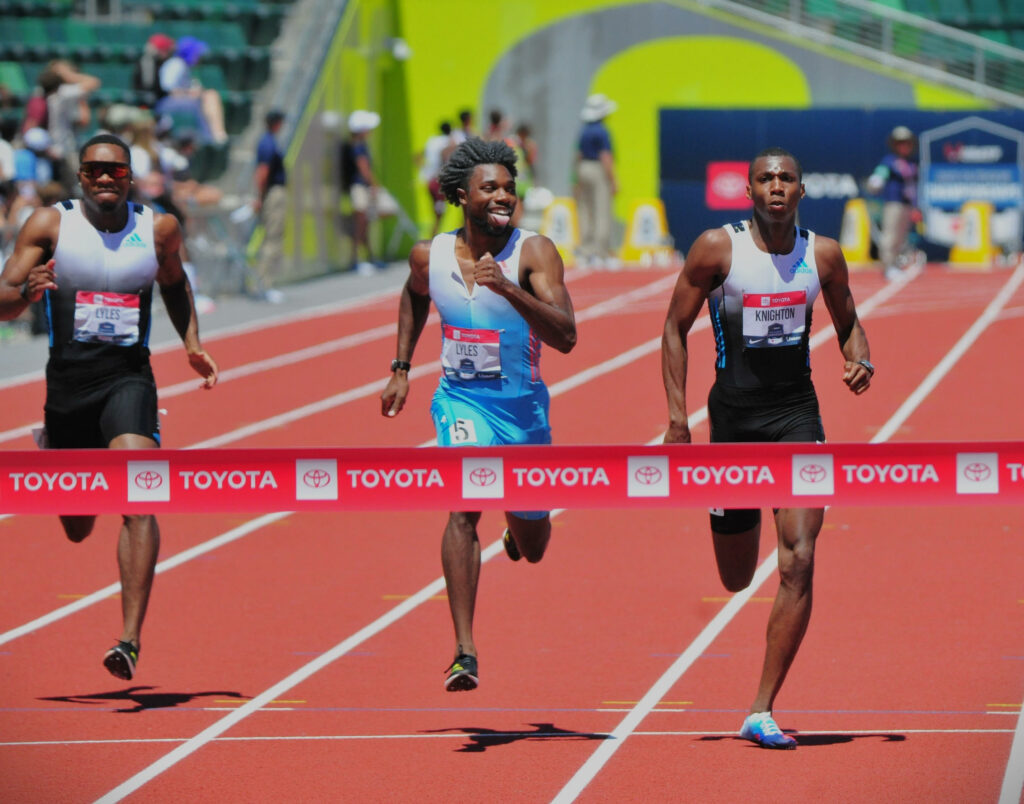 We'll start the guide by just looking at this weekend's action and have to start with the most prominent events in track & field:the men's and women's 100m.
We are not seeing odds on the men's and women's 10,000m or the marathons yet, so then we'll look at some field events that start on Friday.
Men's 100: Fred Kerley the Favorite, But Do You Bet Him?

Fred Kerley, the former 400m runner, Olympic silver medallist, and US champ who ran 9.83, 9.76 and 9.77 at the US championships, is rightfully the favorite and is -120 on Bovada, which means he has implied odds of winning of 54.5%. He's been bet down on Draft Kings to -165 (62%) which makes sense as people may favor the American on there.
Now Kerley is the heavy favorite in the Coros LetsRun.com Prediction Contest, but does he win this more than half the time? Probably, but does he win it 2/3 times? We're not sure, so you need to look at the odds you're getting. Some guys who know a lot about sprinting have been saying expect big things from Kerley all year. The Bovada odds are tempting.
Guys who we think could win are Trayvon Bromell (who beat Kerley at Pre this year), Ferdinand Omanyala (who beat Kerley in Nairobi this year but is arriving in Eugene 2.5 hours before round 1), Marcell Jacobs the Olympic champ (who has injury concerns), Christian Coleman (who missed 18 months with a suspension for missing drug tests), and the Jamaican youngster Oblique Seville (who was 2nd at Jamaican champs). I guess we should throw Marvin Bracy in there as well who was second at USAs.
You usually don't learn much in round 1 of the 100, but if you're thinking of betting Jacobs it's sort of a Catch-22 situation. If he's going to win, you're not going to get better odds than you'll get now. He's either healthy and will look good in the rounds and his odds will decrease or he's still injured and he's got no chance. As we said that Jacobs dropped from +450 to +300 overnight so some people are willing to take the chance he's healthy.
With Bromell or Coleman, we definitely think if they're going to win, they'll look good in the heats and semis, so their odds will only drop, so bet them now. Bromell was +400 last night and is +500 this morning. You're not going to get better odds on him than that.
That leaves Kerley. We haven't done this enough to know if the odds might improve after round 1 or the semis. It depends on how the other people do. We're pretty confident Kerley will deliver, it's just not a guarantee he'll win. If you're only option is betting him on DraftKings. we'd be tempted to see if his odds come down after the heats.
Your votes in the Coros Prediction Contest:
Who wins Men's 100m?
Fred Kerley USA
82.3%
Trayvon Bromell USA
9.5%
Christian Coleman USA
3.8%
Ferdinand Omanyala KEN
1.3%
Marcell Jacobs ITA
1%
Yohan Blake JAM
0.9%
Andre De Grasse CAN
0.5%
Oblique Seville JAM
0.4%
Marvin Bracy USA
0.2%
Women's 100m – Shelly-Ann Fraser Pryce Is Your Bet

This race should be another epic match-up with double Olympic 100m champions and Jamaican rivals Elaine Thompson-Herah (ETH) and Shelly-Ann Fraser-Pryce (SAFP) squaring off.
ETH is the betting favorite (-120, implied odds of 54%), but has done nothing in 2022 to warrant being the favorite in this race. She has run 10.79 this year but she was 3rd at the Jamaican Trials. SAFP has run 10.67, 10.67 and 10.70. Advantage SAFP.
What everyone remembers is ETH was 3rd at the Jamaican Trials last year and then ran 10.61 to destroy everyone at the Olympics. Later in the year she ran 10.54. Everything she did in 2021 is why she is the favorite.
That is hard to erase from the memory banks, but you also need to factor in past performances at World Championships. ETH somehow has never medalled in the 100m. SAFP has four World 100m golds.
SAFP is +150 on Bovada (40% implied odds). That's a bet we have to take. The DraftKings odds aren't as good on either runner (+115 for SAFP) and (-155 for ETH).
When showed the odds in this event, one LRC staffer sent the following text:

Shericka Jackson is the Jamaican champ (SAFP didn't run the final at the Jamaican champs) and the only other person we think can win, but really think it's between SAFP and ETH.
Men's High Jump – Go with the Some of the Longer Shots
We want to see some odds on the marathon and 10,000m which are this weekend but don't see them yet. So we'll look at one of the field evens that starts Friday.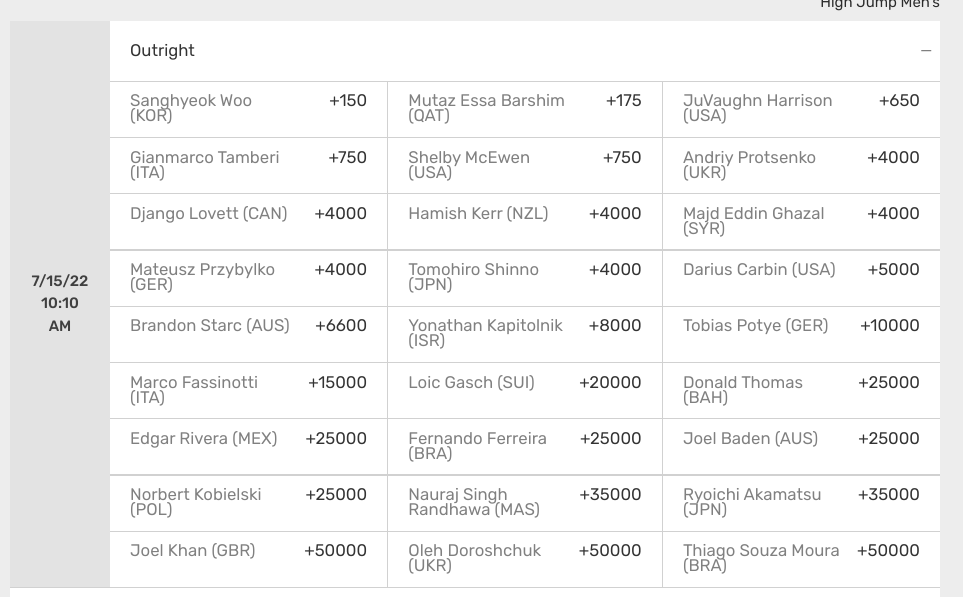 Sanghyeok Woo won World Indoors and has been the best jumper of 2022, however he hasn't jumped since June 3. Is he fully healthy? We have no idea but +150, implies he wins this 40% of the time. Too many question marks.
Mutaz Essa Barshim is the best jumper of his generation and tied for Olympic gold with Gianmarco Temberi, but Barshim hasn't competed since May. Perhaps watch the qualifying and see how he looks.
But without seeing anyone jump this year, is the best bet to put some money on the longer shots? JuVaughn Harrison and Tamberi fall into that category but real quickly after that everyone is +4000 or lower (40/1). 15 guys this year have jumped 2.30 or higher. Only one has jumped over 2.33 (Woo) so there is a lot of parity. Take a few of the 40/1 guys.
Long shot bet of the week: Loic Gasch was the world indoor silver medallist and is at 200/1? You have to put at least $1 on him. We thought he was a good bet at 40/1 but he's 200/1.
(And now that we write that, we no longer see odds for the men's high jump on Bovada, but Gash is still +18000 on DraftKings.)
Random Look at Other Bets That Stand Out To Us
We'll write more on betting as the champs go on especially on the distance races, but before we do that here are a few quick comments on some other races.
Women's 100m Hurdles – Kendra Harrison
We like worked record holder Kendra Harrison at +175 way better than Camacho-Quinn at -185. Alaysha Johnson is the only other person we see winning.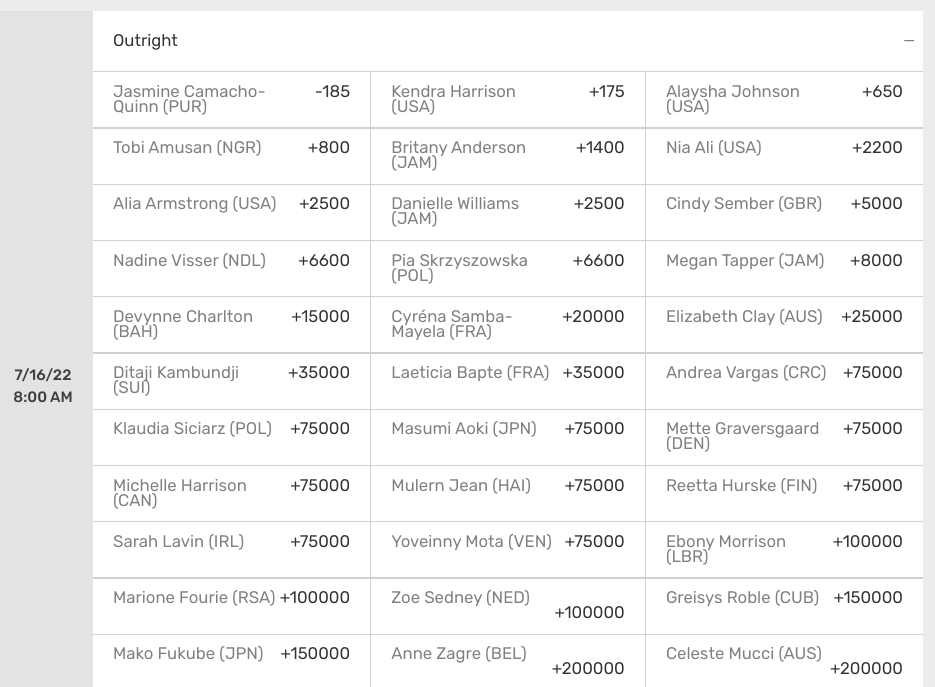 Men's 110m Hurdles – Does Grant Holloway Win 7/10 times?
Figure that out before you bet him.

Women' 200: A Few Bucks on Abby Steiner
Abby Steiner might turn out to be the 2022 version of Gabby Thomas (who ran super fast on the fast Eugene track at the Olympic Trials and couldn't quite deliver at the Olympics), but at +800, it's worth a bet.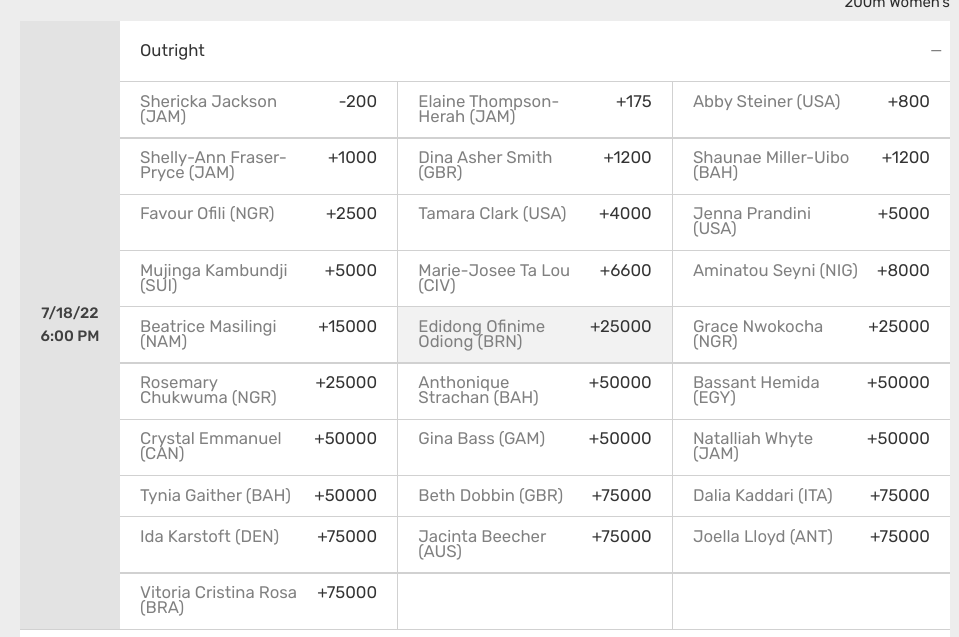 And some agree with us:
Abby gone win gold in the 200m.

Yes I said gold. 🫡

— Raes Take TV (@RaesTake) July 9, 2022
Men's 200 – Erriyon Knighton If You Bet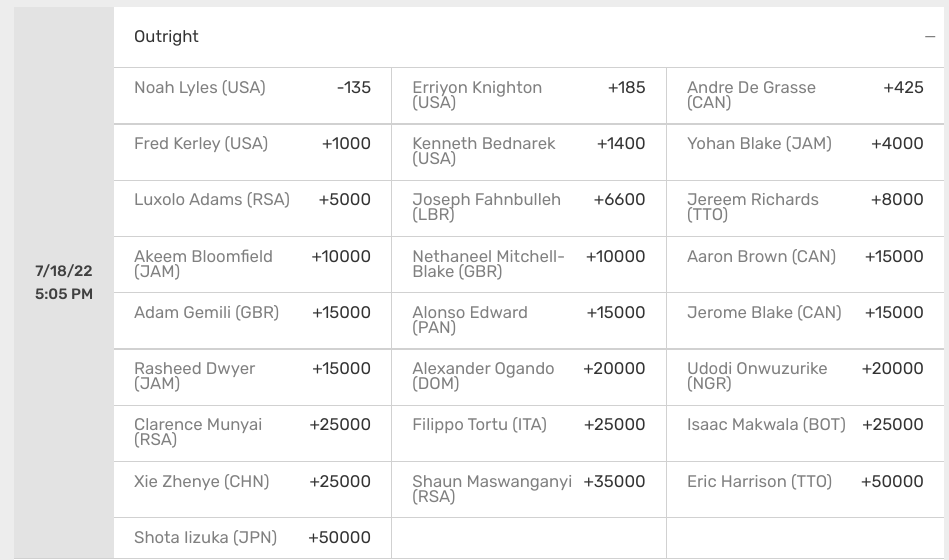 This one is shocking. Knighton is only 18 and lost by Lyles by only .02 at USAs. Knighton ran 19.49 earlier in the year. Yet Knighton is +185 (35%)? We think he wins more than 35% of the time. The line on Lyles of -135 implies a 57.4% chance of winning.
There actually is a way to bet both Lyles and Knighton and still win money if you think no one else wins. (For example, bet $10 on Lyles at -135 and $6.11 on Knighton at +185. You'll win $1.30 if one of them wins, but you'll lose $20 if someone else does). That isn't fun so pick Lyles or Knighton, but we like Knighton's odds.
Now a glance at some of the distance races
Women's 1500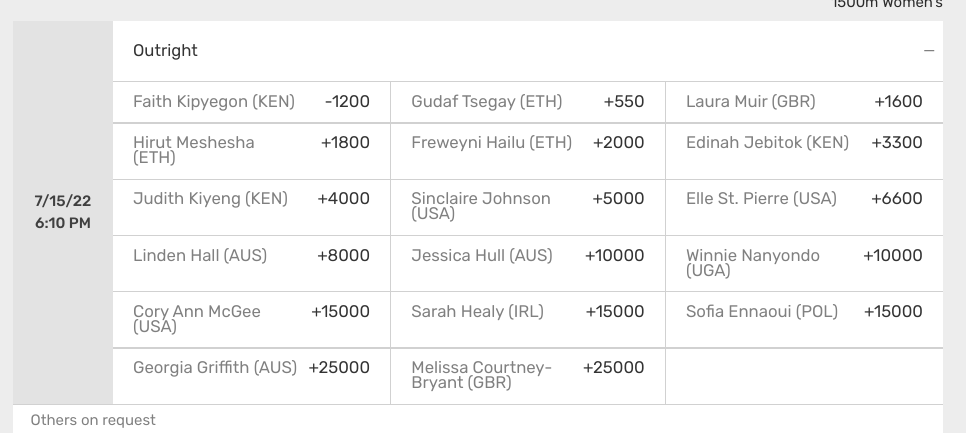 Not sure we see a lot of value here.
Men's 1500: Does Jakob win 2/3 times?
We think so which means you should bet him.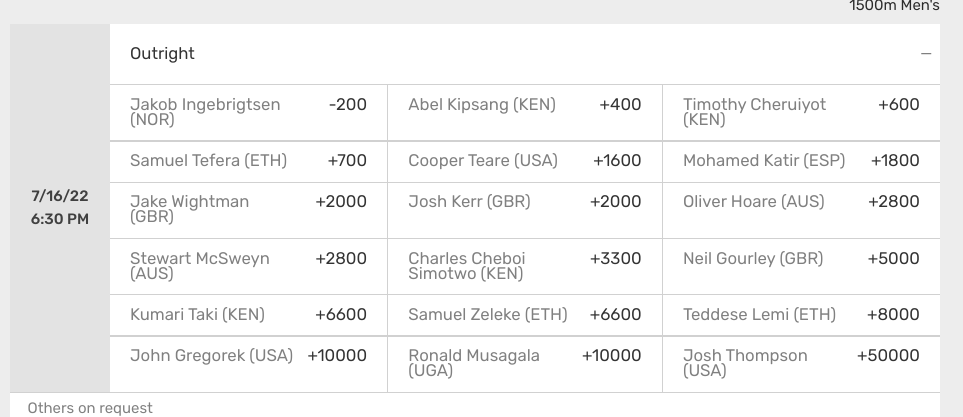 Men's 800: Wide Open
There is a lot of value with everyone in this one as it is so wide open. So pick your guy and lay down a few bucks. With 20 seconds of thought, Arop and Wanyonyi have good odds.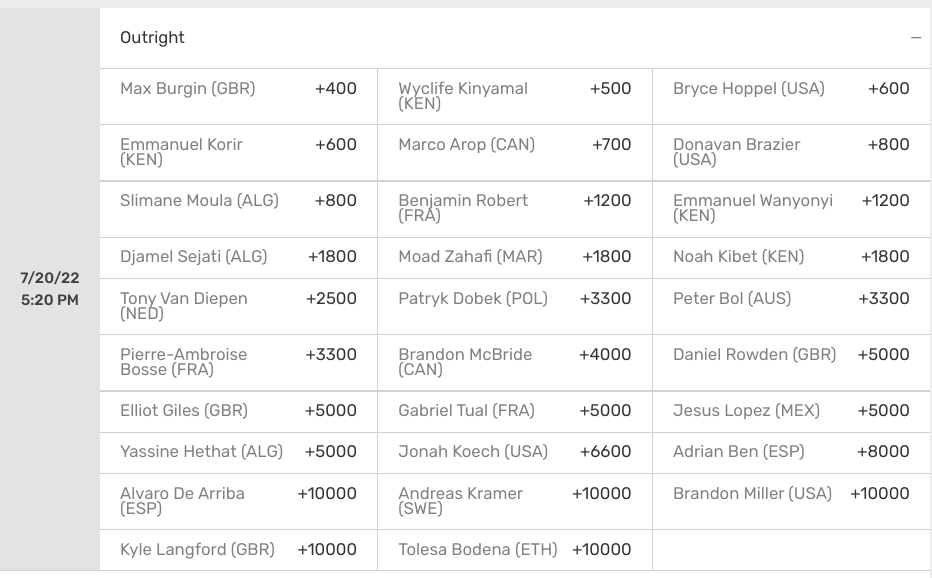 Women's 800: Does Athing Mu Win 4/5 Times?
Probably, but this event is at the end of Worlds.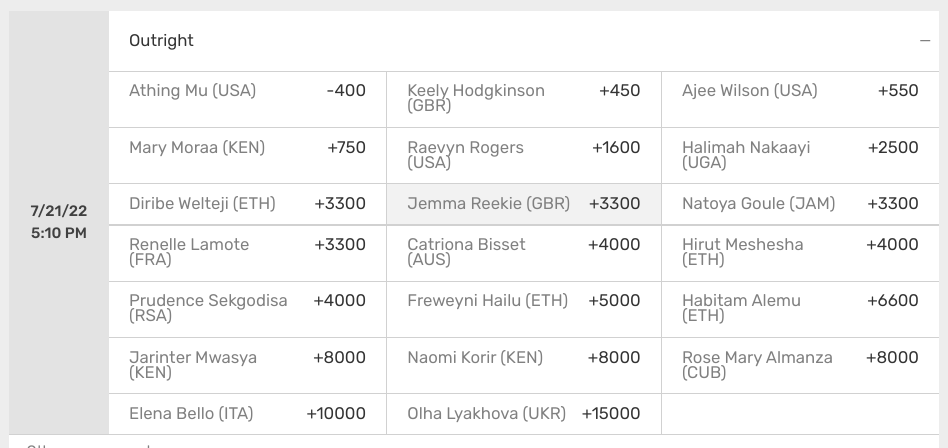 Women's 5000: Sifan Hassan isn't 100%
We'll tell you more after the 5000 but we don't think Hassan is going to win right now so Taye would be the bet.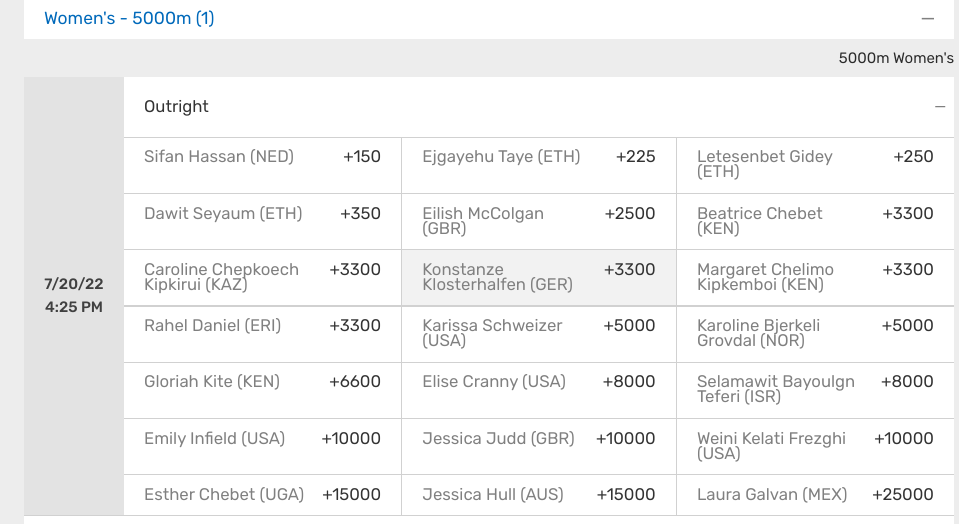 Men's 5000: Nicholas Kipkorir isn't our favorite
We like Ingebrigtsen, Barega, and Cheptegei all ahead of Kipkorir.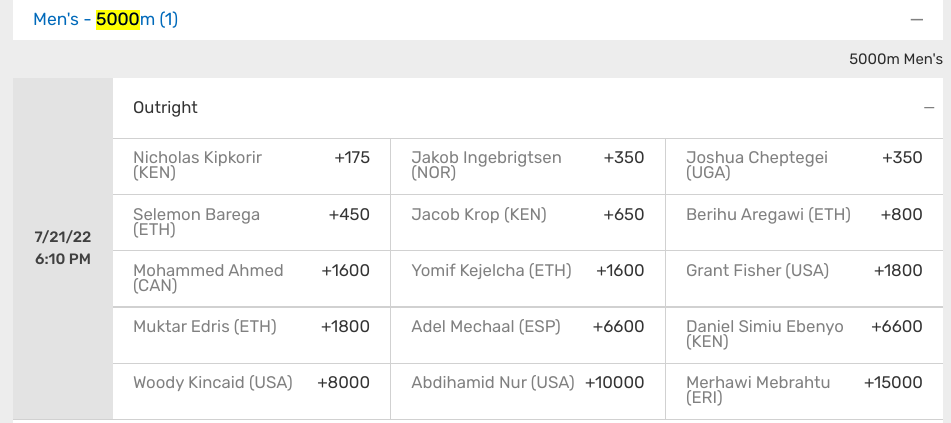 If you're going to bet a heavy favorite, bet Ryan Crouser.
Crouser has never won Worlds and somehow lost World Indoors but we like his odds.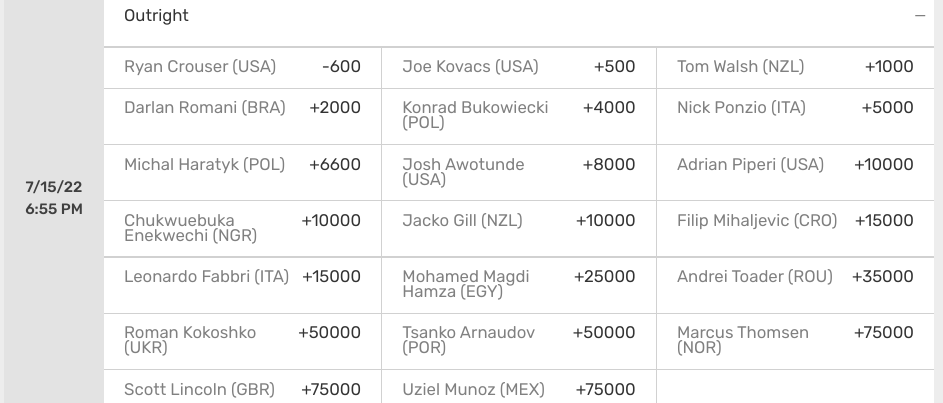 at least better than the women's hammer odds. Brooke Andersen is winning 8/9 times?

Note: We have no affiliation with DraftKings, but get a commission if you sign up through Bovada.
Reminder, play for free in our $200,022 Coros LetsRun.com Prediction Contest.