Setting the Record Straight: Sorry Malcolm Gladwell, But Matthew Centrowitz Absolutely Belongs in the Same Sentence as Nick Willis
In Fact, We Think Centrowitz Has Had The Better Career
By Jonathan Gault and Robert Johnson
June 1, 2022
Today is Global Running Day, and with that in mind, famed author and podcaster Malcolm Gladwell decided to do an email exchange with author and former Columbia University middle-distance runner David Epstein (The Sports Gene, Range) to discuss their favorite sport: running.
Both Gladwell and Epstein are friends of LetsRun.com (Gladwell appeared on the LetsRun Track Talk Podcast in 2020) and we enjoyed their conversation very much as the two discussed their favorite races, athletes, and places to run. But one paragraph from their exchange left us scratching our heads.
Epstein asked Gladwell to name his greatest runner ever, which turned into a debate into what constitutes the "greatest," with Gladwell saying he placed a greater value on longevity than peak performance. And then Gladwell unloaded a nuclear-grade take:
Explain to me why we believe that the person who is the best, for a moment, is somehow more worthy of our adulation than someone who is very, very good for a long time. Matthew Centrowitz won Olympic gold: he triumphed on the biggest stage in the world. But he doesn't even belong in the same conversation as, say, Nick Willis, who never won gold but nonetheless was a threat to win every big race he entered for a good 10 years.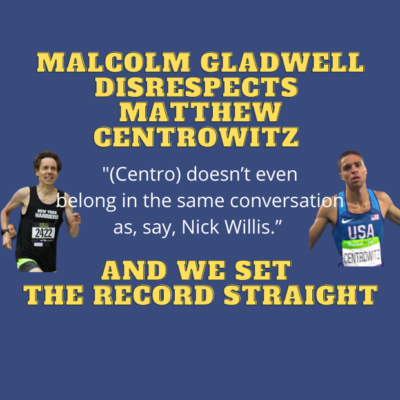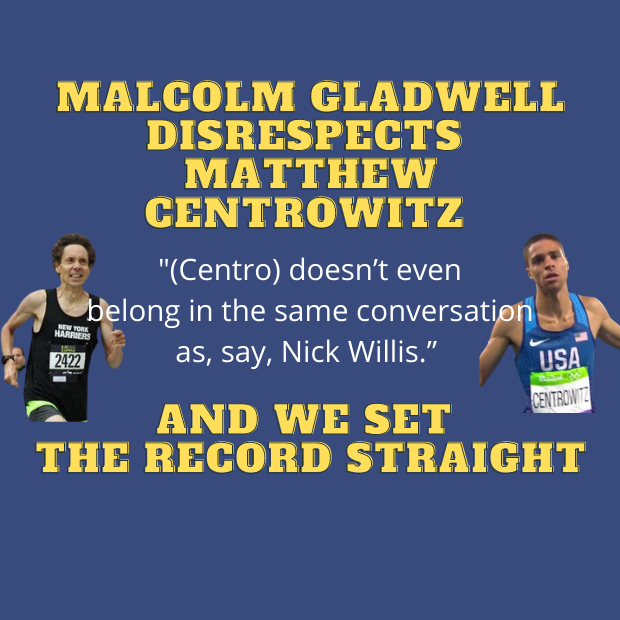 Sorry Malcolm, but that's ridiculous. Centrowitz absolutely belongs in the same sentence as Willis – the two have actually had very similar careers. And if we can only pick one of their careers to have, we are taking Centrowitz's. As for the statement "was a threat to win every big race he entered for a good 10 years," it's just as true – or untrue if we are being honest – of Centrowitz as it was of Willis.
Article continues below player.
If you're going solely by longevity, then yes, Willis has had a better career than Centrowitz – at least for now, as Centrowitz's career is not over. He's 32 while the 39-year-old Willis is, for all practical purposes, retired as an elite performer. Willis made five Olympic teams and while much has been made of his 20-year streak of sub-4:00 miles, the fact that Willis was able to run 3:36 at age 20 in 2003 and 3:35 at age 38 in 2021 is arguably even more impressive. But Centrowitz, who ran 3:34 and earned World Championship bronze as a 21-year-old in 2011 and ran a 3:49.26 mile in 2021 at 31, is hardly a flash in the pan.
Let's compare their careers

Head-to-head, they're very evenly-matched. Centrowitz and Willis have raced each other 21 times in their career, all in either the 1500 or the mile, and Willis has won 11 of those matchups to Centrowitz's 10. 
But not all races are created equal. When it comes to championship racing heat to head, Centrowitz has a better record. The two have raced in five global championship finals (2011 Worlds, 2012 Olympics, 2015 Worlds, 2016 World Indoors, 2016 Olympics) and Centrowitz beat Willis on four of those occasions, winning two golds and a bronze medal. And when you factor in championships where they didn't race each other, not too much changes. Wills earned a silver at the 2008 Olympics (Centrowitz didn't compete as he was still only 18 years old), while Centro earned a silver at the 2013 Worlds (where Willis was eliminated in the semis).
Willis also has three Commonwealth Games medals (gold in 2006, bronze in 2010 and 2014), but it's hardly fair to hold that against Centrowitz considering the US isn't part of the Commonwealth. Centrowitz won three US outdoor championships, no small feat considering he was at times going up against the likes of Olympic medalists Bernard Lagat and Leo Manzano. Centrowitz also won the biggest prize in the sport – Olympic gold – and has a more impressive medal haul than Willis. 
| | | |
| --- | --- | --- |
| Nick Willis | | Matthew Centrowitz |
| 11 | Global outdoor champs | 8 |
| 7 | Global outdoor finals | 6 |
| 2 (silver, bronze) | Global outdoor medals | 3 (gold, silver, bronze) |
| 3 | World Indoor finals | 2 |
| 1 (bronze) | World Indoor medals | 1 (gold) |
In his first five global outdoor championships, Matthew Centrowtiz finished in the top eight all five times and won three medals, one of each color. In Willis' first five global championships, he finished in the top 8 just once (silver in 2008). Centro clearly has the more impressive championship resume.
Nick Willis vs Matthew Centrowitz at Global Outdoor Champs
Nick Willis
Matthew Centrowitz
2004
semis
DNC
2005
semis
DNC
2007
10
DNC
2008
2
DNC
2011
12
3rd
2012
9
4th
2013
semis
2nd
2015
6
8th
2016
3
1st
2017
7
heats
2019
DNC
8th
2021
semis
semis
Looking at their personal bests, again it's very evenly matched. Willis has the edge in their main event, the 1500, as well as the 3000, but Centro has the edge in the 800 and mile and a big edge in the 5000.
| | | |
| --- | --- | --- |
| Nick Willis | Event | Matthew Centrowitz |
| 1:45.54 | 800 | 1:44.62 |
| 3:29.66 | 1500 | 3:30.40 |
| 3:49.83 | mile | 3:49.26 |
| 7:36.91 | 3000 | 7:40.74 |
| 13:20.33 | 5000 | 13:00.39 |
Who was the bigger threat to win "every big race"?
Now let's get to the last part of Gladwell's argument. He says that while Willis never won gold at a global championship, he "was a threat to win every big race he entered for a good 10 years." But is that actually true?
No. In his entire career, Nick Willis never won a single Diamond League 1500/mile or a global title, indoors or out. He was 0 for everything. If you are being generous, throughout his career, Willis was usually a very outside threat to win a big race (we'd say the same of Centro and he did win a very big one called the Olympics), but certainly a legitimate medal threat.
Since Willis is a Kiwi, many will say we should add in the Commonwealth Games as a "big race." He did win one of those — the 2006 1500 gold over former Michigan teammate Nate Brannen, who took the silver. The meet was in March and three Kenyans in the field – Jonathan Komen, Ismael Kombich, Churchill Kipsang – never represented Kenya at Worlds or Olympics. (Australia's Craig Mottram was also in the field and at the peak of his powers but fell at 800m and wound up 9th).
Centrowitz also never won a Diamond League (he won in London in 2018 but it wasn't a DL points event) and obviously never won a Commonwealth Games, but he did win two global championships, the 2016 World Indoors and 2016 Olympics (Willis earned bronze at both races). At the NCAA level, they won the same amount of big races, with one NCAA title apiece (2005 indoor mile for Willis, 2011 outdoor 1500 for Centrowitz).
And if you want to expand the category of "big race" to include the Wanamaker Mile – the biggest regular-season indoor mile for US-based pros – Centro gains a pronounced edge as he won that race three times, beating Willis in tight battles to the line in both 2015 and 2016. Willis, famously, never won the Wanamaker Mile in nine attempts.
Please don't think we're trying to disparage Nick Willis. Winning a Diamond League or a global title is really hard. But the idea that Willis was a threat to win every big race he entered while Centrowitz was not is nonsense. In fact, based on their career results, Centrowitz was more likely to win a big race than Willis.
On the whole, we give a slight edge to Centrowitz over Willis in terms of better career. Yes, mainly because of the Olympic gold, but each year, Track & Field News ranks the top 10 milers in the world. Centrowitz has been ranked in the top 10 five different times (8th in 2011, 5th in 2012, 8th in 2013, 10th in 2015, and 5th in 2016*). It's hard to believe but Nick Willis has made the top 10 just three times (3rd in 2008, 8th in 2015 and 7th in 2016). 
If you want a visual representation of the Centrowitz v Willis debate, please spend a minute watching the final 400 of the 2016 World Indoors as it sums up our feelings overall perfectly, 'It's close but Centrowitz FTW.'
What do you think? Tell us on our world-famous fan forum / messageboard.
MB: Malcolm Gladwell says Matthew Centrowitz "doesn't even belong in the same conversation as, say, Nick Willis." Do you agree?
*Yes, it's insane that TFN only ranked Centro 5th in a year when he won the World Indoor and Olympic titles.
More: For Global Running Day: A Conversation Between Malcolm Gladweel & David Epstein About Their Favorite Sport
*LRC Dec 2020: Gladwell appears as a featured guest on LRC's Track Talk podcast
Editor's note: This article was initially entitled without the 2016 World Indoor video and reference at the end.