2020 Tokyo Olympic Marathon Mini Preview: Can Kipchoge and Kosgei Add to their Legacies? Who Will Challenge Them for Gold in Sapporo?
By Karl Winter
August 6, 2021
The marathon road race has been the capstone of the athletics program at the Olympics since the very first modern Games in Athens in 1896. And given that there has been only one World Marathon Major (London 2020) in the past 17 months due to the global pandemic, this Olympic marathon is even more unpredictable than usual. One thing certain about the men's and women's races is that we have a favorite in each: the respective world record holders, both from Kenya — Eliud Kipchoge on the men's side and Brigid Kosgei on the women's side. There are questions about both and who will challenge them for gold.
At the 2020 Tokyo Olympics, there is another twist: the race is not in Tokyo. Instead, it will be held in Sapporo, a city known more for its beer and winter sports than running history. The Olympic marathon is often held in very hot conditions (Francisco Lazaro died during the 1912 edition), which makes it a war of attrition, but this is the first time the race has been moved to another city as the result of the heat. Despite the move, the heat will be a factor in the outcome. More on the conditions and top athletes in both races below.
Article continues below player
Race Times
Women's marathon: Saturday, August 7, 6 a.m. Japan time (Friday, August 6, 5 p.m. US Eastern)
Men's marathon: Sunday, August 8, 7 a.m. Japan time (Saturday, August 7, 6 p.m. US Eastern)
The Course
The International Olympic Committee announced the move of this race from Tokyo to the city of Sapporo in October 2019. Sapporo, which hosted the 1972 Winter Olympics, lies more than 500 miles north of Tokyo, on the northern Japanese island of Hokkaido. 
The course begins and ends in Odori Park in the center of the city as runners will travel two laps around the park for the first two miles. It then travels south through urban areas on a large loop, nearly a half marathon in length. Then the race navigates through two 10k loops on the northern part of the course, overlapping with the large loop, so runners will weave through the campus of Hokkaido University three times. The minimal "hills" are long inclines and bridges, mostly in the first 10k, and should not have an effect on the race, unlike the hilly US Olympic Marathon Trials in Atlanta. The urban setting and trees should offer some relief from direct sunlight during the races.
A full course video with a map and elevation profile can be found here.
The Conditions
Despite the effort to make this race less of a sufferfest by moving it to Sapporo, it is going to be incredibly warm. In fact, race organizers moved the start of the women's race up by an hour, to 6 a.m. local time, to combat the heat.
The forecast on DarkSky calls for 75 degrees and clear at the beginning of the women's race, with 85% humidity and a dew point of 70, with the temperature climbing to 81 ("feels like" 85) by 9 a.m. The forecast for the men's race is better because it includes clouds and chance of rain: 74 degrees with 89% humidity at race time, 79 with 82% humidity by 9 a.m. (feels like 82). The forecasts for Tokyo are mostly the same, if not better. 
The conditions in Rio in 2016 were also warm, but not quite this warm. It resulted in a slow opening half in the men's race, but the women's race was not particularly conservative. These conditions will not be pleasant but the course seems to be quick.
Women's Race Contenders
The favorite: Brigid Kosgei
Kosgei is riding a four-marathon win streak, including her outrageous 2:14:04 world record in Chicago in 2019. The 27-year-old Kenyan won London 2020 by more than three minutes. She's been the best woman in the world in the marathon since late 2017. However, she was only sixth in a half marathon in Istanbul in April (66:01), so she may be vulnerable. She will also have to deal with some stiff competition.
The other Kenyans: Peres Jepchirchir and Ruth Chepngetich
Jepchirchir and Chepngetich are as good of teammates as Kosgei could ask for, with very quick personal bests and championship racing experience. They are the world record holders in the half marathon — Jepchirchir has the women's-only record of 1:05:16 and Chepngetich has the mixed-race record of 1:04:02, marks set in October 2020 and April 2021, respectively. Jepchirchir, 27, is a two-time world half marathon champion and is also coming off the best marathon of her life, a 2:17:16 to win Valencia in December 2020. She has not raced since. The 26-year-old Chepngetich is the reigning world champ, winning in the brutal heat of Doha in 2019, and she has a 2:17:08 pb (#4 all time). Any member of the Kenyan team is a threat to take the gold and back up Jemima Sumgong's gold from Rio (reminder that Sumgong was popped for doping less than a year later).
The Ethiopians: Tigist Girma, Birhane Dibaba, and Roza Dereje Bekele
The Ethiopian squad is not as stacked as Kenya's, but still formidable. Girma has run 2:19 on two separate occasions and won the 35k Ethiopian trials race in May, but she has never finished better than fifth in a major marathon. 27-year-old Dibaba one-ups Girma in terms of history, as she has run 2:18 on two separate occasions (Valencia 2019 and Tokyo 2020) and also won Tokyo in 2015 and 2018. The young gun Bekele (23 years old) won Valencia in a very quick 2:18:30 in 2019 and also won Dubai in 2018 but doesn't have the same half marathon speed as some of the other women in the field (66:01 pb).
The recent star: Lonah Chemtai Salpeter
When Kenyan-born Salpeter began representing Israel in 2016, she ran 2:40:16 and 1:14:11 in her first marathon and half marathon, respectively — not exactly inspiring marks for a 27-year-old. Salpeter has gone nowhere but up since, running 2:17:45 (#6 all time) to win Tokyo in 2020, plus 2:22:37 to win in Israel in March. The 32-year-old dropped out of the Rio marathon five years ago and has a chance for redemption now.
The elder stateswoman: Helalia Johannes
Namibian athlete Johannes is 40 years old but coming off two incredible runs the past two years: a bronze medal in a hot race at Worlds in 2019, and her first and only sub-2:20 performance, a 2:19:52 to take third in Valencia in 2020. She was 56th in Rio and has raced only once since Valencia, but sub-2:20 makes you worth keeping an eye on.
The home nation heroes: Mao Ichiyama and Mizuki Matsuda
The 24-year-old Ichiyama has run 2:20 and 2:21 in Japan in the last two years, plus won the Sapporo Half Marathon in May. Matsuda also ran 2:21 twice in Japan in the last two years and was second in Sapporo. Both are two of the few athletes (men or women) with experience racing on the actual course.
The Americans: Aliphine Tuliamuk, Molly Seidel, and Sally Kipyego
The American trio are not really contenders to medal but each is a good story to root for. Tuliamuk gave birth to a daughter between the Trials and the Olympics, Seidel has run only two marathons in her life (both in 2020), and Kipyego is looking to return to the Olympic podium after getting a silver in the 10,000 in 2012.
Men's Race Contenders
Our audience likely has two main questions about the men's race:
Can Galen Rupp, one of the best American distance runners of all time, win a medal, particularly the gold medal?
We spent a whole article answering that question. Check it out here.
Will Eliud Kipchoge, the undisputed greatest marathoner of all time, add to his legacy and successfully defend his Rio gold?
Kipchoge seeks to become the third man to win this race twice (Abebe Bikila and Waldemar Cierpkinski, who is widely believed to have been part of the East German doping machine, are the others). Even if the 36-year-old fails to win, his resume makes him easily the marathon GOAT: world record of 2:01:39 in Berlin in 2018, 1:59:41 in a time trial, 10 straight victories over the course of five years. An unprecedented degree of consistency and dominance. However, Kipchoge lost his most recent major marathon, finishing eighth in a rainy race in London in 2020 in 2:06.49 and blaming an "ear blockage." He ran 2:04:30 to win in the Netherlands in April, but there is no telling whether he has finally lost his touch or if London was an anomaly.
Outside of Kipchoge and Rupp, here are some other men to watch:
The Ethiopians: Shura Kitata, Sisay Lemma, Lelisa Desisa
While the Ethiopian trio does not include the greatest male distance runner of all time, Kenenisa Bekele, who did not start the Ethiopian trials race on May 1, it contains a group of men who are fit and accomplished. Kitata is on a roll and is a major threat to win here — the 25-year-old won the 35k race at the Ethiopian trials and won London in 2020, both in narrow finishes, so he has the hot hand. He brings PRs of 2:04:49 (London 2018) and 59:47 (Houston 2020) into the race. Desisa, the 31-year-old reigning world champ, had a poor race in Valencia in late 2020 (2:10:44 for 35th) but holds a pb of 2:04:45 (Dubai 2013) and was only three seconds behind Kitata at the trials race. His win at Worlds in 2019 is also a good sign for this race, as the conditions in Doha for that race were also toasty. Lemma, 30, has never won a major marathon but has the fastest pb of the three at 2:03:36 from Berlin 2019, making him the 14th-fastest man of all time. All three of these men could contend for gold.
The other Kenyans: Lawrence Cherono and Amos Kipruto
Cherono (33) and Kipruto (28) are both 2:03 guys, as they slot in at #8 and #12 all-time, respectively. Cherono won Boston and Chicago in 2019 and Kipruto took the bronze at Worlds in 2019 behind Desisa and Mosinet Geremew, but more importantly, both looked good in their most recent race. Cherono and Kipruto were second and fourth in Valencia in December 2020, respectively, both running their PBs. We haven't seen either man race in the past nine months, but you cannot fake 2:03. Expect them to work with Kipchoge and push him.
The home nation hope: Suguru Osako
US-based Osako is the best hope for marathon-obsessed Japan. He broke his own national record with a 2:05:29 run at the Tokyo Marathon in 2020, finishing fourth (though that record has since been broken), and was also third in Chicago in 2018. He ran 1:01:16 for a half marathon in Oregon in October 2020 and also went 27:56-29:04 in back-to-back 10Ks in May.
The underdog: Bashir Abdi
An underdog to watch, 32-year-old Bashir Abdi is not the fastest guy in the field, but the Somali-Belgian ran a personal-best 2:04:49 in Tokyo in March 2020, finishing second and beating Lemma. He has improved in each of his four career marathons and also ran 27:24 in the 10k this year, an Olympic-qualifying mark (though he didn't run the 10k in Tokyo).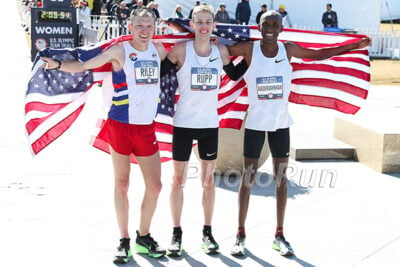 The other Americans: Jake Riley and Abdi Abdirahman
Believe it or not, the United States has the most total medals in this event with eleven. Neither Jake Riley nor 44-year-old Abdi Abdirahman have a high likelihood of getting near the podium, as neither has raced well since the Marathon Trials in February 2020, but they aren't lacking in confidence. We spoke to Riley last week and he said he is the fittest he's ever been and he has no intention of playing it safe. Abdirahman, injured for most of 2020 after the Trials but healthy now, said the weather is "the great equalizer" and that he likes championship-style races with no pacers.
Conclusion
Ethiopia and Kenya dominate the marathon worldwide (combined they have the top 26 performers of all time on the men's side, and 16 of the top 18 on the women's side) and both nations have very strong teams entered here. However, this is the Olympic marathon, not a time trial.
Between the heat, lack of preparation races in the past 18 months, and nature of the championship race, these marathons are unpredictable as ever. It's likely that people who were not even mentioned here make the podium.
Given that these events are in prime time in the United States, you have no excuse not to tune into the action and watch the drama play out.