Excellent Book on the Mental Side of Running and Racing: Running Within
by Weldon Johnson
updated: February 7, 2020
update: 2/7/20 : I wrote this review originally in  2000 but it deserves to be front and center. I credit the book for helping lower my 10k PR from 29:49 to 28:27 in one race. Considering how much time we all spend running, spend a couple of hours reading this book and hopefully it will help your training and racing.
There are literally hundreds (if not thousands) of books on the market about how to train smarter, better, harder, or what have you. Some of them are quite good, and some of them quite bad. However, these books often neglect one of the key aspects of running and that is its mental component. And that's where Running Within: A Guide to Mastering the Body-Mind-Spirit Connection to the Ultimate Training and Racing comes in.
Article continues below player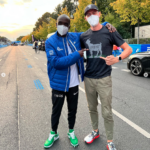 Kipchoge loves the 1:59:40 Shirt Get Yours Today
What a legend!
This book is designed for all runners from the novice runner to the elite athlete, and I think everyone who reads it will benefit tremendously. The book is designed to enable the reader to take his or her running to the next level, not only by giving concrete tips to mentally help one race faster, but also by helping one enjoy his or her running more, by exploring running's spiritual side and understanding the reasons we do run. As the authors state in the introduction, "Running Within uniquely presents the reciprocal relationship among the physiological, mental, and spiritual aspects of running performance, and how you can use specific mental exercises and attitudinal shifts in your daily training and racing to great advantage".
Spiritual Running
Although many of us run for physical reasons (i.e. to say fit, to lose wait, to get faster, to win races), those of us who truly enjoy running recognize what it does for us mentally. Not only the ability to clear our minds at the end of a tough day, but the ability to explore and learn about ourselves, as we transform preconceived notions about ourselves.
One intent of the book is to connect runners with the spiritual side of running. It wants to help them explore fully the reasons they run. The book explains that often the concrete goals we have in running (i.e. I want to run a certain time in a certain race, be All-State, finish a marathon) are not what give us joy from running. Rather, it's the steps we take along the way to reach these goals that make running so enjoyable. By better understanding our motivations for running, we can not only get more enjoyment out of running, but can learn how to run faster.
Running faster
And the book definitely can helps us run faster. Those who like to say that running is 99% physical are missing the point. Sure we can not run beyond our bodies' limits, or use mental tricks to make up for not training. But often the limits we set upon ourselves are self-imposed limits. One of the greatest things about running is the self discovery and self-confidence that comes from getting our body to do what once seemed impossible.
Running Within has excellent advice on goal setting and the type of goals we should set. It helps us set goals that push beyond our self-imposed barriers, but at the same time makes sure these goals do not end up discouraging us because they are too unreasonable.
But as all runners know, goal setting is not enough because the toughest part of running is the battle of mind versus body during a race or tough workout. No matter what kind of shape we are in physically, there comes a point in a race when our bodies start to feel that they've had enough. As the race or workout progresses, the urges to back off a bit, slow down, or quit altogether grow. If one is able to recognize these urges and overcome them one can come closer to reaching his or her physical potential.
To overcome these urges to quit, Running Within helps its readers come up with the self-confidence necessary to achieve their goals and not give in to the urges to quit. It provides a mental framework on how to approach races and workouts and has many practical strategies for dealing with fatigue, racing, race strategies, and the like.
But all of these things combined would still leave a lot of our potential untapped. For one of the keys to racing fast is a bit paradoxical, and that is to learn to relax. It seems impossible to do, to relax while the body is using all of its resources to struggle. But Running Within teaches us ways to relax while straining, and shows us the tremendous physiological benefits that come from relaxing.
Summary
I recommend this book wholeheartedly. Most sports psychology books are full of many tips and tricks to help us perform better, but there is often little foundation to tie the things together. Ultimately, these books fail because they are not much more than a list of things to try. This book is different for while it does list many tips that are useful, it only does so after providing a larger framework to tie them together. The overall theme is the "body-mind-spirit" connection of running. With this framework, the book helps us explore the reasons why we run and what we get from our running. Once we have a better understanding of these things or are at least are aware of them, the books builds upon them and very effectively makes us get more from our running (and become better racers if that's our goal).
On a personal note, I credit this book with as being instrumental to my improvement this year (my 10k time went from 29:49 to 28:27). I am intrigued by the mental side of running and knew there was a lot more I could learn. However, at the same time, I've always been very skeptical of a lot of the "pop-psychology" and sports psychology books on the market. This book pleasantly surprised me and should be on the book shelves of all runners.
Click here to order Running Within