by LetsRun.com
November 26, 2020. Updated November 27.
To celebrate the Holiday Season, we have a special offer for all LetsRun.com Visitors in the US.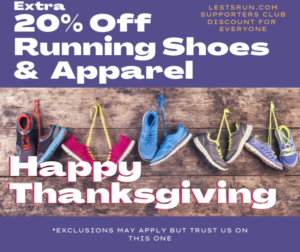 Our partner Pacers Running had decided to give all LRC visitors – not just our VIP Supporter's Club members – 20% off (if something is already on sale, it's an extra 20% off) – virtually everything they sell.
Save an extra 20% on nearly everything at Pacers Running with code LETSRUN20 at checkout. Click here to start shopping.*
11/28 Update you might be disappointed in: HOKA shoes are now excluded from the offer. 
*Some exclusions apply.
Offer valid on retail only (no events), not valid on previous purchases. Cannot be combined with other offers. Not valid on certain models from Adidas, Asics, Brooks, Hoka, Garmin, Nike, New Balance, Theragun, and other vendors.
Pacers Running is one of the leading specialty running stores in the US.
Want a LetsRun.com Shirt? Click here and use code LETSRUN20 to save 20%:

Want discounts like this more frequently? Join the LetsRun.com Supporters Club (SC). SC members get exclusive discounts on running shoes, and gear all the time, plus exclusive LetsRun.com content, a private forum and a lot more. Supporters Club memberships are 25% off this weekend with a free t-shirt for annual members.
New Shirt for Black Friday
In honor of Black Friday, today we have unveiled a new tshirt design – the black 1:59:40 asterisk shirt.
If you think the new shoe tech is not a good thing and has taken us into a new dark era as it has resulted in all road racing times become historically meaningless, then this black 1:59:40* shirt is for you. Check out the  1:59:40* shirt here.