Des Linden on the Olympics, Her Running Future, & the Great Shoe Debate: "It's an Arms Race and It Should Be a Footrace."
By Jonathan Gault
October 31, 2019
NEW YORK — Des Linden has, at 36, reached a point in her career where she doesn't give a f—.
That mindset doesn't apply to her races — she still grinds through each marathon segment with the diligence it deserves — but she is no longer bound by the structures that guided the majority of her professional life. That's one of the luxuries of age, experience, and the accomplishments that have defined Linden's career.
Article continues below player
Linden could have retired this spring a legend of the sport in the United States: two Olympic teams, nine top-five finishes at World Marathon Majors, and the crown jewel, a win at the 2018 Boston Marathon. But she chose to press on, motivated by what excites her, rather than what is expected of her. Her Boston win gave her the freedom to leave behind the Hansons-Brooks Distance Project and go solo, returning to college coach Walt Drenth. Now in her fourth Olympic cycle, she goes into every marathon knowing that it could be her last. If she runs another it is because she wants to — not because it's the best way for her to prepare for the Olympic Trials or the Games themselves.
"It is a different mentality where you don't put down a race four years out and work backward," Linden says.
As one of professional running's elder stateswomen, Linden isn't afraid to share her opinion on the sport's most pressing issues, either. During the course of 33 minutes with the press today ahead of Sunday's TCS New York City Marathon, Linden put a voice to the concerns facing many athletes sponsored by shoe companies other than Nike, and thus unable to run in Vaporflys, the chunky-soled neon racing flats that have changed the sport of marathoning.
Asked whether there was a level playing field in the sport right now facing Nike athletes in Vaporflys, Linden, who remains sponsored by Brooks, did not equivocate.
"No. I think every company has a different pace that they're working at. So, we're all obviously behind to begin with."
More on that in a minute, but let's remember the purpose of Linden's visit to New York. She is running marathon #19 of her career on Sunday, and both Linden and her agent Josh Cox believe she is very fit right now, despite an awful showing at the Rock 'n' Roll Philly Half in September (76:08, the slowest half marathon of her career by over three minutes).
"Everything went wrong in Philly," Linden said, adding that she picked up a minor hamstring injury before the race. "I had an amazing segment as a whole…I had one bad day, it was just a very public bad day."
Linden is ready to roll in New York and holding off any decisions on retirement until after the race. It all depends on how her body recovers. If she feels she can produce a performance to be proud of, she'll be on the start line at the Olympic Trials in Atlanta in February.
"It will be, do I have the ability to compete on the roads and be proud of how I'm competing?" Linden says. "And is it something that is showcasing all the hard work — is this really paying off anymore? And when I feel like I'm putting too much in and I'm not getting results that I'm happy with or appreciating, I'll switch to the trails or the ultras or something different."
Now about those shoes: Linden has mixed feelings.
"It's exciting times, but it's confusing as well," Linden says.
Exciting because Nike has spurred innovation across the sport. Linden won Boston last year in Brooks prototypes and her shoes at NYC last fall featured a carbon fiber plate, one of the Vaporflys' key features.
"As a Brooks athlete, it's been fun seeing them respond and say, 'OK. Let's get in the game. Let's make something awesome' and not 'Let's play catch up.' They are in the lab going, 'Let's be better. Let's be the best.'"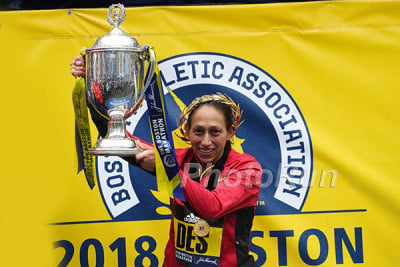 All that innovation has led to the fastest times the sport has ever seen, but Linden says that one of running's great appeals — the ability to compare times across eras — is more complicated than ever.
"It's really cool to see some records being broken, but you have to put them into perspective. It's a little frustrating to see people from the past being bumped off lists [because] they didn't have access to [certain shoes]. From the history and the historical point of view, we just have to educate people and make sure that [they know] something different is happening right now.
"It's also frustrating that someone can have an amazing race and we go, 'What are they wearing?' It's not just the athlete anymore. It's not just the conditions. It's what shoes are they in. It adds an element that we have to consider afterward. There's just a lot of questions right now."
Linden has asked herself some of those questions when she thinks about the 2016 Olympic marathon. Linden finished 7th in that race (the top two finishers have since been suspended for doping violations), one place and 42 seconds behind Shalane Flanagan, who was wearing a prototype version of the Vaporflys.
"The hard part for me is thinking about 2016 and 2017, where you didn't know what you were competing against," Linden says. "At the Trials, we didn't even know that they had that. That's frustrating. Then you go to the Games and you don't know that's what you're competing against.
"I walked away and talked to some Brooks people afterward. I believe only Shalane and Amy [Cragg, who finished 9th] had them at that point for the women's side. I remember thinking that Shalane ran her best marathon ever. I thought the way she handled herself the last six miles, the way she closed out the race was really incredible. I don't want to take anything away from that performance and I don't know what the shoe was at that point but I walked away thinking that was pretty impressive. She got better from there. I'm really not sure. It's just a question mark. She won New York [in 2017] and has done a ton of great stuff. I don't know if it was the shoes or not, but she's still an incredible athlete."
When Linden races on Sunday, she won't be thinking about any of those things. Linden isn't favored to win — on paper, it's a two-horse race between four-time champ Mary Keitany and budding Ethiopian star Ruti Aga — and neither of Linden's biggest rivals for top American honors, Sara Hall and Kellyn Taylor, will be racing in Vaporflys. But the shoe questions aren't going away. Linden hopes that one day, they will.
"It is an arms race and it should be a footrace. We should find out who the best athlete is and who can cover 26.2 better than the other person – not who has the newest or greatest technology."
Full Des Linden pre-NYC Marathon interview
Discuss: Des Linden speaks out – shoes, Rio 2016, Tokyo2020, Shalane Flanagan & more "It's an Arms Race and It Should Be a Footrace"