$18,000 In Prize Money Plus Nick Willis Will Be At Saturday Night's Guardian Mile In Cleveland
2019 GOH Run Guardian Mile Press Release
August 16, 2019
The Guardian Mile – which takes place Saturday night in Cleveland – was the brain child of Rae and Don Alexander of Strongsville, whose son, Colby, is a professional runner for the Hoka One One NJ*NY Track Club and has run elite road miles in numerous cities (he finished fourth in last year's inaugural Guardian Mile Elite race). Rae founded GOH Run, a 501(c)(3) that puts on the race and provides additional running programs for NE Ohio throughout the year, with a specific focus on youth programming in 2018. Her son Andy Alexander, Ken Sullivan, Jeff Sigmund and Joe Maduri are the other board members. Rae serves as executive director of GOH Run and race director of the Guardian Mile.
Organizers and competitors were incredibly happy with how the race went last year. Most community road miles take up to two years of planning to pull off, the Guardian Mile came together in roughly ten months. Community runners and elites alike raved about the organization and unique course (two-time Olympic medalist Nick Willis did so on his personal Twitter account). Our elite fields were internationally competitive and we had almost 350 registered runners.
Article continues below player
We expect similarly competitive elite fields this year and growth in our community races. We should end up with somewhere between 400 and 500 runners in total. We are also excited about a more elaborate partnership with Platform Beer Co. (collaboration release and post-race party after the race) and Under Armour coming on board as our apparel sponsor. Also new this year is a First Responders Division within the Community heat, with both individual and team awards. This division is sponsored by the Western Reserve Fire Museum located near the race finish.
The Guardian Mile is actually a series of races. The Under Armour High School and Youth Heat is followed by the Ohio Sports Chiropractic & Rehab Community Heat (with first responders division included as mentioned above) and the Deloitte / Tom C. Loepp Law Competitive Masters Heat. The Monticello Associates Elite Heats (Women's and Men's) conclude the evening. For a full schedule visit www.gohrun.org/themile.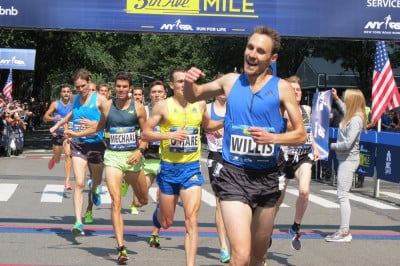 Quote from our elite athlete coordinator and 3-time Olympian Nate Brannen on our elite fields:
"The goal of the Guardian Mile has always been to provide an amazing race, great experience and bring in the top Local, National and International Elite athletes to provide the crowd an experience like they may have never seen before. The chance to see a sub 4-minute mile in person is very rare and something definitely worth coming out to witness. After such a successful first year in 2018, we knew we needed to step up the game in order to continue growing the event and experience for the runners and spectators. This includes increasing the prize money and also continuing to bring in the top milers around."
We now have $18,000 in total elite prize money and an additional $1,000 in prize money in the community races. The 2018 Monticello Elite Men's and Women's champions, Nick Willis and Emily Lipari, are back to defend their titles. While Willis (3:49 personal best) is the only Olympian in this year's field, he should face a stiff challenge from Kyle Merber (3:54 mile personal best) and 9 other athletes who have broken 4 minutes in the mile. Willy Fink is a sub-4 miler from Maumee, OH in the elite field. Ian Pierson, a rising sophomore at John Carroll from South Range, OH, will attempt to hold my his own with the elite field. On the women's side, Lipari will mix it up with Shannon Osika (4:25 mile best), Amanda Eccleston (4:25), Heidi See (competed at the 2015 World Championships for Australia – 4:31 PB), and Therese Haiss (Solon native with a personal best of 4:34). 4 women in the field have run under 4:30 in the mile and 7 have broken 4:40.
Mens Field
Name – Club/ Agent – College – Mile/ 1500 PR – Country
Nick Willis Adidas University of Michigan 3:49.83/ 3:29.66 New Zealand
Kyle Merber Hoka/ NJNY TC Columbia University 3:52.22/ 3:34.54 USA
Craig Huffer Adidas/ Very Nice Track Club /Adams State College 3:57.81/ 3:36.35 Australia
Daniel Winn University of Oregon 3:56.73/ 3:37.56 USA
Mac Fleet Total Sports, US University of Oregon 3:56.77/ 3:38.35 USA
Willy Fink VT Elite Eastern Michigan University 3:57.69/ 3:41.90 USA/ Ohio
Travis Mahoney Hoka/ NJNY TC Temple University 3:57.86/ 3:41.25 USA
Vince Ciattei Total Sports, US Virginia Tech University 3:58.36/ 3:40.27 USA
Nick Harris University of Colorado 3:58.55/ 3:39.04 USA
Wuoi Mach Dathan Ritzenhein Grand Valley State University 3:59 South Sudan
Louis Falland Dathan Ritzenhein Cornerstone College 4:01.40/ 3:43.14 Australia
Morsi Rayyan University of Michigan 4:02/ 3:46 USA
Ian Pearson John Carrol University 4:12/ 3:55.30 USA/ Ohio
Women's Field
Name – Club/ Agent – College – Mile/ 1500 PR – Country

Shannon Osika Nike University of Michigan 4:25.47/ 4:06.17 USA
Amanda Eccleston Brooks University of Michigan 4:25.64/ 4:03.25 USA
Emily Lipari Adidas Villanova University 4:28.84/ 4:05.68 USA
Steph Schappert NJNY TC Villanova University 4:30.07/ 4:09.41 USA
Heidi See Nike Iona College 4:31.74/ 4:08.15 Australia
Anna Shields Central Connecticut State 4:29/ 4:12.30 USA
Samantha Murphy The Mission TC University of Oregon 2:02.10/ 4:19.87 Canada
Therese Haiss Adidas/ The Mission TC University of Arkansas 4:34.54/ 4:14.44 USA
Jamie Phelan Go Blue Elite TC University of Michigan 4:44.43/ 4:11.92 Canada
Maddie Alm University of Colorado 4:13/ 15:41 USA
Talk about the race on the LetsRun.com forum: MB: Official 2019 Guardian Mile Discussion Thread – Nick Willis + $18k in Prize Money – Saturday Night in Cleveland