Notes And Stats From The 2017 NYC Marathon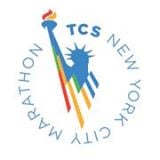 November 05, 2017
New York, November 7, 2017—There were a total of 50,766 finishers at the 2017 TCS New York City Marathon on Sunday, November 5, making it the largest marathon in the world this year, it was announced today by New York Road Runners.
Below are some highlights and statistical information from the 2017 race.
The Field
Article continues below player
Note: All finisher numbers and results are unofficial pending race results review. Final official results will be released later this month. This data is based on registration information provided by individual runners.
51,307 starters
50,766 finishers
29,678 male finishers
21,088 female finishers
139 countries represented
50 states plus the District of Columbia and Puerto Rico represented
Oldest male runner: Manfred Ritter, 82, Liechtenstein,

5:25:27

Oldest female runner: Ginette Bedard, 84, New York,

6:12:53

1,176,542 total New York City Marathon finishers all-time (47 total, 1970-2017)
Winners
Male open race winner: Geoffrey Kamworor, 24, KEN,

2:10:53

It marked his first marathon win after seven attempts
Six countries represented in men's top-10 finishers, tied for most diverse Abbott World Marathon Majors race of 2017
Female open race winner: Shalane Flanagan, 36, USA,

2:26:53

First American women's winner in the open division since 1977
Second-fastest performance ever by an American woman in New York in the open division (Kara Goucher)
Three American women ran under

2:30:00

, the most in race history (Shalane Flanagan, Allie Kieffer, Kellyn Taylor)
Six countries represented in men's top-10 finishers, the most diverse Abbott World Marathon Majors race of 2017
Male wheelchair race winner: Marcel Hug, 31, SUI,

1:37:21

Second consecutive and third overall victory in New York
Female wheelchair race winner: Manuela Schar, 32, SUI,

1:48:09

First TCS New York City Marathon victory after finishing as runner up the last three years
First time ever the pro wheelchair division winners have both been from the same country – a Swiss sweep
Top American finishers:

Men's Open Division: Abdi Abdirahman,

2:12:48

, 7th place overall
Women's Open Division: Shalane Flanagan,

2:26:53

, 1st place overall
Men's Wheelchair Division: Brian Siemann,

1:44:18

, 12th place overall
Women's Wheelchair Division: Tatyana McFadden,

1:51:02

, 2nd place overall
American marathon legend Meb Keflezighi raced the 26th and final marathon of his professional athlete career:

Wearing bib No. 11, he raced his 11th New York City Marathon, finishing in 11th place in

2:15:29
Winners of the Rising New York Road Runners Youth Invitational at the TCS New York City Marathon (1.66 miles):

Nolan Defreitas, 16, New York, NY,

8:17

Rainn Sheppard, 11, New York, NY,

9:02
Celebrities and Notable Personalities
Daniel Humm,

3:12:10

, Chef and restauranteur, seven-time James Beard Foundation Awardee, recipient of three Michelin Stars, and owner of the recently reopened No. 1 restaurant in the world (Eleven Madison Park)
Kevin Hart,

4:05:06

: American actor, comedian, writer and producer
Tiki Barber,

4:38:15

: All-time rushing leader for the New York Giants, co-host of Tiki and Tierney on CBS Sports Radio, and founder & chairman of Thuzio, Inc.
Prince Royce,

4:39:30

: Multiple award-winning singer, songwriter and co-star of the Fox live musical broadcast of "The Passion"
Yasir Salem,

4:41:33

: Competitive eating ultra-endurance athlete, ranked No. 12 in the world by Major League Eating, 8-time Tour de Donut champion and six-time Nathan's famous hot dog eating contest finalist
Karlie Kloss,

4:41:49

: American fashion model and entrepreneur, former Victoria Secret model
Kathrine Switzer,

4:48:21

: Pioneer marathon runner, author, TV commentator, known for becoming the first woman to run the Boston Marathon as a numbered entry
Sam Ryan,

4:49:51

, MLB Network sportscaster
Richard Blais,

5:15:16

: Chef, television, personality, restaurateur and author
Candice Huffine,

5:43:03

: Fashion model, designer and body activist
Carole Radziwill,

6:42:06

: Best-selling author, award-winning journalist and star of Bravo's "The Real Housewives of New York City"
Grand Marshals
Five New York City students, one from each of New York City's five boroughs, served as the 2017 TCS New York City Marathon Grand Marshals, riding in the Grand Marshal Vehicle with the TCS New York City Marathon Race Director, Peter Ciaccia and taking part in race-week festivities and the live broadcast. The Grand Marshals are all participants in Rising New York Road Runners, a free youth fitness program launched by New York Road Runners at the start of the 2017-2018 school year.
Digital and Social Statistics
There were more than 1 billion impressions on social media accounts during race week Monday, October 30 to Monday, November 6), which is a 38 percent increase from last year. This includes 22 million impressions on Facebook, 687 million on Twitter and 295 million on Instagram during race week
The #TCSNYCMarathon was a trending topic on both Twitter and Facebook throughout the entire day; Snapchat had a reporter at the finish and in the mixed zone to capture live content
329,305 mobile app downloads as of 11/5/2017, a 4 percent increase from last year
Race-day Weather
Start: 57 degrees, 81% humidity, wind 6 mph
Finish: 56 degrees, 90% humidity, wind E 7 mph