Results: 2017 USATF Distance Classic Full Results – 2017 Oxy Results
by LetsRun.com
May 18, 2017
Full results for today's USATF Distance Classic – aka "Oxy" – are below.
Relive the meet here MB: Official 2017 Oxy Live Discussion Thread.
Article continues below player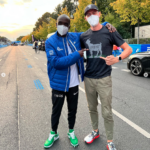 Kipchoge loves the 1:59:40 Shirt Get Yours Today
What a legend!
If you want to watch it on demand, you can subscribe to the NBC Gold pass for $69.99. Details here
Women's results first. Jump to men's result here.
Women's 800 (Section by section results here)
| Place |   | Athlete |   | Affiliation | Time |   |   | Sec (pl) |   |   |   |
| --- | --- | --- | --- | --- | --- | --- | --- | --- | --- | --- | --- |
| 1 |   | Brenda MARTINEZ |   | New Balance | 1:58.78 |   |   | 4 (1) |   |   |   |
| 2 |   | Adelle TRACEY |   | Nike | 2:00.35 |   |   | 4 (2) |   |   |   |
| 3 |   | Angela PETTY |   | New Zealand | 2:00.44 |   |   | 4 (3) |   |   |   |
| 4 |   | Cecilia BAROWSKI |   | Hoka Njnytc | 2:00.90 |   |   | 4 (4) |   |   |   |
| 5 |   | Chanelle PRICE |   | Nike | 2:02.13 |   |   | 4 (5) |   |   |   |
| 6 |   | Anneliese RUBIE |   | Puma / Wolfpack TC | 2:02.18 |   |   | 3 (1) |   |   |   |
| 7 |   | Georgia GRIFFITH |   | Sydney Running Academy | 2:02.32 (2:02.313) |   |   | 3 (2) |   |   |   |
| 8 |   | Jennifer SIMPSON |   | New Balance | 2:02.32 (2:02.315) |   |   | 4 (6) |   |   |   |
| 9 |   | Kenyetta IYEVBELE |   | Hoka One One | 2:02.44 |   |   | 2 (1) |   |   |   |
| 10 |   | Lora STOREY |   | Sydney Running Academy | 2:02.48 |   |   | 3 (3) |   |   |   |
| 11 |   | Hannah FIELDS |   | Brooks | 2:02.65 |   |   | 3 (4) |   |   |   |
| 12 |   | Hanna HERMANSSON |   | CalCoast Track Club | 2:02.82 |   |   | 1 (1) |   |   |   |
| 13 |   | Ce'Aira BROWN |   | Hoka Njnytc | 2:02.96 |   |   | 3 (5) |   |   |   |
| 14 |   | Lindsey BUTTERWORTH |   | Coastal Track Club | 2:03.00 |   |   | 3 (6) |   |   |   |
| 15 |   | Dominique JACKSON |   | Oiselle / Sra Elite | 2:03.17 |   |   | 2 (2) |   |   |   |
| 16 |   | Baylee MIRES |   | Brooks | 2:03.20 |   |   | 3 (7) |   |   |   |
| 17 |   | Grace ANNEAR |   | Vic City Elite | 2:03.36 |   |   | 2 (3) |   |   |   |
| 18 |   | Elizabeth WHELAN |   | University of Toronto | 2:03.64 |   |   | 1 (2) |   |   |   |
| 19 |   | Jenna WESTAWAY |   | Brooks Canada | 2:03.96 |   |   | 2 (4) |   |   |   |
| 20 |   | Alisha BROWN |   | Oiselle | 2:04.10 |   |   | 1 (3) |   |   |   |
| 21 |   | Selma KAJAN |   | Melbourne Track Club | 2:04.89 |   |   | 2 (5) |   |   |   |
| 22 |   | Helen CROFTS |   | Unattached | 2:04.92 |   |   | 2 (6) |   |   |   |
| 23 |   | Sarah BILLINGS |   | Sydney Running Academy | 2:05.05 |   |   | 1 (4) |   |   |   |
| 24 |   | Megan MALASARTE |   | Atlanta Track Club | 2:05.22 |   |   | 1 (5) |   |   |   |
| 25 |   | Kendra CHAMBERS |   | Texas Elite Track Club | 2:05.25 |   |   | 4 (7) |   |   |   |
| 26 |   | Samantha MURPHY |   | Unattached | 2:05.52 |   |   | 2 (7) |   |   |   |
| 27 |   | Shanie LANDEN |   | Slo middle distance | 2:05.76 |   |   | 1 (6) |   |   |   |
| 28 |   | Claudia SAUNDERS |   | Brooks | 2:06.59 |   |   | 2 (8) |   |   |   |
| 29 |   | Anna SILVANDER |   | New Balance | 2:07.18 |   |   | 3 (8) |   |   |   |
| 30 |   | Jessica SMITH |   | Nike | 2:07.87 |   |   | 2 (9) |   |   |   |
| 31 |   | Devan WIEBE |   | Brooks | 2:08.42 |   |   | 1 (7) |   |   |   |
| 32 |   | Shannon LEINERT |   | Brooks ID | 2:14.60 |   |   | 1 (8) |   |   |   |
|   |   | Lynsey SHARP |   | Great Britain | DNF |   |   | 4 |   |   |   |
Women's 1500 (Section by section results here)
Place
 
Athlete
 
Affiliation
Time
 
 
Sec (pl)
 
 
 
1
 
Sheila REID
 
Nike Oregon Track Club Elite
4:07.07
 
 
3 (1)
 
 
 
2
 
Shannon ROWBURY
 
Nike Oregon Project
4:07.17
 
 
3 (2)
 
 
 
3
 
Violah LAGAT
 
Adidas
4:07.66
 
 
3 (3)
 
 
 
4
 
Sasha GOLLISH
 
Oiselle/Skechers
4:07.70
 
 
3 (4)
 
 
 
5
 
Marta PEN FREITAS
 
Portugal
4:08.11
 
 
3 (5)
 
 
 
6
 
Gabriela STAFFORD
 
Brooks/University of Toronto
4:08.41
 
 
2 (1)
 
 
 
7
 
Sara VAUGHN
 
Brooks
4:08.61
 
 
2 (2)
 
 
 
8
 
Rachel SCHNEIDER
 
Under Armour
4:08.95
 
 
3 (6)
 
 
 
9
 
Emily LIPARI
 
Boston Athletic Association
4:08.98
 
 
2 (3)
 
 
 
10
 
Sara SUTHERLAND
 
Saucony
4:09.70
 
 
3 (7)
 
 
 
11
 
Alexa EFRAIMSON
 
Nike
4:10.12
 
 
3 (8)
 
 
 
12
 
Kim CONLEY
 
New Balance
4:11.18
 
 
3 (9)
 
 
 
13
 
Regan YEE
 
Langley Mustangs
4:11.31
 
 
2 (4)
 
 
 
14
 
Andrea SECCAFIEN
 
University of Toronto
4:11.47
 
 
3 (10)
 
 
 
15
 
Gabriele GRUNEWALD
 
Brooks
4:12.29
 
 
2 (5)
 
 
 
16
 
Eleanor FULTON
 
Skechers Performance / High Pe
4:12.43
 
 
2 (6)
 
 
 
17
 
Mariah KELLY
 
New Balance Canada
4:12.71
 
 
2 (7)
 
 
 
18
 
Laura ROESLER
 
Nike / Texas Elite Track Club
4:12.93
 
 
2 (8)
 
 
 
19
 
Stephanie SCHAPPERT
 
Hoka Njnytc
4:12.99
 
 
3 (11)
 
 
 
20
 
Sarah MACPHERSON
 
Vic City Elite
4:13.37
 
 
2 (9)
 
 
 
21
 
Natalja PILIUSINA
 
Brooks Beasts
4:14.09
 
 
2 (10)
 
 
 
22
 
Lianne FARBER
 
New Balance NorCal
4:14.51
 
 
2 (11)
 
 
 
23
 
Tori TSOLIS
 
Strava TC / rabbit
4:14.92
 
 
1 (1)
 
 
 
24
 
Dana MECKE
 
Brooks/Texas Elite Track Club
4:15.70
 
 
3 (12)
 
 
 
25
 
Kristen FINDLEY
 
Big Bear Track Club
4:15.89
 
 
1 (2)
 
 
 
26
 
Lucia STAFFORD
 
University of Toronto
4:16.45
 
 
1 (3)
 
 
 
27
 
Laurence COTE
 
Caul
4:17.69
 
 
1 (4)
 
 
 
28
 
Tracee VAN DER WYK
 
Unattached
4:18.56
 
 
1 (5)
 
 
 
29
 
Ayla GRANADOS
 
Strava TC / rabbit
4:18.64
 
 
1 (6)
 
 
 
30
 
Kendra POMFRET
 
Vancouver Thunderbirds
4:20.42
 
 
1 (7)
 
 
 
31
 
Hina TAKAHASHI
 
Nike Tokyo Tc
4:39.74
 
Women's Steeple (splits here)
| Place |   | Athlete |   | Affiliation | Time |   |   |   |   |   |   |
| --- | --- | --- | --- | --- | --- | --- | --- | --- | --- | --- | --- |
| 1 |   | Mel LAWRENCE |   | Oiselle | 9:40.20 |   |   |   |   |   |   |
| 2 |   | Marisa HOWARD |   | Oiselle | 9:40.40 |   |   |   |   |   |   |
| 3 |   | Alexina WILSON |   | Oiselle | 9:40.90 |   |   |   |   |   |   |
| 4 |   | Rachel JOHNSON |   | Asics | 9:42.50 |   |   |   |   |   |   |
| 5 |   | Maria BERNARD |   | Saucony Hurricanes | 9:45.01 |   |   |   |   |   |   |
| 6 |   | Megan ROLLAND |   | Oiselle | 9:48.46 |   |   |   |   |   |   |
| 7 |   | Erin TESCHUK |   | Asics Furman Elite | 9:53.83 |   |   |   |   |   |   |
| 8 |   | Jamie CHEEVER |   | Oiselle/Team Usa Minnesota | 9:59.26 |   |   |   |   |   |   |
| 9 |   | Kira GARRY |   | Unattached | 10:00.37 |   |   |   |   |   |   |
| 10 |   | Alicia NELSON |   | Boulder Track Club | 10:01.00 |   |   |   |   |   |   |
| 11 |   | Katie LANDWEHR |   | Unattached | 10:03.82 |   |   |   |   |   |   |
| 12 |   | Misaki SANGO |   | Unattached | 10:05.74 |   |   |   |   |   |   |
| 13 |   | Alycia BUTTERWORTH |   | Unattached | 10:05.83 |   |   |   |   |   |   |
| 14 |   | Lennie WAITE |   | Great Britain | 10:06.90 |   |   |   |   |   |   |
| 15 |   | Madelin TALBERT |   | Team Run Eugene | 10:17.57 |   |   |   |   |   |   |
| 16 |   | Erika BARR |   | Sra Elite | 10:21.04 |   |   |   |   |   |   |
Women's 5000 (splits here)
| Place |   | Athlete |   | Affiliation | Time |   |   |   |   |   |   |
| --- | --- | --- | --- | --- | --- | --- | --- | --- | --- | --- | --- |
| 1 |   | Laura WEIGHTMAN |   | Nike Uk | 15:08.24 |   |   |   |   |   |   |
| 2 |   | Natosha ROGERS |   | New Balance | 15:08.29 |   |   |   |   |   |   |
| 3 |   | Jessica O'CONNELL |   | Canada | 15:16.79 |   |   |   |   |   |   |
| 4 |   | Sarah PAGANO |   | Boston Athletic Association | 15:18.57 |   |   |   |   |   |   |
| 5 |   | Lauren PAQUETTE |   | Brooks | 15:19.73 |   |   |   |   |   |   |
| 6 |   | Amanda ECCLESTON |   | Brooks | 15:26.56 |   |   |   |   |   |   |
| 7 |   | Elaina BALOURIS |   | Unattached | 15:32.49 |   |   |   |   |   |   |
| 8 |   | Rachel CLIFF |   | Unattached | 15:35.80 |   |   |   |   |   |   |
| 9 |   | Alycia CRIDEBRING |   | rabbit / Sra Elite | 15:45.84 |   |   |   |   |   |   |
| 10 |   | Cally MACUMBER |   | Hansons-Brooks Distance Projec | 15:49.02 |   |   |   |   |   |   |
| 11 |   | Bethany SACHTLEBEN |   | Saucony Hurricanes | 15:52.44 |   |   |   |   |   |   |
| 12 |   | Samantha SILVA |   | Btc/Nike | 15:52.92 |   |   |   |   |   |   |
| 13 |   | Brenda FLORES |   | Corre Ac | 15:56.63 |   |   |   |   |   |   |
| 14 |   | Sandra LOPEZ |   | Mx International | 15:58.96 |   |   |   |   |   |   |
| 15 |   | Erica DIGBY |   | Vancouver Thunderbirds | 16:03.97 |   |   |   |   |   |   |
| 16 |   | Emma BATES |   | Boston Athletic Association | 16:12.74 |   |   |   |   |   |   |
| 17 |   | Natasha LABEAUD |   | Skechers/rabbit | 16:25.10 |   |   |   |   |   |   |
| 18 |   | Kate SPENCER |   | Sydney Running Academy | 16:36.28 |   |   |   |   |   |   |
| 19 |   | Maria LARSSON |   | Melbourne Track Club | 16:40.26 |   |   |   |   |   |   |
| 20 |   | Rosa FLANAGAN |   | New Zealand | 16:54.58 |   |   |   |   |   |   |
|   |   | Leah O'CONNOR |   | Adidas | DNF |   |   |   |   |   |   |
Men's 800 (Splits and heat results here)
| Place |   | Athlete |   | Affiliation | Time |   |   | Sec (pl) |   |   |   |
| --- | --- | --- | --- | --- | --- | --- | --- | --- | --- | --- | --- |
| 1 |   | Luke MATHEWS |   | Melbourne Track Club | 1:46.44 |   |   | 2 (1) |   |   |   |
| 2 |   | Kyle LANGFORD |   | Nike | 1:46.77 |   |   | 2 (2) |   |   |   |
| 3 |   | Andrew OSAGIE |   | Nike Oregon Track Club Elite | 1:46.93 |   |   | 2 (3) |   |   |   |
| 4 |   | Izaic YORKS |   | Brooks Beasts | 1:47.59 |   |   | 1 (1) |   |   |   |
| 5 |   | Harun ABDA |   | Nike / Nike Otce | 1:47.64 |   |   | 2 (4) |   |   |   |
| 6 |   | David TORRENCE |   | Hoka One One | 1:47.65 |   |   | 2 (5) |   |   |   |
| 7 |   | James GILREATH |   | Team Green Running | 1:47.69 |   |   | 1 (2) |   |   |   |
| 8 |   | Lachlan BARBER |   | Melbourne Track Club | 1:47.85 |   |   | 1 (3) |   |   |   |
| 9 |   | Mason COHEN |   | Australia | 1:48.14 |   |   | 1 (4) |   |   |   |
| 10 |   | Anthony ROMANIW |   | Speed River Tfc | 1:48.17 |   |   | 1 (5) |   |   |   |
| 11 |   | Brannon KIDDER |   | Brooks | 1:48.22 |   |   | 2 (6) |   |   |   |
| 12 |   | Michael RIMMER |   | Puma | 1:48.83 |   |   | 2 (7) |   |   |   |
| 13 |   | Felix KITUR |   | Santa Monica Track Club | 1:49.17 |   |   | 1 (6) |   |   |   |
| 14 |   | Charles JOCK |   | Nike / Nike Otce | 1:51.72 |   |   | 2 (8) |   |   |   |
| 15 |   | Bryan MARTINEZ |   | Mx International | 1:52.76 |   |   | 1 (7) |   |   |   |
|   |   | Richard JONES |   | Brooks/Altis | DNF |   |   | 1 |   |   |   |
|   |   | Chris GIESTING |   | Hoka Njnytc | DNS |   |   | 1 |   |   |   |
|   |   | Donavan BRAZIER |   | Nike | DNS |   |   | 2 |   |   |   |
Men's 1500
Heat #3
| Pl | Ln |   | Athlete |   | Affiliation | Time | 300m | 700m | 1100m | 1500m |
| --- | --- | --- | --- | --- | --- | --- | --- | --- | --- | --- |
| 1 | 5 |   | Matthew CENTROWITZ |   | Nike / Nike Oregon Project | 3:33.41 | 42.24 [42.24] | 1:41.09 [58.86] | 2:39.04 [57.95] | 3:33.41 [54.38] |
| 2 | 10 |   | Mo FARAH |   | Nike / Nike Oregon Project | 3:34.19 | 42.02 [42.02] | 1:40.86 [58.84] | 2:38.82 [57.97] | 3:34.19 [55.38] |
| 3 | 3 |   | Christopher O'HARE |   | Boston Athletic Association | 3:34.35 | 42.42 [42.42] | 1:41.27 [58.86] | 2:39.14 [57.87] | 3:34.35 [55.21] |
| 4 | 7 |   | Andrew WHEATING |   | Nike | 3:37.75 | 44.00 [44.00] | 1:42.61 [58.61] | 2:41.71 [59.11] | 3:37.75 [56.04] |
| 5 | 4 |   | Hassan MEAD |   | Nike / Nike Otce | 3:37.95 | 42.59 [42.59] | 1:41.47 [58.88] | 2:39.41 [57.95] | 3:37.95 [58.54] |
| 6 | 12 |   | Chad NOELLE |   | Asics Furman Elite | 3:39.29 | 43.70 [43.70] | 1:42.42 [58.73] | 2:41.90 [59.48] | 3:39.29 [57.40] |
| 7 | 6 |   | Daniel WINN |   | Boston Athletic Association | 3:39.32 | 43.49 [43.49] | 1:42.14 [58.65] | 2:41.67 [59.54] | 3:39.32 [57.65] |
| 8 | 1 |   | Travis BURKSTRAND |   | Brooks ID | 3:41.40 | 43.26 [43.26] | 1:42.89 [59.64] | 2:43.10 [1:00.22] | 3:41.40 [58.30] |
| 9 | 2 |   | Will CROCKER |   | District Track Club | 3:41.44 | 43.88 [43.88] | 1:43.22 [59.35] | 2:43.33 [1:00.11] | 3:41.44 [58.11] |
| 10 | 11 |   | Eoin EVERARD |   | Ireland | 3:41.57 | 44.33 [44.33] | 1:43.62 [59.30] | 2:42.78 [59.16] | 3:41.57 [58.80] |
| 11 | 9 |   | Daniel CASTLE |   | Unattached | 3:44.51 | 44.10 [44.10] | 1:43.46 [59.36] | 2:43.38 [59.92] | 3:44.51 [1:01.14] |
| 12 | 8 |   | Sam PENZENSTADLER |   | District Track Club | 3:46.66 | 43.02 [43.02] | 1:43.10 [1:00.08] | 2:43.30 [1:00.21] | 3:46.66 [1:03.36] |
| Split | Intermediate Leader | Time | Fastest Split | Time |
| --- | --- | --- | --- | --- |
| 300m | Mo FARAH | 42.02 | Mo FARAH | 42.02 |
| 700m | Mo FARAH | 1:40.86 | Andrew WHEATING | 58.61 |
| 1100m | Mo FARAH | 2:38.82 | Christopher O'HARE | 57.87 |
| 1500m | Matthew CENTROWITZ | 3:33.41 | Matthew CENTROWITZ | 54.38 |
Heat #2 
| Pl | Ln |   | Athlete |   | Affiliation | Time | 300m | 700m | 1100m | 1500m |
| --- | --- | --- | --- | --- | --- | --- | --- | --- | --- | --- |
| 1 | 5 |   | Eric JENKINS |   | Nike Oregon Project | 3:36.51 | 43.67 [43.67] | 1:42.11 [58.45] | 2:40.84 [58.73] | 3:36.51 [55.68] |
| 2 | 4 |   | Cristian SORATOS |   | Adidas | 3:36.73 | 43.25 [43.25] | 1:42.29 [59.05] | 2:40.96 [58.67] | 3:36.73 [55.78] |
| 3 | 1 |   | Riley MASTERS |   | Nike | 3:37.86 | 43.75 [43.75] | 1:42.44 [58.70] | 2:41.37 [58.94] | 3:37.86 [56.49] |
| 4 | 9 |   | Drew HUNTER |   | Adidas | 3:38.39 | 44.27 [44.27] | 1:42.65 [58.38] | 2:41.58 [58.93] | 3:38.39 [56.81] |
| 5 | 8 |   | Mac FLEET |   | Nike | 3:38.72 | 44.40 [44.40] | 1:43.18 [58.78] | 2:42.48 [59.31] | 3:38.72 [56.25] |
| 6 | 7 |   | Patrick CASEY |   | Nike / Nike Otce | 3:38.86 | 44.03 [44.03] | 1:42.83 [58.80] | 2:42.06 [59.24] | 3:38.86 [56.81] |
| 7 | 13 |   | Cory LESLIE |   | Nike | 3:39.26 | 43.55 [43.55] | 1:42.62 [59.08] | 2:41.19 [58.58] | 3:39.26 [58.07] |
| 8 | 3 |   | Tom LANCASHIRE |   | New Balance | 3:41.10 | 43.21 [43.21] | 1:42.08 [58.88] | 2:41.15 [59.07] | 3:41.10 [59.96] |
| 9 | 10 |   | Daniel HERRERA |   | High Performance West | 3:41.53 | 43.94 [43.94] | 1:42.72 [58.79] | 2:41.83 [59.12] | 3:41.53 [59.70] |
| 10 | 2 |   | Leonel MANZANO |   | Hoka One One | 3:41.68 | 43.42 [43.42] | 1:42.47 [59.06] | 2:42.25 [59.78] | 3:41.68 [59.43] |
| 11 | 12 |   | Adrian PLUMMER |   | Sydney Running Academy | 3:43.71 | 44.52 [44.52] | 1:43.71 [59.20] | 2:43.15 [59.44] | 3:43.71 [1:00.57] |
| 12 | 6 |   | Robert DENAULT |   | Newmarket Huskies | 3:44.16 | 44.47 [44.47] | 1:43.50 [59.04] | 2:42.96 [59.46] | 3:44.16 [1:01.20] |
| 13 | 11 |   | Edward VINING |   | Sydney Running Academy | 3:48.86 | 44.14 [44.14] | 1:43.55 [59.42] | 2:45.28 [1:01.73] | 3:48.86 [1:03.59] |
| Split | Intermediate Leader | Time | Fastest Split | Time |
| --- | --- | --- | --- | --- |
| 300m | Tom LANCASHIRE | 43.21 | Tom LANCASHIRE | 43.21 |
| 700m | Tom LANCASHIRE | 1:42.08 | Drew HUNTER | 58.38 |
| 1100m | Eric JENKINS | 2:40.84 | Cory LESLIE | 58.58 |
| 1500m | Eric JENKINS | 3:36.51 | Eric JENKINS | 55.68 |
Heat #1:
Pl
Ln
 
Athlete
 
Affiliation
Time
300m
700m
1100m
1500m
1
7
 
Daniel ESTRADA
 
Mx International
3:39.26
44.35 [44.35]
1:44.70 [1:00.36]
2:43.95 [59.26]
3:39.26 [55.31]
2
3
 
Paul ROBINSON
 
Melbourne Track Club
3:39.28
44.45 [44.45]
1:44.42 [59.97]
2:43.17 [58.76]
3:39.28 [56.11]
3
1
 
Matthew RAMSDEN
 
Melbourne Track Club
3:39.39
44.25 [44.25]
1:44.21 [59.97]
2:42.79 [58.58]
3:39.39 [56.60]
4
4
 
Scott SNOW
 
Forest Fire TC
3:40.78
44.03 [44.03]
1:43.90 [59.88]
2:42.95 [59.05]
3:40.78 [57.84]
5
10
 
Jose MARTINEZ
 
Mx International
3:42.58
44.74 [44.74]
1:45.42 [1:00.69]
2:44.42 [59.00]
3:42.58 [58.17]
6
11
 
Bashir ABDI SR.
 
Mudane Group
3:42.83
43.89 [43.89]
1:43.61 [59.72]
2:43.12 [59.52]
3:42.83 [59.71]
7
5
 
Reilly SHAW
 
Deakin AC
3:43.69
44.54 [44.54]
1:44.55 [1:00.02]
2:43.46 [58.92]
3:43.69 [1:00.23]
8
8
 
Alexis VERDUGO
 
Mx International
3:44.69
44.94 [44.94]
1:45.30 [1:00.37]
2:45.17 [59.87]
3:44.69 [59.53]
9
6
 
Adam GODWIN
 
Team Green Running
3:46.61
45.06 [45.06]
1:44.79 [59.73]
2:44.22 [59.44]
3:46.61 [1:02.39]
10
2
 
Charles HUNTER
 
Melbourne Track Club
3:51.25
44.81 [44.81]
1:46.21 [1:01.41]
2:48.99 [1:02.78]
3:51.25 [1:02.27]
DNF
9
 
Andy PHILLIPS
 
Roots Running Project
–
44.14 [44.14]
1:45.20 [1:01.07]
Men's Steeple: (Splits here)
| Place |   | Athlete |   | Affiliation | Time |   |   |   |   |   |   |
| --- | --- | --- | --- | --- | --- | --- | --- | --- | --- | --- | --- |
| 1 |   | Hillary BOR |   | Unattached | 8:23.08 |   |   |   |   |   |   |
| 2 |   | Ole HESSELBJERG |   | Sparta | 8:27.89 |   |   |   |   |   |   |
| 3 |   | Rob MULLETT |   | Atlanta Track Club | 8:30.06 |   |   |   |   |   |   |
| 4 |   | Mike HARDY |   | Unattached | 8:32.23 |   |   |   |   |   |   |
| 5 |   | Emil BLOMBERG |   | Hasselby | 8:32.27 |   |   |   |   |   |   |
| 6 |   | Isaac UPDIKE |   | Team Run Eugene | 8:32.34 |   |   |   |   |   |   |
| 7 |   | Antoine THIBEAULT |   | Math Sport Zenix | 8:34.08 |   |   |   |   |   |   |
| 8 |   | Travis MAHONEY |   | Hoka One One | 8:35.65 |   |   |   |   |   |   |
| 9 |   | Haron LAGAT |   | U.S. Army | 8:36.46 |   |   |   |   |   |   |
| 10 |   | John GAY |   | British Columbia | 8:36.55 |   |   |   |   |   |   |
| 11 |   | Jordan MANN |   | Providence | 8:37.36 |   |   |   |   |   |   |
| 12 |   | David GOODMAN |   | Unattached | 8:37.43 |   |   |   |   |   |   |
| 13 |   | Bryce MILLER |   | Unattached | 8:37.80 |   |   |   |   |   |   |
| 14 |   | Micheal JORDAN |   | Unattached | 8:42.14 |   |   |   |   |   |   |
| 15 |   | Brian SHRADER |   | Saucony | 8:42.20 |   |   |   |   |   |   |
| 16 |   | Jacob EDWARDS |   | Columbus Running Company | 8:45.30 |   |   |   |   |   |   |
| 17 |   | Aric VAN HALEN |   | Unattached | 8:54.04 |   |   |   |   |   |   |
| 18 |   | Aaron NELSON |   | Reebok Zap Fitness | 8:54.40 |   |   |   |   |   |   |
|   |   | Tomas COTTER |   | Asics Furman Elite | DNF |   |   |   |   |   |   |
Men's 5000 (splits here)
| Place |   | Athlete |   | Affiliation | Time |   |   |   |   |   |   |
| --- | --- | --- | --- | --- | --- | --- | --- | --- | --- | --- | --- |
| 1 |   | Shadrack KIPCHIRCHIR |   | U.S. Army | 13:23.74 |   |   |   |   |   |   |
| 2 |   | Abbabiya SIMBASSA |   | American distance project | 13:25.79 |   |   |   |   |   |   |
| 3 |   | Martin HEHIR |   | Hoka One One | 13:29.94 |   |   |   |   |   |   |
| 4 |   | Reid BUCHANAN |   | Mammoth Track Club | 13:35.08 |   |   |   |   |   |   |
| 5 |   | Craig LUTZ |   | Hoka One One | 13:36.03 |   |   |   |   |   |   |
| 6 |   | Futsum ZIENSELLASSIE |   | Hoka One One | 13:36.08 |   |   |   |   |   |   |
| 7 |   | Kirubel ERASSA |   | Atlanta Track Club | 13:36.17 |   |   |   |   |   |   |
| 8 |   | Andrew TROUARD |   | The Rebel Alliance. | 13:36.43 |   |   |   |   |   |   |
| 9 |   | Luc BRUCHET |   | Asics/Canada | 13:37.62 |   |   |   |   |   |   |
| 10 |   | Joe STILIN |   | Reebok Zap Fitness | 13:39.89 |   |   |   |   |   |   |
| 11 |   | Takanori ICHIKAWA |   | Hitachi Transport System | 13:55.45 |   |   |   |   |   |   |
| 12 |   | Mitsunori ASAOKA |   | Hitachi Transport System | 13:55.72 |   |   |   |   |   |   |
| 13 |   | Toshiyuki YANAGI |   | Hitachi Transport System | 13:58.30 |   |   |   |   |   |   |
| 14 |   | Josef TESSEMA |   | American distance project | 14:15.85 |   |   |   |   |   |   |
| 15 |   | Yuki MUTA |   | Hitachi Transport System | 14:30.70 |   |   |   |   |   |   |
|   |   | Frezer LEGESSE |   | Under Armour | DNF |   |   |   |   |   |   |
|   |   | German FERNANDEZ |   | Nike | DNF |   |   |   |   |   |   |