Molly Huddle Isn't Dreaming of The Win, Kim Conley Loves Marathon Training, Kids Are Slowing Sara Hall Down and & 3 More Observations From Talking to the Top U.S. Women in New York
by LetsRun.com
November 3, 2016 
NEW YORK – Today many of the leading US entrants at the 2016 TCS New York City Marathon were the featured guests in the media center. The leading international entrants will be here tomorrow. We share the insight we gleaned from talking to some of the leading US women for you below. Our article on the US men's press conference is here.

Molly Huddle has not allowed herself to dream about winning on Sunday; says she'll be happy with top six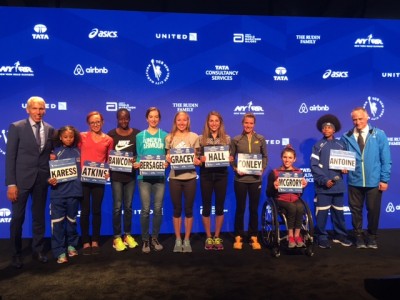 In our women's preview, we outlined a few reasons why Molly Huddle has a chance to win the New York City Marathon on Sunday. Both Kara Goucher and Shalane Flanagan finished in the top three in New York in their debuts, and Huddle is better right now than either of those women were when they debuted. Plus, the women's field isn't particularly deep. We certainly think there's a chance — if Mary Keitany and one or two others struggle — that Huddle wins. Huddle isn't thinking that way though.
Article continues below player
"I don't think that [winning] is reasonable honestly," Huddle said. "I will stick my nose in it but there are three 2:19 or under women and this is my first marathon and it's New York City. I just want to have a good day and a good experience and I'll see where I end up."
It will certainly be tough — no woman has won NYC in her debut since Tegla Loroupe in 1994 — but it's not impossible. But with the dominant figure of Keitany — who like Huddle, rarely has a bad race — it's understandable that Huddle hasn't thought about winning.
What is a bit surprising is that Huddle said she'd be happy with a top-six finish on Sunday. This is her debut, so Huddle wants to keep expectations low, but looking at the entrants on paper, it's hard to find six women better than Huddle. If the five marquee East Africans (Keitany, Aselefech Mergia, Buzunesh Deba, Joyce Chepkirui and Sally Kipyego) all run well, Huddle would still be favored to beat everyone else in the field. We think Huddle is selling herself short.
As far as her buildup, Huddle was happy with it. She said that she missed a couple workouts with some tendinitis early in her buildup, but other than that, everything went pretty much according to plan, as she averaged about 110 miles per week.
Kim Conley has loved training for the marathon and is certain more marathons lie in her future no matter what happens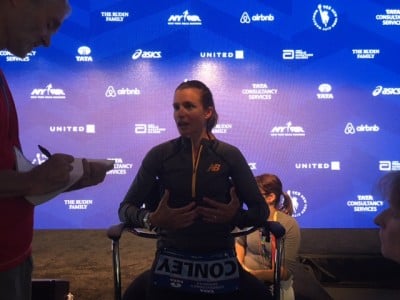 Conley, who competed in the 5000 at the Olympics in Rio, has greatly enjoyed her abbreviated marathon buildup for her debut.
"I don't know what really to [expect but do know] I loved the buildup. I think no matter what happens I'm going to run another marathon as I've enjoyed the 11 weeks building up to this moment," said Conley who has gone as long as 24 miles in practice. "My goal is really to come away with a good experience. I'm hoping this is the beginning of a long marathon career. I'm hoping that it really leaves me excited about the future."
"I don't want to be too confident as I've never done a marathon, but I definitely would say I'm more excited than nervous as  I don't feel a lot of pressure," added Conley. "I feel like the training has gone really well. These questions [about how I'll do] are hard to answer without having really raced yet.  Drew (Wartenburg – her husband and coach) stressed to me this won't be my best marathon. At first, that stressed me out, but now I'm ok with it. Why would I want it to be [my best one]?"
Conley's buildup hasn't been flawless. She says she was most discouraged after she had a hard time locking into a rhythm when she was trying to run a half-marathon steady state at marathon race pace (5:25-5:30 pace).

However, 10 days later, she was thrilled when she ran a 15-mile fartlek at the same pace without even trying to do so. "I wasn't trying to force anything. I'm trying to tell myself that is a good thing for a course like New York. I'm hoping the rhythm finds me out on the course and I don't have to force it."
Conley said that several people have advised her that the hardest thing about the marathon is "controlling your energy" and not going to fast too early.

When asked about the hills in New York, Conley didn't seem fazed by them. She was a more accomplished XC runner in college than on the track (she made NCAAs in XC but never in track) and  always loved hilly cross country courses.
Conley said she returns the track in 2017.
Sara Hall: "I'm probably not going to be able to run quite as fast as I could without kids, but I can still run faster than I ever have before"
Hall has raced everything from the 800 to 26.2 miles, but she said she now views herself as a marathoner. Hall always preferred cross country to track and she believes the marathon, especially New York, is more similar to cross country than track. Hall had viewed herself as a miler in the past, but has really enjoyed tackling the longer training required to run the marathon.
Hall and husband Ryan adopted four daughters last year, and while they are loving being parents, Sara admitted that she has had to sacrifice elements of her running career. She can no longer fly out anywhere on a whim for a race or a training block, and has to accept that she can no longer live the monkish runner lifestyle as the mother of four daughters.
"Having kids takes a lot of energy. I feel like outside of training as runners, we're so programmed to be in energy-conserve mode and recover as much as you can by conserving energy so I really have had to retrain myself that way, when I'm with them to turn that off. I can't be trying to conserve my energy all the time."
At the same time, Hall still believes she has progress to make in the marathon. A PR on Sunday is unlikely given the course and wind in the forecast, but Hall will have plenty of fellow Americans to race, which she believes will bring out the best in her.
Little known fact. Hall was the senior star on the high school cross country team when Kim Conley was a freshman. The team won the state title with Conley as the 4th runner. Conley on Hall, "She was way better than I was in HS. I didn't even apsire to what she was accomplishing at the time. She was just a great leader for our team and a great resource (as a professional runner)."
2:33 Marathoner Esther Atkins (nee Erb) thinks she's in sub-2:30 shape
The Greenville, S.C.-based 30-year-old is optimistic about her fitness.
"I think I'm in shape. If I were going to run Berlin on Sunday, I think I'm in shape to run under 2:30, but it's not Berlin," said Atkins. "I want to be top 5 for the Americans. I think that's the primary goal. A PR would be great.  A big one."
Atkins ran and won a half-marathon in New York last month in 75:06 and said it felt good. "It was not all-out. I legitimately felt lIke I was running marathon pace for the first 8 miles (5:50-5:48) and then I started to crank it down."
After DNFing at the Olympic Marathon Trials, Annie Bersagel has become rejuvenated by doing a bunch of mountain running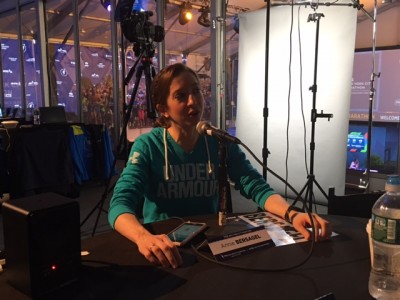 The Oslo-based Bersagel (she moved there initially to study Peace and Conflict studies on a Fulbright scholarship before falling in love) had to drop out of the Olympic Trials after battling a tight timeline after knee surgery got in the way of her Olympic Trials preparations.
She said the DNF was a big disappointment but she's now feeling good about things and feeling very healthy after making a big change in her training. Bersagel did a bunch of mountain racing this summer and feels it's helped her get fully healthy as it has increased her quad and glute strength.
(Bersagel won most of her races in Norway and finished third in a race that used to be on the Mountain Running circuit but wasn't involved enough in the mountain running scene to figure out how to go to the World Champs).

Bersagel often trains on a treadmill – sometimes running for 2.5 hours at a 10% grade – in Norway where days are short during the winter. "It's good mental training for the marathon as there is that monotony there," said Bersagel who added that she kills the time by listening to podcasts (Planet Money, NPR Marketplace and the Tim Ferriss show are some of her favorites).

Why doesn't Janet Bawcom run more marathons? She likes racing too much
Bawcom, who is based in Flagstaff, has finished 5th at the past two Olympic Trials but those are the only two marathons she's finished since the start of 2011. The main reason, according to Bawcom, is that running a marathon is a big commitment. If she is to devote a large block of training to running a marathon, she can't race as much on the road circuit, which she enjoys.
Bawcom said that her NYC buildup has been "okay" noting that she battled some hamstring issues early in her buildup and also struggled with some of her faster-paced workouts.
We asked Bawcom whether that had anything to do with her age (38).
"I don't know because this is the first time I've been 38," she said with a chuckle. "I don't know, I see Deena [Kastor] running 2:27 [at age 42], I see Meb making the Olympic team [at 40], so I don't think so."