The 42nd Prefontaine Classic, a member of the IAAF Diamond League of elite international track & field meets, will be hel

d May 27-

28 at historic Hayward Field
Press Release
May 16, 2016
            Eugene, Oregon – Genzebe Dibaba will defend her Prefontaine Classic women's 5000-meter title in an incredible field that may be the meet's best ever – in any event.
Dibaba, the reigning Woman of the Year by Track & Field News, will be joined by the last distance runner to hold that title, Vivian Cheruiyot in 2011.  Both won gold last year in Beijing, and they are among eight in the field who have won gold medals at distances ranging from the 1500 to 10k.  It is a race featuring deep contingents from Ethiopia and Kenya, who are set to battle again for world distance supremacy at the Rio Olympics.
And those fortunate to find a seat for Friday's Distance Night in Eugene at Hayward Field will witness it for free, thanks to title sponsor Nike.
Genzebe Dibaba, 25, of Ethiopia rocks every race she runs.  She often leaves pacesetters outdistanced, as she did last year on a perfectly warm afternoon in last year's Pre Classic 5k, running by herself to set an outdoor PR and meet record 14:19.76, more than 10 seconds faster than her nearest pursuer and the fastest ever seen at Hayward Field.  It was just one of many gems in her racing career that includes setting the world 1500-meter record last July at 3:50.07, breaking an "unbreakable" mark that had stood for 35 years.
Article continues below player
Dibaba enters the Pre Classic undefeated for the second straight year.  She also has a perfect record in the state of Oregon, after winning gold in Portland at the World Indoor 3k in March.  It was her fourth career major gold, adding to titles begun in 2012 at the World Indoor 1500 at age 21.  She won her first world title in cross-country at age 17 in the first of two World Junior crowns in 2008.
Genzebe is not the only Dibaba family member to be T&FN Woman of the Year or to appear at the Pre Classic.  Her older sister, Tirunesh, earned the same title in 2008.  Tirunesh also has a magical history at the Pre Classic, never losing in three races – twice in the 5k and once in the only women's 10k held, in 2012.  Neither Dibabasister has ever lost at Pre.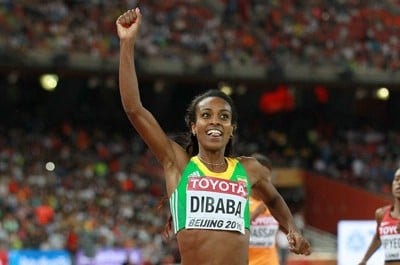 Vivian Cheruiyot, 32, of Kenya refuses to give up.  The 2011 T&FN Woman of the Year won gold for the first time since that miraculous season in last year's 10k at the Beijing World Championships, matching her title in 2011 when she also captured the 5k gold.  After taking silver (5k) and bronze (10k) at the 2012 London Olympics, the only interruption in her progress came in 2013 & '14, when she sat out (the latter year due to maternity).  Cheruiyot has more major golds (5) than anyone in the field, even Genzebe Dibaba (4).
Cheruiyot is the Kenyan record holder and the only runner with more than one IAAF Diamond League title in this event (winning the first three in 2010-12).  She is the most recent woman with a world cross-country title and a World or Olympic title, as she claimed the 2011 global harrier crown.  Her first glory was in cross-country, winning the World Junior title in 2000 – later that year she made her first Olympic team at age 16.  Cheruiyot has won twice in four races at the Pre Classic.
Gelete Burka, 30, of Ethiopia made a major leap in distance last year, taking on the 10k for the first time.  It was a huge success as she twice ran world-leading marks before finally losing with the silver medal to Cheruyiot at Beijing last August.  For Burka, it was her first track medal at any distance above 1500 meters, in which she has a gold medal (2008) and a pair of bronzes (2010 & '12) at the World Indoor.  She can claim the most Pre Classic titles of anyone in the field with four in the 1500, including the meet's first sub-4:00 effort in 2009.
Kenya's Viola Kibiwot, 32, has made her country's Olympic or World Outdoor team every time since she was 23 in 2007, all in the 1500 until 2012 when her focus shifted to the 5k.  Her success since the move has resulted in three straight finals, always in the thick of races dominated by Kenya and Ethiopia and with the last two finishing just out of the medals (4th in Beijing last year after a 4th in 2013 at Moscow).  Kibiwot is a former World Junior 1500 champ (2002) and also twice won gold in the World Junior cross-country (2001-02).
Mercy Cherono, 25, is Kenya's last woman to medal in a major 5k, earning silver as a 22-year-old at the 2013 Moscow World Championships.  She was 5th in her other major 5k races (last year's Beijing Worlds and the 2011 Worlds in Daegu).  She is the only runner to make the T&FN world rankings in the 5k in each of the last five years (and no lower than No. 7).  Cherono is a two-time World Junior 3k champ who last year broke a four-year-old PR to take second in the Pre Classic 1500 to American Jenny Simpson.
Switching from the 1500 is Hellen Obiri, 26, the Hayward Field recordholder at that distance in 3:57.05, courtesy of her second straight Pre Classic meet record in 2014.  After taking last year off for maternity, Obiri ran a lifetime best in the 5k of 15:28.5 at some 6000 feet (almost 2000 meters) above sea-level.  She has since improved that to 15:21.8, again at high altitude, winning by almost 20 seconds. A gold and silver medalist indoors at 3k, Obiri has stamped herself as the darkhorse pick in this race, running 3:59.34 in the Shanghai Diamond League meet last Saturday.
Molly Huddle, 31, is the best American in the field.  She owns the two fastest times ever by an American and has ranked as the top U.S. runner in three of the last four years by T&FN (the other year she was No. 2).  Huddle has shown much evidence of moving up, including her 4th-place finish in the Beijing World Championships 10k where another American, Emily Infeld, outleaned her at the finish for the bronze.  She is the second fastest American ever on the track in the 10k (behind only Shalane Flanagan) and in March also became the second fastest ever in the half-marathon (behind just Deena Kastor), winning her second New York Half-Marathon at 67:41.
Nicole Tully, 29, won her first U.S. titles last year, taking the 5k outdoors after the 2-mile indoors in her first finals since 2012, then in the 1500.  In her first year in the 5k, Tully made the Beijing World final and ranked as the No. 2 American last year byT&FN.  She has already lowered her 5k PR this year.
Marielle Hall, 24, was the third U.S. member of the 5k team in last year's Beijing World Championships in her first year after winning the NCAA 5k title for Texas.  This year, she has run faster than her runner-up finish in last year's U.S. Championships and has added a new event with a 31:37.45 10k debut at Stanford's Jordan Invitational, making her the early U.S. leader.
Kim Conley, 30, was a member of the U.S. team in the 2012 London Olympics and 2013 Moscow World Championships in the 5k, but her only U.S. titles are in the 10k (2014) and the half-marathon (2015).  She missed most of last year's track season but in December clocked a 31:58.54 track 10k and this year has two of her four fastest 5k times.
Sally Kipyego, 30, of Kenya has trained for more than the last half-decade in Eugene.  During that time the Kenyan native has earned Olympic (2012) and World (2011) silver medals in the 10k and ranked all but one year by T&FN in the 5k or 10k (or both).  Prior to her move to the Pacific northwest, Kipyego won eight NCAA titles in track and cross-country for Texas Tech.  She is Kenya's second fastest ever at 5k and 10k and owns the Pre Classic 3k meet record.
Alemitu Haroye of Ethiopia is just 21 but has already twice ranked among the world's top 10 in this event by T&FN, earning No. 7 last year after a debut at No. 10 in 2014.  In her first year in the 10k, she finished 7th  at the Beijing World Championships, earning a No. 9 T&FN ranking in that event as well last year.  Earlier in 2015, at age 19, she finished 4th in the World Cross-Country Championships.  In 2014, she won gold at the World Junior Championships 5k in Eugene.
Irene Cheptai, 24, of Kenya was 7th in last year's Beijing World Championships 5k as well as last year's World cross-country championships.  Earlier this month, she won the 10k at Stanford's Jordan Invitational in 31:15.38, her first attempt at the distance.
Betsy Saina, 27, is another Kenyan who trains in Oregon.  Like Kipyego, she amassed a complete collection of NCAA titles, winning three while at Iowa State, one each indoors, outdoors, and in cross-country.  She had her best-ever international finishes in last year's Beijing World Championships 10k (8th) and March's World Indoor 3k at Portland (7th).
Mimi Belete, 27, and Betlhem Desalegn, 24, are Olympians who were born in Ethiopia but after 2008 began competing for new countries.  Belete's best year in the 5k was last year, when she made the Beijing Worlds final for Bahrain.  In 2011, she made the final in the 1500 at Daegu, finishing 7th.  Desalegn now represents the United Arab Emirates and has twice made the final of the World Indoor 3k (8th in Portland after 6th in 2014).
Newly-minted Greek Alexi Pappas, 26, has set personal bests at the 3k indoors and 10k outdoors, and will try to add the 5k to that list. The former Oregon runner has also had success on the roads in 2016, at distances from 5k to 15k.
Ethiopian Ababel Yeshaneh, 25, ran the 10k for her country at the Moscow World Championships and most recently won the Adana Half Marathon in Turkey.
That makes eight gold medalists and six in the field (Dibaba, Cheruiyot, Burka, Cherono, Kipyego, and Obiri) have set Pre Classic meet records, which in itself must be a record!
Women's 5000 Meters
Personal Best
Genzebe

Dibaba

(Ethiopia)
14:15.41
Vivian Cheruiyot (Kenya)
14:20.87
Sally Kipyego (Kenya)
14:30.42
Gelete Burka (Ethiopia)
14:31.20
Viola Kibiwot (Kenya)
14:33.48
Mercy Cherono (Kenya)
14:34.10
Betsy Saina (Kenya)
14:39.49
Molly Huddle (USA)
14:42.64
Alemitu Haroye (Ethiopia)
14:43.28
Irene Cheptai (Kenya)
14:50.99
Mimi Belete (Bahrain)
14:54.71
Nicole Tully (USA)
15:04.08
Marielle Hall (USA)
15:06.05
Kim Conley (USA)
15:08.61
Betlhem Desalegn (United Arab Emirates)
15:12.84
Ababel Yeshaneh (Ethiopia)
15:17.05
Hellen Obiri (Kenya)
15:21.8h
Alexi Pappas (Greece)
15:28.38
Fans can follow the event lineups on eugene.diamondleague.com.  The direct link to current start/entry lists is posted HERE and will include updates to all announced fields.  Additional news, photos, and videos may be found on PreClassic.com,Instagram, Facebook, and Twitter.
Tickets for the 42nd annual edition of the Prefontaine Classic, to be held May 27-28 at Hayward Field in Eugene, Ore., are available now at www.GoDucks.com as well as from 1-800-WEBFOOT.
The Prefontaine Classic is the longest-running outdoor invitational track & field meet in America and is part of the elite IAAF Diamond League of meets held worldwide annually.  The Pre Classic's results score has rated No. 1 or No. 2 in the world in each of the last five years by All-Athletics.com, the official data partner of the Diamond League.  Sponsored by NIKE continuously since 1984, the Prefontaine Classic will be shown live to an international audience and by NBC and NBC Sports Network.