The Future Has Arrived: PUMA Unveils BeatBot, A Personal Robotic Pacer
Wearable Tech Move To The Back Of The Line, Raceable Tech Has Arrived
by LetsRun.com
April 29, 2016
Do you often work out alone and hate it?
Don't worry. The future is coming and in the future you'll have your own robotic workout partner.
Article continues below player
That future is actually closer than you might think as today PUMA unveiled the PUMA BeatBot – "a programmable, self-driving, line-following robot" which might already be able to fill that role.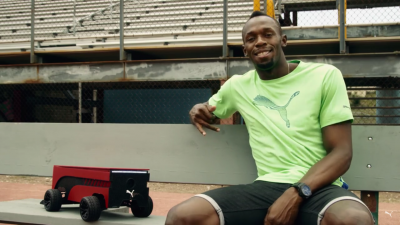 Puma, with its focus on sprinters, describes the robot as one that "inspires runners of all levels to push harder by giving them a real visual target to beat, not just the time on a stopwatch," but we believe the real opportunity for this type of device is in pacing workouts and/or races.
So many races and workouts are ruined because of incorrect pacing. If everyone has their own robotic pacer, that problem will be a thing of the past. The BeatBot does curves so Puma says it's not just for sprints — "BeatBot can even help you train for long distance runs."
Check out the BeatBot in the video below. Usain Bolt is impressed and so are we.
Down the road, you'd want something bigger that could block the wind but hey, it's a great start.
We do have some bad news for you. The BeatBot appears to be mainly a prototype of what is possible and is only available to PUMA-sponsored athletes and teams "While the cost of the current model makes it prohibitive for the average consumers to train with, the plan is always to develop new models, products and ideas to inspire every athlete," said JWT New York executive creative director Florent Imbert in an article on Fastcocreate.com.
Hat tip to LRC reader Matt Logie for sending us the video.
Talk about the Puma BeatBot on our fan forum: MB: Very cool: The future has arrived – Puma unveils the BeatBot – a robotic pacer