World Record Holder Meseret Defar to Headline Women's Race at Sunday's Carlsbad 5000
– Three-time event champion returns to 'World's Fastest 5k' on Sunday, April 3
– Elite course altered for 31st annual event to make it faster and more fan-friendly
– New adult 1-mile race added to Junior Carlsbad on Saturday, April 2 featuring $3,000 in prize money
Article continues below player
– Registration for both the Junior Carlsbad and Carlsbad 5000 is available onsite race weekend
Press Release
Men's and Women's Elite Start Lists
CARLSBAD, CA – March 31, 2016 – A race renowned for fast runners and world records once again welcomes a stellar field for the 31st annual Carlsbad 5000 on Sunday, April 3. The 2016 event has drawn nearly 10,000 entrants and leading the way will be two-time Olympic gold-medalist Meseret Defar of Ethiopia, who will attempt to make history by becoming the first women to win four times.
In the women's division, Defar will be the clear runner to beat and is arguably one of the best runners at this distance ever. The Ethiopian has dominated at Carlsbad three times and in 2006, she set the still-standing fastest road 5K time in the world of14:46.
"I can't believe ten years have passed since I set the world record in Carlsbad," said Defar, who could look to add a third Olympic gold medal at the 2016 Summer Olympic Games in Rio de Janeiro. "A lot has happened to me on and off the track since then, but it remains a race which is close to my heart for many reasons."
After her Olympic win in 2012, Defar took a hiatus from the sport to start a family.
"Since the birth of our daughter Gabrielle last year I'm now back racing well and my indoor performances show me that I am ready to run well, run fast and hopefully post another quick time," she said. "I'm excited for the rest of the year, I'm looking forward to Carlsbad as my next challenge before turning attention to the track and the Rio Olympics."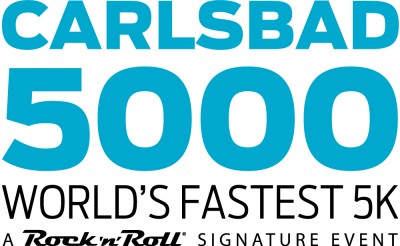 Ethiopia's famed rival, Kenya, will have several athletes at the starting line on Sunday–most notably, the woman wearing bib F2, Caroline Kipkirui, who is a rising star in her country. The 21-year-old Kipkuri owns a 15:24 personal best for 5000m. Another Kenyan expected to give Defar a run for the money is former Florida State standout Violah Lagat who has run 15:35 for the 5000m and has been setting personal bests in the shorter distances (1500m and mile) this year, which might be indicative of speed for Sunday's race.
The United States has two aces toeing the line: Alisha Williams of Golden, Colorado and Jen Rhines of Boston. Williams has a sub-15-minute personal best (14:58) and has shown versatility by running PRs in the 10,000m and the 10-mile last year. Jen Rhines is a three-time Olympian and set her PR in Carlsbad back in 2007 (15:21). She will be attempting to set a new U.S. Masters record (15:48) on the speedy and scenic course.
On the men's side defending champion Lawi Lalang of Kenya returns to defend his title. The ageless Bernard Lagat, 41, is back after setting the U.S. masters 5K road record last at Carlsbad, finishing in 13:40. Young runners to keep an eye on are 19-year-olds Debeli Gezmu of Ethiopia and Joshua Cheptegei of Uganda. Meseret Defar's cousin, Gezmu has been clocked in the 5,000 on the track in 13:29.81.Cheptegei, a World Junior Championship over 10,000m, recently ran a Ugandan 10k record of 27:46 when competing in Spain.
Carlsbad 5000 is the premiere 5-kilometer road race in the world accounting for the 23-fastest 5-K road times in history by men and eight of the top-10 times by women according to the Association of Road Racing Statisticians. For the second year in a row the course has been significantly altered for the professionals. For Sunday's elite races, the start line will move from Carlsbad Village Drive to Carlsbad Boulevard where the professionals will run the two loops on Carlsbad Boulevard counter-clockwise.
"Our goal with last year's changes was to make it more spectator friendly, but even for those athletes as beautifully efficient as Bernard Lagat, they backed off before every turn," said Tracy Sundlun, executive race director. "They went into them running clockwise, which is not what they're used to doing on the track. They've spent all their lives running counter-clockwise. Not only do we think the new start line will be faster, it will be much improved from a presentation stand point to properly set up both elite races."
With its fan-friendly loop course, competitive age-group races, and 16 world records, the Carlsbad 5000 has earned its dual designation as both the "World's Fastest 5K" and "The Party by the Sea." The fun starts with the Junior Carlsbad on Saturdaywhere 1,500 young runners ages 12 and under will give it their best in 11 age-group races begging at 7:20am. Added to this year's schedule is an adult one-mile race offering $3,000 in prize money. Registration for both events will be available on race day.
Sunday is all about the 5k as participants earn their finisher medal and then celebrate in style at the beer garden with two free brews thanks to Pizza Port. Race day begins at 7:05 a.m. with the Masters men's 40 and over race, the first of seven races that will take place throughout the morning. The first of two main events, featuring the world's fastest professional athletes, begins at 11:15 am with the elite women, followed by the elite men's race at 11:45 am.
Live music, sunshine, cool ocean breeze, and plenty of on-course entertainment will make this year's Carlsbad 5000 the race to be at this weekend. For more information, visit Carlsbad5000.com.