2016 Dubai Marathon Results and Tracking
by LetsRun.com January 22, 2016 Below you will see the results for everyone who broke 2:35 at today's Standard Chartered Dubai Marathon. For additional results and mid-race splits, go here. Talk about the great race on our fan forum: MB: Official 2016 Dubai Marathon Live Discussion Thread. Men's Race Pos. Name Time 1 Abera Dibaba, Tesfaye (ETH) […]
Join Our Supporters Club To Keep Reading
Sign up today to get 25% off and a free t-shirt.
by LetsRun.com
January 22, 2016
Below you will see the results for everyone who broke 2:35 at today's Standard Chartered Dubai Marathon. For additional results and mid-race splits, go here.
Talk about the great race on our fan forum: MB: Official 2016 Dubai Marathon Live Discussion Thread.
Article continues below player
Men's Race

Pos. Name Time
1 Abera Dibaba, Tesfaye (ETH) 2:04:24
2 Berhanu Hayle, Lemi (ETH) 2:04:33
3 Mekonnen Asefa, Tsegaye (ETH) 2:04:46
4 Lemma Kasaye, Sisay (ETH) 2:05:16
5 Wasihun Lakew, Mula (ETH) 2:05:44
6 Ayele Woldegiorgis, Abayneh (ETH) 2:06:45
7 Kiplimo Kosgei, Samuel (KEN) 2:06:53
8 Regassa Dabe, Tilahun (ETH) 2:08:11
9 Kiplagat Rono, Thomas (KEN) 2:08:34
10 Teshome Bekele, Mesfin (ETH) 2:09:24
11 Adane Amsalu, Yihunilign (ETH) 2:09:48
12 Alemayehu Ameta, Belachew (ETH) 2:09:49
13 Abraha Adihana, Gebretsadik (ETH) 2:09:53
14 Mesfin Woldetensae, Afewerk (ETH) 2:10:05
15 Bekele Gebre, Alemu (BRN) 2:13:28
16 Yego Kiptoo, Jonathan (KEN) 2:13:59
17 Bitew Worku, Asefa (ETH) 2:15:45
18 Prof. Tsegaye, Gebreslassie (ETH) 2:17:22
19 Muslu, Ercan (TUR) 2:17:28
20 Desta Habtu, Kibrom (ETH) 2:18:43
21 Lemma Gemechu, Habteselassie (ETH) 2:20:49
22 Ndiritu Gatheru, Daniel (KEN) 2:22:41
23 Eneyew, Tenaw Belete (ETH) 2:23:05
24 Hassan, Shirgavi (IRI) 2:25:11
25 Seyedmehdi, Sharifi (IRI) 2:26:40
26 Abootorabi, Mohammadreza (IRI) 2:28:28
27 Prof. Ssali, Michael (UGA) 2:29:28
28 Nezhad, Zeynivand (IRI) 2:34:42
Women's Results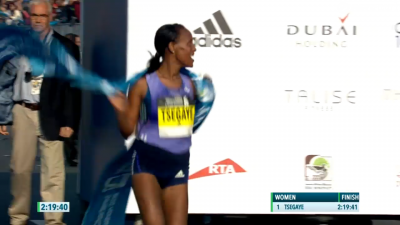 Pos. Name Time
1 Tsegaye Beyene, Tirfi (ETH) 2:19:41
2 Beriso Shankule, Amane (ETH) 2:20:48
3 Melkamu Haileyesus, Meselech (ETH) 2:22:29
4 Asefa Kebede, Sutume (ETH) 2:24:00
5 Seboka Seyfu, Mulu (ETH) 2:24:24
6 Eshete Habtegebrel, Shitaye (BRN) 2:25:36
7 Tufa Demissie, Mestawet (ETH) 2:26:34
8 Mekash Tefera, Dinknesh (ETH) 2:28:19
9 Daska Molisa, Mamitu (ETH) 2:28:53
10 Ifa Geletu, Megertu (ETH) 2:29:45
11 Metaferiya Zenebe, Fasika (ETH) 2:30:05
12 Chebichii Chumba, Eunice (KEN) 2:34:15
13 Wodaj Temesgen, Etaferahu (ETH) 2:34:42
14 Godfay Berha, Afera (ETH) 2:34:44
15 Gebrekidan Gebremaryam, Hiwot (ETH) 2:34:45