Will Geoghegan Takes Down Olympian Donn Cabral In Sprint Finish To Win 79th Manchester Road Race
By David Monti, @d9monti
(c) 2015 Race Results Weekly, all rights reserved
At this morning's 79th Manchester Road Race here, New England's most prestigious Thanksgiving Day race, some 12,000 runners competed on a seasonally mild and sunny day, and the first one across the line was former Dartmouth and University of Oregon star Will Geoghegan got his first victory on Main Street here in a close sprint finish in his first appearance.
Women's Recap: Diane Nukuri Repeats at 2015 Manchester Road Race
Article continues below player
GEOGHEGAN UPSETS LOCAL OLYMPIAN CABRAL
The crowd lining the 4.748-mile course were only cheering for one athlete in the lead pack of four which had developed in the men's race by the three-mile mark: Donn Cabral. Cabral, an Olympic steeplechaser, grew up in nearby Glastonbury and has run the race since he was a child. He's never won here, and he saw today as his best chance.
"I was feeling pretty good today; it was a great opportunity," Cabral told reporters. "I felt like this was really the year to take the win at Manchester in front of my home crowd. Everyone was cheering along the way. It was really special."
Cabral asserted himself early. After a 4:22 opening mile led by 2012 Manchester champion Aaron Braun, Cabral pushed the pace up the Highland Street hill. He put in a little surge to collect the "King of the Hill" bonus, then hit the two-mile mark with a one-step lead in 9:26."
"The race was perfectly set-up for me," the 25 year-old Cabral explained. "The first mile was reasonable. This was the best I've ever felt on the hill."
But as the four men's leaders –Braun, Cabral, Geoghegan and Maverick Darling– started to plunge down Porter Street, Braun used the tactic he used to win her before. Like Nukuri, he stepped on the gas down the hill, nearly putting Darling out of podium contention (he later caught up). When the four hit the three mile mark together in 13:51, Braun feared it would become a kicker's race."
"There's a group of four-minute milers in there," Braun later lamented.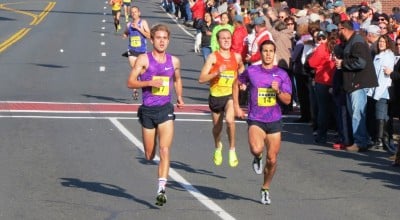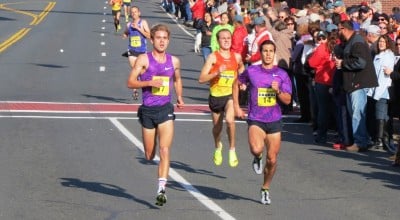 The course has a valley finish: first it goes down, then there is a short but steep climb to the finish line. Geoghegan, 23, who indeed has a 3:57.53 mile to his credit, started his sprint from perhaps 400 meters out. Braun was out the back, and only Cabral tried to cover his move.
"Just that last 100, 150 (meters) when the downhill levels out I was trying to go stride-for-stride with Donn," Geoghegan told Race Results Weekly. "I knew I was making ground on him."
Cabral was pumping his arms furiously, trying to stay in the taller Geoghegan's slipstream. But the former Princeton athlete was clearly in pain, and couldn't hold Geoghegan's pace in the final push to the line. He was so close to winning, but it wasn't going to happen today.
"Honestly, the pain in my body was the last part I was feeling," said the downcast Cabral, shaking his head.
Geoghegan, who grew up in Brunswick, Me., and knew of Manchester's history, raised his hands and smiled as he broke the tape in 21:34, exactly the same time as last year's winner, Ben True, who did not compete this year. The win definitely had extra meaning for him given that he grew up in New England.
"It's great. This is a legendary race," said Geoghegan. "To be able to come in here and run well my first time is awesome."
Cabral got second in 21:36, and Darling held on for third in 21:42. Braun finished fourth (21:48) and Tim Ritchie got fifth (21:55).
Well behind the winners, former Runner's World editor Amby Burfoot, 69, finished the race for the 53rd consecutive time.
More: Discuss this race on our fan forum: MB: Manchester road race results?
*Women's Recap: Diane Nukuri Repeats at 2015 Manchester Road Race