Results: 2015 Wisconsin adidas Invitational Results
by LetsRun.com
October 15, 2015
Looking for cross country results for Friday's 2015 Wisconsin adidas Invitational? We've got you covered. Below you will find the links you need to get the results from Sports Management Associates, Inc. on their website http://www.harriersolutions.com.
If you want live blow by blow textual coverage click here for the live Wisconsin thread.
Article continues below player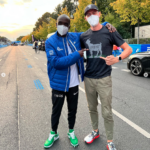 Kipchoge loves the 1:59:40 Shirt Get Yours Today
What a legend!
Live Results
(live on-course updates)
Collegiate Women's Results | Collegiate Women's Printable Results
Collegiate Men's Results | Collegiate Men's Printable Results
Open Women's Results | Open Women's Printable Results