Mid-d and Distance Results for 2015 All-Africa Games
By LetsRun.com
September 22, 2015
Below you will find the results for the 2015 All-Africa Games, which were held last week, as compiled by Race Results Weekly. To subscribe to Race Results Weekly (like we do) for $75 per  year, go here.
All-Africa Games (11th)
Brazzaville, CGO; September 13 – 17 (athletics portion)
Summary of Middle & Long Distance Events
NOTE: With valuable assistance from RIEL HAUMAN and MIRKO JALAVA –Ed.
Article continues below player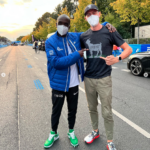 Kipchoge loves the 1:59:40 Shirt Get Yours Today
What a legend!
MEN –
800m (16):
1. Nijel Amos, BOT             1:50.45  Gold
2. Taoufik Makhloufi, ALG      1:50.72  Silver
3. Job Kinyor, KEN             1:50.79  Bronze
4. Timothy Kitum, KEN          1:50.93
5. Jackson Kivuva, KEN         1:50.98
6. Alemu Mengistu, ETH         1:52.11
7. Alberto Mamba, MOZ          1:52.15
8. Boitumelo Masilo, BOT       1:52.35
1500m (14):
1. Mekonnen Gebremedhin, ETH   3:45.73  Gold
2. Abdi Waiss Mouhyadin, DJI   3:45.98  Silver
3. Salim Keddar, ALG           3:46.31  Bronze
4. Ronald Kwemoi, KEN          3:47.02
5. Youssouf Hiss Bachir, DJI   3:47.23
6. Abdessalem Ayouni, TUN      3:47.64
7. Aman Kedi, ETH              3:48.01
8. Tesfu Tewelde, ERI          3:48.75
9. Mulugeta Asefa, ETH         3:49.35
10. Dumisani Hlaselo, RSA       3:51.64
11. Alex Ngouari-Mouissi, CGO   3:53.55
12. Ali Udou Hassan, SOM        3:56.78
5000m (17):
1. Getaneh Tamire, ETH         13:21.88  Gold
2. Leul Gebrselassie, ETH      13:22.13  Silver
3. Thomas Longosiwa, KEN       13:22.72  Bronze
4. Abrar Osman, ERI            13:23.79
5. Victor Chumo, KEN           13:24.80
6. Stephen Mokoka, RSA         13:25.03
7. Yasin Haji, ETH             13:26.61
8. Aron Kifle, ERI             13:26.85
9. Thierry Ndikumwenayo, BDI   13:27.38 NJR
10. Teklit Teweldebrhan, ERI    13:55.55
11. Ibrahim Hassan Bouh, DJI    13:57.13
12. Khalid Mohammed Ahmed, SUD  14:09.17
13. Hatusi Mthimchulu, LES      14:10.19 PB
14. David Conj Taban, SSD       14:23.71 PB
15. Ramadan Fawzi Mohammed, DJI 14:26.77
16. Emmanuel Bakatukoka, COD    14:39.70 PB
Youssouf Hiss Bachir, DJI   DNF
Clement Kemboi, KEN         DNF
Dumisani Hlaselo, RSA       DNF
10,000m (14):
1. Tebalu Zawude, ETH          27:27.19  Gold
2. Leonard Barsoton, KEN       27:27.55  Silver
3. Adugna Takele, ETH          27:28.40  Bronze
4. Vincent Yator, KEN          27:40.08
5. Geoffrey Kirui, KEN         28:09.65
6. Berhane Afewerki, ERI       28:17.87
7. Mule Wasihun, ETH           28:23.87 PB
8. Tsegay Tuemay, ERI          28:24.30
9. Félicien Muhitira, RWA      29:00.23
10. Olivier Irabaruta, BDI      29:17.18
11. Eric Sebahire, RWA          30:24.68
12. Hatusi Mthimchulu, LES      31:08.88
13. Osman Charlley, SLE         33:15.21
Rony Ampion, CGO            DNF
Kabelo Lesia, LES           DNF
3000m S/C (13):
1. Clement Kemboi, KEN         8:20.31  Gold
2. Hillary Kemboi, KEN         8:22.96  Silver
3. Amare Hailemariyam, ETH     8:24.19  Bronze
4. Wegene Sebsibe, ETH         8:26.62
5. Chala Bayu, ETH             8:28.03
6. Yemane Haileslasie, ERI     8:32.05
7. Yousif Abdalla Timbo, SUD   8:33.96 NR
8. Abel Mutai, KEN             8:38.10
9. Hichem Bouchicha, ALG       8:38.92
10. Bilal Tabti, ALG            8:41.48
11. Abdel Moula Hossney, SUD    9:18.09
Half-Marathon (17): – 21.1 km
1. Zersenay Tadese, ERI        1:03:11  Gold
2. Luka Kanda, KEN             1:03:27  Silver
3. Hizkel Tewelde, ERI         1:03:39  Bronze
4. Samson Gebreyohanes, ERI    1:04:14
5. Guye Adola, ETH             1:04:22
6. Azmeraw Mengistu, ETH       1:05:18
7. Fentahun Hunegnaw, ETH      1:05:27
8. James Rungaru, KEN          1:05:49
9. Fabiano Joseph Naasi, TAN   1:05:56
10. Suttoali Khoarahlima, LES   1:06:18
11. Dickson Marwa, TAN          1:06:50
12. Gsepo Mathibelle, LES       1:07:22
WOMEN –
800m (14):
1. Caster Semenya, RSA         2:00.97    Gold
2. Annet Mwanzi, KEN           2:01.54    Silver
3. Chaltu Shume, 1996, ETH     2:01.59 PB Bronze
4. Habitam Alemu, ETH          2:02.29
5. Winny Chebet, KEN           2:02.67
6. Amina Bakhit, SUD           2:02.85 PB
7. Winnie Nanyondo, UGA        2:04.53
8. Abike Egbeniyi, NGR         2:09.36
1500m (17):
1. Dawit Seyaum, 1996, ETH       4:16.69  Gold
2. Besu Sado, 1996, ETH          4:18.86  Silver
3. Beatrice Chepkoech, KEN       4:19.16  Bronze
4. Amina Bakhit, SUD             4:20.32
5. Caroline Chepkemoi, KEN       4:20.87
6. Winfredah Nzisa, 19967, KEN   4:21.24
7. Kokebe Tesfaye, 1997, ETH     4:22.80
8. Caster Semenya, RSA           4:23.00
9. Neide Dias, POR               4:27.30 PB
10. Merhawit Ghide, ERI           4:28.24 PB
11. Tsepang Sello, 1997, LES      4:34.89 PB
12. Bafoundissa Missamou, CGO     4:36.30 PB
13. Mokulube Makatise, LES        4:38.45
14. Elisabet Mabiala Nkengue, CGO 5:00.15 PB
5000m (13):
1. Margaret Chelimo, KEN        15:30.15  Gold
2. Rosemary Wanjiru, KEN        15:30.18  Silver
3. Alice Aprot, KEN             15:31.82  Bronze
4. Gotytom Gebreslase, ETH      15:42.44
5. Genet Yalew, ETH             15:43.77
6. Habetameenesh Tesfaye, ETH   15:52.10
7. Olivia Chitate, ZIM          17:02.97
8. Rahma Mehmammed, ERI         17:07.95
9. Clene Mambeke, CGO           17:35.00
10. Nina Ines Ombanda, CGO       17:58.65
11. Mokulube Makatisi, LES       18:19.89
10,000m (16):
1. Alice Nawowuna, KEN          31:24.18 PB Gold
2. Gladys Chesire, KEN,         31:36.87 PB Silver
3. Gelete Burka, ETH            31:38.33    Bronze
4. Wude Ayalew, ETH             31:39.81
5. Agnes Chebet, KEN            32:55.41 PB
6. Clementine Mukandanga, RWA   33:15.54 PB
7. Claudette Mukasakindi, RWA   33:40.10
Netsanet Gudeta, ETH         DNF
3000m S/C (16):
1. Sofia Assefa, ETH            9:51.30    Gold
2. Hiwot Ayalew, ETH            9:51.94    Silver
3. Purity Rionoripo, KEN        9:52.54 PB Bronze
4. Magdalene Masai, KEN         9:56.76
5. Joan Chepkemoi, KEN         10:04.54
6. Etenesh Diro, ETH           10:05.11
7. Amina Betiche, ALG          10:29.22
8. Lucia Segid, 1998, ERI      11:11.02 PB
9. Annah Bungu, ZIM            11:59.79 PB
Half-Marathon (17): 21.1 km.
1. Mamitu Daska, ETH           1:12:42  Gold
2. Worknesh Degefa, ETH        1:12:42  Silver
3. Yebergara Melesse, ETH      1:12:42  Bronze
4. Kokob Tesfagabriel, ERI     1:16:35 PB
5. Anna Amutoko, NAM           1:16:45
6. Janet Rono, KEN             1:17:02
7. Jane Onyangi, KEN           1:18:09
8. Ntebaleng Letsela, LES      1:18:27 PB
9. Lineo Chaka, LES            1:19:12
10. Constance Nyasango, ZIM     1:19:29
Grace Kimanzi, KEN          DNF