Rest In Peace: Athlete Manager Zane Branson Dies Suddenly In Iten, Kenya
By David Monti
(c) 2015 Race Results Weekly, all rights reserved
(25-Jul) – Longtime athlete manager Zane Branson, who shepherded the careers of marathoners Jimmy Muindi, Wilson Chebet and Patrick Makau among many others, died suddenly this morning in Iten, Kenya, local media and industry officials are reporting via social media. His age was not immediately known, and he lived in Prague.
"Yes, it has happened," 2014 Honolulu Marathon champion Wilson Chebet told Kenyan media outlet Capital Sport by telephone.
Article continues below player
"Agent Zane Branson tragically died this morning of heart attack in Iten, Kenya," tweeted Malcolm Anderson, another athlete manager with Moyo Sports Running. "So committed to our sport & all round gentleman. RIP."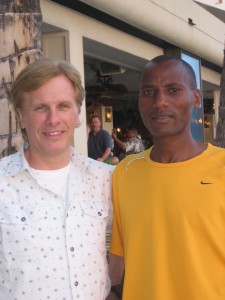 Branson, an American who grew up in Virginia and went to East Tennessee State University, operated International Athletics Consultancy s.r.o (IAC) with Davor Savija based in Prague. IAC had a strong relationship with adidas, and most of the athletes Branson managed wore the adidas colors, including world and continental champions like 2014 African 10,000m champion Joyce Chepkirui and two-time IAAF World Cross Country Championships gold medalist Emily Chebet.
Branson was best known for bringing Kenyan athletes to the Honolulu Marathon, including Jimmy Muindi who first ran the race in 1993 and ended up winning it six times. Both of the 2014 Honolulu Marathon champions, Wilson Chebet and Joyce Chepkirui, were managed by Branson.
Unlike the stereotype of the brash, swaggering athlete representative, Branson was soft spoken and quietly determined. With his thick, dirty blond blonde having turned mostly white with age, he often donned tiny, folding, silver-framed reading glasses which made him look like a modern day Ben Franklin.
Tributes have already begun to be posted on Branson's Facebook page. "To my friends…..it is with a sad heart that I tell you Zane Branson passed away today," wrote Doc Goffin of Fayetteville, N.C. "My heart goes out to his running teammates, friends and family around the world. He made this world a better place. RIP old friend."