David Rudisha, Blanka Vlašić, Ajeé Wilson Join Usain Bolt At adidas Grand Prix In New York On June 13
If you live in NYC and don't attend this one, you no longer have the right to call yourself a track fan.
Join Our Supporters Club To Keep Reading
Sign up today to get a free 12-week training program and t-shirt.
by: adidas Grand Prix
April 2, 2015
NEW YORK CITY (April 2, 2015)—David Rudisha, Blanka Vlašić, and Ajeé Wilson will join Usain Bolt on the roster for the adidas Grand Prix on June 13, organizers announced today.
Rudisha, the reigning Olympic Champion and World Record-holder at 800 meters, will be looking for his fourth-consecutive victory here, while Vlašić, a four-time IAAF World Champion in the high jump, will seek to repeat her win here from 2013.
Article continues below player
Wilson, the 2012 World Junior Champion and one of the best New Jersey high school runners in history, will be seeking her first adidas Grand Prix win—in front of a hometown crowd.
"I can't wait to compete in one of the world's great competitions right here in New York at Randall's Island," said Wilson, who hails from Neptune, N.J., about an hour south of Icahn Stadium. "I will be ready to race against the world's best athletes, and a win would bode well for me in defending my U.S. title later in June."
Tickets for the Diamond League event, which is marking its 11th year of bringing the world's top athletes to New York City, are on sale now at www.adidasgrandprix.com or by calling 1-877-849-8722.
In addition to his 2012 Olympic victory, in which he ran a World Record time of 1:40.91, Rudisha is the 2011 IAAF World Champion, and has been ranked #1 in the world five times (2007, 2009-2012) by Track & Field Newsmagazine. In 2010, he was named IAAF Male Athlete of the Year. Now 26 years old, the Kenyan superstar stunned the Icahn Stadium crowd in 2012 by stopping the clock at 1:41.74, the fastest 800 meters ever run in this country, in his U.S. debut.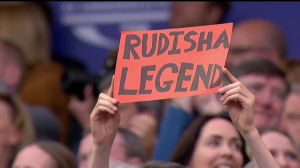 Vlašić, 31, of Croatia, also made her U.S. debut at this meet—in 2011, coming in ranked #1 in the world for four consecutive years (2007-2010). Owning the second-highest jump in history, Vlašić is also the 2008 Olympic silver medalist and in 2010 went undefeated in Diamond League competition on the way to being named the IAAF Female Athlete of the Year, alongside Rudisha. After missing the entire 2012 season to injury, she began her comeback at the adidas Grand Prix in 2013, tying the meet record with her emotional victory.
The 20-year-old Wilson, who is both the 2012 World Junior Champion and 2011 World Youth Champion at 800 meters, is one of the brightest young stars in the sport. In 2014 alone, she won U.S. titles at 800 meters both indoors and outdoors, helped her team set an American Record in winning the 4×800 meters at the IAAF World Relays, and ran the fastest time in the world (1:57.67) at 800 meters for the year—which she finished ranked #2 in the world.
One of the premier track-and-field events in the world, the adidas Grand Prix has hosted two World Records and 17 National Records in its first 10 years, and its fans have had the privilege of witnessing more than a dozen performances that were the fastest ever recorded on U.S. soil.
The seventh stop on the international IAAF Diamond League circuit, the adidas Grand Prix is in its 11th year at Icahn Stadium on Randall's Island, in conjunction with the Randall's Island Park Alliance. The latest news, photos and information on the event can be found at www.adidasgrandprix.com and here on Facebook and Twitter, @adidasgrandprix, #AGPNYC.
About the adidas Group
The adidas Group is a global leader in the sporting goods industry, offering a broad portfolio of footwear, apparel and hardware for sport and lifestyle around the core brands adidas, Reebok, TaylorMade and Reebok-CCM Hockey. Headquartered in Herzogenaurach/Germany, the Group generated sales of € 14.5 billion in 2013 and currently employs 54,000 people across the globe, including 5,472 in Germany (as at December 31, 2014).