Results: 2015 NCAA Indoor Track And Field Results
by LetsRun.com
March 13, 2015
Results for the 2015 NCAA Indoor track and field championships can be found below. If those links don't update, go to the results website at flashresults.com.
Article continues below player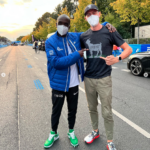 Kipchoge loves the 1:59:40 Shirt Get Yours Today
Shirts are $10 off if he breaks the world record and you order today.
| Day | Start Time | Women's Pentathlon | | Start List | Result | Status |
| --- | --- | --- | --- | --- | --- | --- |
| Saturday | 11:30 AM | Pent Women 60 M Hurdles | | Start List | Result | Scheduled |
| Saturday | 12:15 PM | Pent Women High Jump | | Start List | Result | Scheduled |
| Saturday | 2:15 PM | Pent Women Shot Put | | Start List | Result | Scheduled |
| Saturday | 3:25 PM | Pent Women Long Jump | | Start List | Result | Scheduled |
| Saturday | 4:35 PM | Pent Women 800 M | | Start List | Result | Scheduled |
| | | Women Pentathlon Spreadsheet | | | Scores | Scheduled |