RRW: Edna Kiplagat Seeking Second TCS NYC Marathon Title
By Chris Lotsbom, @ChrisLotsbom
(c) 2014 Race Results Weekly, all rights reserved
October 31, 2014
NEW YORK — When Edna Kiplagat toed the line at the 2013 TCS New York City Marathon a year ago, she felt a bit uncertain. The Kenyan was competing in her third marathon of the year, having won the 2013 IAAF World Championships Marathon less than three months prior and placed second at the Virgin Money London Marathon in April. Come race day in New York, her legs were tired.
Fading off the chase pack and going on to finish ninth in 2:30:04, Kiplagat was thoroughly disappointed. She had won the TCS New York City Marathon title in 2010, and wanted to join the select group of women to have earned multiple titles in the race's history, a group that includes Paula Radcliffe, Grete Waitz, and Tegla Loroupe, among others.
Article continues below player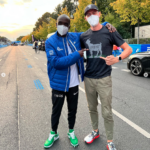 Kipchoge loves the 1:59:40 Shirt Get Yours Today
What a legend!
"Last year I didn't run well because I was running World Championships and was still hurting. I was still hurting," said Kiplagat, speaking to the media less than 48 hours before she gets another chance at a win. "This year, I just ran the marathon in London and I reduced my training because I wanted to recover, so I had a good time for preparation."
Following her 2:20:21 victory at the 2014 Virgin Money London Marathon on April 13, Kiplagat took ample time to rest her legs and recover. Learning a lesson from 2013, Kiplagat made sure her body was healed completely before ramping up training in anticipation of Sunday's race. A veteran of eleven marathons, Kiplagat has experience on her side.
"My training has gone very well. Last three weeks I went to run in Scotland [at the Bank of Scotland Great Scottish Run Half-Marathon, where she won in 1:07:57] and I ran almost to my PB so I am seeing everything is going well," said Kiplagat, wearing a Nike track suit complete with a gold insignia indicating she is the reigning world champion. "I am ready for Sunday."
Come Sunday, Kiplagat will face off against the likes of Mary Keitany, whose personal best of 2:18:37 leads the field, and Buzunesh Deba, twice a runner-up here and a resident of the Bronx. Kiplagat isn't fazed by the fact that this year's field includes four medalists from the World Championships (in addition to herself) and ten women who have run under 2:24:00.
"I don't think I have the pressure this time," she said, smiling under a short-cut hairstyle. "I am not nervous because I have run with most of them in some races. I am not nervous."
Unexpectedly, Kiplagat finds herself possibly in the running for the 2013/2014 World Marathon Majors title. On Friday, it was reported that Rita Jeptoo –this year's Boston and Bank of America Chicago Marathon champion– had tested positive for a performance enhancing drug. If her B sample comes back positive as well (should she request a second test, which is her right), then Kiplagat quite possibly could find herself out front in the chase for the winner-take-all $500,000 prize. Currently, she sits second only behind Jeptoo.
Asked about Jeptoo, Kiplagat shook her head in disgust.
"I don't know," she said, repeating the phrase a second time. "It was disappointing because she has been running and now when I heard it was very disappointing."
Jeptoo's coach since 2011, Claudio Berardelli, addressed members of the media for close to ten minutes, saying that both he and Jeptoo are confused, saddened, and surprised by the findings.
"There is something else going on behind the scenes," Berardelli said. "I talked to her, she was confused, saying, 'I don't know what is happening.' But I repeat that there is an investigation going on. This is something new to us."
Unaltered by the developments related to Jeptoo, Kiplagat remains focused intently on the task at hand: winning the 2014 TCS New York City Marathon.
"For this year I see I am going to do much better than last year," she said. "This race is not easy because the course is hard and the weather is always very cold, but still we are going to run a fast race."
Usual front runners Keitany and Deba both told Race Results Weekly their plan was to sit back in the pack this year, knowing that forecasts call for windy and cold conditions. That is fine with Kiplagat, who pledges to run by feel, hoping that will guide her to the top of the podium.
"I am happy," said Kiplagat. "It was a pleasure to come back and run again after winning in 2010, so I prepare very well to come back and chase this year."