FULL RESULTS – 2014 Nike Pre Classic Results – Eugene IAAF Diamond League Track and Field / Athletics Meeting Results
by LetsRun.com
May 29, 2014
The third event of the 2014 IAAF Diamond League season – the 2014 Nike Pre Classic – is in the bag.
Below you will see a list of all results for the meet, Saturday first then Friday. A schedule and links to the individual event results (which included intermediate splits and whole field series) appears below that.
Article continues below player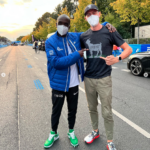 Kipchoge loves the 1:59:40 Shirt Get Yours Today
What a legend!
Men' results

100 Metres – Men                                              Wind: +2.7 m/s
                                                           Pts
   1 Gatlin , Justin                  USA       9.76          4        
   2 Rodgers , Mike                   USA       9.80          2        
   3 Vicaut , Jimmy                   FRA       9.89          1        
   4 Carter , Nesta                   JAM       9.89                   
   5 Ashmeade , Nickel                JAM       9.95                   
   6 Mitchell , Maurice               USA      10.04                   
   7 Zhang , Peimeng                  CHN      10.08                   
   8 Magakwe , Simon                  RSA      10.13                   

400 Metres – Men                                              

   1 James , Kirani                   GRN      43.97                   
   2 Merritt , LaShawn                USA      43.97                   
   3 Masrahi , Yousef Ahmed           KSA      44.77                   
   4 Brown , Chris                    BAH      45.15                   
   5 Mance , Joshua                   USA      45.31                   
   6 Rooney , Martyn                  GBR      45.52                   
   7 McQuay , Tony                    USA      46.25                   
     Gordon , Lalonde                 TTO        DNF                   

800 Metres – Men Race 2                                       
                                                           Pts
   1 Amos , Nijel                     BOT    1:43.63          4        
   2 Aman , Mohammed                  ETH    1:43.99          2        
   3 Kaki , Abubaker                  SUD    1:44.09          1        
   4 Bosse , Pierre-Ambroise          FRA    1:44.44                   
   5 Kszczot , Adam                   POL    1:44.65                   
   6 Lewandowski , Marcin             POL    1:44.79                   
   7 Rudisha , David Lekuta           KEN    1:44.87                   
   8 Osagie , Andrew                  GBR    1:45.37
   9 Kipketer , Alfred                KEN    1:46.15
  10 Solomon , Duane                  USA    1:47.40
     Som , Bram                       NED        DNF                   

One Mile – Men Race 1                                         

   1 Manzano , Leonel                 USA    3:52.41                   
   2 McNamara , Jordan                USA    3:52.89
   3 Jager , Evan                     USA    3:53.33
   4 Casey , Patrick                  USA    3:53.71
   5 Heath , Garrett                  USA    3:53.76
   6 Gregson , Ryan                   AUS    3:53.85
   7 Torrence , David                 USA    3:53.95
   8 Elkaam , Fouad                   MAR    3:54.21
   9 Lomong , Lopez                   USA    3:54.28
  10 Grice , Charlie                  GBR    3:56.94
  11 O'Lionaird , Ciaran              IRL    3:57.99
  12 Bayer , Andrew                   USA    3:59.76
  13 Haney , Blake                    USA    4:10.41
     Miner , Matt                     USA        DNF                   
     Robinson , Paul                  IRL        DNF                   
     Komen , Daniel Kipchirchir       KEN        DNS                   

One Mile – Men Race 2                                         

   1 Souleiman , Ayanleh              DJI    3:47.32                   
   2 Kiplagat , Silas                 KEN    3:47.88                   
   3 Wote , Aman                      ETH    3:48.60                   
   4 Iguider , Abdalaati              MAR    3:49.09                   
   5 Magut , James Kiplagat           KEN    3:49.43                   
   6 Cheboi , Collins                 KEN    3:49.56                   
   7 Kiprop , Asbel                   KEN    3:50.26                   
   8 Centrowitz , Matthew             USA    3:50.53                   
   9 Cronje , Johan                   RSA    3:50.70                   
  10 Birgen , Bethwell                KEN    3:51.12                   
  11 Makhloufi , Taoufik              ALG    3:52.16                   
  12 Gebremedhin , Mekonnen           ETH    3:53.22
  13 Ingebrigtsen , Henrik            NOR    3:53.62
  14 Leer , Will                      USA    3:56.72
     Rotich , Andrew Kiptoo           KEN        DNF                   
     Maiyo , Hillary Kipkorir         KEN        DNF                   

5000 Metres – Men                                             
                                                           Pts
   1 Ndiku , Caleb Mwangangi          KEN   13:01.71          4        
   2 Alamirew , Yenew                 ETH   13:02.91          2        
   3 Soi , Edwin Cheruiyot            KEN   13:04.92          1        
   4 Rop , Albert Kibichii            BRN   13:06.12                   
   5 Koech , Isiah Kiplangat          KEN   13:07.55                   
   6 Kipkoech , John                  KEN   13:11.02                   
   7 Gebrhiwet , Hagos                ETH   13:13.19                   
   8 Choge , Augustine Kiprono        KEN   13:14.23                   
   9 Derrick , Chris                  USA   13:15.55                   
  10 Mead , Hassan                    USA   13:19.57                   
  11 True , Ben                       USA   13:25.11                   
  12 Birmingham , Collis              AUS   13:27.17                   
  13 Abadía , Antonio                 ESP   13:30.91
  14 Lagat , Bernard                  USA   13:31.23
  15 Barrios , Juan Luis              MEX   13:43.12
  16 Mecheso , Girma                  ETH   13:45.25
  17 Hill , Ryan                      USA   13:57.12
     Levins , Cameron                 CAN        DNF                   
     Fernandez , German               USA        DNF                   
     Bumbalough , Andrew              USA        DNF                   
     Gathimba , Gideon Mwangi         KEN        DNF                   

110 Metres Hurdles – Men                                      Wind: +0.8 m/s
                                                           Pts
   1 Martinot-Lagarde , Pascal        FRA      13.13          4        
   2 Parchment , Hansle               JAM      13.20          2        
   3 Oliver , David                   USA      13.21          1        
   4 Wilson , Ryan                    USA      13.25                   
   5 Shubenkov , Sergey               RUS      13.29                   
   6 Eaton , Ashton                   USA      13.35                   
   7 Porter , Jeff                    USA      13.43                   
   8 Richardson , Jason               USA      13.64                   

Pole Vault – Men                                              
                                                           Pts
   1 Lavillenie , Renaud              FRA       5.80          4        
   2 de Oliveira , Augusto            BRA       5.63          2        
   3 Kudlicka , Jan                   CZE       5.63          1        
   4 Holzdeppe , Raphael              GER       5.53                   
   5 Filippídis , Konstadínos         GRE       5.53                   
   5 Walker , Brad                    USA       5.53                   
   7 da Silva , Thiago Braz           BRA       5.43                   
   8 Mohr , Malte                     GER       5.43
   8 Xue , Changrui                   CHN       5.43                   

Triple Jump – Men                                             
                                                           Pts               Wind
   1 Claye , Will                     USA      17.66          4              +0.8
   2 Taylor , Christian               USA      17.42          2              +2.6
   3 Adams , Lyukman                  RUS      17.29          1              +1.4
   4 Revé , Ernesto                   CUB      17.06                         +2.0
   5 Fedorov , Aleksey                RUS      16.72                         +1.9
   6 Carter , Chris                   USA      16.71                         +3.1
   7 Dong , Bin                       CHN      16.65                         +2.1
   8 Compaoré , Benjamin              FRA      16.57                         +1.5
   9 Greco , Daniele                  ITA      16.33      -0.1

Javelin Throw – Men                                           
                                                           Pts
   1 Veselý , Vítezslav               CZE      83.75          4        
   2 Thorkildsen , Andreas            NOR      80.52          2        
   3 Tarabin , Dmitri                 RUS      80.28          1        
   4 Frydrych , Petr                  CZE      78.86                   
   5 Röhler , Thomas                  GER      78.63                   
   6 Amb , Kim                        SWE      77.36                   
   7 Walcott , Keshorn                TTO      75.50                   
   8 Humphreys , Sam                  USA      73.60                   


Women' results

200 Metres – Women                                            Wind: +1.5 m/s
                                                           Pts
   1 Bowie , Tori                     USA      22.18          4        
   2 Okagbare , Blessing              NGR      22.23          2        
   3 Felix , Allyson                  USA      22.44          1        
   4 Ahouré , Murielle                CIV      22.61                   
   5 Duncan , Kimberlyn               USA      22.66                   
   6 Gardner , English                USA      22.81                   
   7 Tarmoh , Jeneba                  USA      22.88                   
   8 Fraser-Pryce , Shelly-Ann        JAM      23.06                   

400 Metres – Women                                            
                                                           Pts
   1 Williams-Mills , Novlene         JAM      50.40          4        
   2 McCorory , Francena              USA      50.53          2        
   3 McPherson , Stephenie Ann        JAM      50.63          1        
   4 Hastings , Natasha               USA      50.67                   
   5 Montsho , Amantle                BOT      50.73                   
   6 Richards-Ross , Sanya            USA      51.19                   
   7 Atkins , Joanna                  USA      51.48                   
   8 Grenot , Libania                 ITA      51.83                   

1500 Metres – Women                                           
                                                           Pts
   1 Obiri , Hellen Onsando           KEN    3:57.05          4        
   2 Aregawi , Abeba                  SWE    3:57.57          2        
   3 Kipyegon , Faith Chepngetich     KEN    3:58.01          1        
   4 Simpson , Jennifer               USA    3:58.28                   
   5 Hassan , Sifan                   NED    3:59.38                   
   6 Sum , Eunice Jepkoech            KEN    4:01.54                   
   7 Martinez , Brenda                USA    4:02.52                   
   8 Weightman , Laura                GBR    4:02.72                   
   9 Buckman , Zoe                    AUS    4:04.09                   
  10 Moser , Treniere                 USA    4:04.74                   
  11 Hilali , Siham                   MAR    4:05.46                   
  12 England , Hannah                 GBR    4:07.40                   
  13 Cranny , Elise                   USA    4:13.38
     Wright , Phoebe                  USA        DNF                   

Two Miles – Women                                             

   1 Cherono , Mercy                  KEN    9:13.27                   
   2 Kibiwot , Viola Jelagat          KEN    9:13.48                   
   3 Belete , Mimi                    BRN    9:13.85                   
   4 Rowbury , Shannon                USA    9:20.25                   
   5 Kipyego , Sally Jepkosgei        KEN    9:22.10                   
   6 Oljira , Belaynesh               ETH    9:23.32                   
   7 Muriuki , Margaret Wangari       KEN    9:24.89                   
   8 Saina , Betsy                    KEN    9:26.63                   
   9 Hasay , Jordan                   USA    9:35.05                   
  10 Diriba , Buze                    ETH    9:40.01                   
  11 Jamal , Maryam Yusuf             BRN    9:40.04                   
  12 Plis , Renata                    POL    9:42.23                   
  13 Reilly , Chelsea                 USA    9:42.51
  14 Thweatt , Laura                  USA    9:44.46
  15 Felnagle , Brianna               USA    9:54.61
  16 Desalegn , Betlhem               UAE   10:06.84
     Kampf , Heather                  USA        DNF                   
     Kesselring , Anne                GER        DNF                   

3000 Metres Steeplechase – Women                              
                                                           Pts
   1 Assefa , Sofia                   ETH    9:11.39          4        
   2 Ayalew , Hiwot                   ETH    9:12.89          2        
   3 Coburn , Emma                    USA    9:17.84          1        
   4 Diro , Etenesh                   ETH    9:25.69                   
   5 Kirui , Purity Cherotich         KEN    9:29.18                   
   6 Chepkurui , Lidya                KEN    9:32.03                   
   7 Cherotich , Fancy                KEN    9:41.02                   
   8 Krause , Gesa Felicitas          GER    9:42.95                   
   9 Higginson , Ashley               USA    9:50.12                   
  10 Ghribi , Habiba                  TUN    9:53.29                   
  11 McColgan , Eilish                GBR   10:15.59                   
     Praught , Aisha                  USA        DNF                   
     Cheever , Jamie                  USA        DNF                   
     Cheywa , Milcah Chemos           KEN        DNF                   
     Johnson , Lauren                 USA        DNF                   

400 Metres Hurdles – Women                                    
                                                           Pts
   1 Spencer , Kaliese                JAM      54.29          4        
   2 Carter , Kori                    USA      55.22          2        
   3 Williams , Tiffany               USA      55.97          1        
   4 Stoddart , Shevon                JAM      56.15                   
   5 Rosolová , Denisa                CZE      56.45                   
   6 Pedroso , Yadisleidis            ITA      56.66                   
   7 Muhammad , Dalilah               USA      58.89                   
   8 Moline , Georganne               USA    1:00.86                   

High Jump – Women                                             
                                                           Pts
   1 Chicherova , Anna                RUS       2.01          4        
   2 Kasprzycka , Justyna             POL       1.99          2        
   3 Beitia , Ruth                    ESP       1.99          1        
   4 Kuchina , Maria                  RUS       1.97                   
   5 Šimic , Ana                      CRO       1.95                   
   6 Gordeeva , Irina                 RUS       1.95                   
   7 Licwinko , Kamila                POL       1.95                   
   8 Barrett , Brigetta               USA       1.88                   
   9 Lowe , Chaunté                   USA       1.88
 Friday's Results
800 Metres – Men Race 1                                       

   1 Kinyor , Job Koech               KEN    1:44.70                   
   2 Greer , Elijah                   USA    1:45.30                   
   3 Sowinski , Erik                  USA    1:45.64                   
   4 Vazquez , Wesley                 PUR    1:45.73                   
   5 Mohammed , Mukhtar               GBR    1:46.74                   
   6 Jock , Charles                   USA    1:46.84                   
   7 Rutt , Michael                   USA    1:47.25                   
   8 Rimmer , Michael                 GBR    1:49.55                   
   9 Mulder , Tyler                   USA    1:51.07
     Abda , Harun                     USA        DNF                   

10,000 Metres – Men                                           

   1 Rupp , Galen                     USA   26:44.36                   
   2 Tanui , Paul Kipngetich          KEN   26:49.41                   
   3 Karoki , Bidan                   KEN   26:52.36                   
   4 Sambu , Stephen                  KEN   26:54.61                   
   5 Bett , Emmanuel Kipkemei         KEN   27:21.61                   
   6 Kipkemoi , Kenneth Kiprop        KEN   27:30.94                   
   7 Elabbassi , El Hassan            MAR   27:32.96                   
   8 Medhin , Teklemariam             ERI   27:38.83                   
   9 Nebebew , Birhan                 ETH   27:42.89                   
  10 Toroitich , Timothy              UGA   27:43.27                   
  11 Kifle , Goitom                   ERI   27:43.30                   
  12 Tahri , Bouabdellah              FRA   27:57.52                   
  13 Chelanga , Samuel                KEN   27:59.74
  14 Korir , Leonard                  KEN   28:01.85
  15 Too , Wilson Kiprono             KEN   28:03.21
     Braun , Aaron                    USA        DNF                   
     Demelash , Yigrem                ETH        DNF                   
     Kigen , Mike Kipruto             KEN        DNF                   
     St.Lawrence , Ben                AUS        DNF                   
     Wolde , Dawit                    ETH        DNF                   
     Gala , Mumin                     DJI        DNS                   

Shot Put – Men                                                
                                                           Pts
   1 Hoffa , Reese                    USA      21.64          4        
   2 Kovacs , Joe                     USA      21.46          2        
   3 Cantwell , Christian             USA      21.38          1        
   4 Roberts , Kurt                   USA      20.71                   
   5 Majewski , Tomasz                POL      20.59                   
   6 Walsh , Tomas                    NZL      20.51                   
   7 Lauro , Germán                   ARG      20.09                   
   8 Prášil , Ladislav                CZE      18.92                   


Women' results

Long Jump – Women                                             
                                                           Pts               Wind
   1 Španovic , Ivana                 SRB       6.88          4              +1.5
   2 Klishina , Darya                 RUS       6.88          2              +0.6
   3 Lesueur , Éloyse                 FRA       6.87          1              +1.0
   4 Reese , Brittney                 USA       6.86                         +1.6
   5 Bowie , Tori                     USA       6.82                         +0.7
   6 Proctor , Shara                  GBR       6.60                         +2.3
   7 DeLoach Soukup , Janay           USA       6.41                         +1.5

Discus Throw – Women                                          
                                                           Pts
   1 Perkovic , Sandra                CRO      69.32          4        
   2 Craft , Shanice                  GER      65.38          2        
   3 Lewis-Smallwood , Gia            USA      64.98          1        
   4 Müller , Nadine                  GER      64.37                   
   5 Robert-Michon , Mélina           FRA      63.65                   
   6 Fischer , Julia                  GER      63.55                   
   7 Pérez , Yaime                    CUB      62.04                   
   8 Glanc , Zaneta                   POL      60.33                   
Prefontaine Classic
Start list and Live results