2011 NYC Marathon Champ Firehiwot Dado ready to face Kenya's Flomena Chepchirchir at Sunday's Prague Marathon
PRAGUE (09-May) — When Firehiwot Dado initially plotted her approach to 2014, her goals were to run a fast marathon before, perhaps taking crack at winning a second time in New York City.
In January, the Ethiopian opened with a third-place finish in the Standard Chartered Dubai Marathon in 2:25:53. Although the time ranks as the fourth fastest of her career, when asked about the performance Dado lifts her left nostril and shakes her head, as if to indicate that it stunk.
"I am not happy with my time in Dubai," Dado said, basking in the sun radiating through the floor-to-ceiling windows of the Cloud 9 Bar here. "I still want to run faster. For my [fall] marathon, I want to maybe run in New York again and you cannot think about time in that race because there are no pacemakers and the field is very strong. This is the last race I can focus on time [in 2014]."
Article continues below player
While Dado chases the clock, she will be the woman everyone else will likely be targeting during the 20th running of the Volkswagen Prague International Marathon here on Sunday.
Dado, 30, is the most accomplished runner in the field by a wide margin, highlighted by her 2011 victory in the New York City Marathon in a personal-best 2:23:15 and her three straight victories in the Rome Marathon between 2009 and 2011.
Provided conditions are ideal –wind and rain are all possibilities according to early weather forecasts– Dado believes she can approach her PR here.
"If all is good and I am running strong, I think I can run 2:23 on Sunday," Dado said.
This will be Dado's second time running in the Czech capital. Last month, she competed in the Sportisimo Prague Half-Marathon, finishing ninth in 1:11:15. She indicated that her time that day, the third-slowest of her career, should be taken with a grain of salt as she trained through the race and did not taper beforehand.
"I like the course here," Dado said. "I think it fits my style of running. My training was strong and I feel good. I believe I can run fast here."
She likely will have to be if she is going to cross the finish line in Old Town Square first and claim the €15,000 ($20,752) winner's purse.
Dado's main competition is likely to come from Kenya's Flomena Chepchirchir. The 32-year-old has the fastest marathon PR in the field at 2:23:00, from her runner-up finish in the BMW Frankfurt Marathon last October, but her fitness coming into the race is somewhat in question.  Chepchirchir actually started the Boston Marathon on April 21 and labored to 25-K before pulling out of the race. She was taken to a local hospital and released.
"Around 5-K, I began getting a pain between my shoulders," she explained. "It kept getting worse and by 25-K I was having trouble breathing so I decided to stop.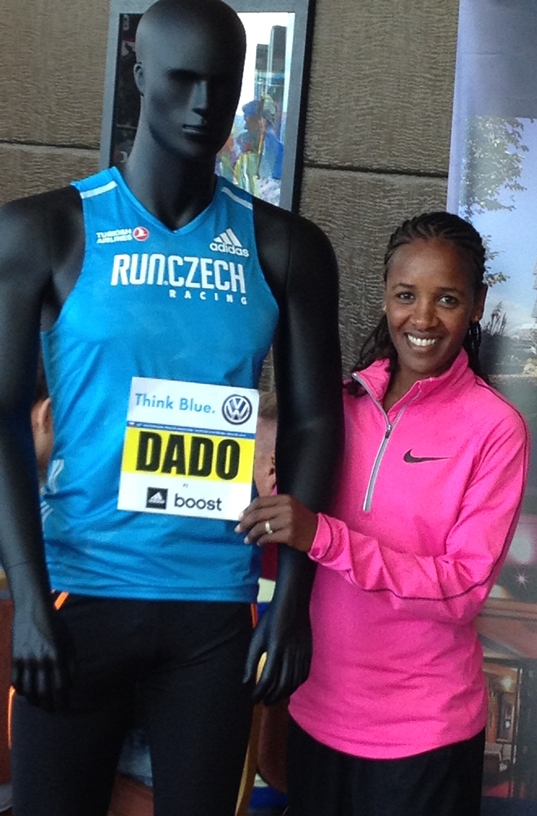 "When I got back to Kenya, I got checked out (by doctors) who told me that it might have been from the cold (weather). They put me on anti-pain medicine and I missed about four days of training."
When Chepchirchir recovered, her manager Arien Verkade got her an entry into this race so that a full cycle of marathon training would not be wasted. Her contract from the Boston Marathon, however, contained a clause precluding her from competing in another marathon for 60 days after scratching mid-race, a stipulation designed primarily to prevent athletes from cavalierly hopping from race to race to collect appearance fees without giving a full effort.
Mary Kate Shea, the elite athlete coordinator for John Hancock Life Insurance Company, which sponsors the elite part of the Boston Marathon, considered holding Chepchirchir to that clause in her contract, primarily out of concern for her health, but relented early Friday morning.
"I am happy to have this second opportunity," Chepchirchir said. "I believe my problem from Boston is over and I feel good right now."
Unlike Dado, Chepchirchir has run the full marathon course here, having finished second to Agnes Kiprop in 2:26:50 in 2012. She said the trickiest parts are the periodic surface changes from asphalt to cobblestone, which comprises a little more than four kilometers of the total course layout. Experience, she believes, is her advantage.
"I think the course is not easy," she said. "There are a lot of small breaks with the stones that are not easy, especially if it is raining. That's not good because we will be using a lot of energy straining a lot."
Nevertheless, Chepchirchir isn't ruling out a finish near Lydia Cheromei's 2011 course record of 2:22:34 provided the forecasted wind and potential for rain holds off.
"For me, I feel like I could run between 2:22 high or 2:23:50 depending on the weather and pacemakers," she said. "I hope everything is perfect and I don't have any problems."
PHOTO: Firehiwot Dado in advance of the 2014 Volkswagen Prague Marathon (photo by Jim Moberly for RunCzech.com)